Book Review: Holding Up the Universe by Jennifer Niven: A sweet romantic comedy with a soulful reminder
We read to know we are not alone. C.W. Lewis I just finished reading one of the soulful books I have read in a while. It's called Holding Up the Universe, written by Jennifer Niven. I am blank. But it's not the kind of sad blank. I'm blissfully blank. I feel like writing a hundred pages as a review for this book, yet I don't seem to find any words. So, I have now started writing without a clear idea as to what to write. Let's see where this takes us. 
How I came across Holding Up The Universe by Jennifer Niven
I love to read books that talk beyond the dialogues or the descriptions. I long for depth, for rawness, for humanness. And I don't mind if the book ends on a sad note or a happy ending. As long as it manages to capture the originality of what it's like to live a life in this unkind world, I am enthusiastic to carry it as a friend for life. I read a book that falls in this category a few months back. It was called Anxious People by Fredrick Backman. That book left a jovial impression on me. So it's no wonder I yearned to find more gems of the kind. And that's how a Google search led me to this book.
Usually, I read the blurb (the short summary on the back cover) to determine if I'd love it or not, before deciding to buy it. In this case, I didn't do that. For some reason, I felt I would like it. So, I ordered it online. Coincidentally, the book turned out to be a great comfort to me in the coming days of an unexpected event in my life.
Holding Up the Universe book review
It might seem an exaggeration to state that I read an entire 400-page book in less than two days. But that's what I did. The more I read this book, the more I wanted to continue reading. It was like the best feeling in the world, not wanting to check the phone or do anything else that constitutes my regular routine. I was reminded of another exceptional book, The Fault in Our Stars while reading this book. While that one bemuses the standard bibliophile, I find this book more soulful.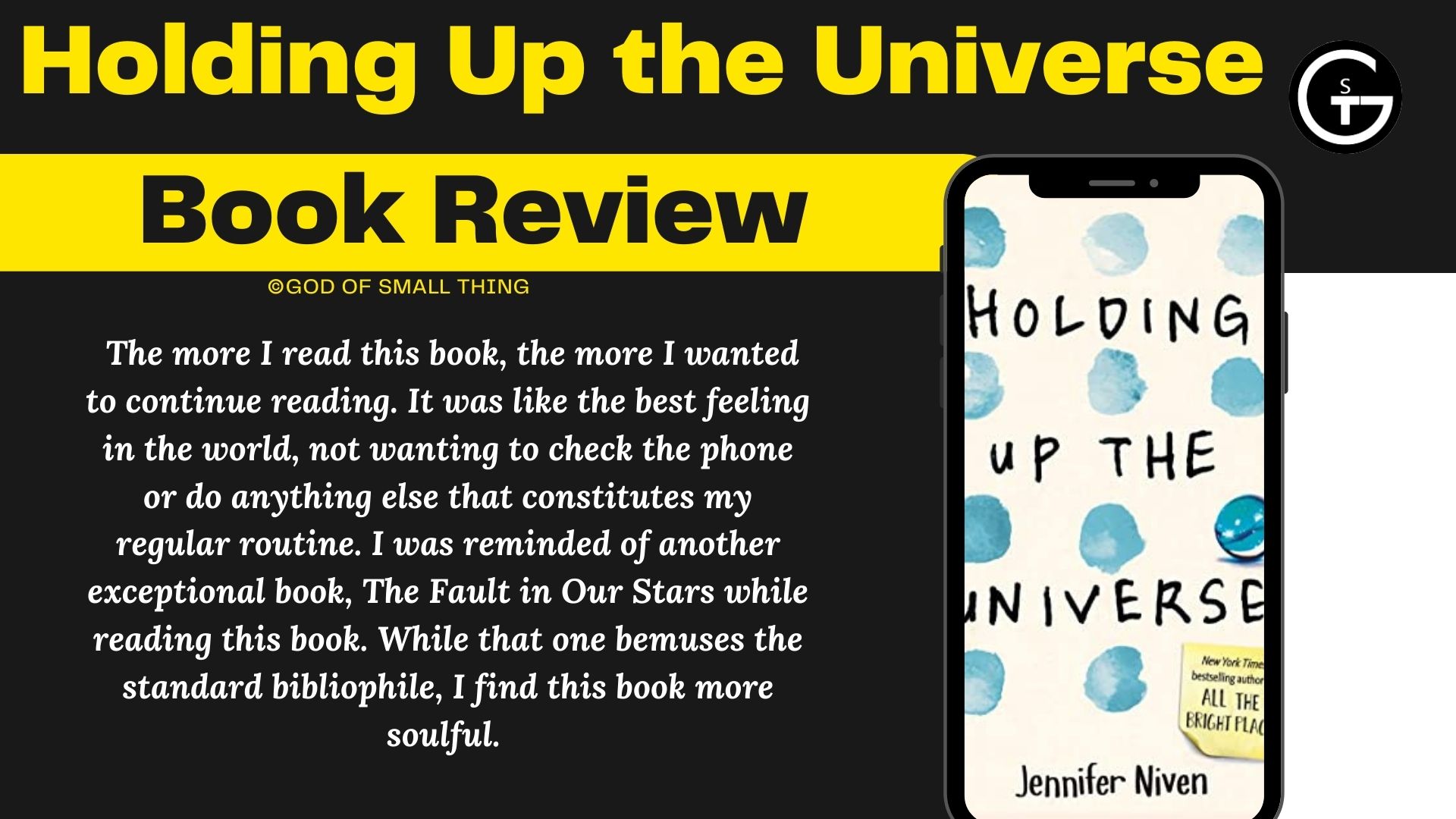 Things I truly loved about the book:
Easy to relate
Raw. Fresh. Original. They all mean the same thing, but any number of synonyms to signify that concept seem scarce. 
Short and straightforward. 
Explores human emotions to its best. 
Takes you back to your high school days.
Romantic, but that kind which doesn't make you cringe. 
The book is simple. It is set in the States. So, some of the ways of life might feel a bit uncanny for the novice Indian reader. But life and its complexities are more or less the same everywhere in the world. So, you wouldn't find it hard to relate. 
Holding Up the Universe summary
Libby and Jack; are the protagonists of this tale. Both of them are in high school, and they have more than enough on their plate to deal with. At first, you feel sympathetic toward them. Then compassion replaces pity. And then eventually, you start seeing a bit of yourself in each of them. I don't know of an adjective to express how special it feels in that moment. Like every other feel-good tale, this story makes you realize the blessings you overlook in your life for the trivial problems that come and go.
Genre, style and narrative of Holding Up the Universe by Jennifer Niven
This is a funny tale that makes you introspect life; about love and joy, as much as about misery and despair. So, I'd say it fits well in that 'feel-good' category of fiction. 
As a young-adult fiction, the style of this book is out of the ordinary. It is written in first-person narrative, only that there are two narrators. And they are the very same protagonists; Jack and Libby. The narrative shifts between each of them alternatively as the chapters progress. This is kind of fun as opposed to the usual one fixed person narrative, as we can see both of their perspectives to the situations they share. With a combination of descriptive and narrative writing styles, the author succeeds to create a beautiful little novel that is guaranteed to touch hearts. 
Some quotes from this book that stung me deep:
"Better to be the hunter than the hunted. Even if you're hunting yourself."
"I'm not going to be a statistic – I've beaten statistics for most of my life. I'm not going to be one of those drivers who gets smashed under a truck. I want to be the girl who can do anything."
"But the hardest thing I didn't expect – seeing people I used to know, people I grew up with, and knowing that while I sat in my house, they got older and went to school and made friends and had lives. It's like I'm the only one who stopped."
"… and that cage was all the bear had in the world."
"A normal life is what I've wanted for as long as I can remember. It's what I tried to create in my mind, from my bed."
"… The only crime I committed was being fat."
"It's not moving on, Libbs. It's moving differently. That's all it is. Different life. Different world. Different rules. We don't ever leave that old world behind. We just create a new one."
"This is a terrifying feeling. It's the feeling of something turning. Of coming to a corner and going around it and seeing that street ahead is dark and deserted or filled with wild dogs, but you can't go back, only forward, right into the middle of the pack."
Jennifer Niven is an internationally acclaimed author who is known for her young adult novel All the Bright Places. A passionate author, Niven has also found interest in journalism and screenwriting. Niven grew up in Indiana. She began writing novels in 2009 and has produced a number of beautiful creations in the world of literature. She has also founded an online lifestyle literary magazine for young adults called Germ Magazine.
Some of her other works that you must check out include:
Young Adult Fiction
All the Bright Places
Breathless
Take Me With You When You Go
Historical Fiction: Velva Jean Series
Velva Jean Learns to Drive
Velva Jean Learns to Fly
Becoming Clementine
American Blonde
Non-Fiction works:
The Ice Master
The Aqua Net Diaries: Big Hair, Big Dreams, Small Town
Ada Blackjack: A True Story of Survival in the Arctic
How much would I rate Holding Up the Universe by Jennifer Niven?
After reading this book, I made a new friend to whom I can go back to when I feel real low. It made me realize a secret that added value to my life. I would happily rate it 9/10.
Where to get the book, Holding Up the Universe?
These days, online purchase has become one of the most convenient options to buy books. If you are interested in reading this book by Jennifer Niven, why not check out this link below:
For whom is this book for?
If you see the world differently than the rest, this book will suit your interest. If the world sees you differently from the rest, this book will be your best pal. If you want to get a few more recommendations from Godofsmallthing. Head over to our book review section and explore a ton of reviews based on your interests. Book Reviews by God of Small Things