Rujuta Diwekar tips: How To Stay Fit and Healthy Naturally? – God of Small Thing
Rujuta Diwekar is a household name these days, thanks to Kareena's jaw-dropping transformation and many other celebrities who swear by her diet plan. Rujuta is one of the leading nutritionists in India and has an impressive clientele under her belt. What makes her stand out is her easy to adopt a strategy and shunning the fancy diet trends and superfoods. Being healthy is way more important than being lean, and a starving body can never be healthy. Here are some tips from Rujuta to lose the flab, not health. Let us dive deep into it.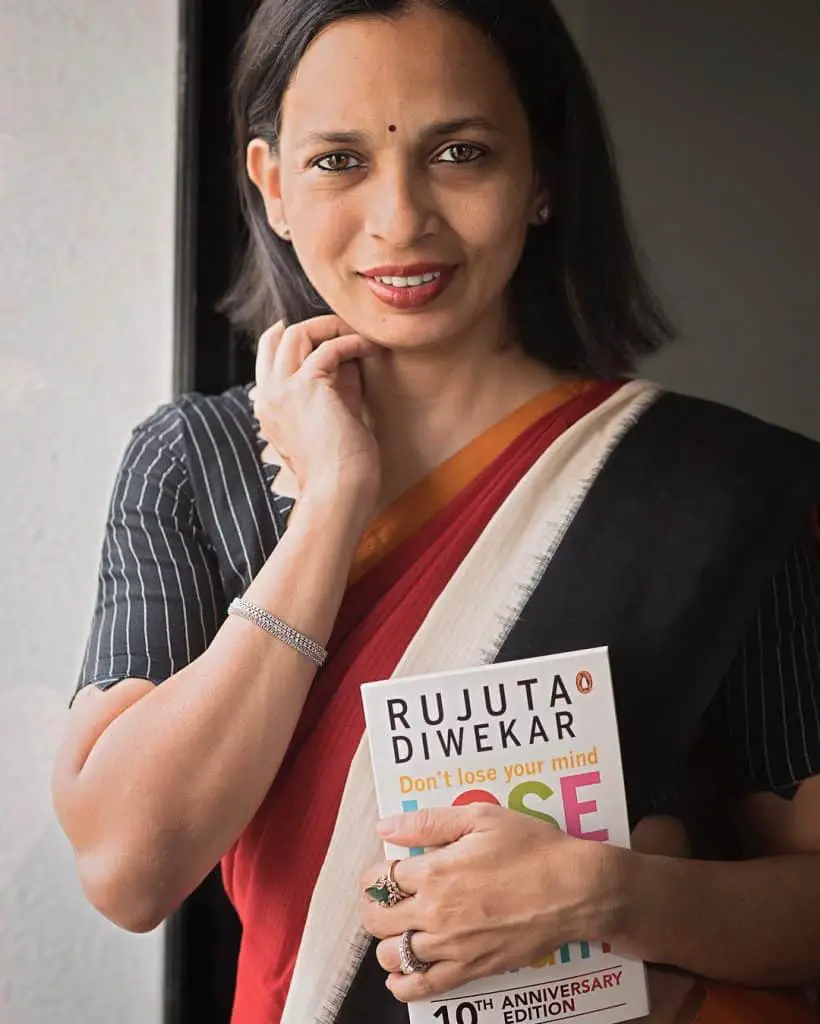 Don't follow trends blindly, try to understand your body
Each body has its own needs, metabolism, and capacities. Something that works for your friend might not work for you, similarly, a diet which is a sure shot hit in the West might not work for us. For e.g. we are generally told to consume 2-4 l water in a day.
Well, it's true that we should drink adequate water, but in quantities required by our body. Rujuta explains that our urine is the best indicator of the water required by us. If it is not colorless like water, we need more. Regular water consumption will keep the toxins away and will also curb unnecessary hunger pangs. Don't Follow Fitness Youtubers for your exercise regime! Here is why you should give it a thought once again!
Do not start your day with Tea or Coffee
Before you drop the idea of thinking it is impossible to do without Chai, we are telling you to wait only for 15 mins before drinking it. Do not drink it the first thing in the morning. Consume some soaked almond and raisins or maybe some seasonal fruit or a banana. And enjoy your favorite tea or coffee after that. Now that might not be as difficult as you thought. Here are some Best Healthy and tasty food to jump-start your day. You can also start your day with Detox water. 
Masala Chai over Green Tea
The idea is to consume what we have been doing traditionally. Drink your regular tea according to your taste, limiting the intake to 2 or 3 times at max. There have been many studies which indicate too much of green tea consumption has adverse effects on health. So enjoy your Chai guilt-free.
Do not forget to exercise
Exercise is a must for a healthy and fit body. There is no point starving to achieve that perfect body. Starving might reduce your weight but will surely take away your natural healthy glow. Rujuta suggests exercising with the Rule of Pi, which means you should exercise once in every 3.14 days. That would mean that you must exercise for at least 7 days for 21 days of eating good food.  Much better than starving. Here are some new Fitness Trends to follow. 
Ghar ka khana is the key to health
Rujuta suggests that it absolutely fine in indulging in delicacies, but we must always ensure that those are freshly prepared at home. They processed and preserved food contains bad carbs and are low on nutrition. Also when we overheat or reheat the food, it loses the nutrients. So eat freshly prepared food only. If possible, try not to reheat it again and again. Got no time to cook in Morning? Don't worry try these 5 minutes healthy breakfast ideas
Go Conventional, Eat Local
Rujuta has been one person who has been very vocal against the latest fad of Superfoods. For e.g, we prefer eating quinoa over our local Dalia and poha. Not only is quinoa super expensive, but it also is not native to our land. When we eat local, we are giving our body the kind of food it is seasoned to, the food which suits our body naturally. When we start eating foods from other continents, the natives of those places will have a deficit for those items. And our farmers will not be able to continue with the farming profession as we are not buying what they produce. So by eating local and seasonal food we are doing good, not only to our body but also to our ecology.
We hope that you will follow these tips and will enjoy your food and still be healthy.