Book Review: The Weight Loss Habit by Steven Ray Marks – God of Small Thing
Book Reviewer: Shritika Bhardwaj
Ratings: 3.5/5
Genre: Self-help
Worth reading: Yes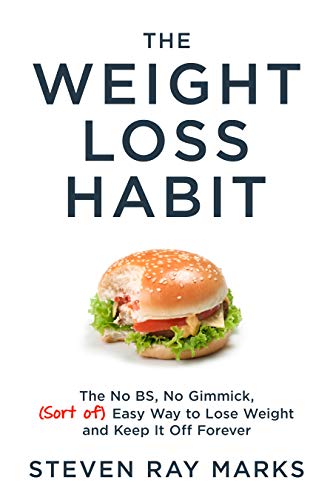 Just as the name of the book suggests, the book revolves around forming a single or a few habits to lose weight and keep your desired weight for a really long time. The book will surely not land you on the cover of Vogue or any renowned fitness magazine but will help you shed those extra pounds and overcome obesity. The ideas and strategies mentioned in the book are tested by the author himself and they do make sense practically. One will not come across any strict or fancy diet plan or any intense workout routine, but one will encounter suggestions to form a few habits leading to lifestyle changes and all these are very easy to be made in one's life. The book clearly highlights the fact that how certain gimmick and fancy diet plans in the market do give results as they are short-lived, we cannot forever stick to those diets and live by them, I agree some may be able to do it, but reality check majority of the population would find it hard.
Shed those extra pounds by reading
In these rushing times and modern lifestyle like ours, most people will not find time to exercise and a certain percentage of the ones who exercise might not be having fun, and there is no point in doing something which is an obligation to your mind and body. So unlike any other weight loss book, this book will not force you to physical exercise, maybe a little bit of mental exercise of self-control and counting. Read ahead, you'll know what I am talking about.
The author in the beginning itself mentions, "Your entire relationship with food is determined by your habits." And honestly, I did agree with him at that very instance, when I am lazy, I eat something ready to eat and not put in any effort and when I am active and fresh, I properly cook a mother approved meal. Sounds a little crazy, but give it a thought.
I hope you pondered a bit on the above statement and had a tiny moment of self-introspection, moving towards more of the content mentioned in the book, I would like to point out that the writing style of the author is so catchy and casual that one feels like he/she is having a conversation with a friend, there are no forced opinions, just some funny or logical instances from the author's life, his takes on a few hyped fitness strategies and his favorite book i.e. The Power of Habit by Charles Duhigg.
Steven frequently mentions Charles's book throughout his book and why wouldn't he, because it is an amazing read. He tries to make the audience understand how forming a habit would help in shedding those extra pounds. It is not easy changing habits, it's not like from tomorrow onwards for the rest of my life I'll wake up at 6 am every day, it requires dedication, hard work, and what not. Obviously, the author is not going to help you wake up, it's you who has to take the step and one can being with the smallest of changes at a time as everything needs time.
Diving Deep into Weight Loss habits
It's never easy giving up something you love especially the food you love (sigh), and this giving up never happens instantly, you need to put some thought process and self- control while making this choice. Steven highlights that "The fundamental rule of weight loss is to build a lifelong habit of thinking before you eat, make, or buy food, making a rational decision about what and how much to eat, and then to celebrate and take pride in your good decisions."
And this too makes perfect sense, once I am aware of how much calories I am in-taking, I'll surely take a note for the next time and hopefully reduce the amount in near future. This is smart advice, not excessively smart, but good enough to learn over a period of time. This is how a habit can be formed, one will not set a goal but will be in a habit of keeping a check of what goes inside our body.
Important Weight Loss Suggestions
The book is divided into small chapters and each one highlights a new rational way of reducing the calorie count. I'll mention a few important ones here. One such important suggestion made by the author is to switch to low calorie and more healthy alternatives of your favorite foods, an example is Diet Coke instead of a regular one. Steven also encourages his audience to eat from smaller plates and take smaller servings so that when it comes to gulping our favorite dish from the menu at a restaurant we will automatically be eating fewer calories. Also having strong willpower will play an important role here, one should resist taking a larger portion of their favorite dishes and keep in mind that one spoon will taste the same as a wholesome plate.
There is a nice point in which Steven mentions that our eating habits depend on people who we live with or hang out with. It is humanly to come under peer pressure and give in at times. Just for example, if I ask my mother has to make different meals every day for me, and the rest of the family; it will be a little out of her hands and it's really not possible in every household.
Book Recommendations: Good friends, good books, and a sleepy conscience are said to contribute to an ideal life. Well here are some 35+ Best fiction books of all time with buy online links that you should definitely read if you are into fictional books.
OR
If you don't really like Fiction, we also have curated a list of 30+ Best Books to read before you die including Fiction, Non-Fiction, Dystopian, and others that you can definitely look forward to! (Each link in the article will open in New Tab so you can finish reading the review and switch later 🙂
Another instance can be during my lunch hours, my friend has calorie-rich food and I am having low-calorie food, I will tend to taste the other person's lunch and will end up messing my own calorie count. This does seem like a problem, but Steven has given a really simple solution to it, go on a calorie deficit diet with a partner, so that one can prepare or plan meals together, discuss achievements, and will always have constant motivation. It's manageable, I told you all. Talking about your achievements to support groups after you have reached your goal is also a great way to keep you motivated.
It's about time that all of you would have pointed out that is not that easy to keep count of calories, I would totally agree, but Steven again in his genius manner has suggested a solution for this as well, so cool right. He says we should make use of the internet and for once take notes of the calorie count in our meals and for the times we are going out, he suggests to be prepared beforehand and to do some research so that we are not caught off guard and go away from the track of low-calorie diet.
Another important point is to always read the nutritional value of the packaged food (which our generation tends to buy a lot), never eat while you are drunk (you already have taken those calories from your drink and will hardly remember what you ate after you are drunk), never eat from multi-serving packs (yes they are cheap but who will ever stop eating their favorite Cheetos at one go), use small plates and spoons (size matters), eat slowly and only eat when you are actually hungry.
You'll find numerous such simple advice along with the calorie counts of famous outlets in the book. The book is packed with so many good practical tested ways of cutting down your calories, it might or might not be in sync with your thinking, but it surely took a long time for Steven to figure it out and he has shared his story in his own funny casual way.
A point to be noted, Steven will never encourage you to go calorie deficit to larger extends, keep a track of your calories and eat that much which helps you stay healthy and not face malnutrition. He also isn't discouraging you from exercising, you can continue with your favorite physical activity and enjoy the weight loss journey.
Final Take
There is never any harm in reading a book, you are not obliged to be in harmony with the thoughts put out there, but giving a fair chance never goes out of style. It's a short and easy read and it will surely make sense to a lot of people out there trying to lose weight or maintain the lost weight. I myself was not really excited to read the book by reading its title, but as it's said never judge a book by its cover (or its title), I went ahead and gave it a fair shot. While reading the book, one will not at all feel pressured to follow all suggestions made in the book, it's written in a nice casual friendly funny manner. The book has a nice set of practical advice and the author's own life examples, which makes it easy to relate, and hence trust is born in the reader.
The author will not suggest you extensive diet plans or workout routines, but a few small lifestyle changes which are easy to make (in my opinion) and will hopefully help the audience out there. Just a word of precaution before you go to the happy mental place and imagine yourself in your perfect body structure, remember that what might work for the author may not necessarily work for you, so do what makes you feel happy, your body feels great and your keeps your mind at peace.
Buy The Weight Loss Habit by Steven Ray Marks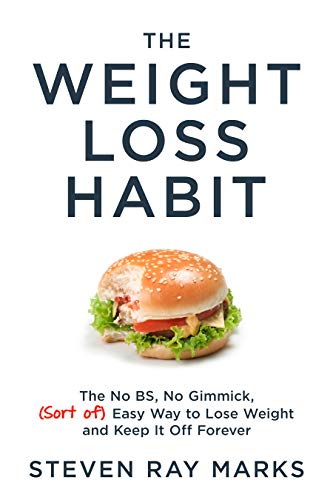 About the Author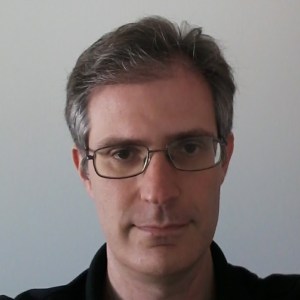 Steven Ray Marks started his childhood wealthy, then suddenly switched to being raised by a poor single mother working nights after his attorney's father got caught stealing from his clients. He has a BA in Economics from Georgetown University and an MFA in Screenwriting from The University of Southern California. He switches between writing and accounting. Marks has been the Controller for several start-ups, and wrote video games based on Hannah Montana, High School Musical, and Are You Smarter Than A Fifth Grader.
The author grew up obese, then in his mid-20s figured out an effective strategy for losing weight, and has kept the weight off since. His strategies for how to build the habits for lifelong weight-loss, without relying on willpower, are laid out in his book The Weight Loss Habit: The No BS, No Gimmick, (Sort of) Easy Way to Lose Weight and Keep It Off Forever.
He currently lives in Los Angeles with his wife and an ever-changing number of foster kittens. Marks blogs about making self-improvement easier at SelfHelpingYourself.com.
He also publishes a weekly newsletter called Five Boosts, which suggests five articles on easy ways to improve your life. And in totally different arenas: he has a YA novel called Sidekick vs. Henchman that he'll be publishing soon. His wife and he are working on a course on How to Be Awesome at Excel. (That's a working title). He also works on rescuing foster kittens, promoting mental health awareness, promoting political tolerance, and building communities.