Boycott Chinese Apps: Indian alternative to Chinese apps
Boycott Chinese products – this slogan has been doing rounds for quite some time in India but sadly has not made a big impact. But the call to boycott Chinese products is once again gaining strength among Indians on social media. The Galwan valley face-off has strengthened the campaign further. Hashtags Boycott Chinese Apps and Chinese app alternatives have been trending over the internet since then. Indians have been aggressively searching for Indian applications that can be alternatives to Chinese apps. The government of India has taken steps to keep trade with China in check. Today, as many as 47 Chinese apps have been banned by the Government of India after a recent ban on 59 Chinese apps. Additionally, as many as 275 apps are on the radar. These apps have Chinese origin /links or are clones of the previously banned Chinese apps. The complete list is to be released soon. But it is believed that PubG Mobil might be present on the list. Additionally, apps like Tiktok Lite, Helo Lite, SHAREit Lite, BIGO LIVE Lite, and VFY Lite are expected to feature in the list of 47 apps. Here is a list of Chinese apps that have been banned by the Indian government and security agencies.
Those who think that India's decision to ban Chinese apps is unjustified should read this. Under the IT Act 2000, the Indian government can impose a ban and even penalize websites/ apps that are a security threat to India. Here is a complete list of Chinese apps that are now banned in India. Alternatives to these apps are mentioned below:
TikTok
Shareit
Kwai
UC Browser
Baidu map
Shein
Boom Beach
DU battery saver
Helo
Likee
YouCam makeup
Mi Community
CM Browers
Virus Cleaner
APUS Browser
ROMWE
Club Factory
Newsdog
Beutry Plus
WeChat
UC News
QQ Mail
DU Recorder
Vault- Hide
Cache Cleaner DU App studio
Weibo
Xender
QQ Music
QQ Newsfeed
Bigo Live
SelfieCity
Mail Master
Parallel Space
Mi Video Call Xiaomi
WeSync
Clean Master Cheetah Mobile
Wonder Camera
Photo Wonder
QQ Player
We Meet
Sweet Selfie
Baidu Translate
Vmate
QQ International
ES File Explorer
Viva Video QU Video Inc
Meitu
Vigo Video
New Video Status
DU Cleaner
DU Browser
Hago Play With New Friends
Cam Scanner
QQ Security Center
QQ Launcher
U Video
V fly Status Video
Mobile Legends
DU Privacy
Many Indian users have been searching for Indian alternatives to Chinese applications. Due to its diverse and huge population, Indians have been one of the most popular customers for Chinese application developers. There are as many as 50 Chinese applications that are immensely popular in India. However, the boycott of Chinese apps movement has resulted in a long-awaited momentum in favour of Indian applications as people have started to look for Indian applications that can be an alternative to Chinese applications.
Appeal to Boycott Chinese Products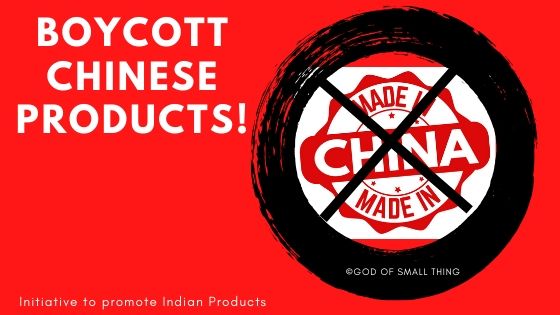 Sonam Wangchuk has requested fellow Indians to boycott Chinese apps in a week and Chinese hardware in a year. Isn't that absolutely doable? It's time to read our labels and look for the manufacturer. Avoid products that have been made in China and try to find alternatives. While we will need some time to figure out alternatives to Chinese hardware, we can immediately let go of Chinese software at least. We are sure that we have sufficient Indian alternatives to Chinese apps. If not Indian apps, we can check out other non-Chinese alternatives.
What Difference can Boycott Chinese Apps make?
 Before you question what difference can campaign to boycott Chinese apps make, think about the number of smartphone users in India. Think about how Indians spoiled Tiktok ratings in just a few days. Remember that approximately 39 per cent of TikTok global users are Indians. Think about the losses that the companies will incur if we boycott Chinese apps, not one but all. The next obvious question is – What are the Indian alternatives to Chinese apps? So here we have listed all Indian apps that can be an Indian alternative to Chinese apps.

List of Top Chinese Apps in India
Helo
SHAREit
TikTok
LIKE
Kwai
UCBrowser
UCBrowser Mini
LiveMe
Bigo Live
Vigo Video
BeautyPlus
Xender
Cam Scanner
PUBG Mobile
Clash of Kings
Mobile Legends
ClubFactory
Shein
Romwe
AppLock
Club Factory
VMate
Game of Sultans
Mafia City
Battle of Empires
We have tried to list down Indian apps that can be obvious Indian alternatives to Chinese apps. Also, we have mentioned some popular Non-Chinese options as well. Another factor that must be taken into consideration is that alternative Indian apps have just begun to compete in the market. Some of you might not find them top-notch quality but we are sure that with an increased number of users and more suggestions, they will be able to invest more and improve their quality. And in our opinion, they should be given this advantage of being in-house brands.
Indian Alternatives to Chinese Applications
Chinese apps have established dominance in short video and social content platforms. There is no dearth of leading Chinese apps in this category. Helo, TikTok, LIKE, and Kwai are just some of the leading apps in this category. Meet the Indian apps that can easily substitute Chinese apps in this category and can strengthen the Boycott Chinese apps movement.
Here is a list of Indian Alternatives to Chinese Applications:
Yo Browser- Alternative to UC Browser
Document Scanner – Alternative to Cam Scanner
Faballey – Alternative to Shein, Club Factory
Dailyhunt – Alternative to QQ NewsFeed
Sharechat – Alternative to Kwai, Hello
Marvel Super War – Alternative to Mobile Legends
Tango Live – Alternative to Vmate
Hike Sticker Chat – Alternative to QQ International
Pics Art – Alternative to BeautyPlus
Ajio – Alternative to Romwe
Clash Royale – Alternative to Clash of Kings
Triller –  Alternative to Vigo Live
Jio Browser  – Alternative to UC Browser Mini
Screen Video Recorder – Alternative to DU recorder
File Manager  – Alternative to ES File Explorer
B612 – Alternative to Meitu
Bewakoof
Koovs
StalkBuyLove
SaltAttire
Pantaloons
LimeRoad
Bunaai
Bolo Indya – Alternative to Tik Tok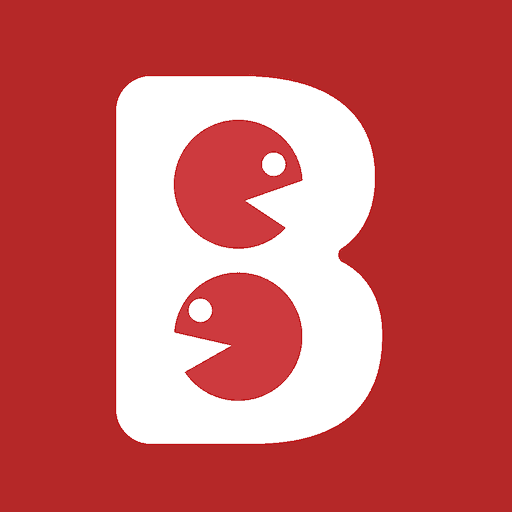 Indian app, Bolo Indya, has a very unique concept of short videos and focuses primarily on infotainment instead of entertainment. Founder Varun Saxena told a leading daily that they want users to create and consume only good and valuable content on their platform. This is quite different from TikTok where anything and everything can go viral. "On our platform one needs to post quality content to go viral and get popular," said Saxena. Upon checking we found that the content on the Bolo Indya app is informative, and competes with #Edutok instead of all the lip-syncing videos on the app.
Looking for Indian Brands? Here are some high-quality Indian brands from each category that you should definitely try
2. Roposo – Alternative to Tik Tok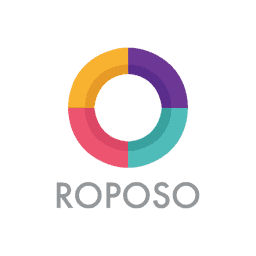 Roposo is not a new app and has been around for quite some time now. The app is available on both on App store and Google Play store. The seed idea of the app is the same as TikTok but is not an exact replica of Tikitok like Mitron(aka TicTik). This app allows users to create and share videos. Roposo provides more flexibility to users by allowing them to create their own original videos. They can also use an audio clip to make videos similar to TikTok. Roposo app currently has more than 50 million users onboard and boasts 4.3 ratings on the Google Play store and 4.5 on Apple App store. The UI of the app is also very user-friendly.
3. ShareChat – Alternative to TikTok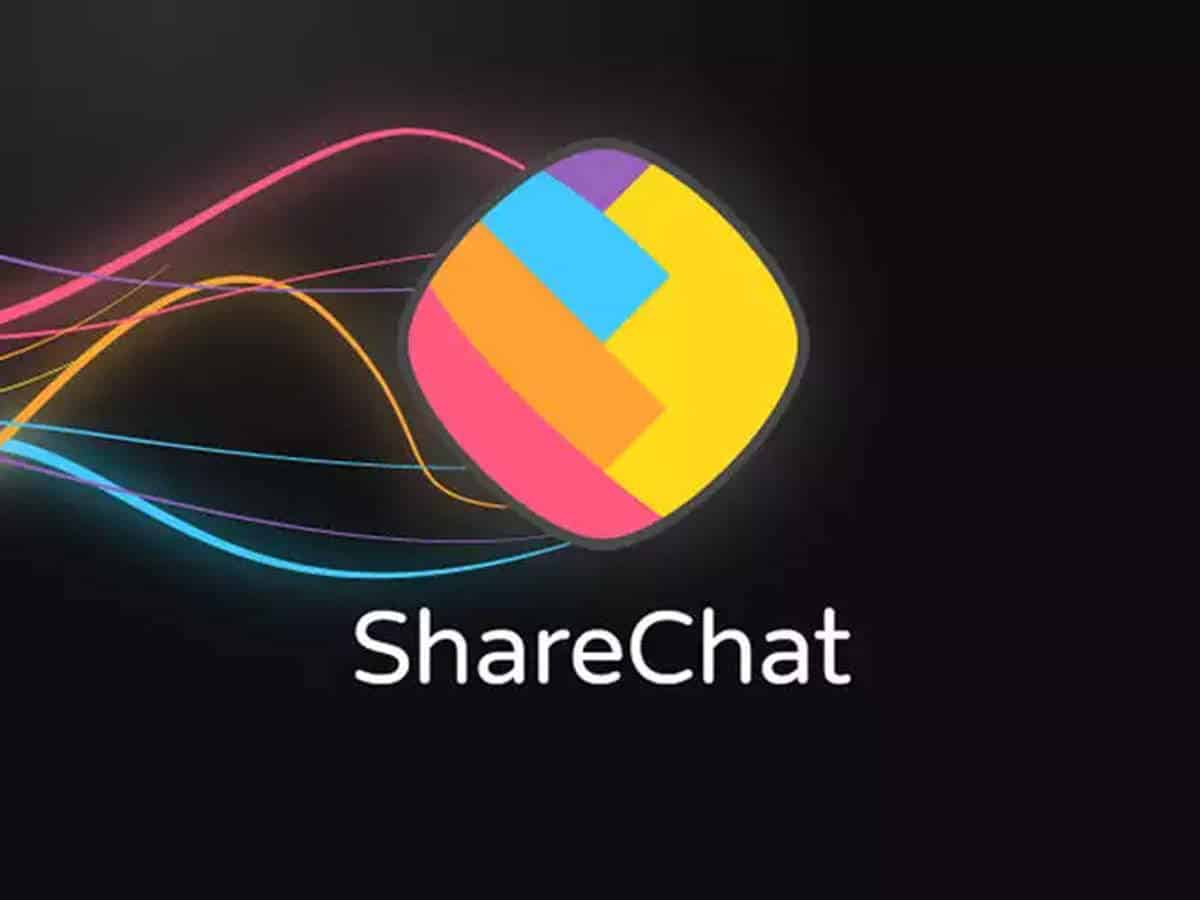 ShareChat is another Indian app that can help boycott Chinese apps. The app provides video creation like Tiktok, and provides content for FB status and forwards. Additionally, it allows you to interact with people. This Indian alternative to Chinese apps can definitely give many a run for their money. The app allows users to select from as many as 17 language options and boasts of an impressive rating of 4.3 on the play store. The app has already crossed 100m + downloads and is probably the strongest Indian competitor for TikTok.
Another very important aspect that drives the movement to boycott Chinese apps is data security. While Tiktok uses HTTP servers to store data, Bolo Indya uses Http servers ensuring complete data security. Didn't we say that we will provide the best Indian alternatives to Chinese apps?
Indian Web Browsing Apps
Now that all of us realize the importance of a fast but secure web browser. The browser should be fast and should provide multiple functionalities but if it is not secure it is of no good use. Popular Chinese app UC Browser is a major offender when it comes to the data security aspect, A common concern with most Chinese apps and the reason right many people want to boycott Chinese apps.
The immense popularity of UC Browser
UC Browser has become immensely popular in India owing to its fast speed and multiple functionalities. This year it surpassed Opera as the most downloaded web browser in India. While we can easily suggest Google Chrome or brave or opera as quick alternatives to the UC Browser the only drawback is that here we are discussing about Indian alternatives to Chinese apps and hence not talking about the already popular applications.
4. EPIC – Indian Web Browser – Alternative to UC Browser
Epic web browser is our best recommendation if you are looking for an Indian alternative to the Chinese UC Browser. A Bangalore based company called the Hidden Reflex is the brain behind this innovation. This app is based on the Mozilla platform and an inbuilt anti-virus protection makes it better than most browsers around. The inbuilt antivirus and antispyware have been powered by ESET.
The web browser offers customization according to the user's preference. You can decide the backgrounds, and themes and also type in any of the 12 languages that the browser supports. The sidebar provided in the browser has a number of apps like Twitter, Facebook etc. So, you can directly launch these apps from the sidebar.
The makers claim to provide maximum privacy due to features such as one-click private data deletion, flash cookie deletion built-in and no storage of browsing history. Not to mention the fast downloads and browsing experience provided by the browser.
5. Yo Browser- Alternative to UC Browser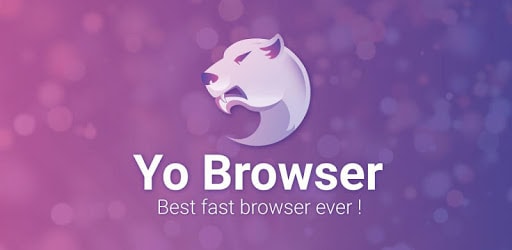 Yo Browser is another light and fast Indian app that can be a strong competitor to the UC browser. The browser has been developed in Pune and boasts of fast browsing speed, complete data security, and ad blockers to name a few.  Users can also play videos directly in the browser and download them with a single tap. If you are running low on data, you can select no-image options and only read the text.
This browser also allows various modes according to user requirements. You can choose from the night mode or reader mode to change the display. It also provides parental control with the whitelist feature. Isn't this surprising that we were mostly unaware of these Indian alternatives to Chinese apps?
Photo editing applications Like BeautyPlus and YouCam Perfect
Now this category is particularly a tough one to replace. Chinese apps have carved a place for themselves and have established a strong fan base in India. Boycott Chinese products are easier said than done. We will need a substantial investment as well as support to develop Indian alternatives to Chinese apps. Here we have tried to find the best Indian apps that can compete with these immensely popular Chinese apps.
Beauty Plus – Photo Editor and Selfie Camera app from China
If you have never used this app or heard about it, you are probably living under a rock. the beauty plus app has been one of the most loved Selfie and photo editing app for a very long time. Not just beauty plus, there are a plethora of Chinese apps that leaders in this category. Most of us cannot think of editing our photos without these wonderful apps. While these apps can be easily substituted by much better apps such as Snapseed and Adobe Lightroom, what makes these apps stand out is the plenty of frames, effects, and backgrounds that these apps have to offer.
It is not a very debatable topic that there are few Indian apps that can compete with these apps in these photo and video editing categories, however we still tried to find out a few.
6. Camera Plus – Alternative to Beauty Plus Chinese Application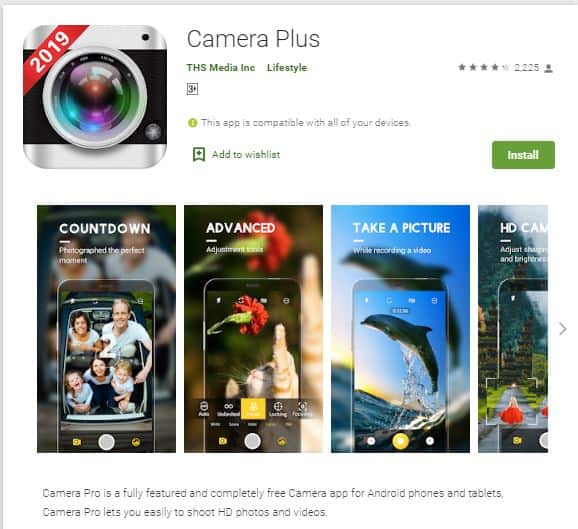 It's very normal to not know about Indian alternatives to Chinese apps particularly in the photo editing genre. We too had a tough time finding it, but it was all worth the effort. A Bangalore-based company Pixel Force Pvt Limited has developed an application that covers all the functionalities of their popular Chinese counterparts. Camera Plus allows you to edit photos to your liking while providing additional options like float photos. It also allows users to make themselves look taller or shorter to their liking.
All photo editing effects are similar to most apps we have used. Additionally, the same app provides a feature to create beautiful photo collages in different backgrounds.
One common issue with most Chinese apps is that they have different apps for different functionalities. However, our Indian alternatives provides a better range of features. This app can edit your photos, create collages, create floating photos, provide Bokeh effect, blend the photos, and easily change photo or picture backgrounds.
So, one does not have to install a collage maker, a You Cam, a Picsart etc. Just this one is enough.
7. Indian Selfie Camera – Alternative to YouCam Chinese App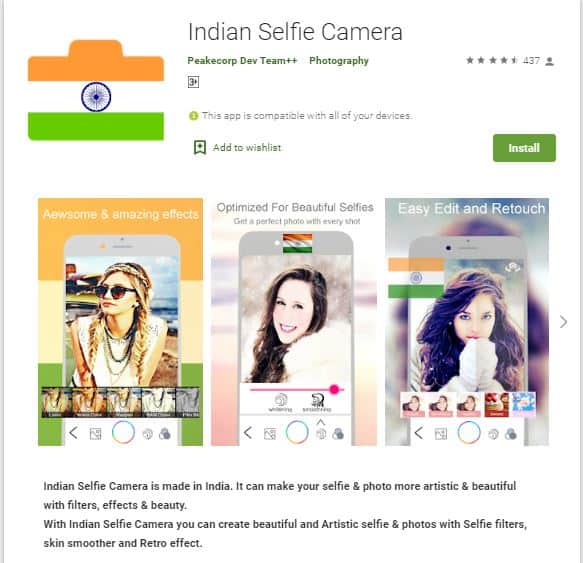 Another Indian app that can be developed into a top-performing app is the Indian Selfie Camera. This app too does the job decently, however, we will not say that it performs better than other leaders in the market. Leaving some minor glitches apart, this one does a fairly decent job. Like other editors, Indian Selfie Camera is not very large in size but offers a huge number of effects. Pretty much everything you might want to try. The app is great for people who have hardware or data constraints. The User interface is also friendly. The app boasts 4.5 ratings on the Play store.
Just when you thought that it is almost impossible to boycott Chinese apps in photo and selfie categories, these options might help you change your opinion. Not just these, there are other Indian options available too. All you need is some time and a willingness to explore.
Data Sharing Apps Like Xender, ShareIt
Now this one's a competitive niche and ShareIt has been an undisputed leader for a very long time. Not many of us knew that this was a Chinese app. The app was so popular that it came pre-installed on some devices as well. But we are pleasantly surprised to introduce Indian apps that can easily replace the immensely popular ShareIt without fear of data security.
8. Jio Switch – Alternative to ShareIt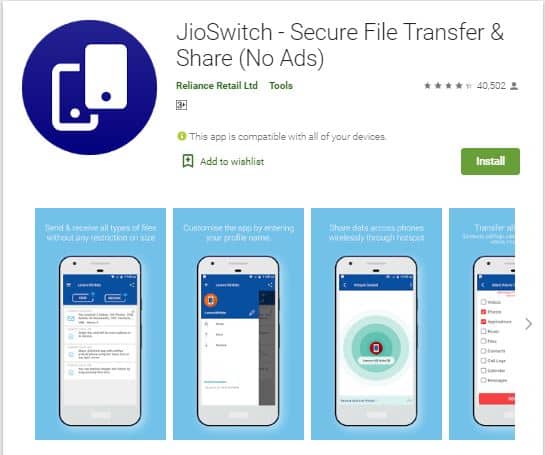 JioSwitch is an app launched by Reliance Jio Digital Services Private Limited. Like ShareIt, this app can be used to transfer and share files, photos, videos, documents and more from one device to another. This application is available for Android as well as for iOS Users.
The best part about our Indian alternative to the Chinese app is that Jio Switch is ad-free. One of the most irritating parts about ShareIt. Also, upon testing, we found it to be fast. A perfect and better replacement for ShareIt.
9. SHAREall – Alternative to ShareIt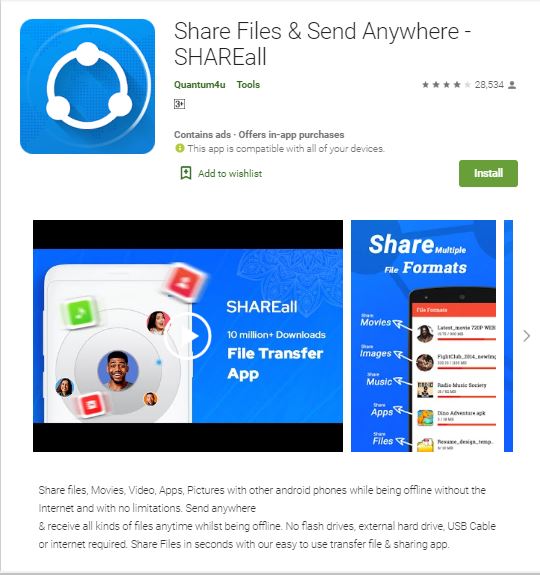 Another fast and Indigenous app that can replace the Chinese apps is Shareall. This application supports all platforms and transfers data at a lightning-fast speed. Developed by a Gurgaon-based company, Shareall is probably the only app that provides password protection for the security of data being shared. The app claims to 200 times faster than Bluetooth and can transfer files in any format. The app is small in size and also provides a backup of your installed applications.
Meet Bhuvan India's own geoportal application that no one knows about!
Gaming Apps like PUBG Mobile, Clash of Kings
No, we still don't agree that PUBG cannot be substituted. The game has garnered negative publicity ever since it was launched. This was among the first app to start the Boycott Chinese apps movement. Some Indian states even issue a ban on PUBG, but it still remains a highly popular game.
Finding an Indian alternative to a Chinese app in a category that is largely dominated by Chinese apps is a tough task. The recommendations below come close, but we don't claim that they can easily replace PUBG.
Hold on! Confused over whether Pubg Mobile is a Chinese app or not? Want to dig in deeper and decide? Is PUBG Mobile a Chinese Application? – All Questions Answered
10. Document Scanner – Alternative to Cam Scanner
Ever since the Indian government banned the Cam scanner, people frantically began searching for alternatives to Cam Scanner. While Adobe scan and Google Drive scanner are available, we would like to introduce an Indian alternative to Cam Scanner. Yes, the Document Scanner app developed by Smart Apps Pro is the Indian alternative to Cam Scanner. This app has no security issues and works just as fine. Yes, there is certainly scope of improvement, but it is very much appropriate to use be used as an alternative to a cam scanner.
11. Indian Air Force: A Cut Above – Alternative to PUBG Mobile
Did you know that the Indian Airforce has its very own official mobile game? The game was launched in 2019 with the objective to connect with the youth. The IAF wanted the youth of the country to experience the thrill of air combat. No, this is not the first game launched by the IAF, it's the second. The first was Guardians of the Sky which was launched in 2014. Both the games have been developed by a Dwarka-based company Threye, that makes Army games.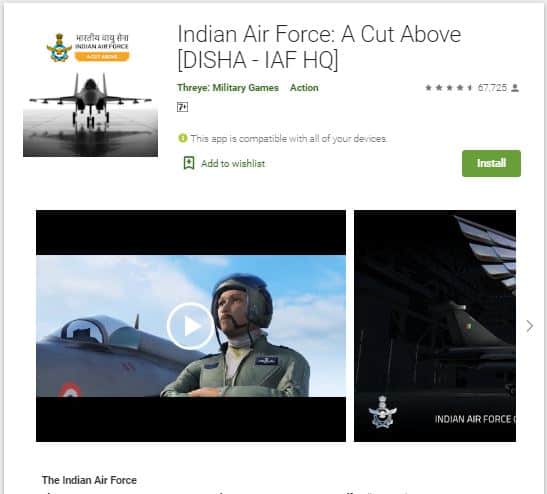 The game begins with the training mode, and after completion of training, the players are allocated various combat missions. These missions become tougher with each level. Apart from flying missions and gun battles, the game has rescue missions to be completed as well. The game does not require top-notch hardware and can work on basic smartphones as well. The default avatar is quite a famous IAF soldier, Wing Commander Abhinandan Varthaman. You can change the avatar with your own pic as well.
You also get to choose your combat vehicle like the Sukhoy or the Rafale amongst many others. This game was picked to be a part of the Best Games in the Users Choice Game category. Comparison and preferences may vary amongst users, but Indians should definitely try this game once.
Do you know you don't have to carry a driving license in the country anymore? Here's an App that you can use instead! DigiLocker App by Government of India
12. Grand Battle Royale: Pixel FPS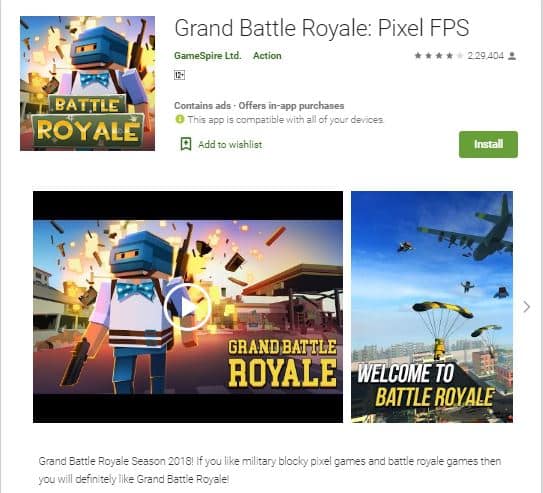 Grand Battle Royale is a game on similar lines as PUBG but in a pixel version. The advantage of this game is that it can run on the most basic smartphones and does not require a lot of hardware resources. The missions are interesting if you are ready to overlook the cartoon-like graphics.
Non-Chinese alternatives to PUBG can be plenty. Call of duty tops the list in our recommendations. The game is interesting, has good graphics and is the closest competitor (better for some) to PUBG Mobile. Other recommendations would be Garena Free Fire and Modern Combat Versus.
14.Dailyhunt – Alternative to QQ NewsFeed
The fact that this news-based software supports several languages and is likely to have your mother tongue among them is one of its most wonderful features. It will provide you access to the sources that make up more than 2,600 media organizations. Additionally, you will receive the most recent information from a variety of areas, including entertainment, astrology, gossip, sports, employment, and defence. You may also read the numerous reviews and articles that your authors have posted and then interact with them by responding to their postings. You may use this app to keep track of all the likes, comments, and shares you have made. Additionally, if you have anything worthwhile, you may post it and share it. It also gives you access to news from rural and remote parts of India, something that not all similar sites provide. There are no in-app purchases, and the software is completely free.
15. Sharechat – Alternative to Kwai, Hello
ShareChat is an Indian social media and networking platform created by Mohalla Tech Pvt Ltd in Bangalore. It was established on January 8, 2015, and incorporated by Ankush Sachdeva, Bhanu Pratap Singh, and Farid Ahsan. In 15 Indian languages, ShareChat has more than 250 million active users each month. It is a very good application we can use for alternative Chinese apps like kwai and Hello.
Initially, ShareChat worked as a content sharing platform, without any scope of users generating their own content. In 2016, ShareChat enabled user-generated content creation on its platform, allowing its users to share their own posters and creative content. Around the same time, it also introduced open tagging for users, which would allow anyone to create their own hashtags depending on the content.
16. Marvel Super War – Alternative to Mobile Legends
It is the first mobile MOBA game featuring Marvel! Jump into combat in new Iron Man and Captain Marvel Space War outfits! Together, Marvel and NetEase Games have created the most vibrant, stunning, and accurate representation of the Marvel Universe for mobile devices. Prepare to discover additional options and take part in the action like never before! X-Men vs Avengers, Iron Man versus Captain Marvel, and Spider-Man versus Deadpool! The huge galaxy is ready to be shaken by epic 5v5 real-time super fights! This is quite different from Mobile Legends but we can use it as an alternative to this.
17. Tango Live – Alternative to Vmate
Tango Live application is on similar line as Vmate apps. Tango is a cross-platform, third-party messaging program for cellphones that was created by TangoME, Inc. in 2009. Free to download, the program was among the first to offer 3G video calls, phone calls, messaging, photo sharing, and games. According to PCMag, it is "the most straightforward mobile chat program available, with a decent breadth of support." A B2C platform for live video broadcasts, Tango joined the live streaming market in 2017 and now combines high-quality video streaming, a live messaging chat feature, and a digital marketplace.
18. Hike Sticker Chat – Alternative to QQ International
Another fast and indigenous app that can replace the Chinese apps is Hike sticker Chat. With the help of the Android app Hike Sticker Chat, you can stay in touch with all of your friends and contacts even if they don't have Hike loaded on their own devices.
Hike Sticker Chat lets you start group chats or carry on private conversations with your pals, just like other instant messaging apps for mobile devices. Even if it's not Hike, anyone may join a group chat using their preferred messaging app.
19. Pics Art – Alternative to BeautyPlus
Depending on your goals, the technology platform in Miami, Florida lets you shoot and edit films and photographs, design with layers, and modify images. A person can be removed from the background while altering a photo using PicsArt's automated face recognition tool. The app's functions are free, and it is accessible through the Google Play and Apple App stores. You may use PicsArt to take advantage of simple-to-use editing tools, a live camera, a variety of stickers, effects, and customizable collages. is quite different from BeautyPlus, but you can find similar features of Pics Art.
20. Ajio – Alternative to Romwe
Ajio, the fashion and leisure brand from Reliance, was introduced in 2016. It is a well-known digital fashion extension. One of the top online apparel purchasing applications in India, the site concentrates on new viewpoints on personal styles. It provides a wide range of product categories, including clothing for men, women, and children as well as a high-end selection of computer accessories and gadgets.
21. Clash Royale – Alternative to Clash of Kings
Clash Royale is a game on similar lines as Clash of Kings. The advantage of this game is that it can run on the most basic smartphones and does not require a lot of hardware resources. Tower-rush video game Clash Royale engages players in battles with two or four players (1v1 or 2v2) with the goal of destroying the most rival towers; destroying the "King's Tower" results in an immediate victory. After three minutes, if both players/teams have the same number of crowns or none at all, the game goes into a two-minute overtime session, during which the person who topples an opponent's tower instantly wins. In a tiebreaker, all towers rapidly lose health, and the tower with the least health is demolished if no towers are obliterated during overtime. There is a draw if the health of the two towers is equal. 
Players in Clash Royale are rated according to how many trophies they have. Players advance in levels by accumulating Experience (or King Level) points via upgrades and donations to their cards. Level 14 is the highest attainable level.
22. Triller –  Alternative to Vigo Live
An American social networking platform for video sharing is called Triller. Users of the site may make and share short movies, including ones that are automatically or manually synced to music using artificial intelligence. Triller, which debuted in 2015 for iOS and Android, started as a video editing tool before including social networking capabilities. After TikTok was banned in India and was under threat of being banned in the US in mid-2020, the app rose to fame in both countries as a rival to TikTok, a similar Chinese-owned app. Later, Triller made a foray into the world of sports marketing, distributing pay-per-view boxing matches between Mike Tyson and Roy Jones Jr. and Jake Paul and Ben Askren, both of which featured cameos from prominent figures in the world of internet, sports, music, and entertainment.
23. Jio Browser  – Alternative to UC Browser Mini
JioBrowser is a program that allows Android users to easily visit a variety of Internet websites. You won't have any trouble entering each website to study the material you're seeking thanks to a user-friendly design. You have all you need with JioBrowser to easily surf your favourite websites. The browser itself even features a useful home screen where you can add shortcuts to your preferred destinations. Similar to that, the tool enables you to install widgets so that you may access the weather reports or sports scores you follow. A perfect replacement to UC Browser Mini.
24. File Manager  – Alternative to ES File Explorer
A computer application known as a file manager or file browser offers a user interface for managing files and directories. The most frequent actions used on individual files or collections of files include creating, opening (for example, viewing, playing, editing, or printing), renaming, copying, moving, deleting, and searching for files, as well as changing file characteristics, properties, and permissions. Based on the directory structure of folders and files, a hierarchical tree may be presented. A perfect and better replacement for ES File Explorer.
25. B612 – Alternative to Meitu
B612 is a selfie-specific photography software that enables you to edit your selfie photos with hundreds of different filters before posting them on your preferred social media platforms. B612 features more than 50 distinct filters in all. By just swiping your finger down the bottom of the screen, where you can get a tiny sample of how it will appear, you may select any of them. A random filter may also be applied by just gliding your finger over the image.
E-commerce applications: ClubFactory, Shein, and Romwe
Romwe, Shein and Club Factory are popular online shopping websites that are known for selling stuff at really low prices. These things include clothes, footwear, accessories, home decor, and other utility items. But did you know that these companies entered Indian markets and sold their products without even paying taxes to the Indian government?
Yes, when these websites used to ship their products as gift items and escaped the customs. It was only after their consignments ceased in Mumbai that these companies agreed to pay their taxes. In June 2019, Club factory in particular was just second to Myntra.com in terms of market share.
We bet you wont even know that these are Indian Brands! Here is a list of Indian Brands which are of High Quality!
Quality issues with Chinese products
The products listed on these websites have several, not one issue. First, one is the quality. While the products look pretty and attractive, the real product is generally not up to the mark. Additionally, these websites are not true to their sizes and one has to constantly engage in the process of reordering and returns. Now, that they have a significant number of users in India, the prices have also gone up. One can easily find a better product at a lower or same price in local shops or on Indian e-commerce websites.
Luring customers to buy unnecessary products
Another issue that needs to be addressed here is that since these websites are selling too many products at cheap prices, people tend to buy unnecessary things. These things are generally not needed, but people buy them because they were cheap. So, the consumer was tempted to shell out extra money for a useless product. If we calculate the total amount that was spent on impulsive buying over a span of time, we realize that it comes out to be a significant amount.
So, indirectly we wasted our hard-earned money on a product that was of low quality and was not needed. This money went to a country that is not too fond of us and is targeting our economy. Wouldn't it have been better if we resisted that impulsive shopping and got ourselves a plate of chaat instead? At least a poor man could make his ends meet and you could enjoy your snack. It still had some value for both. Agree?
Indian E-commerce brands that are reliable
Now, this is surely one category where we do not have to explain the Indian alternatives available. Now you are already familiar with Amazon, Myntra, and Flipkart. So here we list top-quality Indian apps that surely outshine Chinese e-commerce applications.
These ones are Indian brands and care a lot about brand reputation. Hence, even if you find that the products are slightly more expensive than the Chinese ones, they are worth the money. At least you can use them to your heart's content as they last better than Chinese products.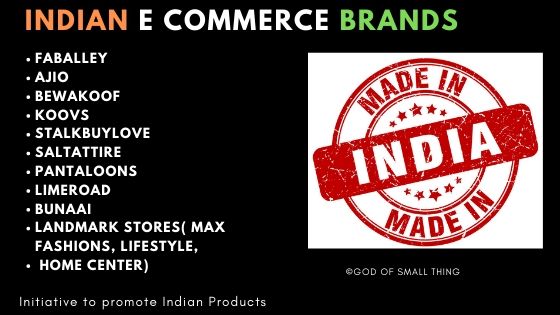 Remember the saying – "Mehenga roye ek baar, sasta roye baar baar". So here are some websites/apps that you must consider in the eCommerce category:
Faballey
Ajio
Bewakoof
Koovs
StalkBuyLove
SaltAttire
Pantaloons
LimeRoad
Bunaai
Landmark Stores( Max fashions, Lifestyle, Home Center)