Top 25 Players with most Centuries in International Cricket with Video Highlights
Reaching the 100-run mark is considered the most prestigious feat for a batsman in cricket. Cricketers with the highest number of centuries are highly regarded because those with the most hundreds in international cricket truly embody the essence of the sport. The question is whether or not you are aware of who hit the most centuries in cricket. And if you do, are you sure that's the most centuries in all formats? I ask this because I know the stories of how batsmen across the world have embraced themselves to score the highest centuries in all formats. Today, I wish to share all those stories with you. 
Here is a list of the top 25 players with the most centuries in cricket across all formats with video highlights of their best performances: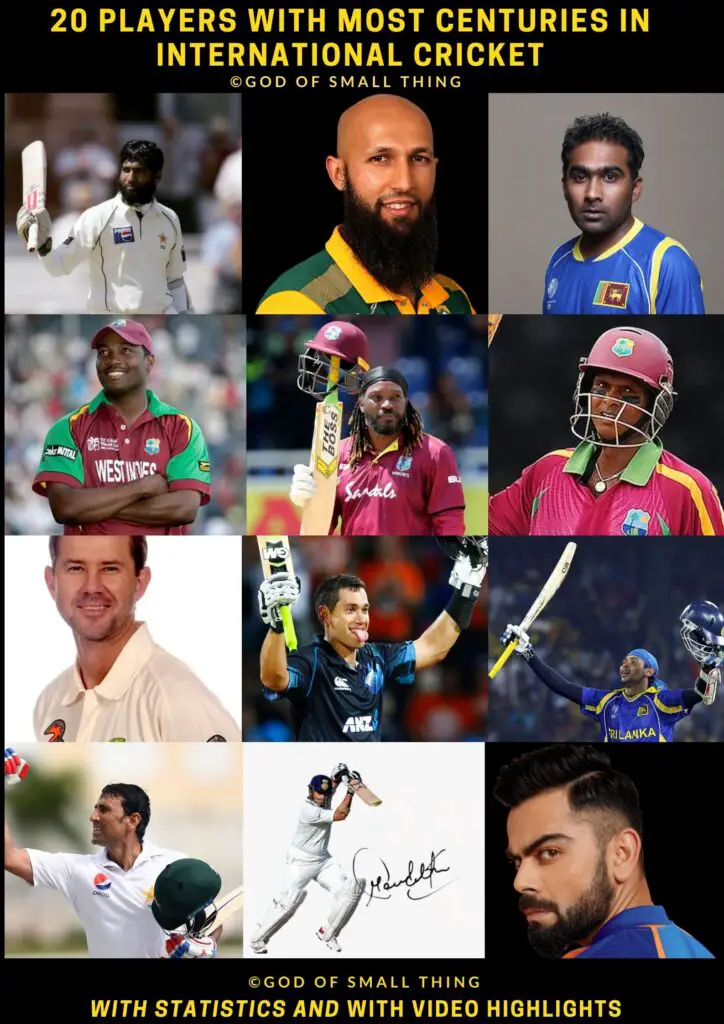 25. Virendra Sehwag
Details of 25th highest centuries in all formats
Down the ground, a shot over the covers and it's a four! One after another dramatic innings made Sehwag a fan-favorite. As the sixth leading century maker of India, Sehwag showed class and consistency across all formats of cricket. He posted centuries against all Test-playing nations, except Bangladesh and Zimbabwe. In fact, he debuted with a Test century against South Africa back in 2001. Over the years, his hunger for big totals got him to pivotal points in world cricket. As proof of this, he stands as the only Indian batsman with six individual scores over 200.
Studying his record, one would also find that Sehwag scored triple centuries on two separate occasions – versus Pakistan (in Multan, 2004) and South Africa (in Chennai, 2008). As a matter of fact, the latter century is the fastest triple century in Test cricket, coming off 278 deliveries! In One-day cricket, his highest score came against West Indies (219 runs).
Watch Virendra Sehwag's best century
24. Alastair Cook
Details of 24th highest centuries in all formats
Came as a last-minute replacement for Marcus Trescothick, Alastair Cook went on to create history with his bat. He debuted against the West Indies and that too with a century! What followed was a series of centuries coming off in the first matches against India, Pakistan, and obviously West Indies, as mentioned. Becoming the youngest Englishman to reach 1,000, 2,000, or 3,000 runs in Test cricket, Cook secured 7 indomitable centuries before his 23rd birthday.
Persistence and patience made Alastair Cook, his determination well sought the reins of captaincy in the Test and ODI formats. While many consider his 294 against India to be the most glorious innings of his career, any cricket enthusiast would argue noting his crucial innings of 95 against Australia, which led to England's victory at the Lord's, a feat repeated for the first time since 1934.
Watch Alastair Cook's best century
23. Tillakaratne Dilshan
Details of 23rd highest centuries in all formats
Watch Tillakaratne Dilshan's best century
22. Mohammad Yousuf
Details of 22nd highest centuries in all formats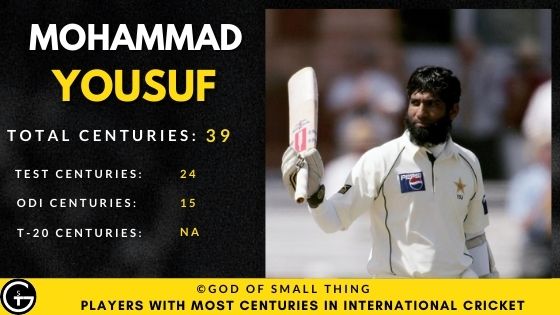 The star of Pakistan, Mohammad Yousuf ascended to glory in 2006. He is known to have ruled that year as on 30 November 2006, in the third innings of the final Test against West Indies at Karachi, he surpassed Viv Richards. He broke Richards' thirty-year-old record to become the highest scorer in Test matches during a single calendar year. Yousuf paralleled another legend – Don Bradman – by scoring six centuries in successive Tests. 
While on a rampage of making runs for his team, Yousuf almost neared the mark of 40 centuries. However, he retired soon after four years and ended a fantastic career. At present, he maintains the 19th position for scoring hundreds in international cricket. 
Watch Mohammad Yousuf hit 100 vs India
21. Ross Taylor
Details of 21st highest centuries in all formats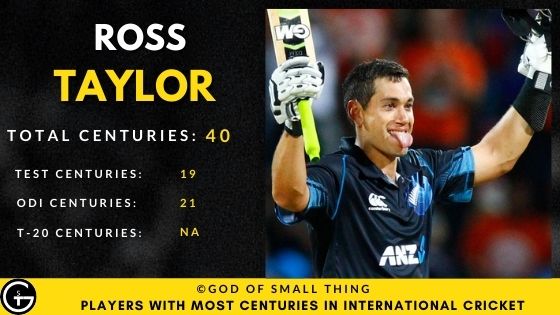 Possibly the most experienced cricketer in the world at present, Taylor has contributed massively to the sport. Batting at number 4, Taylor has always gripped the middle order for the Kiwis. Talking of centuries, Taylor shines out prominently. In the best four chases by New Zealand, Taylor is well known to have scored hundreds in three of them. 
Taylor still holds on to his batting glory. Between 2017 – 2020, Taylor averaged 67.76 in 50 innings. This is a remarkable feat as it makes him the second most successful ODI batsman after Virat Kohli. The Kiwi veteran's high-scoring capacity has let him find a spot at 17th, for scoring the most hundreds in international cricket.
Watch Ross Taylor's best century
20. Matthew Hayden
Details of 20th highest centuries in all formats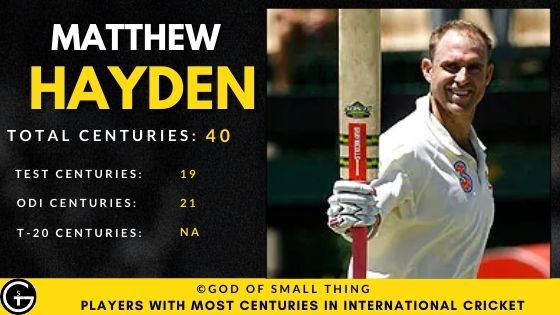 Scoring his first century in Adelaide Oval, Hayden gave a world-class start to his batting career. By the turn of this century, he had become a formidable cricketer. Bowling him out seemed a heavenly task for spinners and pacers alike. Hayden's supremacy was defined by an invincible single total of 380 – the highest of his time. He stood most successful against the neighboring Kiwis, especially the 181 not-out knock of 2007. 
Named the Wisden cricketer & ICC cricketer of the year on various occasions, Hayden played his part in bringing World Cup trophies home. Unlike most players of his time, Hayden was able to post a significant score in T20s as well – 73 being the highest. As of 2020, Hayden can himself at number 16 for scoring most centuries in cricket. 
Watch Mathew Hayden's best century
One thing Hayden was not so good at during the end of his career was his flexibility which brings us to a question for you! According to you, Who is the best fielder in the world right now? well, if you wish to have a look at who all are there on the list. Here is a list of the Best Fielders in Cricket with Career statistics and their best performances for you, hey Don't worry! Each link in the article will open in a New Tab so you can finish this off and switch later 🙂
19. Shivnarine Chanderpaul
Details of 19th highest centuries in all formats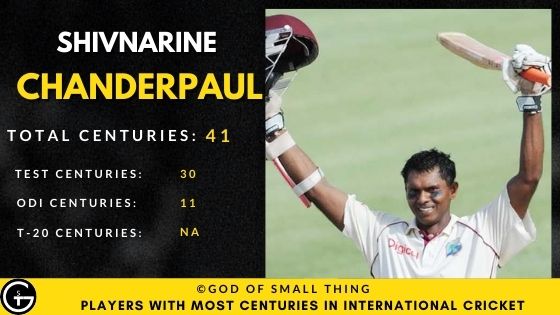 Joining the Windies side in 1994, Chanderpaul rose as an extraordinary Test cricketer in the world's most dominating Test-playing team. Best known for patience and good placements, dismissing Chanderpaul was a mountainous task. Shane Warne while listing his best 100 Test players, recalled Chanderpaul as "a bloke you needed to crowbar away from the crease." Early on, the Guyanese batsman was heavily criticized for failing to turn the fifties into centuries. He didn't bother himself with the remarks and continued playing his natural game. A few years after his debut, Chanderpaul's classy knocks smoothly began to cross the 100 runs mark and get a headline in the daily newspapers. 
A flexible batsman batting usually at number 5 or 6, strengthened the Windies line-up at the core. While Chanderpaul is remembered for his sloth play, he charismatically scored a 69-ball century in 2003 – the third fastest of the date. Taking note of his excellent batting, it's no surprise that we find the 15th spot for scoring hundreds in international cricket. 
Watch Shivnarine Chanderpaul's best century
18. Younis Khan
Details of 18th highest centuries in all formats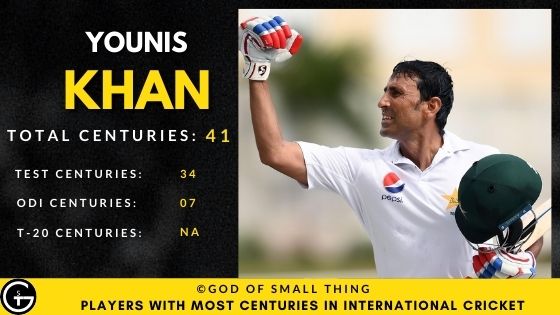 Smacked the balls out the ground be it ODI or Test, that was how Younis played. Out of 115 Test matches, he amassed a grand record of 34 centuries. Such fast-paced cricketing was unheard of in the early years. Most of his centuries came in foreign grounds, specifically 20 venues in total. By the end of his career, he had become the first Pakistani batsman to score a century against all the test-playing teams. The worst-hit team by Younis Storm was the Lions of Sri Lanka. He made eight significant centuries against them. By 2015, Younis broke Javed Miandad's record to become the leading all-time scorer in Test cricket. 
A fan favorite and a real treat to watch, Younis contributed a lot to the world of Test cricket. First Pakistani to cross ten thousand run mark in Test, put Younis on a global stage. With his highest score of 144 in ODI cricket, Younis left his mark in the limited-overs format as well. We find him in the 12th position for scoring hundreds in international cricket. 
Watch Younis Khan hit Glorious 218 at The Oval: England v Pakistan 2016
17. Kane Williamson
Details of 17th highest centuries in all formats
Kane Williamson will likely be the best batsman in New Zealand by the time he is done playing cricket. That opinion was shared even by Martin Crowe. But he might also become one of the internationally adored characters in the game. Since making his debut in 2010, Williamson has established himself as a key member of the New Zealand team. He is ambidextrous and bats right-handed in the top order in all forms.
Williamson was born in Tauranga, the largest city in New Zealand's Bay of Plenty area, into a sporty family. His mother was a basketball representative, his father had played Under-17 cricket for Northern Districts, and his sisters had played age-group volleyball. Williamson instantly took to cricket, and it quickly developed beyond a pastime.
Watch Kane Williamson's best century
Do You Know who has scored the fastest fifty in ODI Cricket? Let us give you a hint 😀 It's not Chris Gayle, Kohli, or Dhoni. Well if you wanna know here are the Fastest 50 in ODI Cricket with Video Highlights
16. Sanath Jayasuriya
Details of 14th highest centuries in all formats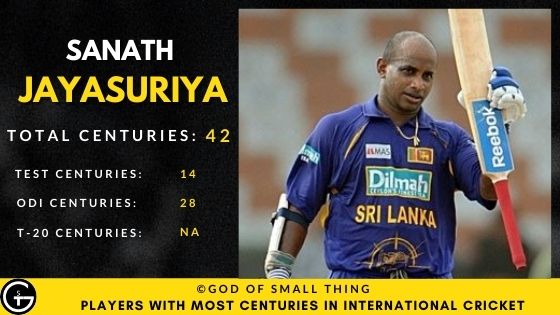 The Sri Lankan master blaster is credited with the opening batting strategy that is well known today. Taking advantage of the field restrictions in the first few overs was not a common style of play until Jayasuriya used it in the 1996 World Cup. Later on, the Aussie cricketer acknowledged this publicly stating, "(Jayasuriya) changed everyone's thinking about how to start innings." While he could only best 88 runs in T20s, Jayasuriya left an indelible mark on the other major formats. Energetic beyond comparison, Jayasuriya pushed his game by the turn of this century. His test highest of 340 in 1997 was overshadowed by the fastest century feat that came in 2004 against Zimbabwe.
When Test cricketing had fallen short across continents, Jayasuriya automatically sped up his game. This is the reason why his ODI achievements are greater than that of Tests. Becoming the second player to cross 13,000 runs in one-day International cricket, Jayasuriya showed his master skills. The oldest batsman to score an international century essentially finds a spot at number 13 for scoring most centuries in all formats. 
Watch Sanath Jayasuriya's best century
15. Chris Gayle
Details of 15th highest centuries in all formats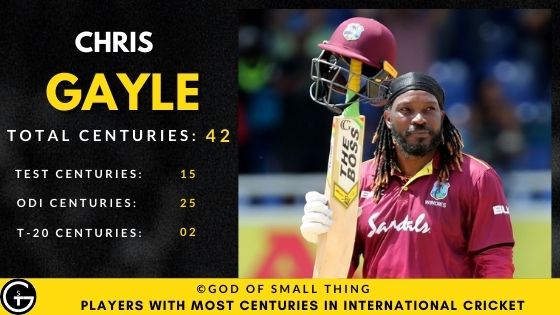 The universe boss has a remarkable history of slamming centuries paving the way to cricketing greatness. Scoring century, double century, and triple century in the first decade itself bestowed incredibly on Gayle. The test success of 333 stood nowhere compared to his ODI performance. His eighteen gleeful ODI centuries were slogged on foreign pitches. Even this feat didn't stand strong when he stomped on opponents' imagination and scored the first T20I century in the 2007 World Cup. 
The Caribbean opener to date brings sleepless nights to his rival bowlers. Leg spinners avoid facing him and swing pacers showcase their best performance by attacking him in the early overs. The Gayle-storm finds himself at number 12 for hitting most centuries in all formats. 
Watch Chris Gayle smash 100 off 47 balls
14. Rohit Sharma
Details of 14th highest centuries in all formats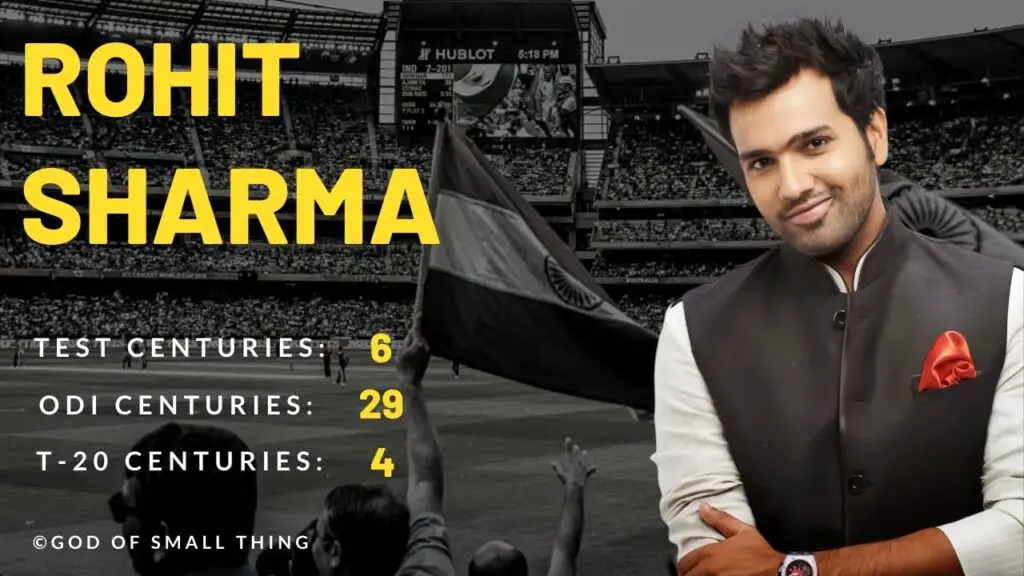 After 3 years of international debut, the hitman relieved his willow to score his maiden ODI century against Zimbabwe. When Dhoni pushed him up the ladder to open alongside Dhawan in the 2013 Champions Trophy, Sharma showed his true colors. From there, he chose the elite Aussie attack to smash back-to-back centuries and cement his place at the top. 
A decade since his maiden century, Rohit today is considered among the best batsmen in the world. Breaking international records, playing instrumental innings one after the other, Sharma has equaled Yousuf at a very young age. His future looks bright and Indian opening is as strong as ever. With this, he currently holds the 18th spot for scoring hundreds in international cricket. 
Watch Rohit Sharma's best century
13. Steve Smith
Details of 13th highest centuries in all formats
Big-time run-scorer and a brand of Aussie batting class, Steve Smith appears 21st in the list of highest centuries in all formats. He debuted in 2010, at the Lord's, against Pakistan. Playing his fifth Test match, Steve effected his first century, a score of 138 not out. Nonetheless, Steve's best was yet to come and it did come during the 2017-18 series at the WACA Ground, where he scored an incredible 239.
Eventually, after topping the ICC Test Rankings three years in a row. Steve attained a Test rating of 947 in 2017, next only to that of Don Bradman. In 2019, Steve averaged 62.96, the second-highest average in Test cricket history. In the 50-over format, Steve first scored a century against Pakistan in 2014 at the Sharjah Stadium. As for his highest ODI score, it came against the neighboring Kiwis at the SHG in 2016. In the shortest format, Steve attained the highest score of 90, and a century off his bat is much awaited.
Watch Steve Smith's best century
12. David Warner
Details of 12th highest centuries in all formats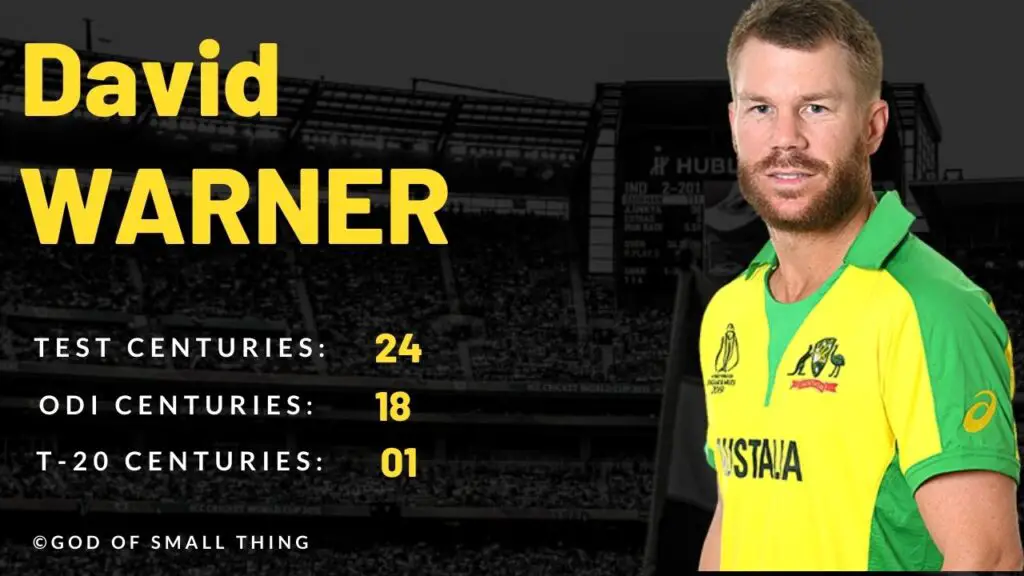 Talk of aggression and Warner is the name that pops up. Hitting a debut century in the Test, Warner made a variety of records in the long format. He became the first Aussie to score a century before lunch on the first day of a Test match. He is also credited for the feat of smashing hundreds in both the innings of a Test match. His maiden ODI century came in 2012 and after three years he posted the highest individual Aussie score of 178 in a World Cup tournament. 
The former Australian skipper has six personal totals over the 150-run mark. Pakistan has suffered Warner's fury on most of the occasions. Even his career-best of 179 was scored against Pakistan. With this, Warner maintains the 11th rank for the lashing most centuries in all formats. 
Watch David Warner's best century
Okay, one more! What is the highest team score in ODI Cricket? It's not 438 obviously! but it was broken in recent year or so! Can't remember or want to just watch the highlights of the game once more? Here are Top 20 Highest team scores in ODI With Statistics and Video Highlights
11. Joe Root
Details of the 11th highest number of centuries
Root made his Test debut in December 2012, and he hit his maiden century against New Zealand at Headingley the following year. When he struck 180 in the second Test of the home series against Australia in July 2013, he broke the record for the youngest English player to make an Ashes century at Lord's. He was named the game's MVP for his performance, which guaranteed England's win. Root was one of the five Cricketers of the Year by Wisden Cricketers' Almanack in 2014 due to his 2013 season performance. The next year, he scored three further hundreds, including a double century (200 runs unbeaten) against Sri Lanka at Lord's. His 254-point performance occurred in a match with Pakistan in July 2016. When Root scored 218 against India in the 100th Test at the M. A. Chidambaram Stadium in Chennai in February 2021, he became the first batsman to accomplish so. As of September 2023, Root has scored hundreds of runs against seven of the other eleven Test-playing countries; however, he was most productive while facing India, where he had achieved nine hundred runs.
Root defeated the West Indies and recorded his first ODI century in 2014. The most by an English player in the format is his 16 centuries. He has recorded centuries against seven different opponents in thirteen different locations. His 133-not-out ODI record came against Bangladesh in June 2017. Since making his Twenty20 International (T20I) debut in December 2012, Root has participated in 32 games. His 90 not-out against Australia in August 2013 still stands as his best score in the format; he has yet to get a century. In terms of cricketers with the most centuries in international cricket as of July 2022, Root is ranked eighth.
Watch Joe Root's best century in Test
10. AB de Villiers
Details of the 10th highest number of centuries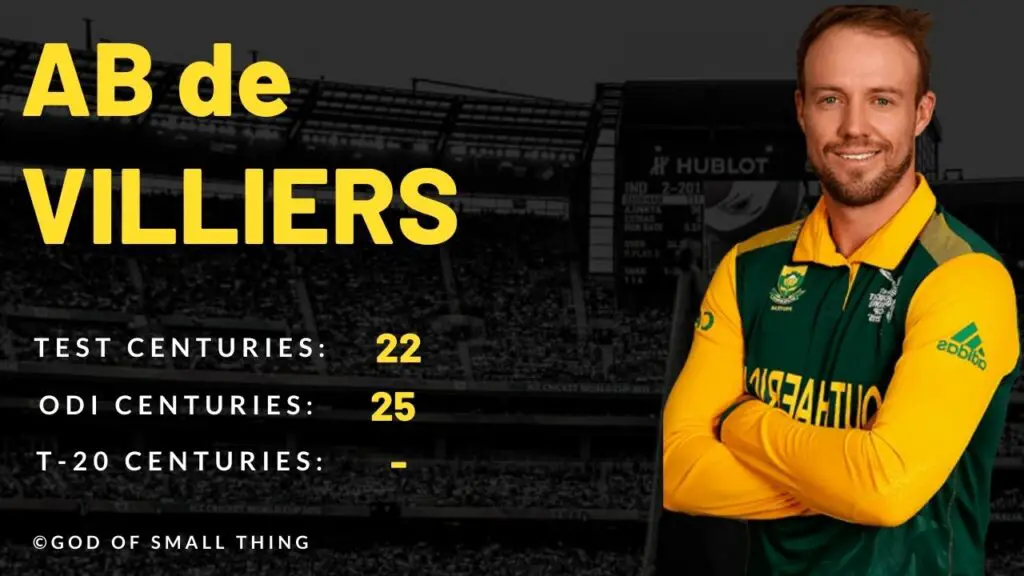 At number 10 for scoring most centuries in all formats is Mr. 360 – AB de Villiers. His 278 not out against Pakistan is considered the second-highest individual score by a South African in Test cricket. In 2017, de Villiers reached the fourth-highest number of centuries in Tests for South Africa. The former South African skipper had actually started on a moderate speed of cricketing as he scored his maiden ODI century two years after his debut. Later on, his technique took off and changed the whole pace and understanding of ODI cricket. 
In 2015, AB recorded a godly fastest century off just 31 balls against West Indies. In the same match, he posted the fastest fifty in ODI cricket which came off 16 deliveries. Spectators, opponents, commentators, and his own team witnessed what is possibly the greatest ODI innings of modern-day cricket. AB's superman-ly magnificence puts him at number 10 for scoring the most hundreds in international cricket.
Watch AB de Villiers' best century
9. Rahul Dravid
Details of 9th highest number of centuries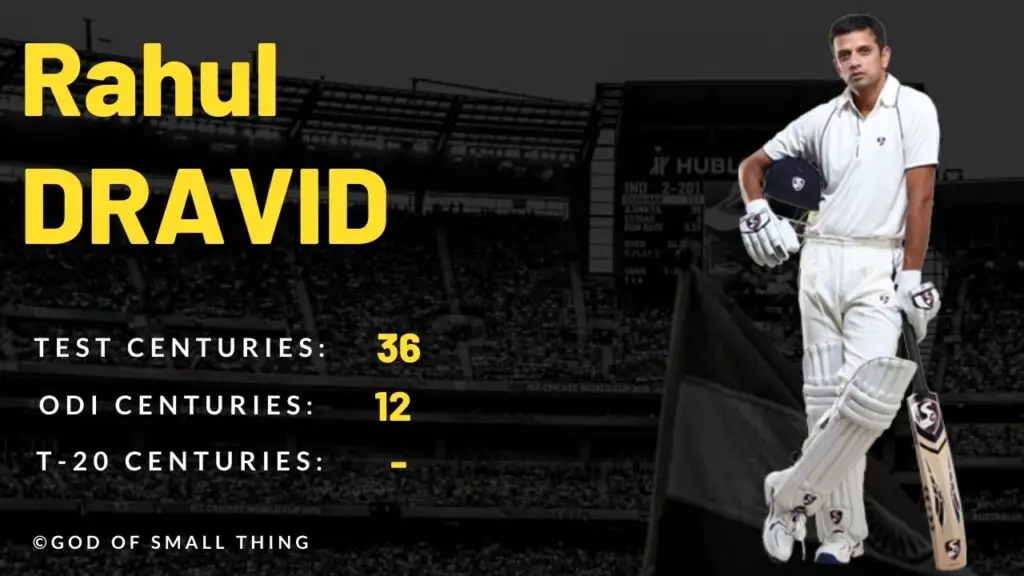 BBC once called out a gentleman player for "fending off the fiercest, the fastest, and the wiliest of bowlers around the world." It was none other than the Wall – Rahul Dravid. Probably the best Indian Test cricketer, Dravid repeated incredible feats of scoring centuries in both the innings of a Test match. In the 2001 match against Australia, where he batted on a follow-on, Dravid along with VVS Laxman led India to victory with a phenomenal 180-run partnership. He eventually became the first cricketer to score centuries against all Test-playing nations. 
In ODIs, Dravid made a career-best of 153 and once led India to its 2nd highest ODI grand total at the time. An invincible opponent and an inspiring personality, Dravid ranks 9th for clipping the most hundreds in international cricket. 
Watch Rahul Dravid hit 109 vs West Indies
8. Brian Lara
Details of the 8th highest number of centuries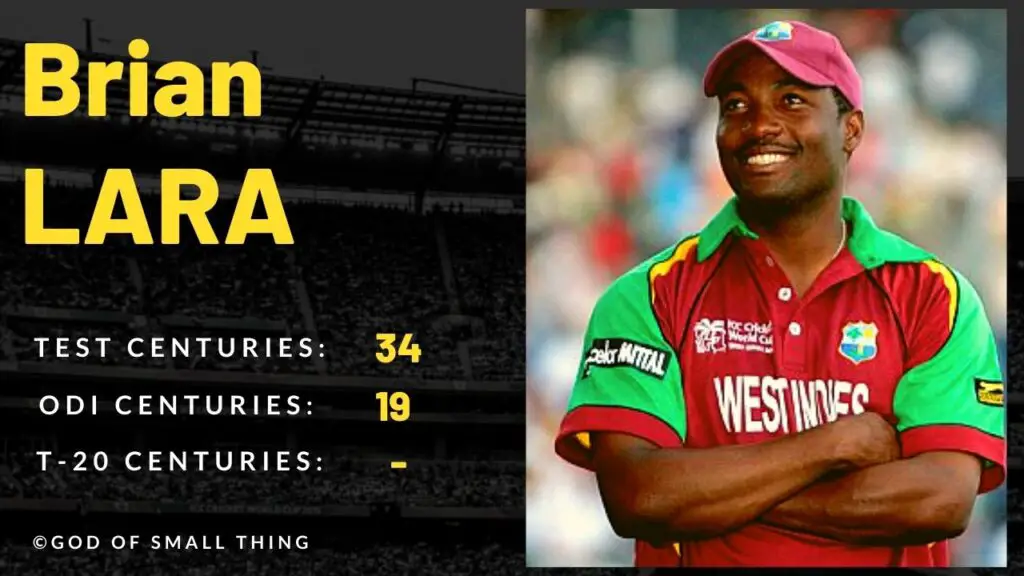 The only cricketer to have smashed 400 runs in a single Test innings is the legendary Brian Lara. Constantly at war with the Ashes teams (England & Australia), Brian played a key role in establishing Windies' dominance over world cricket. His 153 against Australia in 1999 was considered the second-best Test innings of all time by the Wisden Cricketers' Almanack in 2001. After that, he went to second Sir Don Bradman's double centuries, on different occasions. 
With 34 Test centuries, Lara ranked equal to Gavaskar, Mahela, and Younis Khan. In ODI matches, he made a career-best of 169 against Sri Lanka in 1995. In the short format cricketer, former Windies captain posted 150+ on three occasions. He retired with 19 ODI centuries to his credit, making the 8th batsman to score the most hundreds in international cricket. 
Watch Brian Lara's best century
7. Mahela Jayawardene
Details of 7th highest number of centuries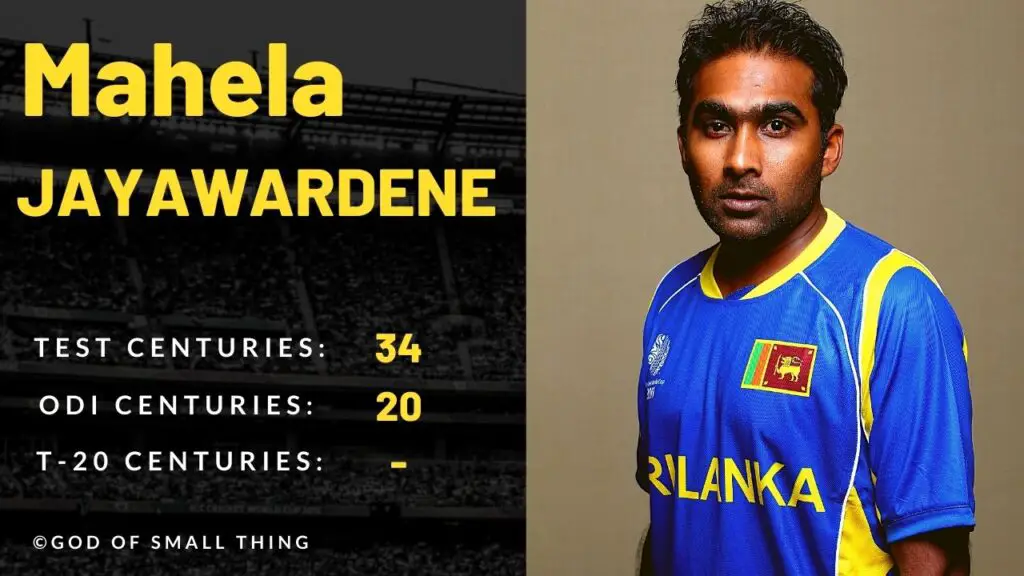 The leading lion of the Sri Lankans held superior responsibilities for his team and delivered an incredible performance at every stop. Jayawardene made his test debut in what was the world's highest-scoring Test match. Against India in 1997, Sri Lankans posted an unforgettable target of 952. However, Jayawardene's Test century came a year later in 1998, against New Zealand. There-on, only high-scoring records paved his way. In 2006, Jayawardene with his compatriot Sangakara made the world's greatest Test partnership of 624 runs. Throughout his career, Jayawardene scored 7 double centuries and 34 centuries in Test cricket. 
Jayawardene shone in ODI as well as T20s. His remarkable performance in the World Cups, scoring the sixth century in the tournament, built a formidable image of the high-order batman. Jayawardene is known for being the first centurion to lose a World Cup Final. With this, Jayawardene ranks 7th for smashing most hundreds in international cricket. 
Watch Mahela Jayawardene's best century
6. Hashim Amla
Details of 6th highest number of centuries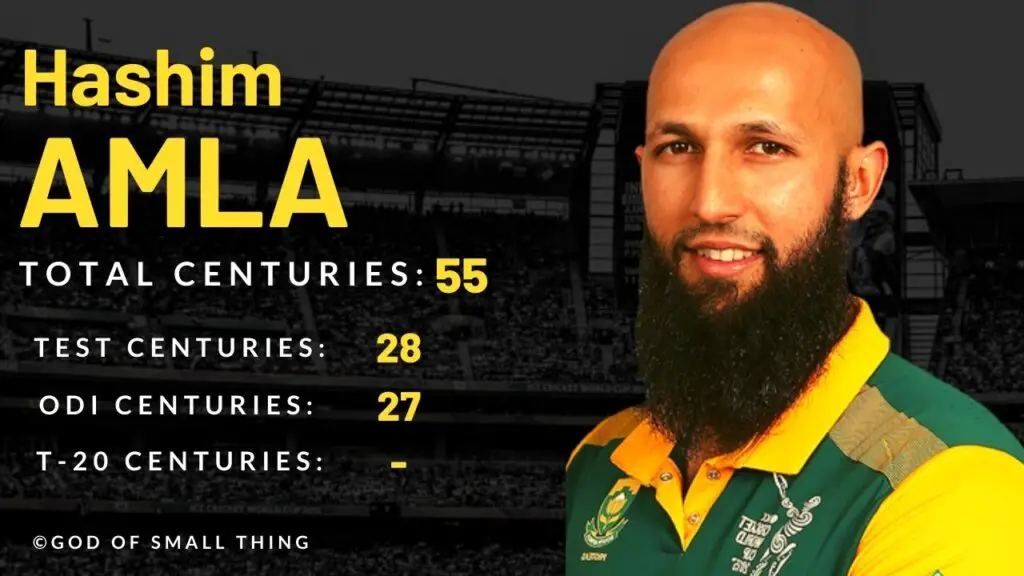 In his 15-year career, Amla helped the Proteas to stand victorious on several occasions as he went to open the batting innings. Former England skipper Geoffrey Boycott once praised him saying, "he plays the same way at the start of his innings as he does at the end of it." And Alma's career lay evidence of this compliment. His maiden Test century came in 2006 against New Zealand. Soon, he started to bat so marvelously that he became the only South African to score a triple hundred in international cricket. England remained his greatest nemesis and he blatantly thrashed the English attack. 
As for ODI, he always stood in the top rankings. He scored his career-best of 159 against Ireland in 2015. In T20 International, he almost made a century but was sadly dismissed at 97. With this, Amla maintains the 6th position for smacking most centuries in cricket. 
Watch Hashim Amla hit 150 vs England 2nd ODI 2012 at Southampton
Cricket Trivia: Who was the first captain of the Indian cricket team? Can't remember? Common you can't be a cricket fan if you don't know this one! Well here is a List of Indian Cricket Captains in ODI's with Statistics that you should go through! and to facilitate you better it will open in the New Tab 🙂
5. Jacques Kallis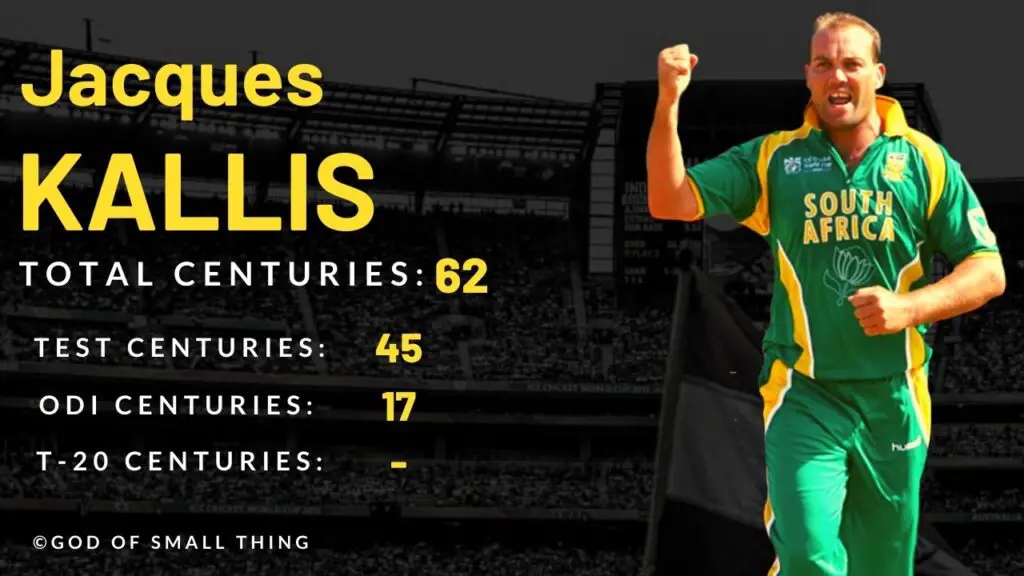 Often referred to as the greatest cricketer ever, Kallis is the best all-rounder of all time. Surpassing every batsman in South Africa, Kallis stands with 45 Test centuries and 17 ODI centuries. Debuting against England back in 1995, Kallis kick-started an amazing cricketing career. Within two years, he scored his maiden century against the fearsome bowling attack of the Aussies. Kallis made a stunning feat in the 2003-04 series against West Indies, where he knocked a century in each of the four matches. He stands second to Sir Don Bradman for securing five consecutive Test centuries. 
In the ODI, Kallis managed to hit his maiden century against the Kiwis in 1998. He made his career-best against West Indies scoring a spectacular 139. Kallis once maintained a strike rate over 100 while scoring a century in a World Cup match. All these bewildering achievements place Kallis in the 5th position for clobbering the most hundreds in international cricket. 
Watch Jacques Kallis hit 107 versus England ODI 2003
4. Kumar Sangakkara
Details of 4th highest number of centuries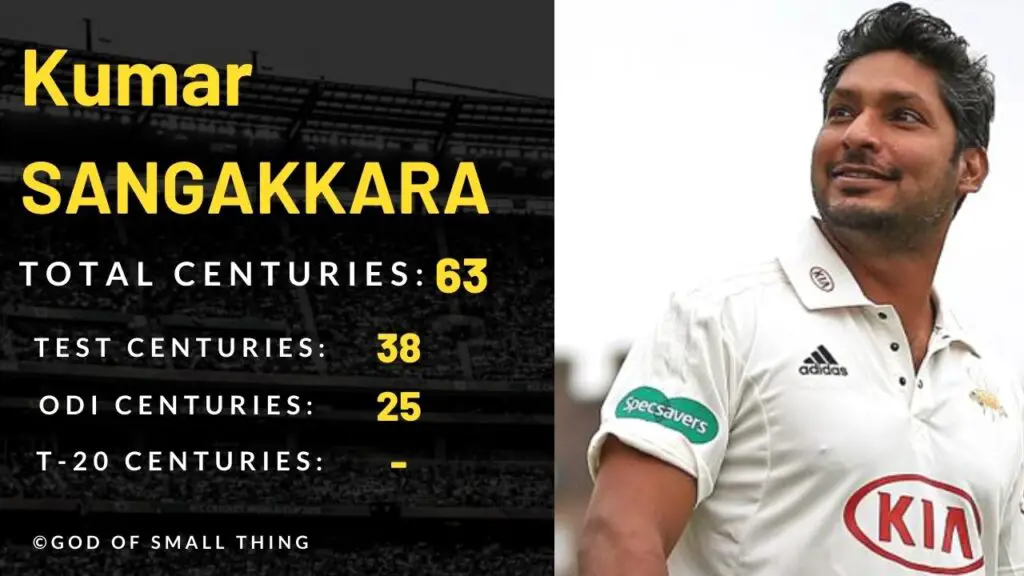 Cricket writer Peter Roebuck recalls the former Sri Lankan skipper as "among the most polished and prudent of batsmen." Batting at the top order, Sangakkara led his team from the forefront. Major trophies showcase his cricketing prowess and he always appeared in the top rankings. Securing his maiden century in 2001, Sangakkara laid the foundation of a prodigious batting technique. A firm grip, strong feet, and clean placements were the hallmarks of his batting. His career-best of 319 in Test came in 2014 against Bangladesh. 
Sangakkara's ODI performance was considered ordinary from the start. The captaincy pressure took a toll on him. As a captain, he could only score a single century. Anyhow, his long career helped him to amass a total of 25 centuries, making him the fastest Sri Lankan to reach 10,000 runs. Taking note of his meticulous performance, Sangakkara stands at the high rank of number 4 for scoring most centuries in cricket. 
Watch Kumar Sangakkara's best century
3. Ricky Ponting
Details of 3rd highest number of centuries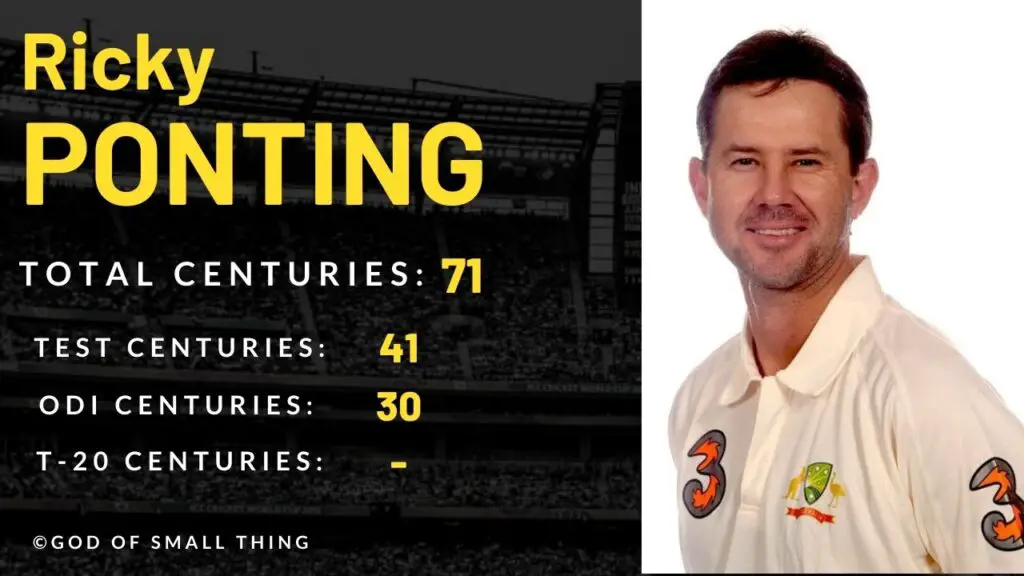 Former skipper of the imperious Australian team, Ponting batted as fabulously as he led his team. He made his maiden century against the Ashes rival England in 1997. After six years, Ponting posted his career-best of 257 against India at the holy ground of MCG. Most of his centuries were smashed off his willow in home matches. On three brilliant occasions, he managed to score centuries in both innings of a Yes match. Nonetheless, he well reminisces about his 2006 feat where he secured seven centuries in a single year.
Ponting built up his ODI performance by smashing centuries against every team in the world with permanent ODI status. His highest ODI score of 164 came in a phenomenal match against South Africa in 2006. He managed to amass five World Cup centuries which is a record in itself. He neared a T20I century with 98 runs but soon retired in 2009. Ponting unforgettable masterstrokes still inspire millions of cricketers worldwide. His great knocks put him second for getting the most centuries in cricket.
Watch Ricky Ponting's best century
2. Virat Kohli
Details of 2nd highest number of centuries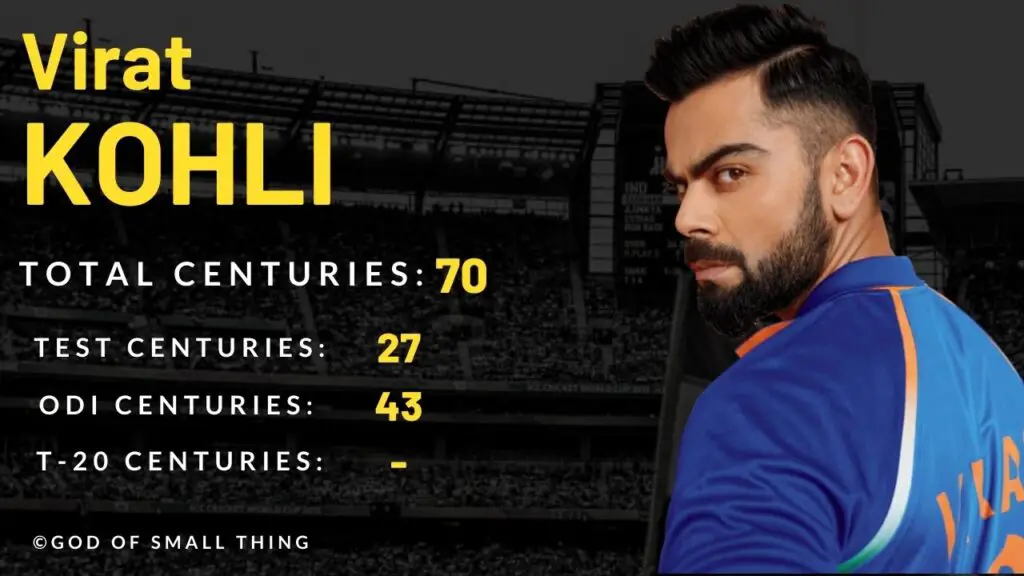 Nobody can match the run-scoring proficiency of King Kohli in modern-day cricket. Scoring his maiden century in 2009 at the Eden Gardens, Kohli announced his arrival in international cricket. Soon he became the world's greatest run-chaser after the 86-ball 133 not out against Sri Lanka in 2012. The same year he scored his ODI best of 183 against Pakistan. When his Indian fans felt the captaincy pressure would slow him down, he bounced back like no other cricketer ever before. Since 2008, Kohli has amassed the second-highest number of ODI centuries (47) which is second to the 49 ODI centuries by Sachin Tendulkar. 
Kohli's Test performance became polished after the 2014-15 Border-Gavaskar Trophy. Here, he became the fourth Indian to score centuries in both the innings of a Test match. In 2016, Kohli achieved the feat of scoring more than three double-centuries in a calendar year. His T20 best score stands at 122, his first t20 century in so many years finally came in an Asia Cup match against Afghanistan. At the mere age of 34, Kohli has achieved what several cricketing legends have failed to do. The former captain of the Indian cricket team ranks third for scoring most centuries in cricket. 
Watch Virat Kohli's best century
Are you someone who just loves Virat? Well, let's see how much you know about Virat Kohli and his life. What is the name of the biography of Virat? Dont know? Well here's everything possible one can know about Virat: Virat Kohli Biography | Age | Stats | Centuries | Family | Net Worth
1. Sachin Tendulkar
Details of the highest number of centuries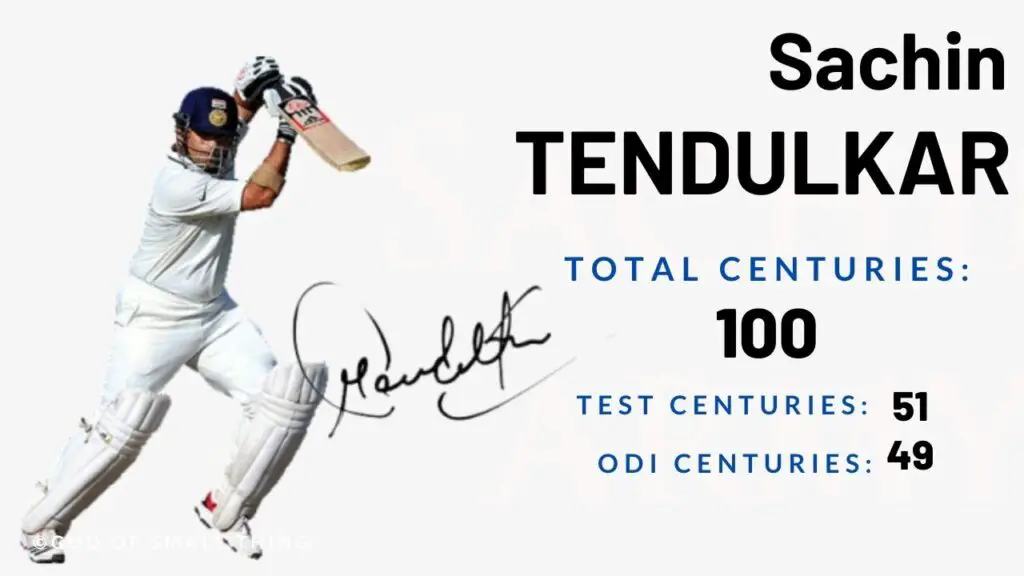 The man who needs no introduction is the God of cricket – Sachin Tendulkar. A year after his international debut, Sachin knocked on his maiden Test century against England in 1990. He scored a century at least on a single ground of every test-playing nation in the world, except Zimbabwe. Sachin secured his Test career-best of 248 runs in 2004 against Bangladesh. By 2010, he surpassed Lara's 19-time 150+ score in Test cricket. 
Master Blaster's ODI career proved to be even more fantastic. His maiden ODI century came in 1989 against the formidable Aussie bowling attack. Within two decades he became the record maker and breaker of the fifty-fifty format. In 2010, he was the first batsman in the world to score a double century in ODI cricket. Interestingly, during his peak batting period, he was dismissed eighteen times between 90 and 99. 
In March 2012, Sachin became the only batsman ever to score 100 hundred in international cricket. Therefore, he is famed as the cricketer who has truly scored the most centuries in international cricket. 
Watch Sachin Tendulkar's best century
Frequently Asked Questions