Traditional Dresses Of Indian States with pictures – Cultural India
The vibrant cultural diversity is the true essence and beauty of India. Traversing through different parts of India, a dramatic change in the lifestyle of people can be observed. Vast cultural differences and widespread diversity marks the unity in India. The unique sections of India live in harmony while preserving their traditions. One such diversity exists in clothing – fabrics, and textiles from all over the country. Owning to this, each state of India has its own traditional dress that the citizens flaunt in style. In a country so rich in traditions, Indian clothing takes many forms in different parts. This article details the traditional dress of Indian states and provides an eloquent account of how these clothing traditions contribute to the history of the country. You will also find traditional dresses of India with pictures in here. So, let's begin.
Traditional Dresses Of India Statewise
| | | |
| --- | --- | --- |
| State | Traditional Dresses Male | Traditional Dresses Female |
| Andhra Pradesh | Dhoti kurta | Langa Voni |
| Arunachal Pradesh | Silk shirts with lungi | Jacket over chemise |
| Bihar | Dhoti kurta | Tussar silk saree |
| Uttar Pradesh | Dhoti kurta/pajama | Saree/Salwar kameez |
| Assam | Dhoti and gamosa | Mekhela Chador |
| Maharashtra | Dhoti with pagadi | Nauvari saree |
| Goa | Half shirts, trousers | Nav-vari saree |
| Odisha | Dhoti with sambhalpuri kurtas | Ikat/Sambhalpuri saree |
| Chattisgarh | Dhoti and kurta | saree with Polkhas |
| Jharkhand | Santhals and Paharis | Tussar silk sarees |
| Nagaland | Alungstu | Angami |
| Madhya Pradesh | Dhoti Kurta | Lehenga Choli |
| West Bengal | Panjabi | Cotton saree |
| Gujarat | Chorno with Kediyu | Ghagra choli |
| Haryana | Dhoti kurta with Pagri | Daman Kurta |
| Himachal Pradesh | Kurta pyajama | Ghagra Cholis |
| Karnataka | Kurta lungis | Kanjeevaram sarees |
| Kerala | Mundu | Mundum-Neriyathum |
| Manipur | Dhoti with Jackets | Innaphi with Phanek |
| Meghalaya | unstitched dhoti with jackets | jainsem with blouse |
| Mizoram | cloth with colored coats | Puan |
| Punjab | Kurta pajama | Punjabi suits with Patiala |
| Rajasthan | Dhoti and Angrakha | Ghagra with kurti |
| Sikkim | Bakhu | Bakhu with Tago |
| Tamil Nadu | Lungi and Angvastra | Silk sarees or Pavda |
| Tripura | Rikutu Gamchi with shirt | Rignai and Risa |
| Telangana | Pancha Dhoti | Langa Voni |
| Uttarakhand | Dhoti Kurta | Ghagra Choli |
| Jammu and Kashmir | Pheran | Pheran |
Traditional dresses of different states of India
Andhra Pradesh Traditional Dress: Dhoti kurta
One of the culturally affluent southern states, Andhra Pradesh is famous for its weaving and dying industries. The clothing style transitions from the traditions that have nurtured the people of the state. Women in Andhra dress in handloom sarees made of silk. These handloom sarees have their own unique weaving patterns, styles, and methods. The younger women or girls wear Langa Voni, which is a two-piece or a half saree, consisting of a skirt, blouse, and a dupatta. Andhra Pradesh is distinctly famous for its Kalamkari sarees. These beautiful sarees have mythological figures and epic stories etched on them. If you are visiting Andhra, don't forget to add this one to your saree collection! Men in the state wear full sleeves or half kurtas, paired with dhoti, lungi, or pyjama.
Arunachal Pradesh Traditional Dress: Silk shirts with lungi
The mesmerizing eastern state has a clothing culture as appealing as its natural beauty. Arunachal Pradesh's traditional attire is an extension of the tribal cultures in the state. Women's clothing comprises a jacket that is more or less like a full sleeves coat. They wear it over a sleeveless chemise. The conventional wear is tied over with the help of a belt called Mushaik. Bamboo accessories and silver jewellery complement the look. Men wear silk shirts, pinned to the shoulder area. They pair it with customary green lungis that display colored stripes of blue, yellow, or white. The Sherdukpen men – the tribal community is famous for the skull caps called Gurdam, which are made from Yak hair as decorative. The skull caps are an important tradition and complete the look.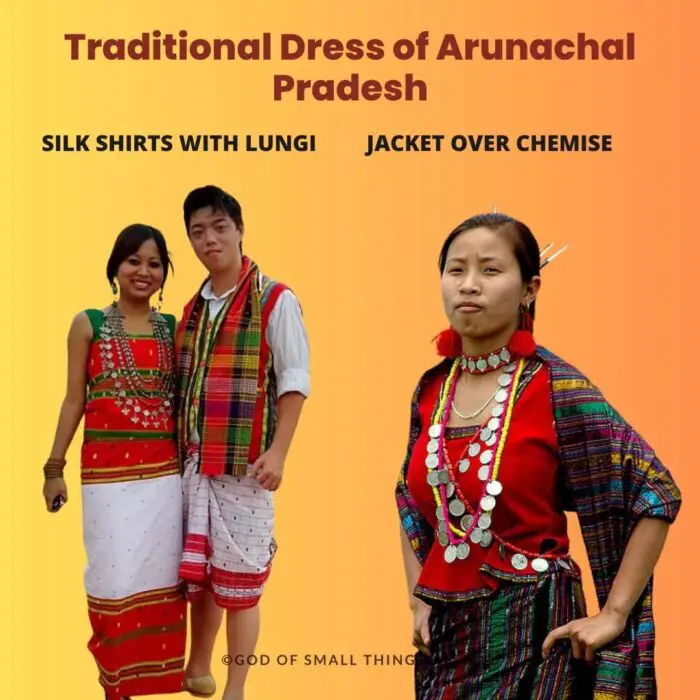 Bihar Traditional Dress: Dhoti kurta
The Land of Buddha, Bihar is an enriching state full of ancient traditions and cultural heritage. The costumes worn by the people of Bihar are a mirror of the age-old traditions of the place. Costumes Of Bihar are known for their handwoven textiles. Men wear traditional dhoti-kurtas while women dress up in Tussar silk sarees in seedha aanchal style.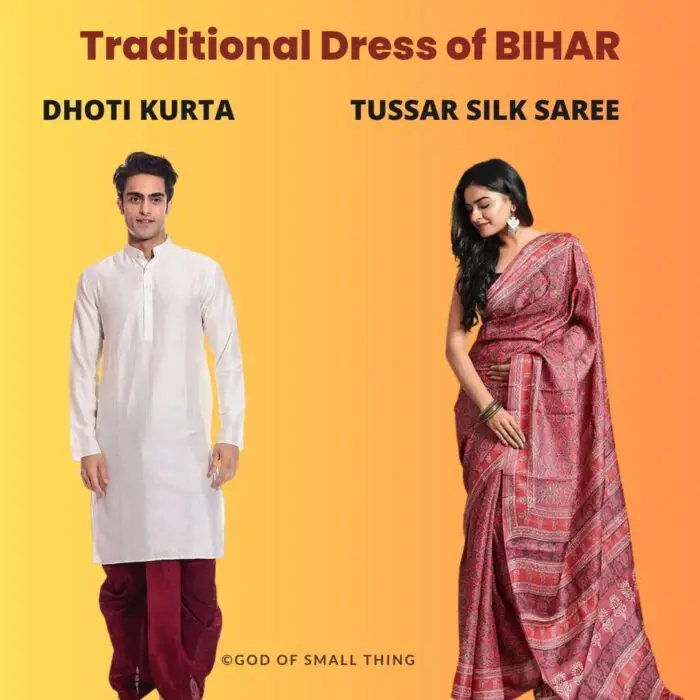 Retro dresses are making a trendsetting comeback in today's fashion. The vintage-style dresses are immensely popular in today's era and they are leaving their footprints everywhere in the fashion industry. If you are someone who wants to make a mark with retro styles and incorporate it into your wardrobe, this article is for you. Click here to read about how to Create a Bollywood Retro Look with 32+ Retro look Bollywood Dresses Ideas.
Uttar Pradesh Traditional Dress: Dhoti kurta/pajama
The traditional dress of the Pradesh imitates the ones around the country. The women of Uttar Pradesh usually wear a saree or Salwar-Kameez while the men dress up in a kurta, dhoti, or pajama. The men also wear Pagri.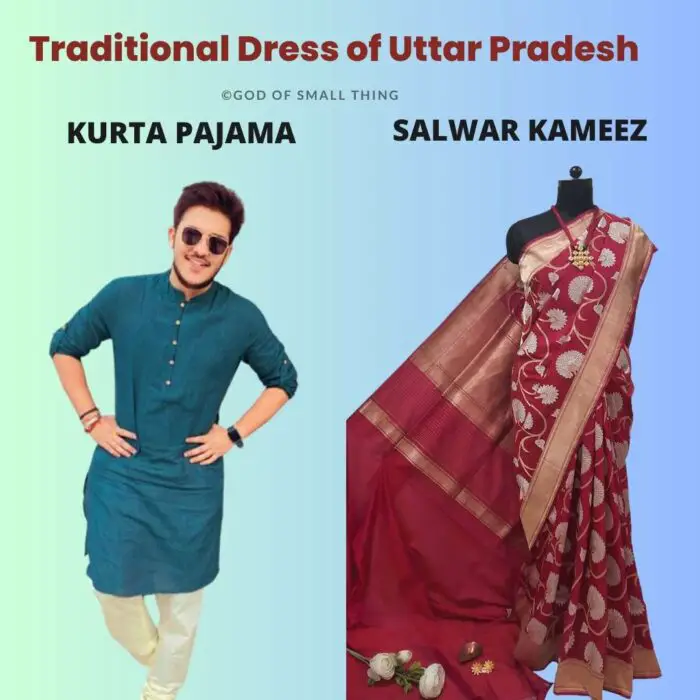 Assam Traditional Dress: Dhoti and gamosa
The graceful women of Assam take pride in wearing the beautiful 'Mekhela-Chador' or 'Riha-Mekhela' which is wonderful traditional clothing. Mekhela Chador is a two-piece garment and it has a long piece of cloth that is draped from the waist downwards and is then folded into pleats and tucked in. This part is called the Mekhela. Chador is also a long piece of cloth whose one end is tucked into the Mekhela, and then the rest is wrapped around the body. Wearing the traditional dress is a very difficult endeavour and it takes practice. Men of Assam wear Dhoti and Gamosa to keep their look minimalistic. The Gamosa is a rectangular piece of cloth and has significant value. It is a white cloth with a beautiful red border on three sides and woven motifs on the remaining one.
Read more about Mekhela Chador and the beautiful designs for brides, here.
You might also like to read: Looking to explore Indian Temples? Well, Jyotirlingas are deemed as the most sacred Shivalingas and here is a Complete Travel Guide to 12 Jyotirlingas in India – Jyotirlingas in India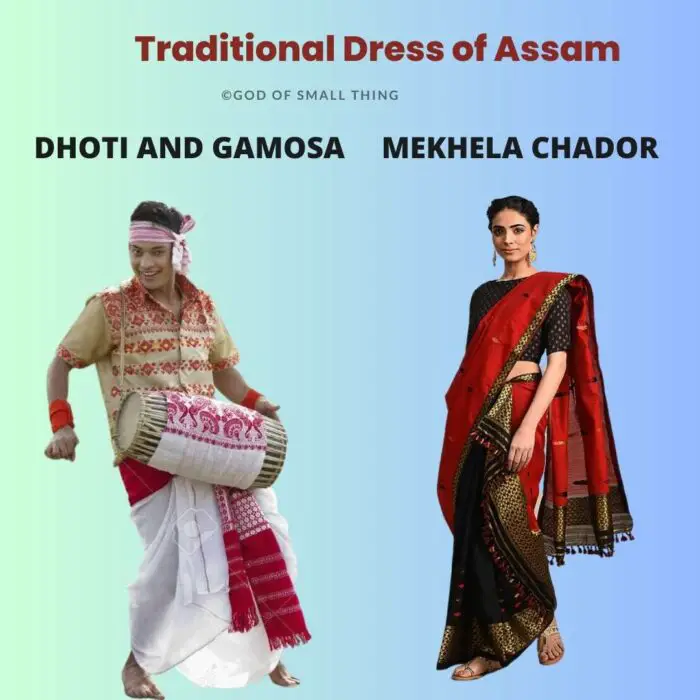 Maharashtra Traditional Dress: Dhoti with pagadi
Maharashtra is an iconic state in all its grandeur. Filled with Bollywood vibes and mega festivals, it is a state of rich culture and traditions. The beautiful people of Maharashtra wear costumes that are as glorious as their state itself. Women in Maharashtra wear sarees that are 9 yards long and are called a Lugade or 'Nauvari' saree. Wearing this has a different draping pattern. The saree is tucked in a middle to give it a Dhoti-type look. The rest of the saree is wrapped around the upper body. Men in Maharashtra usually wear Dhoti and cover their heads usually with Pehta, which is a pagadi.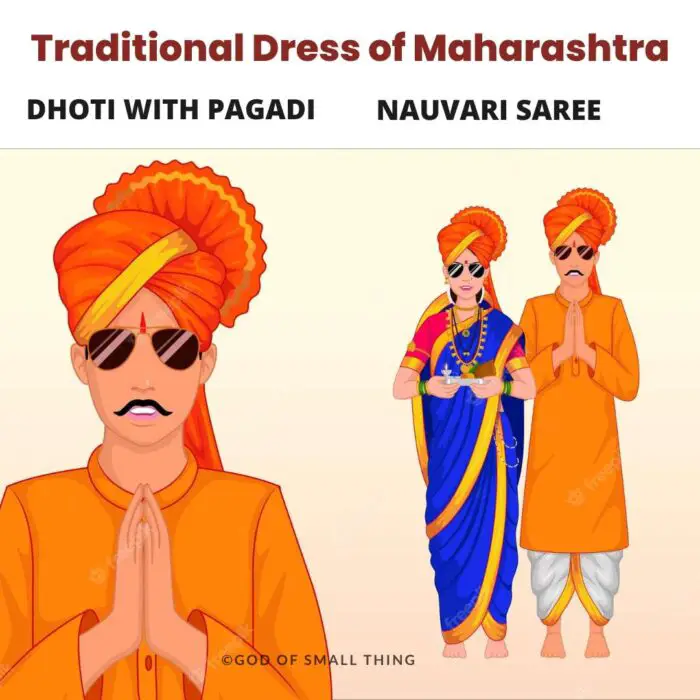 Goa Traditional Dress: Nav-vari saree
The Indian state known for its beaches and beautiful sunsets had different attire for men and women. Women in Goa also wear nine yards long saree, called the Nav-Vari saree which is studded with stones. Another type of saree that they wear is Pano Bhaju. Men keep it casual with half shirts and trousers.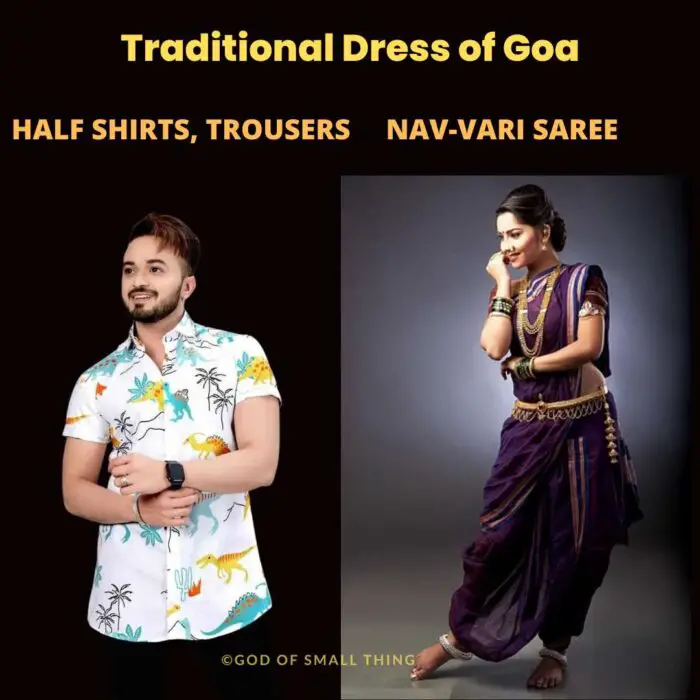 Odisha Traditional Dress: Sambhalpuri saree
Located in the eastern region of India, Odisha is known for its deep religious roots. A state comprising various and distinct dialects, dance forms, and music, Odisha is a beautiful place to visit. Women wear traditional handwoven ikat sarees in which weft and warp are tie-dyed before the weaving process is done. The popular sarees of Odisha are Sambhalpuri, Bomkai, and Khandua sarees. Men wear Dhoti and Sambhalpuri kurtas.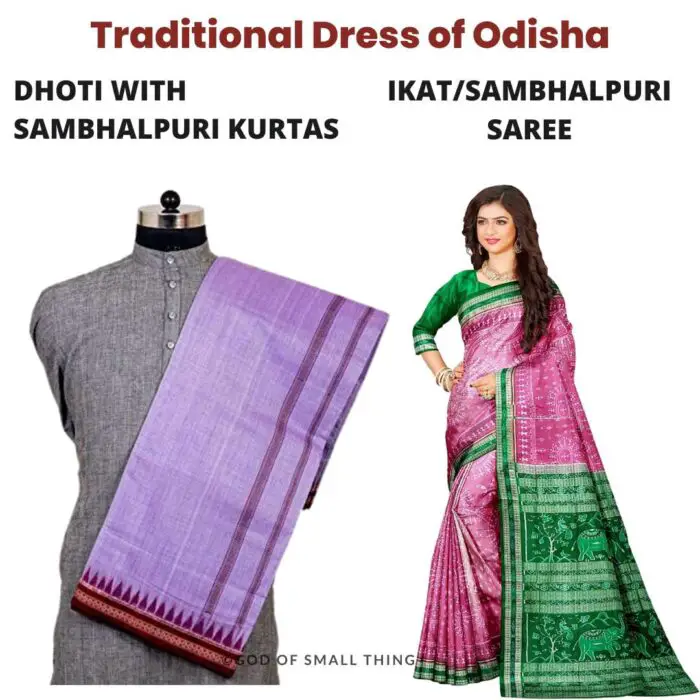 Chattisgarh Traditional Dress: Saree with Polkhas
Women in Chattisgarh also wear knee-length saree in a unique local style called the Kuchhora fashion. The blouse women wear is called Polkha. The garment is a product of cotton, silk, or linen in deep hues. Men mostly wear Dhoti and kurtas or pajama kurtas. Men belonging to tribal groups, such as Abhuj Marias, Ghotuls, Halbas, Murias, etc wear dhotis and headgear to protect themselves from the harsh sun during the day. You can read more about the clothing trends in Chattisgarh, here.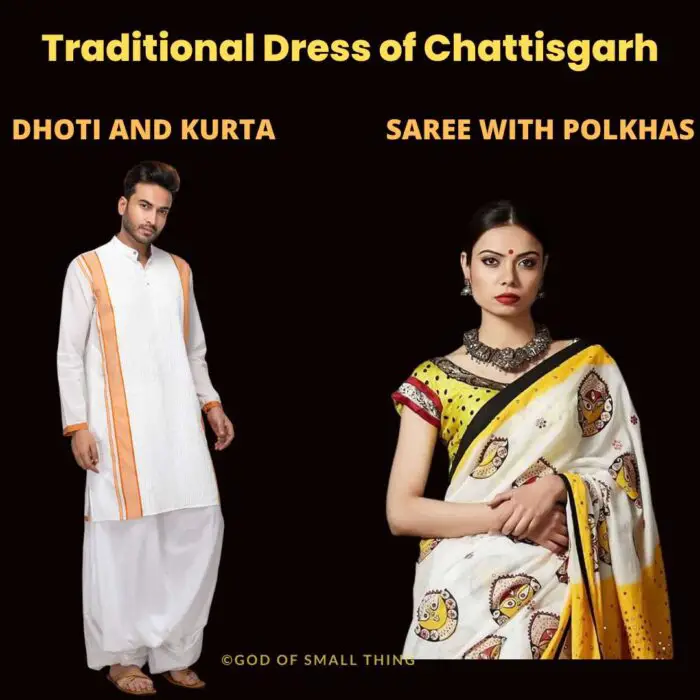 Jharkhand Traditional Dress: Santhals and Paharis
The so-called land of the forest, Jharkhand is an eastern Indian state whose clothing pattern is unique to its population. Women in the state wear Tussar silk sarees and Parthan and Panchi costumes as upper and lower garments respectively. Santhal Pargana is one of the main tribes of Jharkhand where men wear Santhals and Pahari to give them a unique look. Men also wear a single piece of cloth known as a Bhagwan. The male population prefers dhoti and kurtas too.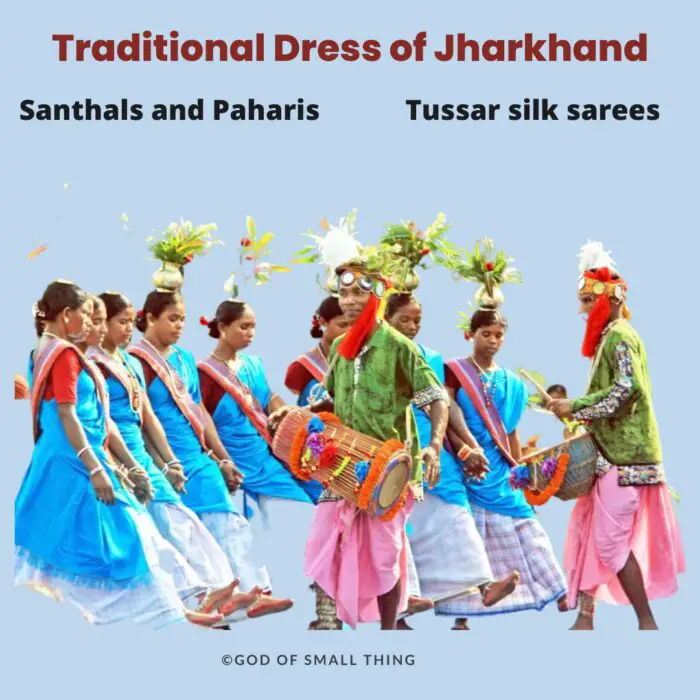 Nagaland Traditional Dress: Alungstu
Even in the modern world, the Nagaland population still preserves their traditional dresses and history. The traditional dresses of Nagaland have a distinct flair to them and its different from the rest of the country. The rich men of the state wear Alungstu which is dyed in yellow color and has flower prints. Kilt is another dress that is worn and is black in color. Women wear Angami which is a traditional dress and is worn over a petticoat and a white skirt. Other dresses include Azu Zangup Su which are skirts having red and yellow stripes.
Madhya Pradesh Traditional Dress: Lehenga Choli
The traditional dresses of Madhya Pradesh have some similarities on the line to the costumes of Rajasthan, but it is still unique in their own way. Women in Madhya Pradesh wear lehenga choli. Lehenga is a long skirt with intricate designs and is available in different patterns, silhouettes, and for different occasions. Choli is a simple blouse. They also drape a long, light cloth, called the Orni or Lugra. Men in the state wear a dhoti, kurta, and shirt with coats which is called Bandi, or Mirzai with a turban called Safa.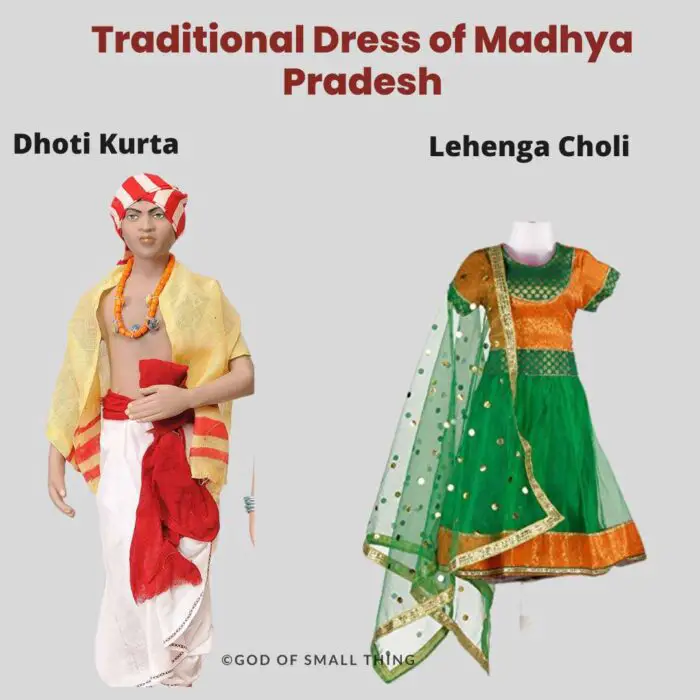 West Bengal Traditional Dress: Panjabi
Known for its delectable Bengali dishes and charming architecture, West Bengal is an amazing state with stellar aesthetics. The traditional clothing of the state is as diverse as it can be and the red color palette of clothes is surreal. Bengali women wear traditional cotton sarees with rich red borders in an elegant and distinguished manner. The men of the state wear Panjabi, which is a long shirt-type kurta, and pair it with dhotis or lungis.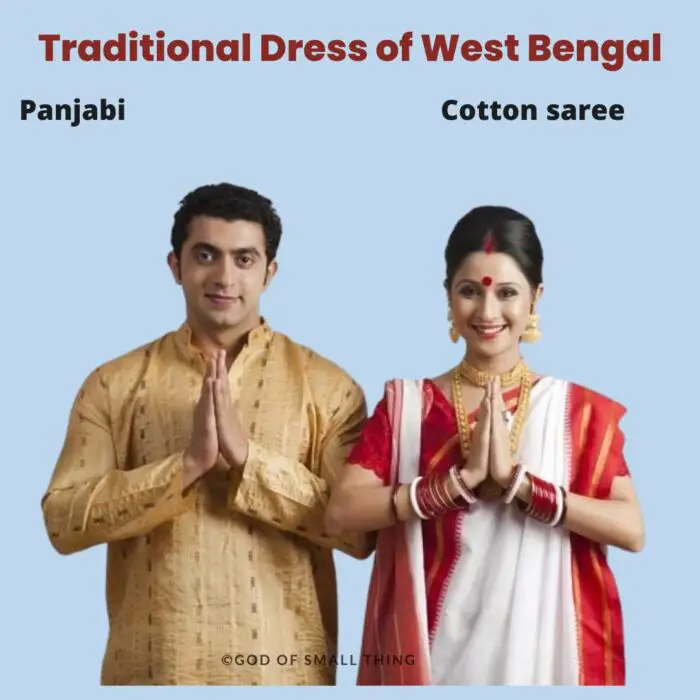 Gujarat Traditional Dress: Ghagra choli
And now Gujarat! The state's diverse traditions and friendly culture speak for itself. Gujarat is the hub of many cultural festivals in India throughout the year. The Gujarati women wear colorful Ghaghra or Chaniya Choli, which is quite similar to the lehenga. Women also wear Chunni. During Raas Gharba, the women wear Ghagra Choli. Gujarati men wear 'chorno' which are cotton pants and pair them with Kediyu at the top.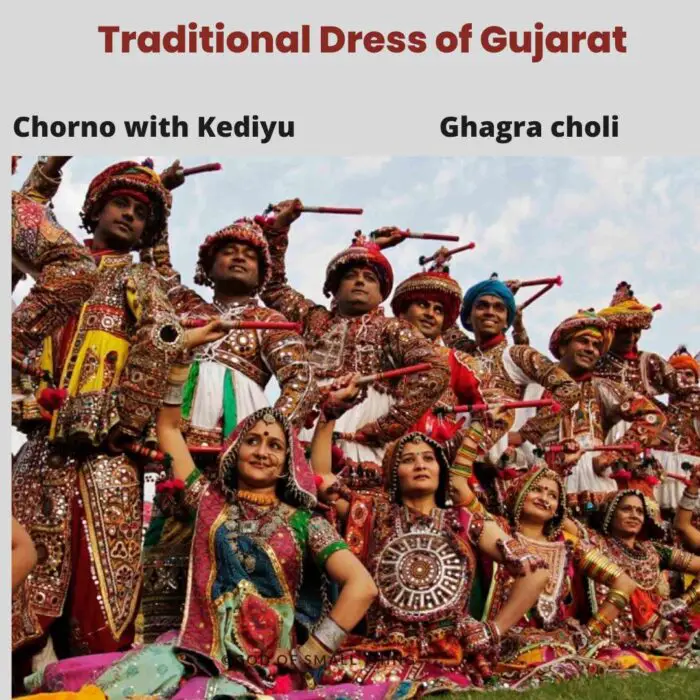 Haryana Traditional Dress: Daman Kurta
Haryana, just like Punjab, has bright and colorful outfits that represent the culture of the state in a lively way. Women in Haryana wear shirts and kurtas with Ghagra. Instead of blouses, the women choose shirts that add to the beauty of the state in a unique way. Men wear a Dhoti kurta with Pagri.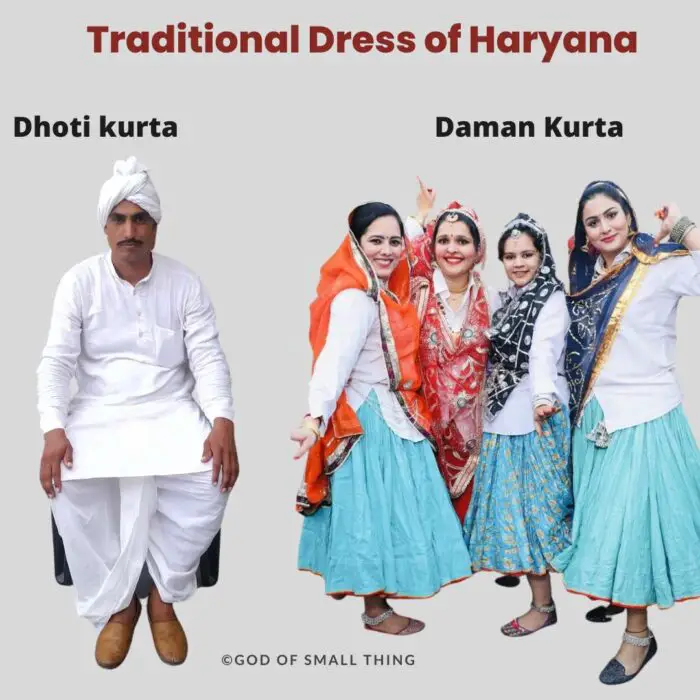 Himachal Pradesh Traditional Dress: Ghagra Cholis
The one-stop tourist destination in India, Himachal Pradesh is a state known for its scenic beauty. The clothing type in the state is diverse and tourists often dress in the enchanting costumes of Himachal. Women in the state wear kurtas, ghagra cholis, and salwar kameezes with scarves and shawls. Pashmina shawls are very famous in the region. Men mostly wear a long Kurta over Churidar Pyjamas and pair it with Himachal caps. Brahmins in the region also wear a long overcoat with turbans.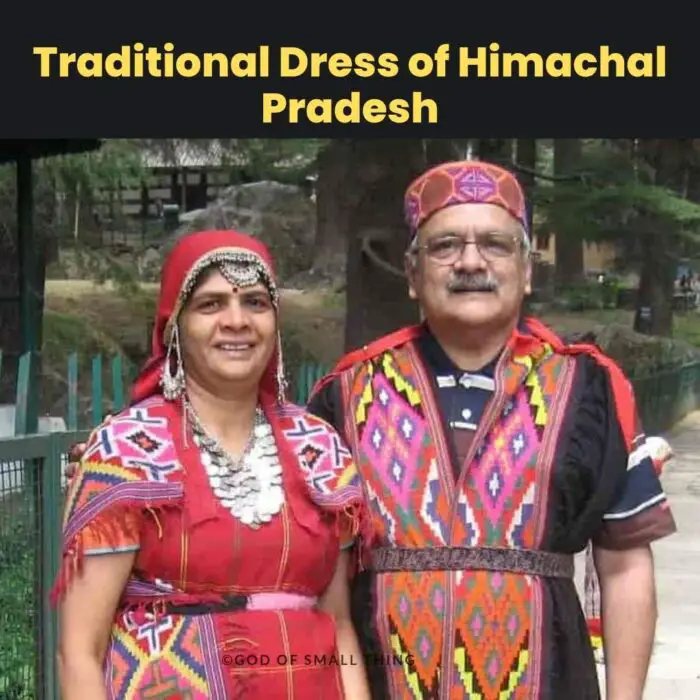 Karnataka Traditional Dress: Kanjeevaram sarees
Karnataka's heritage, ethnicity, and history have a major effect on the outfits adorned by people. A beautiful state with rich culture and traditions, Karnataka people love keeping their cultural legacy alive through their clothing style. Women in Karnataka wear pure silk sarees woven intricately. The Kanchipuram or Kanjeevaram sarees of Karnataka are popular throughout the world among women. These sarees are available in different styles and designs. Astonishing zari work is done with pure silk thread and silver and gilded wires. Men in the state wear kurtas and lungis. On special occasions, men wear Panche which is a type of dhoti made in white color. It is paired with traditional kurtas and Angavastram.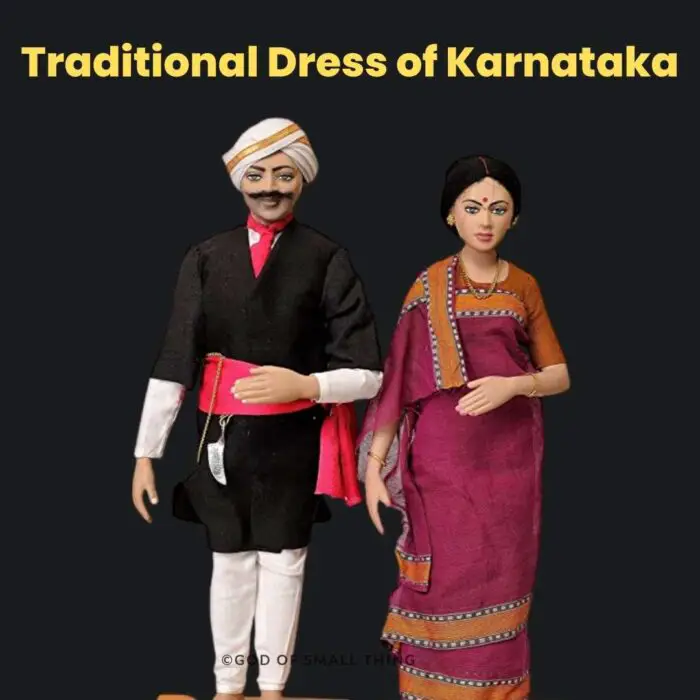 Kerala Traditional Dress: Mundum-Neriyathum
The dressing sense of people in Kerala exudes simplicity and attracts attention from everyone. Women in Kerala wear a pair of Mundus which are known as Mundum-Neriyathum. The entire ensemble represents a saree. Men in Kerala wear Mundu which they wrap around the waist and the Mundu is white in color. They pair it with Melmundu or a basic white shirt.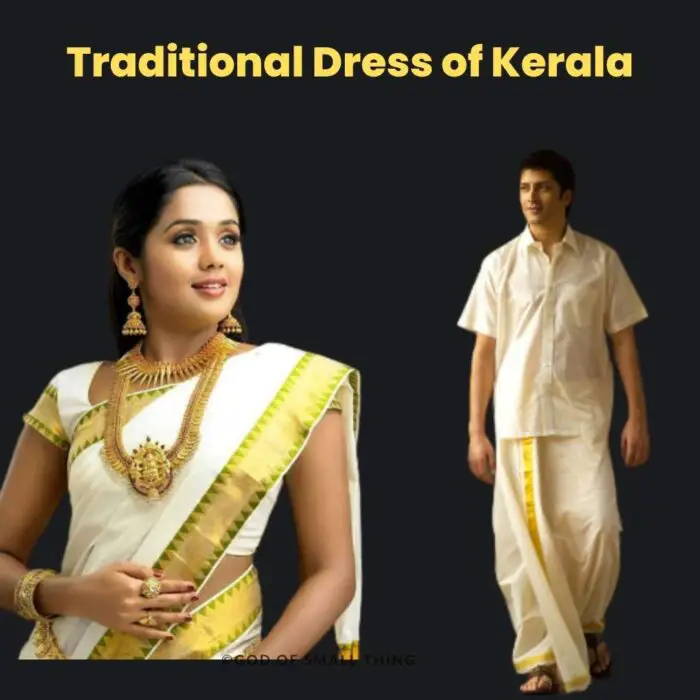 Manipur Traditional Dress: Innaphi with Phanek
Women in Manipur wear Phanek which is a skirt designed with horizontal lines. Innaphi is the shawl they wear with Phanek. Other costumes include Lai-Phi and Chin-Phi. Men wear Dhoti with jackets and Pagris. The superior member of the society wears Khamen Chatpa.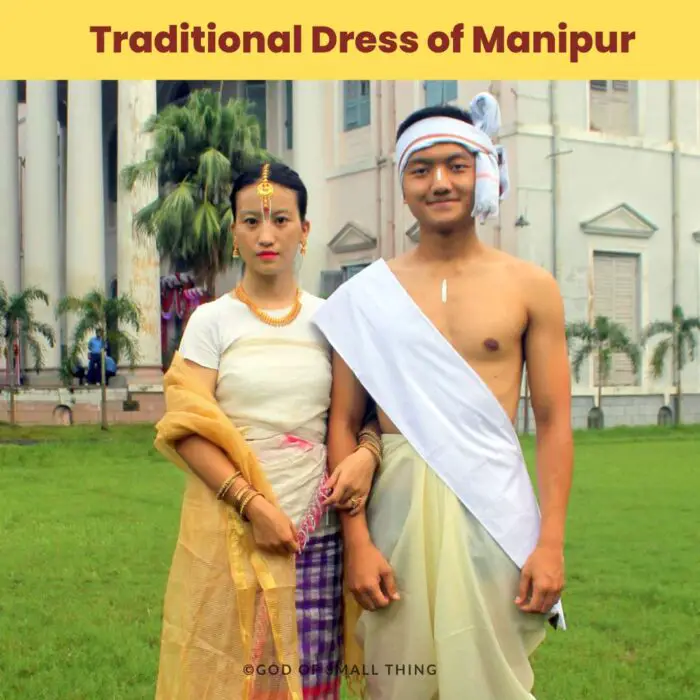 Meghalaya Traditional Dress: jainsem with blouse
Meghalaya is a colorful state both in terms of beauty and attire. The state has families belonging to Khasi, Jaintia, and Garo tribes. Women of the Khasi tribe: wear a jainsem along with a blouse. Garo women wear long dresses made from cotton. The women of the Jaintia tribe cover their heads with checkered cloth garments known as Kyrshah. Men mostly wear unstitched dhoti with embroidered jackets.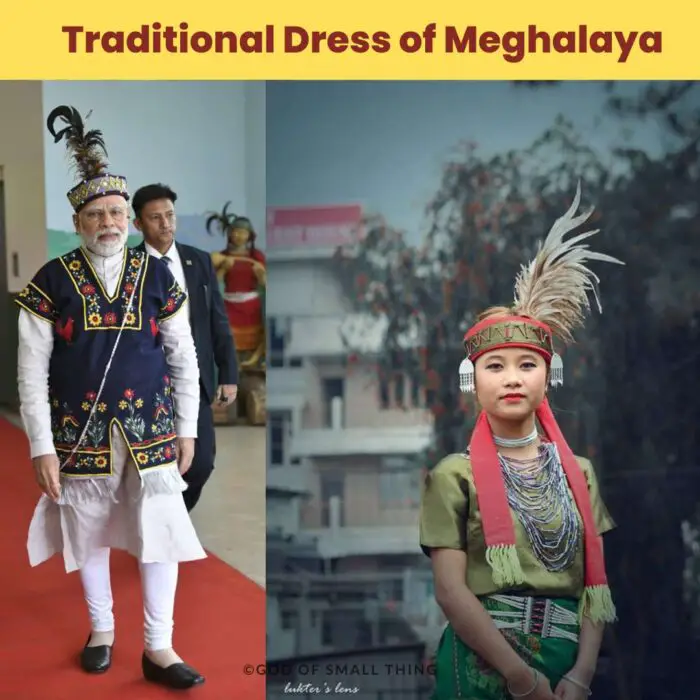 Mizoram Traditional Dress: Puan
Just like the other northeastern states, the traditional dress of Mizoram also hits differently and represents the beauty of the state. One of the traditional attire worn by women in Mizoram is the traditional dress called 'Puan'. Puan consists of a black and white striped blouse, leggings, and a dupatta. Mizo women also wear Puanchei during festivals and special occasions. The traditional dress of men is mostly 7 to 5 feet of cloth over the body paired with white-colored coats and red bands from neck to thighs.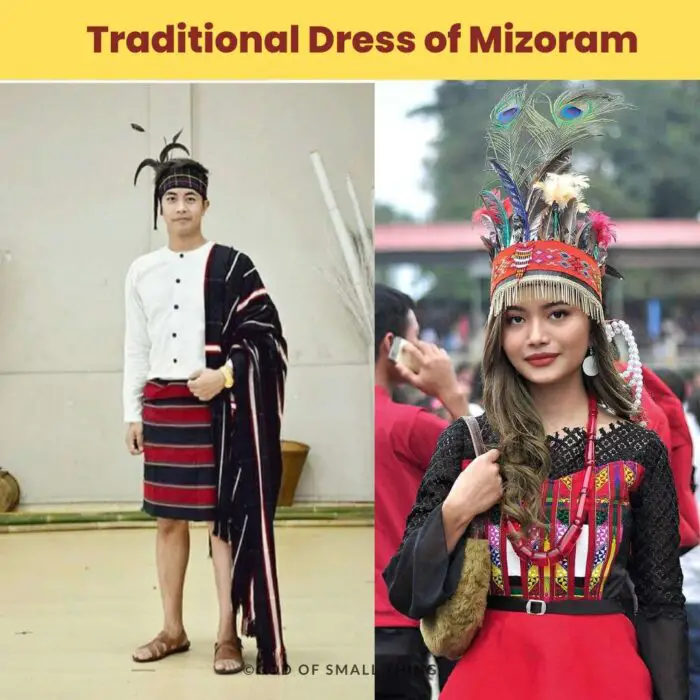 Punjab Traditional Dress: Kurta pajama
Punjab is an evergreen state known for its friendly culture, diverse cuisine, and energetic people. The attire of people in Punjab depicts the true nature of the state – carefree, lively, and enthusiastic. The gorgeous ladies of Punjab wear charismatic Punjabi suits with Patiala. Other variations include kurta-dhoti and suit with churidar. Men in the state wear kurta with dhoti or pajama and wear Punjabi turbans which are an important and religious part of their attire.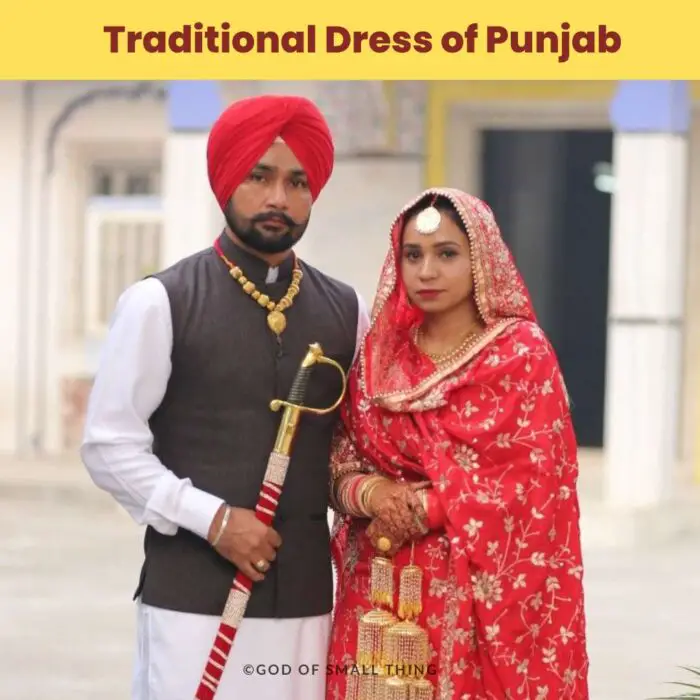 The way we dress plays a major role in enhancing our personality and it boosts our confidence. But it's not always an easy affair to figure out your office staples. If you are a working woman who wants to up her office wardrobe and give it a turnover, we just have the content for you. Read 10 Office Wear Ideas for Indian Women to Look Stylish and Professional – Lifestyle tips by God of Small Thing to slay your office game. – Office Wear Ideas for Indian Women
Rajasthan Traditional Dress: Ghagra with kurti
The land of palaces and royal beauty – Rajasthan is grand in all its ways. The sharp spices and delicacies of the state and the rich traditions of Rajasthan capture the hearts of many. The outfits of people in Rajasthan represent their royal culture and stellar personality. Women of Rajasthan wear long skirts called ghagra with kurti or Kanchi. Women in various regions of Rajasthan also take the traditional Odhni, which is a long piece of cloth worn as a veil. Men in the state wear Dhoti and Angrakha. Angrakha is a piece of cloth that covers the chest. Pagari is considered the honor of men in Rajasthan. It is mostly a 2-meter-long cloth and is worn in the traditional style.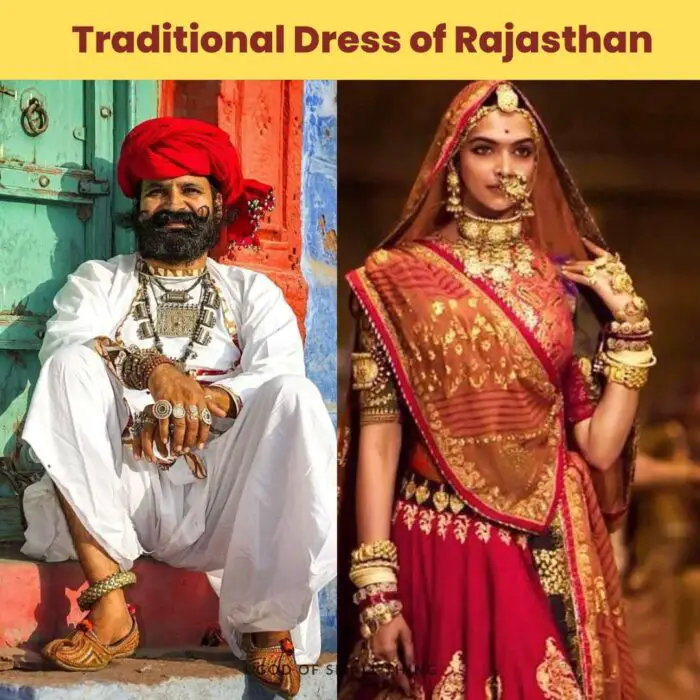 Sikkim Traditional Dress: Bakhu with Tago
Outfits of people in Sikkim represent the various cultural and religious beliefs of the people of the state. Men and women both wear Bakhu. It is a loose cloak-like cloth piece that people tie at the neck and tighten around the waist with the help of a belt made of silk or cotton. The Lepcha women wear the Dumvam garment, along with the loose-fitted blouse called Tago.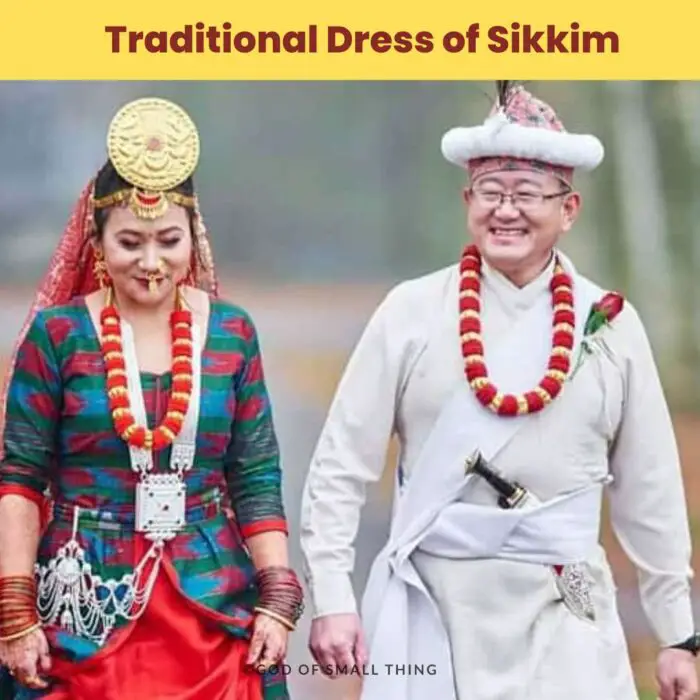 Tamil Nadu Traditional Dress: Lungi and Angvastra
Tamil Nadu is the southernmost state of India, known for its beautiful temples, southern food, and traditional clothing. People in Tamil Nadu hold traditions in high regard and abide by the lines of their culture. Women in Tamil Nadu wear silk sarees and half sarees are also popular. Kanchipuram sarees are very famous in the state and have rich textures and color variations. Pavada or the half-saree is another traditional outfit of Tamil Nadu especially worn by girls before getting married. Men generally wear lungi and angavastra. They also pair it with shirts. White color lungis are the most popular.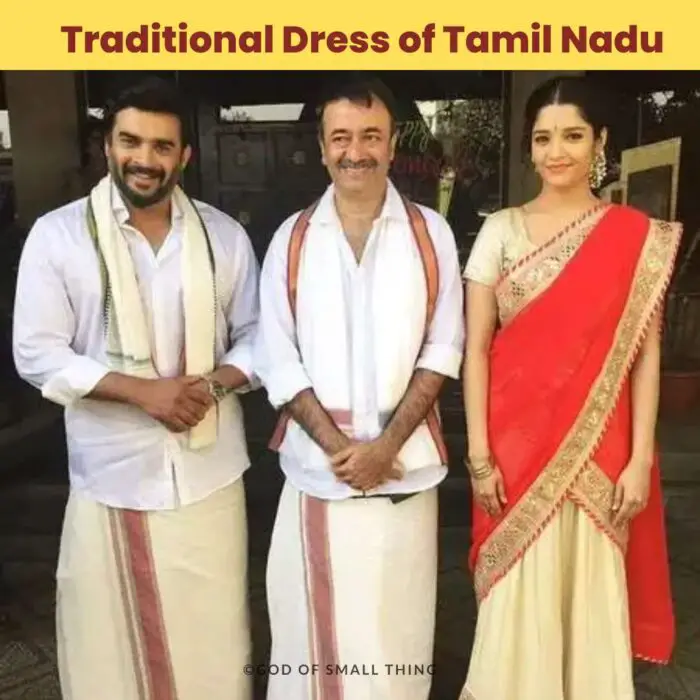 Tripura Traditional Dress: Rignai and Risa
Rignai and Risa are the important dresses of Tripura. Women wear Rignai which is the lower part of the dress resembling a draped skirt. Risa is the upper part of the dress and it is also worn in drapes. Men in Tripura wear Rikutu Gamchi with shirt.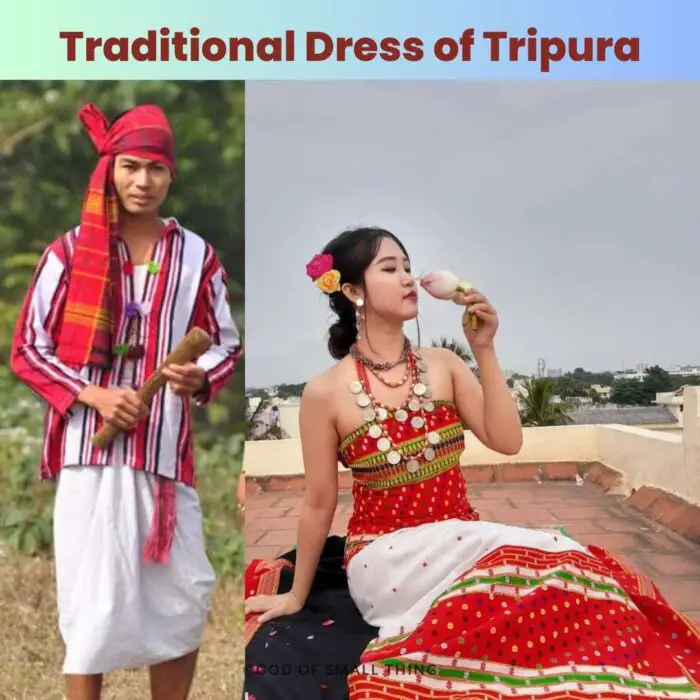 Telangana Traditional Dress: Pancha Dhoti
The traditional dress of Telangana for Women is Langa Voni. Telangana is famous for its tie and dye techniques. Langa Voni is is usually a cloth of cotton or other fancy materials. Men in Telangana wear Pancha Dhoti. Hyderabadi Sherwanis are worn during weddings and special functions.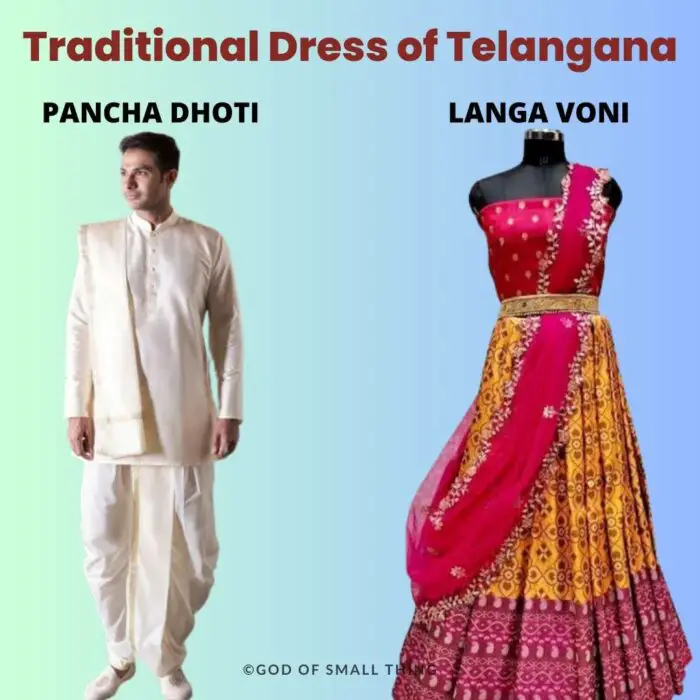 Uttarakhand Traditional Dress: Ghagra Choli
Uttarakhand is a picturesque state and is an important religious site according to Hindu beliefs. Uttaranchal or Uttarakhand is also known as 'Devbhoomi' or the land of gods and the traditional attire of the state reflects the culture of the different communities living here. Most of the women wear Ghagra with choli. Ghagra is a long skirt that is available in myriad designs. Men mostly wear Dhoti and Kurta.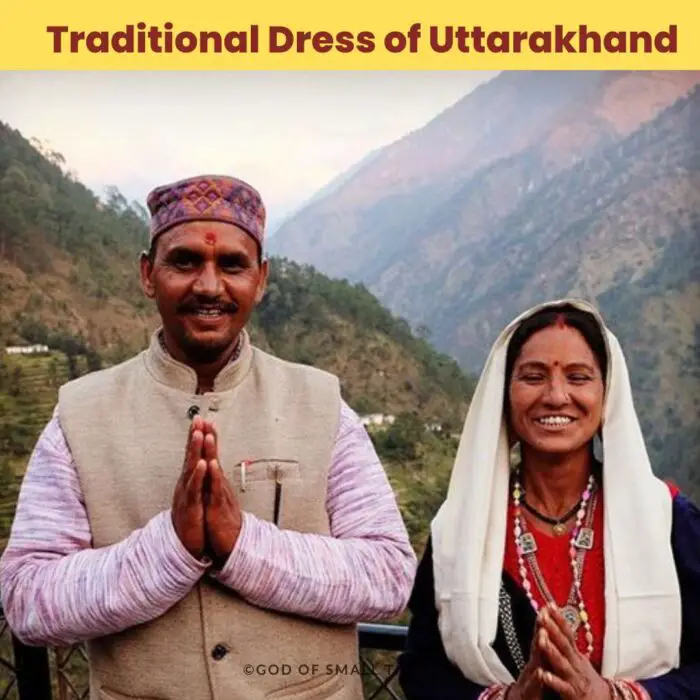 Jammu and Kashmir Traditional Dress: Pheran
Jammu and Kashmir is now one of the eight Indian territories of India, but the state has a unique contemporary and special traditional dress and so Jammu and Kashmir is here on the list too. The surreal, heaven on earth, has a clothing style that is unique to the land. The conventional wear of Kashmir is called Pheran, which is a long gown that extends below the knees. Pheran is usually accompanied by a headdress named Abaya.