50+ Best Bollywood Movies Based on True Stories with Watch Online Links
We live in a world with good and bad. But, when someone's life or an event is so inspiring or unbelievable, people need to know. In this list of Best Bollywood Movies based on true stories, we intend to show you the lives of great personalities like Sardar Vallabhbhai Patel and Milkha Singh but also the underlying darkness in our country. From acid attacks to real-life murder mysteries, we have it all. Tune in to these movies to feel all the emotions portrayed by talented actors. These actors deliver the pain, happiness, desperation, and sadness with a high degree of rawness and touch of realness.
1. Bhaag Milkha Bhaag (2013)
IMDb Ratings: 8.2/10
Cast: Farhan Akhtar, Sonam Kapoor, Divya Dutta, Meesha Shafi, Pavan Malhotra, and Art Malik.
Director: Rakeysh Omprakash Mehra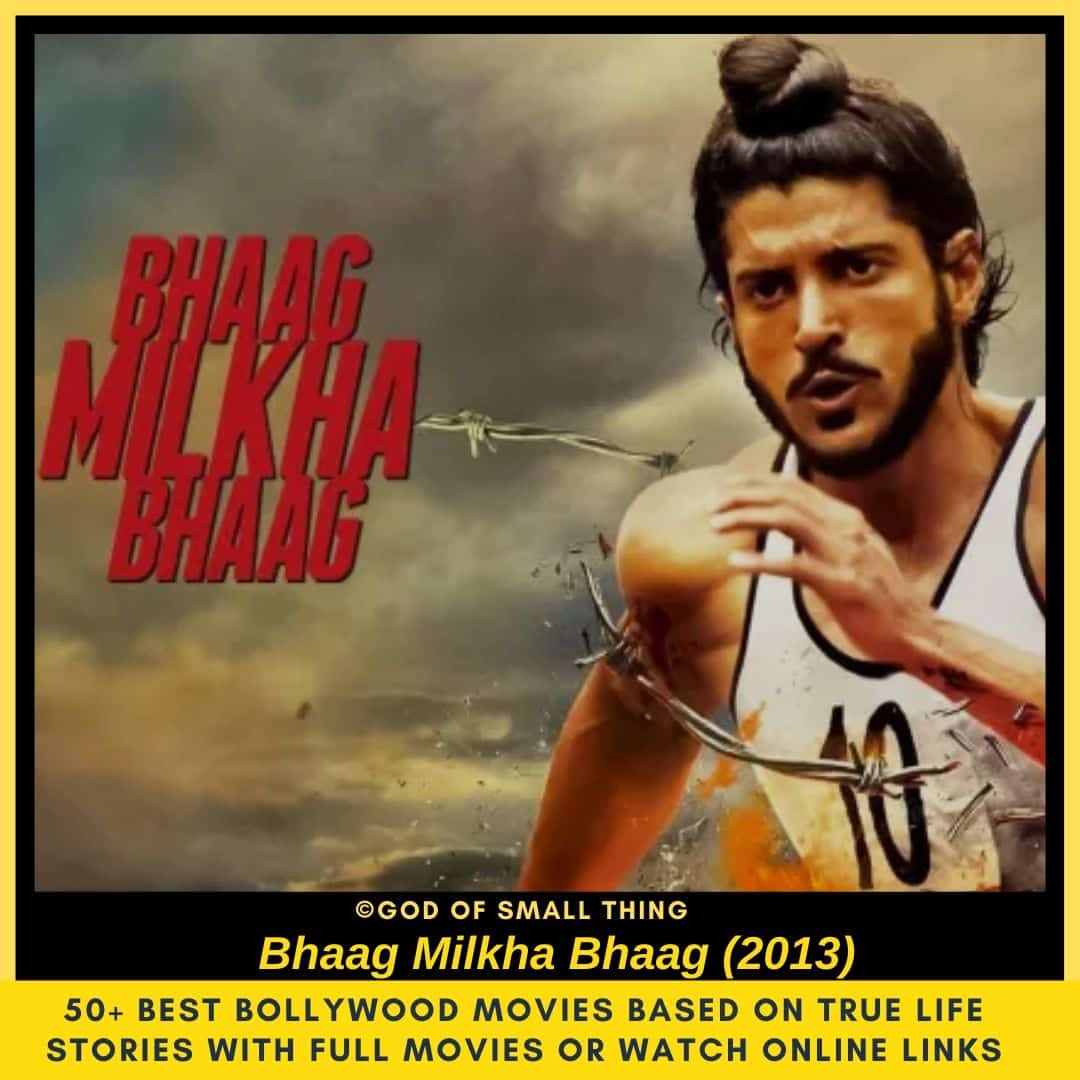 The movie is based on a real-life athlete who is an icon and inspiration to many. It's 1947, and Milkha Singh's parents are killed in a religious massacre in Punjab. He lives in refugee camps with his sister. Milkha made friends and stole things with them for survival. He falls in love with Biro, she asks him to live a diligent life.
Milkha joins the army and gets noticed for his fast speed. He gets selected for the service commission and gets beaten up by his seniors. Regardless, he took part in the Olympic selections. Despite getting injured, he broke the national record. We follow Milkha's journey to becoming the fastest man in India and getting the title "The Flying Sikh." After a difficult life experiencing poverty and war, he turns his life around and broke records. This movie made it to No. 1 on the IMDBs list of the Top 50 Best Bollywood movies based on True Stories.
Where to watch Bhaag Milkha Bhaag movie online: Watch Bhaag Milkha Bhaag movie online on Disney+ Hotstar
2. Special 26 (2013)
IMDb Ratings: 8/10
Cast: Akshay Kumar, Kajal Aggarwal, Manoj Bajpayee, Jimmy Sheirgill, Anupam Kher, and Divya Dutta.
Director: Neeraj Pandey
This movie is based on a real-life "scam" which took place in 1987. There were numerous cases of fake raids by the most feared agency, CBI. Black money was involved, no none of them filed a complaint. The movie starts with Ajay calling the police for more manpower for a top-secret CBI Raid.
He calls SI Ranveer Singh who agrees to deploy the required number of people for the job. He sends PK, Joginder, and Iqbal, they meet Ajay and successfully conduct the raid. After the raid, it is revealed that Ajay and PK were fake CBI officers. They move across the country raiding various businessmen and politicians. Officer Ranveer is held responsible for being stupid. These raids go on, a real CBI officer Waseem Khan pledges to catch these pretend-CBI officers. Experience this cat and mouse game between the real and the fake.
Where to watch Special 26 online: Watch Special 26 online on jiocinema
3. The Attacks of 26/11 (2013)
IMDb Ratings: 6.9/10
Cast:  Sanjeev Jaiswal,  Ajmal Kasab, and Nana Patekar.
Director: Ram Gopal Varma
On December 30, Ram Gopal Varma toured the ravages of the Taj Mahal Hotel a few days after the attacks. The movie is based on the true events of the tragedy of the terrorist attacks in South Mumbai. Ten terrorists travel to India and launch a series of attacks. Mumbai police arrest Ajmal Kasab, one of the terrorists. Further, This date is unforgettable, the citizens of Mumbai were face-to-face with terror and the land was soaked with the blood of the innocent. The movie portrays the horror and tension of the situation.
Where to watch Attacks of 26/11 movie online: Watch Attacks of 26/11 movie online on Airtel Xstream
4. Mary Kom (2014)
IMDb Ratings: 6.8/10
Cast: Priyanka Chopra,  Darshan Kumar, and  Sunil Thapa.
Director: Omung Kumar
The film is based on the Indian Olympic boxer Mangte Chungneijang Mary Kom. She is the only woman to become World Amateur Boxing Champion six times, the only boxer (male or female) to win eight World Championship medals. She is nicknamed Magnificent Mary.
Mary did not have it easy. The movie portrays Mary Kom's journey of becoming a world-class boxer. Mary's journey wasn't easy, she boxed despite her father's disapproval. She comes across a boxing gym and the coach accepts her after a lot of difficulties. After winning a few matches her father reconciled with her. She gets married to her coach's dissatisfaction. She gets pregnant and gives up her career to look after her family. However, Mary realizes that people don't recognize her anymore. Her husband encourages her to take up boxing again. But, she loses her first match comeback. How did Mary get over the obstacles in her path?
Where to watch Mary Kom movie online: Watch Mary Kom movie online on Netflix
5. The Dirty Picture (2011)
IMDb Ratings: 6.6/10
Cast: Vidya Balan, Naseeruddin Shah, Tusshar Kapoor, and Emraan Hashmi.
Director: Milan Luthria.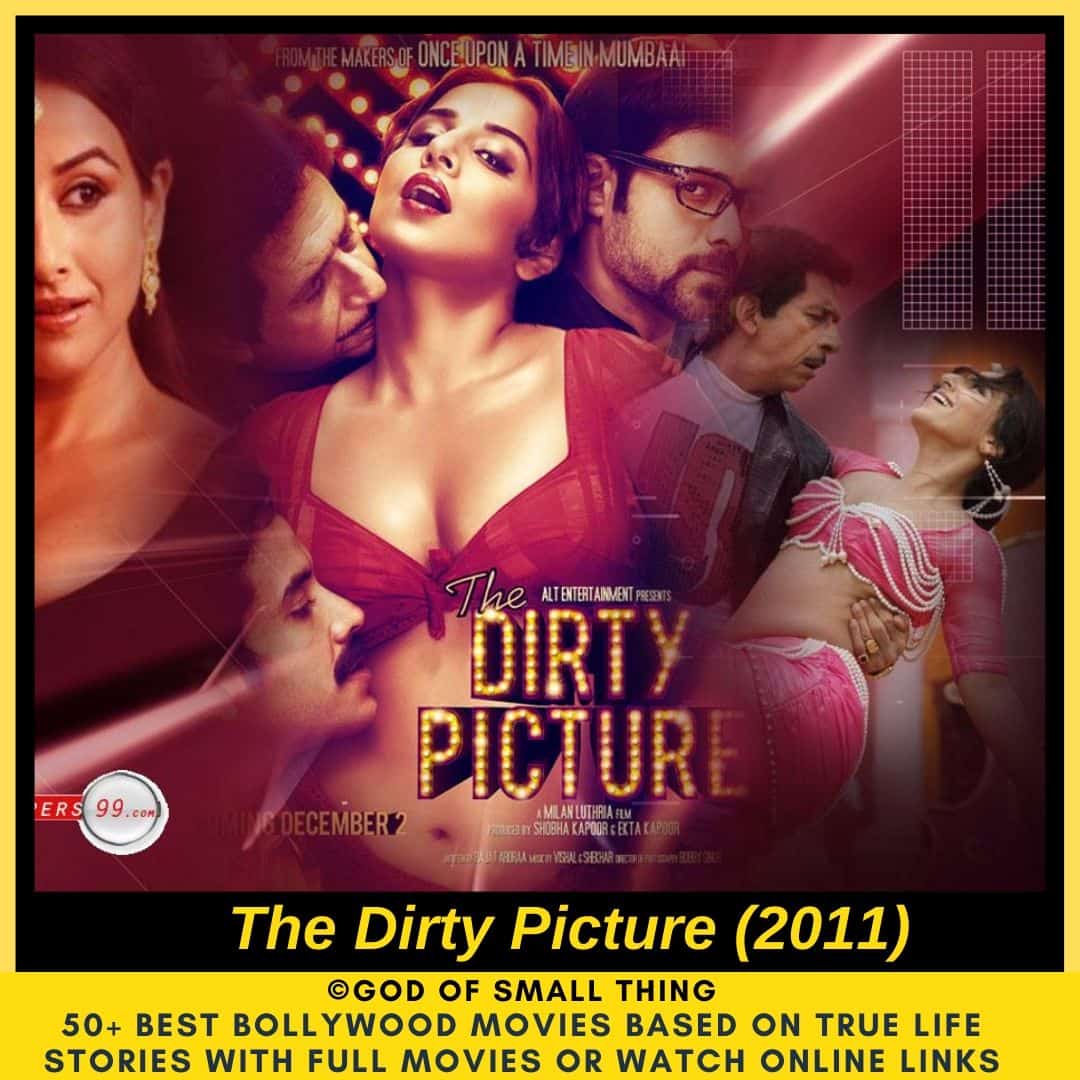 This movie is inspired by the life of Silk Smitha, a South Indian actress known for her erotic roles. The movie is not based fully on her, the director clarified. It resembles the women in pop culture who are treated as sex symbols in the industry, actresses like Disco Shanti and Marilyn Monroe. Reshma runs away from a village in hopes of becoming a star in Chennai. However, she fails to get any roles because the casting director calls her unattractive and a bad actor.
But Reshma was determined to get a role and auditions to be a background dancer. She dances in a sultry manner and gets cut out by director Abraham. She gets an offer from a producer who saw her sultry audition. Silk gets her first film with her childhood idol, Suryakant. She gains his affection and offers him a long-term sexual relationship.
Silk slowly gains recognition as she went on to star in sexually charged movies. Eventually, she becomes South India's sex symbol. What prompted her downfall? Was it the alleged affair with Suryakant's brother, or her losing her self-confidence? What was the last strand that was plucked out? What drives her toward suicide?
Where to watch The Dirty Picture movie online: Watch The Dirty Picture movie on YouTube
6. Gulaab Gang (2014)
IMDb Ratings: 6/10
Cast: Madhuri Dixit and Juhi Chawla.
Director: Soumik Sen
The Gulab Gang is a group of activists and vigilantes in Madhya Pradesh, India. Moreover, They wear pink sarees to stand against issues such as domestic violence, the dowry system, rape, and education. The group's leader Rajjo goes head-to-head with a conniving politician, Sumitra who takes advantage of people. But, Rajjo runs the gang in a little village where she teaches little girls and grown-up girls how to fight. The plot gets thicker when Rajjo decides to be a politician against Sumitra. They lock heads and get violent. Further, This mini-battle led to various deaths on both sides and an ultimate showdown between the two with a lot at stake. They face consequences for their actions too.
Where to watch Gulaab Gang online: Watch Gulaab Gang on YouTube
7. No One Killed Jessica (2011)
IMDb Ratings: 7.2/10
Cast: Vidya Balan, Sabrina Ali,  Rani Mukerji, and Mohammed Zeeshan Ayyub.
Director: Raj Kumar Gupta
Jessica Lal's murder is what inspires this story. The movie was critically acclaimed and went on to become the 10th highest-grossing film in Bollywood. The movie shows how Jessica refuses to serve 3 men after the last call at an elite bar. Manish; is a politician's son. He gets angry after Jessica denies to serve them and shoots her in the head. There were multiple witnesses.
Jessica's sister discovers that some of them have either forgotten or are just willing to sell their testimony to whoever pays the most. This became an open-and-shut case but due to no evidence, Manish won. Her family was in shambles due to the media pressure and they couldn't take it anymore. A reporter, Meera takes it into her own hands to get justice for Jessica. She starts a revolution, she builds immense pressure on the politicians and everything pops. The nations' support starts to get things in order.
Where to watch One Killed Jessica online: Watch No One Killed Jessica on Netflix
8. Airlift (2016)
IMDb Ratings: 7.9/10
Cast: Akshay Kumar and Nimrat Kaur.
Director: Raja Krishna Menon
Ranjit Katyal a businessman based in Kuwait leads an evacuation of all Indians during Saddam Hussein's Invasion of Kuwait. Ranjit had a happy life in Kuwait until one day he woke up to call about the negotiations between Iran and Kuwait failing. Saddam's forces were invading Kuwait. He goes to the Indian Embassy and tries to get out of there with his family. His driver, Nair is killed in the chaos. Ranjit discovers, 170,00 Indians in Kuwait were stranded as refugees.
Ranjit has a change of heart and decides to stay and help them. He tries various routes and negotiates with many officials, to no avail. His final attempt to contact Air India Airlines worked. He manages to get planes to fly back to India. Ranjit goes through a personal crisis of his own amidst the chaos. How did Ranjit pull off the rescue of 170,000 refugees on his own?
Where to watch Airlift movie online: Watch Airlift movie online on YouTube
9. The Legend Of Bhagat Singh (2002)
IMDb Ratings: 8.1/10
Cast: Ajay Devgn, Sushant Singh, D. Santosh, and Akhilendra Mishra.
Director: Rajkumar Santoshi
Bhagat Singh, born in British India, was a revolutionary freedom fighter. He witnesses several atrocities on Indians. Bhagat Singh pledged to free India from the British rule. After the infamous Jallianwala Bagh massacre, he learns the ways of Mahatma Gandhi.
He gets married, but his love for his country came first. The police beat up Lala Lajpat Rai to death and Bhagat, along with Shivaram Rajguru, Sukhdev Thapar and Chandra Shekhar Azad assassinate Saunders, a police officer. When tried publically he launches his ideas of revolution. Things get worse, there are various difficulties in the path to freedom. A 63-day-hunger strike by Bhagat and the others in prison spreads all over. The growing amount of hunger strikes worry Lord Irwin. He re-opens the Saunders murder case. Death sentences were imposed on Bhagat, Thapar, and Rajguru.
Where to watch The Legend Of Bhagat Singh movie online: Watch The Legend Of Bhagat Singh movie online on Amazon Prime Video
10. Neerja (2016)
IMDb Ratings: 7.6/10
Cast: Sonam Kapoor, Shabana Azmi, Yogendra Tiku, and Shekhar Ravjiani
Director: Ram Madhvani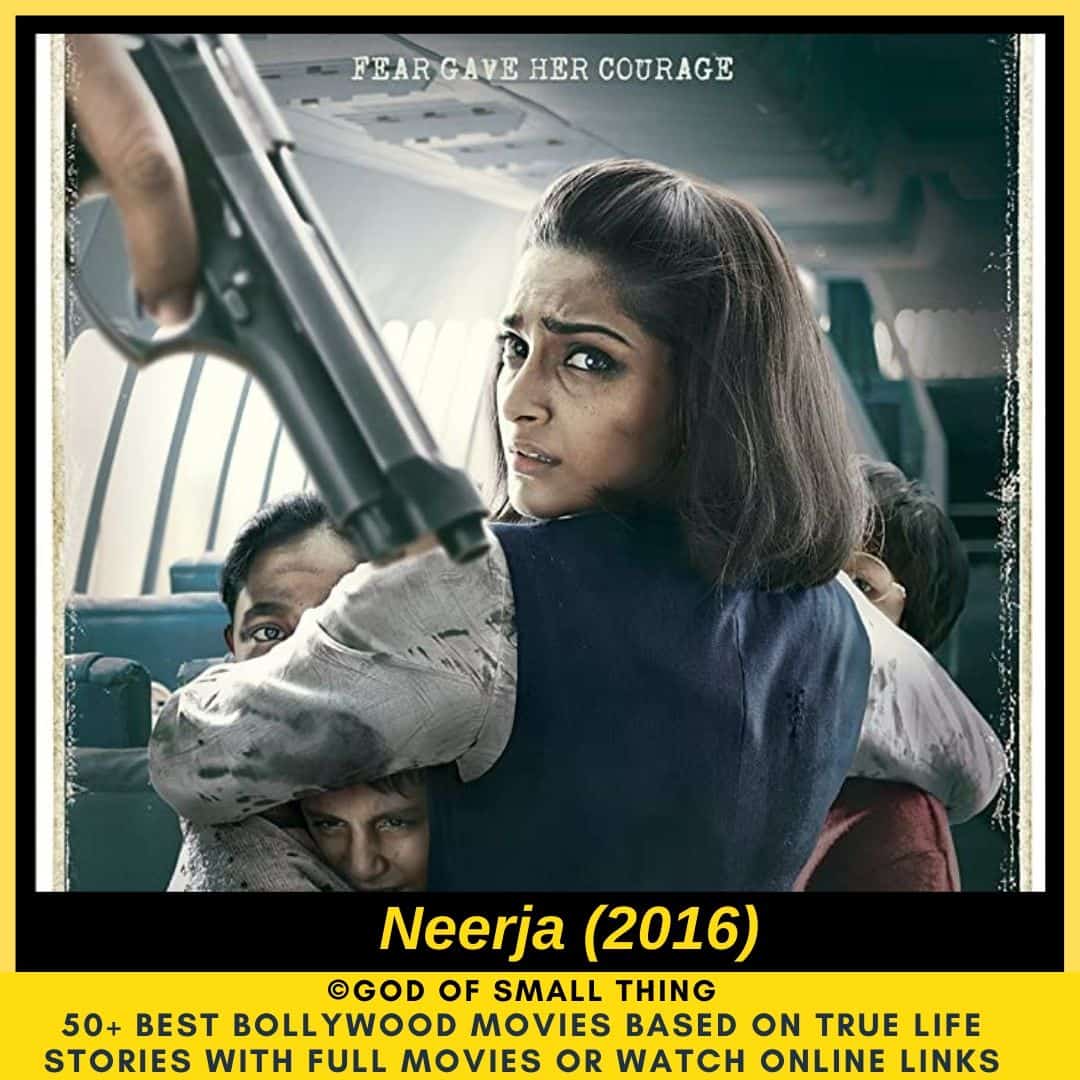 This movie is based on a real-life event, the hijacking of Pan Am Flight 73 in Karachi, Pakistan in December 1986. The film highlights the head purser, Neerja Bhanot. She single-handedly stops the hijacking attempt by alerting the pilots and grounding the plane. Four Abu Nidal terrorists were disguised as security officers escorting a Libyan diplomat. She alerts the pilots. However, the three American pilots escape from the overhead hatch. Neerja was a brave soul who didn't stop at anything to get her passengers to safety. Neerja died helping 359 of the 379 passengers and crew on board to safety. The movie was subject to highly positive critical reviews. This film is the highest-grossing movie by a female protagonist.
Where to watch Neerja movie online: Watch Neerja movie online on Disney+ Hotstar
11. Shahid (2013)
IMDb Ratings: 8.2/10
Cast: Rajkummar Rao, Mohammed Zeeshan Ayyub, Prabhleen Sadhu, and Baljinder Kaur.
Director: Hansal Mehta
Shahid Azmi and his family were terrorized while the Bombay Riots, where hundreds of Hindus and Muslims died. Further, He goes to a terror training camp in Kashmir but returned after witnessing an execution. When he moved back to Mumbai, he is arrested for an alleged conspiracy to assassinate politicians. He is tortured and forced to admit to crimes and spent 7 years in jail. Once he is released, he gets a degree and works on pro-Bono cases. He starts picking up cases of the Prevention of Terrorism Act and gets his major win after many cases.
Shahid represents the accused in the Mumbai train bombings, Malegaon bombings, and Aurangabad arms haul of 2006. He was heavily criticized for supporting terrorists. The assailants in front of the court blackened his face. There were threatening calls to his family too. He went through a lot of obstacles to defend who he thought was innocent. What did all of this struggle bring him?
Where to watch Shahid Bollywood movies online: Watch Shahid Bollywood movie online on Amazon Prime Video
12. Chak De India (2007)
IMDb Ratings: 8.1/10
Cast: Shah Rukh Khan, Vidya Malvade, Shilpa Shukla, Sagarika Ghatge, Chitrashi Rawat, Vivan Bhatena, Mohit Chauhan, Joyshree Arora, Vibha Chibber, and Anaitha Nair.
Director: Shimit Amin
This movie was based on the real-life story of Mir Ranjan Negi, a former who faced immense humiliation after conceding 7 seven goals against Pakistan in the 1982 Asian Games final. He was let go by the Indian Hockey Federation after he was accused of being seen coming out of the Pakistan High Commission on the eve of the match. The movie shows his life after he quit. Moreover, He made a comeback as a coach to the Woman's national field hockey team. Khan (Ranjan Negi was renamed for the film as Kabir Khan) was in charge of 16 young women. These women were divided by their prejudices and regional pride.
However, he makes the women overcome their differences and coaches them to perfection. With a few losses, the teams struggle but get it together and win 6 consecutive matches. Khan's restoration of his reputation and pride is all in the hands of these young women. Will Khan's name be cleared? These women show an extraordinary display of sportsmanship and friendship. They show how athletes' life is never easy one.
Where to watch Chak De India online: Watch Chak De India on Amazon Prime Video
13. Baajirao Mastaani (2015)
IMDb Ratings: 7.2/10
Cast: Ranveer Singh, Deepika Padukone, and Priyanka Chopra.
Director: Sanjay Leela Bhansali
Based on the story of Maratha Peshwa Bajirao and his second wife. In the early 18th Century, the Maratha king, Chhatrapati Shahu needed a new Peshwa. Bajirao passed the test, he is given the title. Years later, an emissary from Bundelkhand asks Bajirao for help. The emissary is Mastani, the daughter of the Hindu Rajput King Chhatrasal and his Persian Muslim consort Ruhani Begum. He falls in love with Mastani and gives her his dagger. However, Bajirao is unaware that giving a sword is a symbol of marriage among the Rajputs. She comes to Pune and is harshly treated and accommodated in a palace for courtesans.
Bajirao chides her and reminds her that he will never fully be hers, He already had one wife. Mastani agrees, and she is announced to become his second wife. This marriage was thought to be illegitimate. Moreover, Mastani's life is in danger, she and her son were thrown into prison while Bajiro was busy waging a war. Bajirao gets injured, and on his deathbed, he pleads with his mother to free Mastani and his son. However, his mother gets his son out, Mastani is left in prison. Bajirao takes his last breath in war and Mastani takes her in captivity.
Where to watch Baajirao Mastaani online: Watch Baajirao Mastaani online on Jiocinema
14. Mumbai Meri Jaan(2008)
IMDb Ratings: 7.7/10
Cast: Madhavan, Soha Ali Khan, Kay Kay Menon, Paresh Rawal, and Irfan Khan.
Director: Nishikanth Kamath
Based on the aftermath of the 11th July 2006 Mumbai train bombings. over 209 people were killed and 707 were injured. Rupali Joshi is a reporter who was engaged. Nikhil rides the train to work every day. Suresh is a struggling IT guy who spends his time criticizing Muslims. On July 11th Suresh and Nikhil board the train, the bomb goes off but they survive. Both have severe cases of PTSD. But, Suresh is hit harder, he starts to punish all the Muslims in the city. Rupali reaches the blast spot and finds her husband dead. Her channel exploits her story for ratings. How did this one bombing impact the life of these among hundreds of people?
Where to watch Mumbai Meri Jaan movie online: Watch Mumbai Meri Jaan movie online on Netflix
15. Jolly LLB (2013)
IMDb Ratings: 7.5/10
Cast: Arshad Warsi, Boman, Irani, Amrita Rao, and Saurabh Shukla.
Director: Subhash Kapoor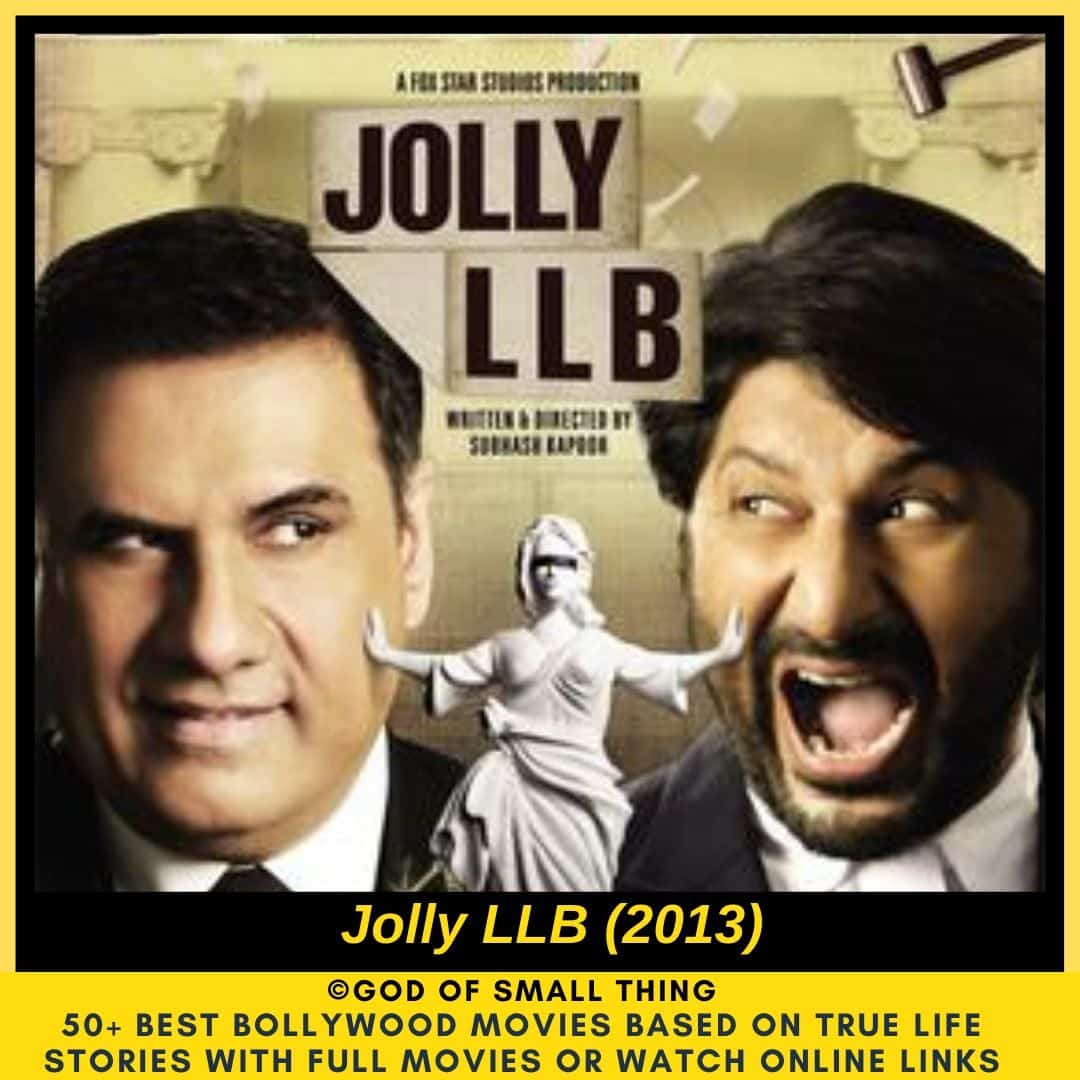 This movie is based on a real-life hit-and-run case of Sanjeev Nanda, it also gives a small reference to the Priyadarshini Mattoo case. The movie revolves around Jagdish Tyagi a.k.a Jolly is a Delhi based lawyer. He sees Tejinder Rajpal, a criminal lawyer defending a high society boy. He was accused of drunken driving and causing the death of 6 people sleeping on a footpath. Jolly in desperate need of cash, decides to take the case against Rahul. But he soon turns Rajpal's lackey. He becomes greedy and takes a bribe. He is made to realize his mistakes, and Jolly and Rajpal are challenged to win the case. How will Jolly go up against a seasoned Lawyer? What lengths will he go to collect evidence?
Where to watch Jolly LLB online: Watch Jolly LLB on Disney+ Hostar
16. Bandit Queen (1994)
IMDb Ratings: 7.5/10
Cast: Seema Biswas and Nirmal Pandey.
Director: Shekhar Kapur
The film is based on the real-life story of Phoolan Devi. This is an R-rated movie, so proceed accordingly. The movie revolves around Phoolan when she was thrust into child marriage at a very young age. Throughout her life, Phoolan was subject to various encounters of rape and physical abuse. She was abused by the upper-caste men, police officers, gang leaders and so on. One day she finds Baba Mustakim, and she asks for a gang. She leads the gang and takes her revenge on every man that wronged her.
However, the extremely violent activity raised flags and alerted the police. When she saw no way out, she surrendered herself. She was arrested in 1983. But, all the charges against her were withdrawn and she gets released in 1994. What were the adversities Phoolan went through that she had that much hatred in her? How much did the caste system push her down? How much did society scathe her that she was never able to fully recover?
Where to watch Bandit Queen bollywood movie online: Watch Bandit Queen bollywood movie online on YouTube
17. Black Friday (2004)
IMDb Ratings: 8.4/10
Cast:  Kay Kay Menon, Aditya Srivastava, Pavan Malhotra, Kishor Kadam and Zakir Hussain.
Director: Anurag Kashyap
Based on a book Black Friday: The True Story of the Bombay Bomb Blasts by Hussain Zaidi. The movie shows the events that lead to the Bombay bombings and a consequent investigation. In March 1993, a thug Gul confesses to a conspiracy underway to bomb major locations in the city. The police dismissed his confession. and a few days later a series of bombings take place.
The death toll was huge, 257 people dead and 1400 were injured, including Secretary of the Don, Tiger Memon, who is suspected to be the mind of the plan. It was a cat-and-mouse chase between the police and Tiger's lackeys. Mumbai police create high pressure on all of his henchmen. Under high pressure, one of his accomplices turns himself in. This crime thriller based on a true story will show you a mirror into the real world. Of how far can people go for petty reasons.
Where to watch Black Friday online: Watch Black Friday on UWatchfree
18. Dangal (2016)
IMDb Ratings: 8.3/10
Cast: Aamir Khan, Sakshi Tanwar, Fatima Sana Shaikh, Zaira Wasim, Sanya Malhotra, Suhani Bhatnagar, Aparshakti Khurana, and Girish Kulkarni.
Director: Nitesh Tiwari
The movie is based on the Phogat family. A pehlwan who trains his daughters to become India's first world-class wrestlers. The movie went to become a record-breaking success. It became the highest-grossing Indian film and the 5th highest-grossing film ever. It is the highest-grossing sports film worldwide. In the movie, Mahavir Phogat was a former amateur wrestler trained in pehlwani. He was forced by his family to leave wrestling and earn for the family. Mahavir pledged that he couldn't get a gold medal, his unborn son will. He ends up having 4 daughters, and he gives up, disappointed.
When two of his daughters Babita and Geeta come home after having a brawl with boys who threw bad comments at them, he saw hope. He saw their potential and gave them intense training in wrestling. Despite getting backlash from the villagers, he goes on. Initially, the girls felt burdened, but later realize how much their father cares for them. The girls went on to defeat all the guys in the village and entered national level matches. They claimed steps towards success, but there were a few difficulties. Geeta has disagreements with her father, and she disregards all his teaching and uses different methods. She loses all the international matches. How do the father-daughter reconcile? How do the girls reach higher heights of success?
Where to watch Dangal online: Watch Dangal on Jiocinema
19. Talvar (2015)
IMDb Ratings: 8.1/10
Cast: Irrfan Khan, Konkona Sen Sharma, and Neeraj Kabi.
Director: Meghna Gulzar
This film is based in the 2008 Noida double murder case. The case involved a teenage girl and her family's servant. The investigation follows two perspectives. Either the parents are guilty or they are innocent. 14-year-old Shruthi is found dead at her home by her parents. The local police force handling the case are extremely incompetent. Through a very poorly investigated case, the police declare this as an honour killing. The father, Ramesh is arrested for the murders.
The public was outraged at the victim blaming the situation. Ashwin Kumar (CDI) exonerates the parents and Ramesh is released from jail. He builds a case on Ramesh's assistant. Complications happen and CDI files a report of the closure of the case. The parents protest against the closure. The judge rejects the closure report and accuses the parents of the case again. The parents are convicted of the murders months later. The movie follows the Roshomon effect, which has different interpretations of the same event.
Where to watch Talvar movie online: Watch Talvar movie online on Disney+ Hotstar
20. MS Dhoni: The Untold Story (2016)
IMDb Ratings: 7.9/10
Cast: Sushant Singh Rajput, Disha Patani, Kiara Advani, Anupam Kher, and Bhumika Chawla.
Director: Neeraj Pandey.
This movie is based on the former Captain of the Indian Cricket Team, Mahendra Singh Dhoni. Dhoni is invited by his coach to try out to be a wicket-keeper. He gets selected for the Ranji trophy, he reached late and his draft notice gets held up. To please his father he joins the railways as a ticket collector. Dhoni is unsatisfied with his job, he is depressed. He decides to go to cricket practices after his day-shifts.
Dhoni tries out for the U-19, he does not succeed but is selected for the Duleep Trophy. He leaves his job and pursues cricket professionally. He works hard and gets selected for the national team. His girlfriend dies in an accident and then he relapses back into depression. When he becomes the captain of the T-20 world cup he leads the team to the number one ranking. The movie portrays Dhoni's journey of becoming a legendary cricket player.
Where to watch MS Dhoni Biopic online: Watch MS Dhoni Biopic online on Disney+ Hotstar
21. The Ghazi Attack (2017)
IMDb Ratings: 7.5/10
Cast: Rana Daggubati, Atul Kulkarni, Tapsee Pannu, Kay Kay Menon, Rahul Singh, and Satyadev Kancharana.
Director: Sankalp Reddy.
The Ghazi Attack is inspired by the real events of the Indo-Pakistan war in 1971. This is an underwater tale of the Indian Navy on the Submarine INS Kanranj which destroyed the Pakistani PNS Ghazi when it ventures into the Indian waters to destroy INS Vikrant on the shores of Visakhapatnam. In the movie, the Indian Nay decodes a code sent from Pakistan. Ghazi blasts a ship to divert the Indian Navy's attention. This underwater war between India and Pakistan gets serious, and people lose their lives. The Indian Navy desperately tries to re-route the enemy's submarine from the masses, but fails. Who comes out as the victor?
Where to watch The Ghazi Attack online: Watch The Ghazi Attack on Amazon Prime Video
22. Kesari (2019)
IMDb Ratings: 7.4/10
Cast: Akshay Kumar, Parineeti Chopra
Director: Anurag Singh
Based on the events leading to the Battle of Saragarhi, this movie was highly critically acclaimed. The movie shows a fierce battle between 21 soldiers of the 36 Sikhs in the British Indian Army and the Orakzai Pashtun tribesmen and Afridi in the year 1897. Havaldar Ishar Singh was a part of the Sikh Regiment of the British Indian Army. He was posted at the Gulistan fort with a jealous British officer. The officer thinks little of Indians, he thinks they are cowards, but Ishar Singh had far more superior fighting skills tan any. The Afghan tribesmen were trying to kill an Afghan woman who did not accept her forced marriage.
Ishar intervenes, saves the woman, and kills her husband. The Afghan attacked the fort but were stopped when Ishar ends up killing many of them. But, Ishar disobeys a direct order from his superior. He is transferred to the Saragarhi fort. Things go south when the Afghans attack the Saragarhi fort in search of Ishar. A chilling battle between the Afghan and the Sikhs will give you goosebumps.
Where to watch Kesari movie online: Watch Kesari movie online on Amazon Prime Video
23. Raazi (2018)
IMDb Ratings: 7.7/10
Cast: Alia Bhatt and Vicky Kaushal
Director: Meghna Gulzar
This is a true account of a RAW agent who, upon her father's request, is married into a military official's Pakistani family. Sehmat was a spy who relayed information to India before the Indo-Pakistan War of 1971. Sehmat wanted to go to college, but she hesitantly goes to the RAW training. She is trained in shooting, martial arts, and Morse code. She starts relaying information when her father-in-law is promoted. Sehmat falls in love with her husband. She treads into more and more dangerous territory as she goes on. There is confrontation, heartbreaking death, and excellent plot direction. The information she passed ended up in the surrender of Pakistan in the War of 1971.
Where to watch Raazi movie online: Watch Raazi movie online on Amazon Prime Video
24. Super 30 (2019)
IMDb Ratings: 7.9/10
Cast:  Hrithik Roshan, Mrunal Thakur, Virendra Saxena, Pankaj Tripathi, Aditya Srivastava, Nandish Singh, Aayush Kumar Shukla, and Amit Sadh.
Director: Vikas Bahl
Anand Kumar was a mathematician, he opens a program named 'Super 30' where he teaches 30 students for IIT, free of cost. He solves an extremely hard problem which no one has been able to solve yet. He gets a letter from the University of Cambridge to join a program there. Due to a bad situation, he wasn't able to attend the program. He meets Lallan, an assistant to a local minister. He is impressed by Anand and takes him to an institution to teach. Anand sees the plight of a poor boy who left because he couldn't afford the tuition. He believes that poor kids also have the right to study. He enrolls and teaches 30 kids and makes studying fun. But, there were a lot of struggles and brutality in Anand's fate.
Where to watch Super 30 online: Watch Super 30 online on Disney+ Hotstar
25. Gully Boy (2019)
IMDb Ratings: 7.9/10
Cast: Ranveer Singh, Alia Bhatt, and Siddhant Chaturvedi.
Director: Zoya Akhtar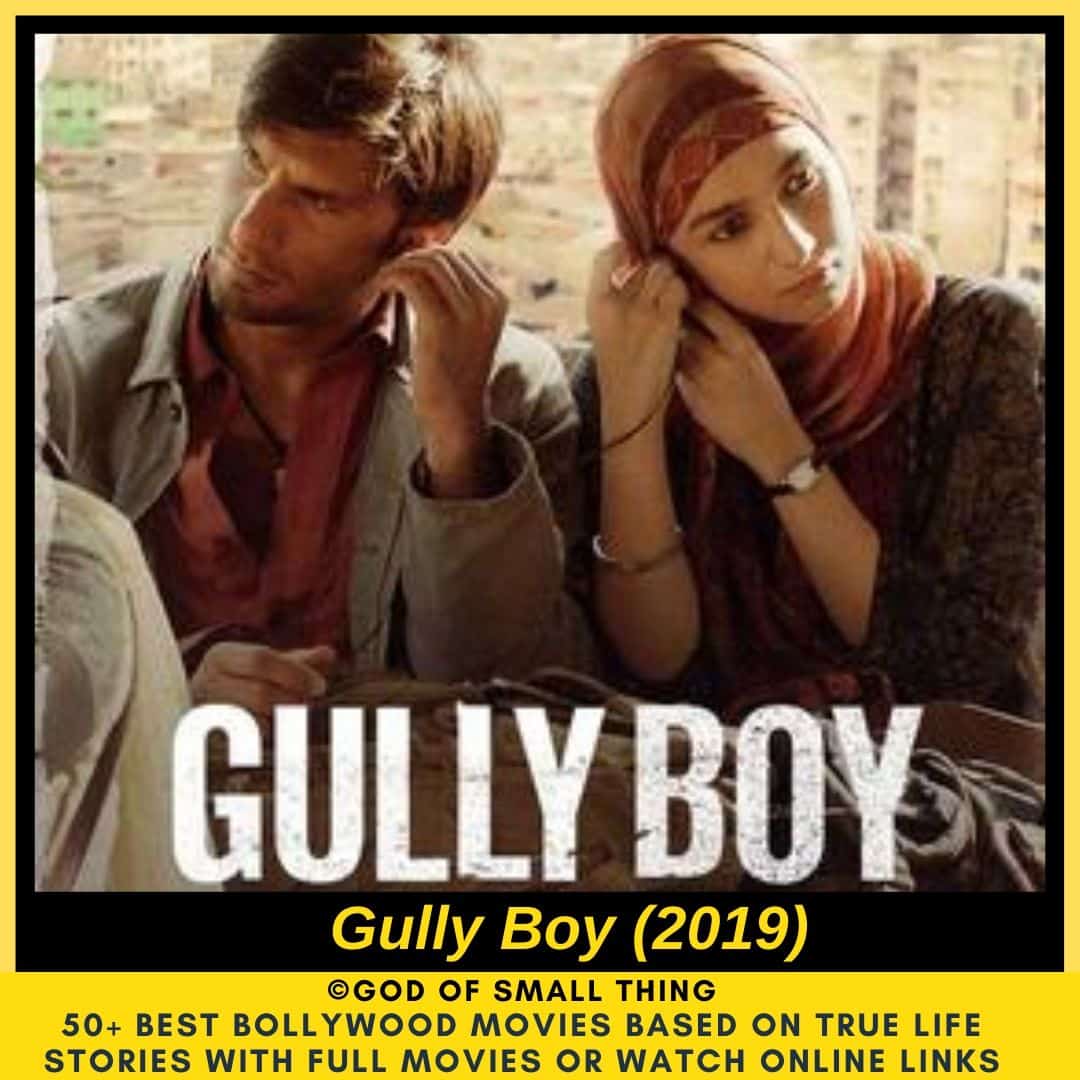 Inspired by the Indian street rappers Divine and Naezy. It's a coming-of-age story about an aspiring rapper from the slums of Dharavi, Mumbai. Murad Ahmed is a final-year student. His father was abusive and brought a young second wife home. After his father gets injured he is forced to work as a chauffeur. Murad sees a lot of inequalities in his job and writes about them. He gets drawn into an underground rap battle after making acquaintance with MC Sher.
He gets an offer after the video went viral on Youtube. Shweta reaches out to him in hopes of a collaboration. The music video skyrockets, but Mrad's father becomes increasingly abusive again. He moves out with his family and makes movies for his career. What did his father think about his passion? Gully Boy was the only movie in 20 years to win all the four acting awards in the Filmfare awards after the legendary movie Kuch Kuch Hota Hai.
Where to watch Gully Boy movie online: Watch Gully Boy movie online on Amazon Prime Video
26. Sanju (2018)
IMDb Ratings: 7.6/10
Cast: Ranbir Kapoor, Paresh Rawal, Vicky Kaushal, Manisha Koirala, Dia Mirza, Sonam Kapoor, Anushka Sharma, and Jim Sarbh.
Director: Rajkumar Hirani
The film follows the crazy life of Bollywood actor Sanju. His life of drug addiction, his Alleged association with the 1993 Bombay bombings, his comeback in the industry, drop of charges against him, and so much more. In the movie, Sanjay is sentenced to 5 years in prison. Winnie, a writer is asked to write a biography on his life. Sanju's wife Manyata wanted the public to know his point of view. His father launched his career, and after his overtly controlling behaviour, he descends into drug and alcohol addiction because of Zubin. His new friend Kamlesh manages to keep Sanju away from his addiction, but he relapses.
Later, Sanju was doing good in his career. He acquires 3 AK-56 rifles to protect his father who had ventured into politics. Thereafter, he was arrested for possession of supposed trafficked by D-company. India labels him as a terrorist. He spends time in jail, gets released and was proven innocent of terrorism but was guilty of possession of firearms. Sanjay Dutt gets arrested again. He was Bollywood's biggest stars, how did he fall in so deep?
Where to watch Sanju movie online: Watch Sanju movie online on Netflix
27. Not a Love Story (2011)
IMDb Ratings: 5.2/10
Cast: Deepak Dobriyal, Mahie Gill, Zakir Hussain
Director: Ram Gopal Varma.
This crime-thriller was inspired by the Neeraj Grover murder case in 2008. Anushka relocated to Mumbai to make a career in acting. She says goodbye to her boyfriend, Robin. Anushka meets Sam, a director, who assures her a lead role on the condition that she gets intimate with him and refuses the offer. She keeps on auditioning for a while when she gets short-listed by Ashish Bhatnagar. They go to celebrate in a pub, get drunk and end up in bed. Robin hears the news of her getting short-listed. He goes to Mumbai to surprise Anushka.
He finds both of them in bed and goes crazy. In a fit, of rage, he kills Ashish. He horrifically disposes of the body with Anushka's help. Ashish's family files a missing report and the police launch an investigation to locate him. Watch how their lawyers and the police try to manipulate the truth to get them acquitted. It for average ratings at the box office, the amateur-type filming style is not for everybody. But if you are up for watching something new, you might want to watch it.
Where to watch Not a Love Story movie online: Watch Not a Love Story movie online on ZengaTv
28. Padmaavat (2018)
IMDb Ratings: 7/10
Cast: Deepika Padukone, Shahid Kapoor, and Ranveer Singh.
Director: Sanjay Leela Bhansali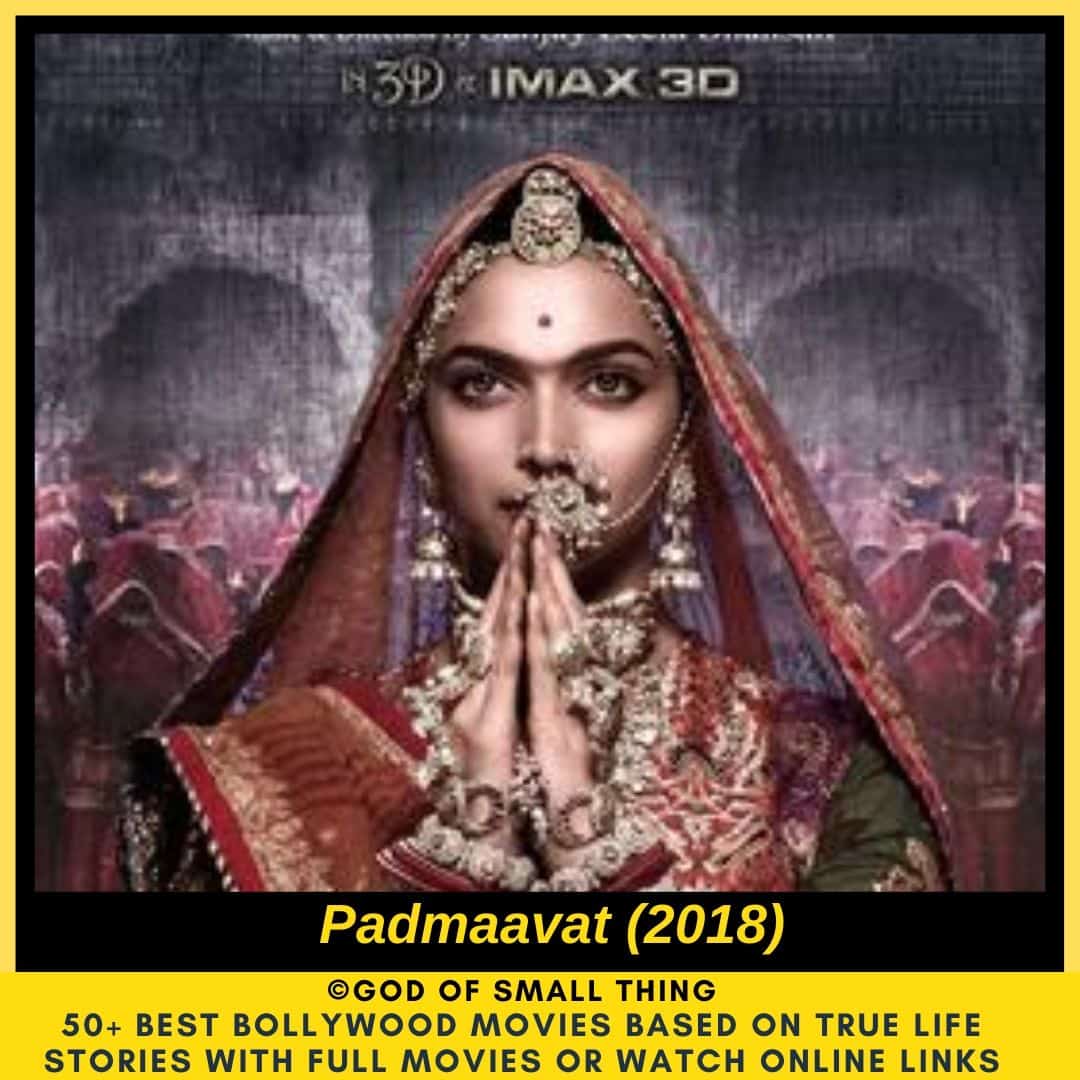 The movie is loosely based on the epic poem Padmavat. Rani Padmavati is known for her beauty and her sense of justice, she's the wife of Maharawal Ratan Singh. The movie is a story of honor, beauty, and obsession. The 13th century Afghanistan's Khilji Dynasty plans to rule over Delhi. Alauddin Khilji gets married to Mehrunisa. In Sinhala Princess Padmavati accidentally injures Rajput's ruler Ratan Singh. The king falls in love with her and asks her hand in marriage.
Khilji wage wars against various states and takes over them. He pronounces himself as the new Sultan. Khilji gets to know about Padmavati's beauty from a Chetan who is banished from the kingdom. He wants anything exceptional. After an unsuccessful siege for six months, Khilji feigns peace and asks permission to see Padmavati. He takes Ratan as a prisoner. Padmavati agrees to see him, even if she feigns surrender but plans to free Ratan. Will she succeed in saving her Husband? What is Khilji's next move? This movie goes on to become one of the highest-grossing Indian films of all time. It is highly critically acclaimed.
Where to watch Padmaavat movie online: Watch Padmaavat movie online on Amazon Prime Video
29. Jodhaa Akbar (2008)
IMDb Ratings: 7.5/10
Cast: Aishwarya Rai, Hrithik Roshan, Sonu Sood, Kulbhushan Kharbanda, and Ila Arun.
Director: Ashutosh Gowariker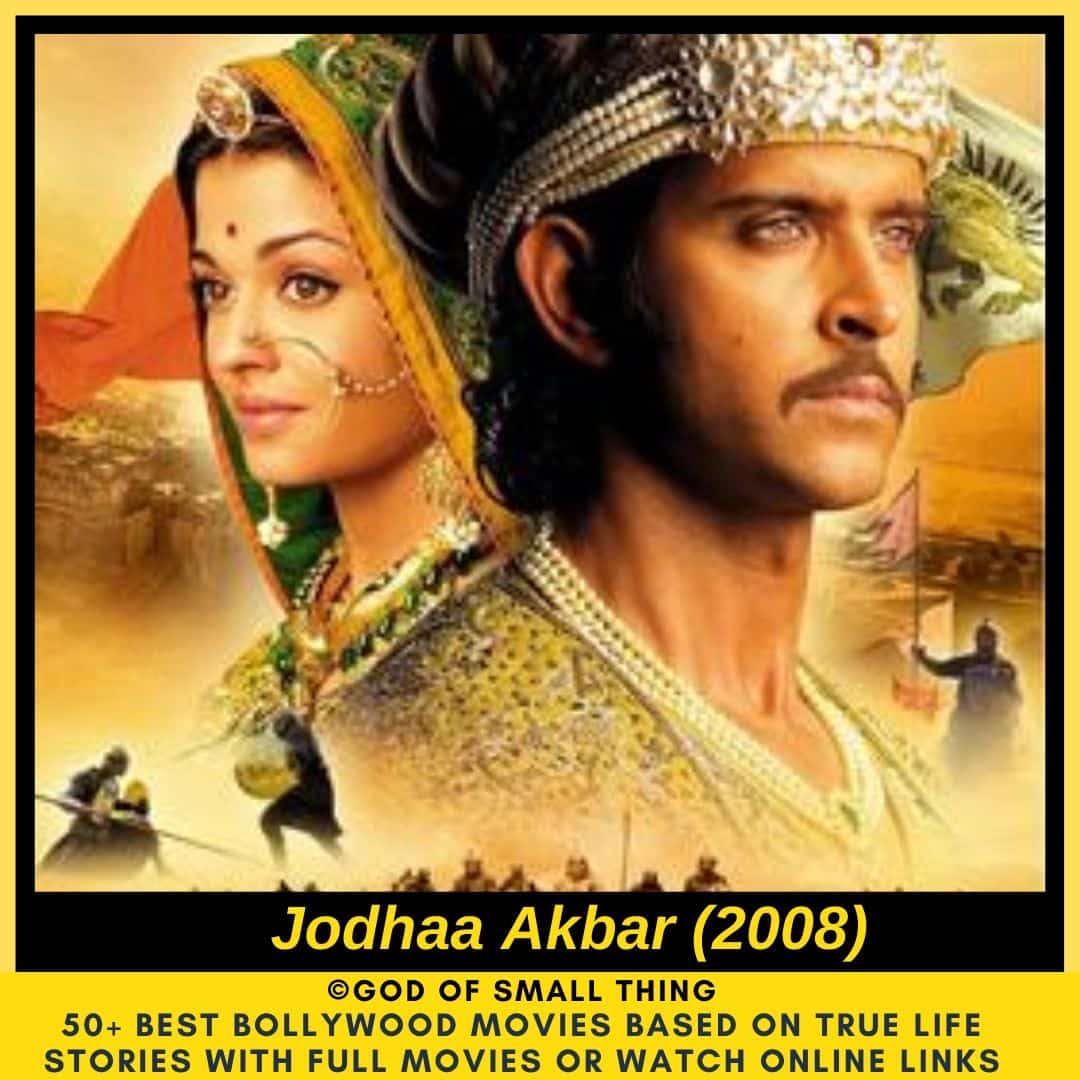 The story revolves around the Mughal emperor Jalal-Ud-din Muhammad Akbar and Rajput princess Jodhaa Bai. When the Mughal empire attacks Amer, King Bharmal makes a peace offering. He offers her daughter up for marriage to the emperor himself. Akbar agrees in hopes of creating a strong alliance between the Mughals and Rajputs. Jodhaa resents being reduced to a pawn in the kingdom's politics.
But, Jodhaa doesn't want to deceive the king, she wants her kingdom to be safe. She puts many conditions in place, with the intentions of Akbar calling off the wedding. Over time they both get married and gain admiration and respect for each other. Misunderstandings and traitors make Akbar banish Jodhaa from his Kingdom. He realizes his mistake but is it too late? A siege is brewing under the skin of the kingdom, What will Jodhaa and Akbar do? This eternal love story is on par with that of Romeo and Juliette.
Where to watch Jodhaa Akbar movie online: Watch Jodhaa Akbar movie online on Netflix
30. Manikarnika: The Queen of Jhansi (2019)
IMDb Ratings: 6.4/10
Cast: Kangana Ranut, Atul Kulkarni, Jisshu Sengupta, Vaibhave Tatwawaadi, Mohammer Zeeshan Ayyub, and Ankita Lokhande.
Director: Kangana Ranut and Radha Krishn Jagarlamudi.
Rani Laxmi Bai of Jhansi is a legendary freedom fighter. Laxmi gets married to the Maratha king. After a while, Laxmi gives birth to a child. The King and her child, Damodar are poisoned and the child dies while the king is on his deathbed. A civilian toddler runs into Jhansi's arms, and the royal couple adopts the child and names him Damodar, their heir. Until Damodar becomes of age, Jhansi is given full control of the province. She becomes the queen. The British officials retaliate by attacking the palace, and Jhansi is removed from her palace. She lives among her people. She trains her women to fight. During the siege against the Britishers, she valiantly gets on the battlefield and fights for her country.
Where to watch Manikarnika movie online: Watch Manikarnika movie online on Amazon Prime Video
31. PadMan (2018)
IMDb Ratings: 7.9/10
Cast: Akshay Kumar, Radhika Apte, and Sonam Kapoor.
Director: R. Balki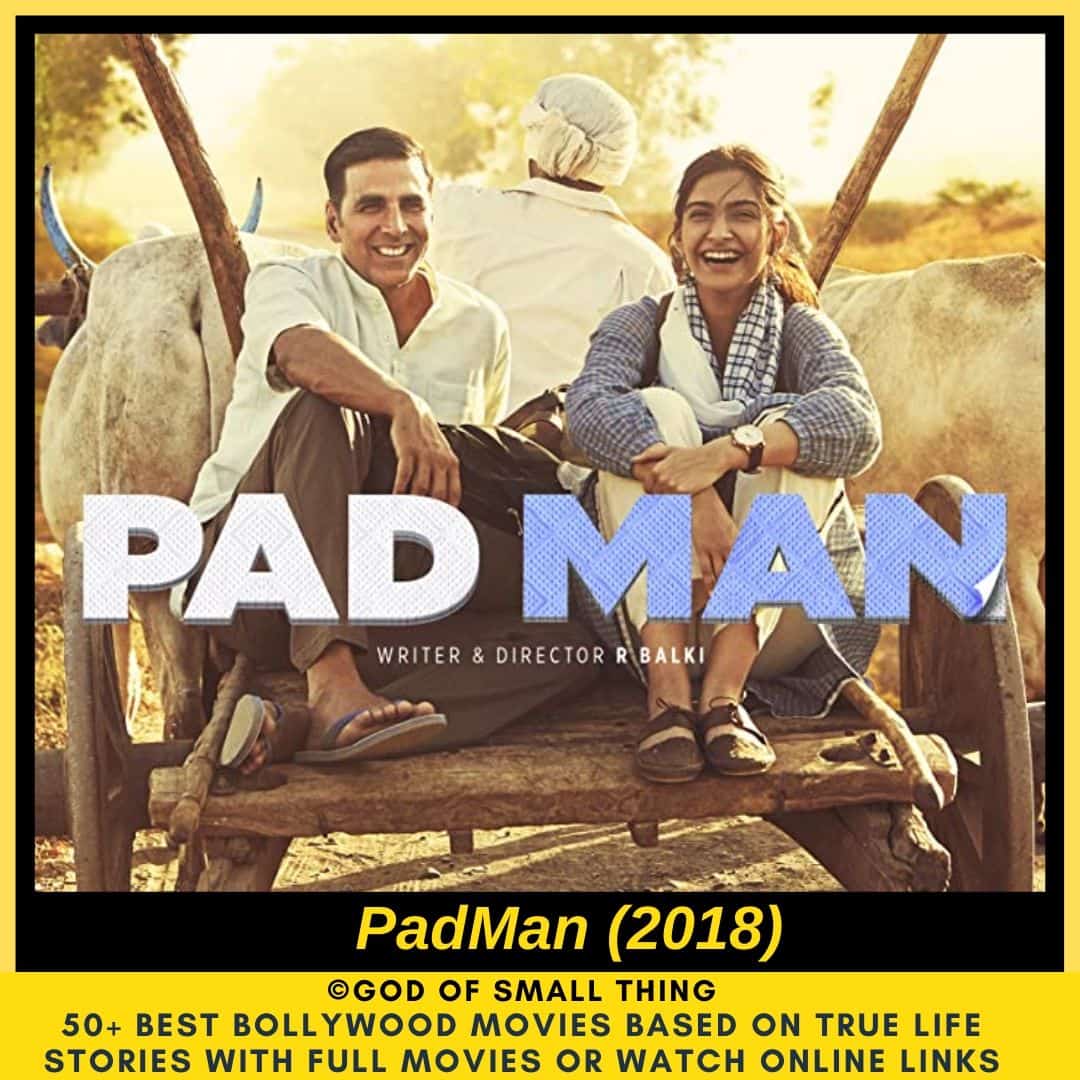 Inspired by the social activist Arunachalam Muruganantham from Tamil Nadu, this movie went on to be a major critical success. The movie revolves around Lakshmikant "Laxmi" and Gayatri. Laxmi loves his wife Gayatri and does everything to make her comfortable. But, she gets banished from home while menstruating, and Laxmi has no knowledge about this topic. He educates himself and is worried that his wife uses an unhygienic cloth. They can't afford proper pads, so Laxmi decides to make one for her. Determined to make the perfect pad he asks many women to use his experimented ones. They were embarrassed but they use it.
He fails multiple times and has no one left to test it on. So, he tries it himself, using some fake blood. He gets criticized by the villagers for losing his morals as a man. His wife leaves him, but he continues the journey he began. But he can't afford further experimentation, how does he afford the cost? Is this just a feminine matter? Or should men be just as educated about it?
Where to watch PadMan movie online: Watch PadMan movie online on Netflix

32. Rustom (2016)
IMDb Ratings: 7/10
Cast: Akshay Kumar, Ileana D'Cruz, Esha Gupta, Arjan Bajwa, Pavan Malhotra, Kumud Mishra, and Usha Nadkarni.
Director: Tinu Suresh Desai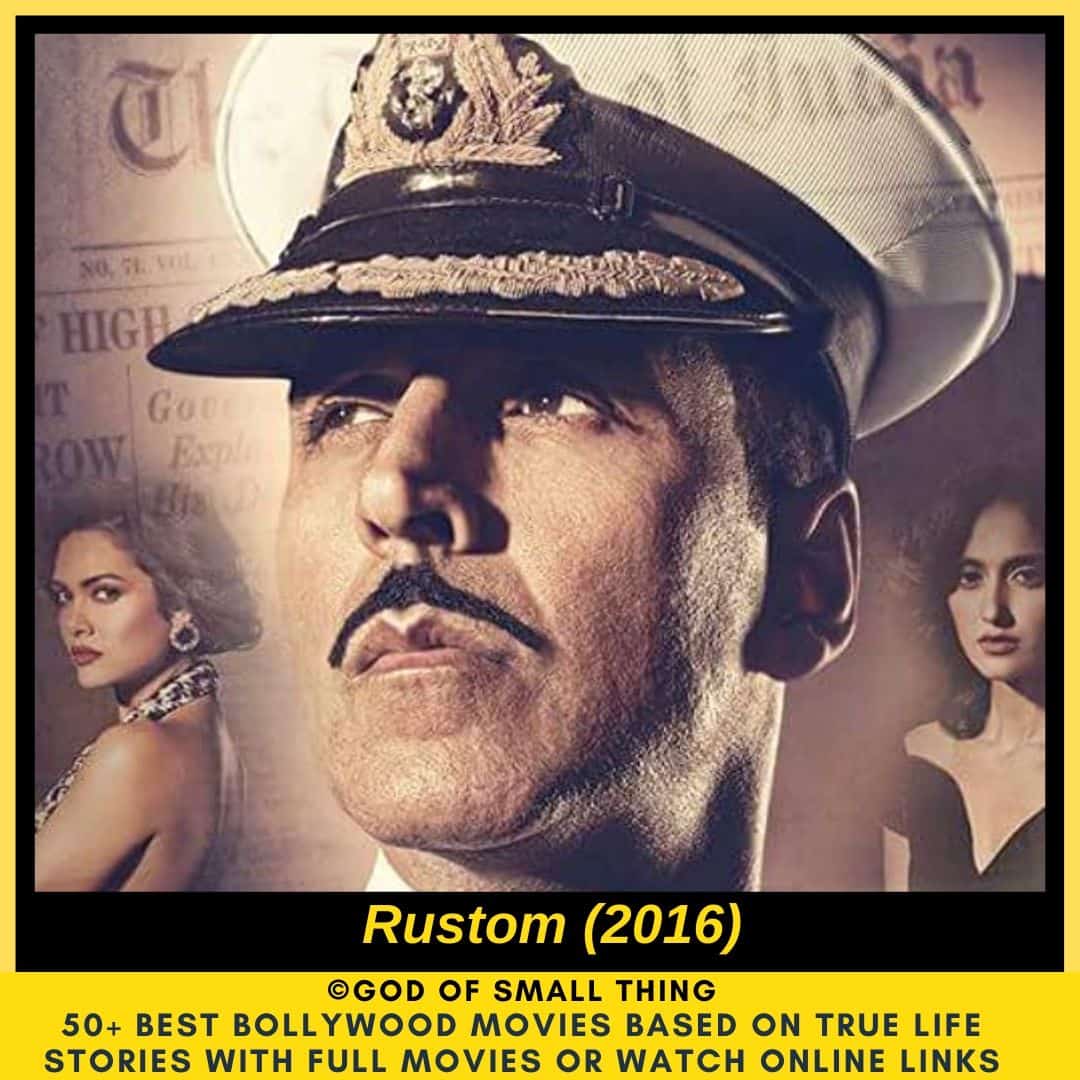 The movie is loosely inspired by the K. M. Nanavati Vs State of Maharashtra court case. The movie narrates the story of a naval officer's wife who has an extra-marital affair with a businessman. Officer Rustom is happily married to Cynthia.
He discovers Cynthia's affair with his very own friend Vikram Makhija. Rustom returns home and asks her if it was true, he doesn't wait for the answer. He takes his pistol and goes to Vikram. The servant hears three gunshots and rushes to the room. He finds Vikram on the floor and Rustom walking away from the body. Rustom surrenders himself immediately. The investigation gains a lot of attention around the country. Rustom refuses to get any help from a lawyer and fights his case. How will Rustom manage to prove his innocence of a crime he committed?
Where to watch Rustom bollywood movie online: Watch Rustom bollywood movie online on Zee5
33. Sarbjit (2016)
IMDb Ratings: 7.3/10
Cast: Aishwarya Rai, Randeep Hooda, Richa Chadha, and Darshan Kumaar.
Director: Omung Kumar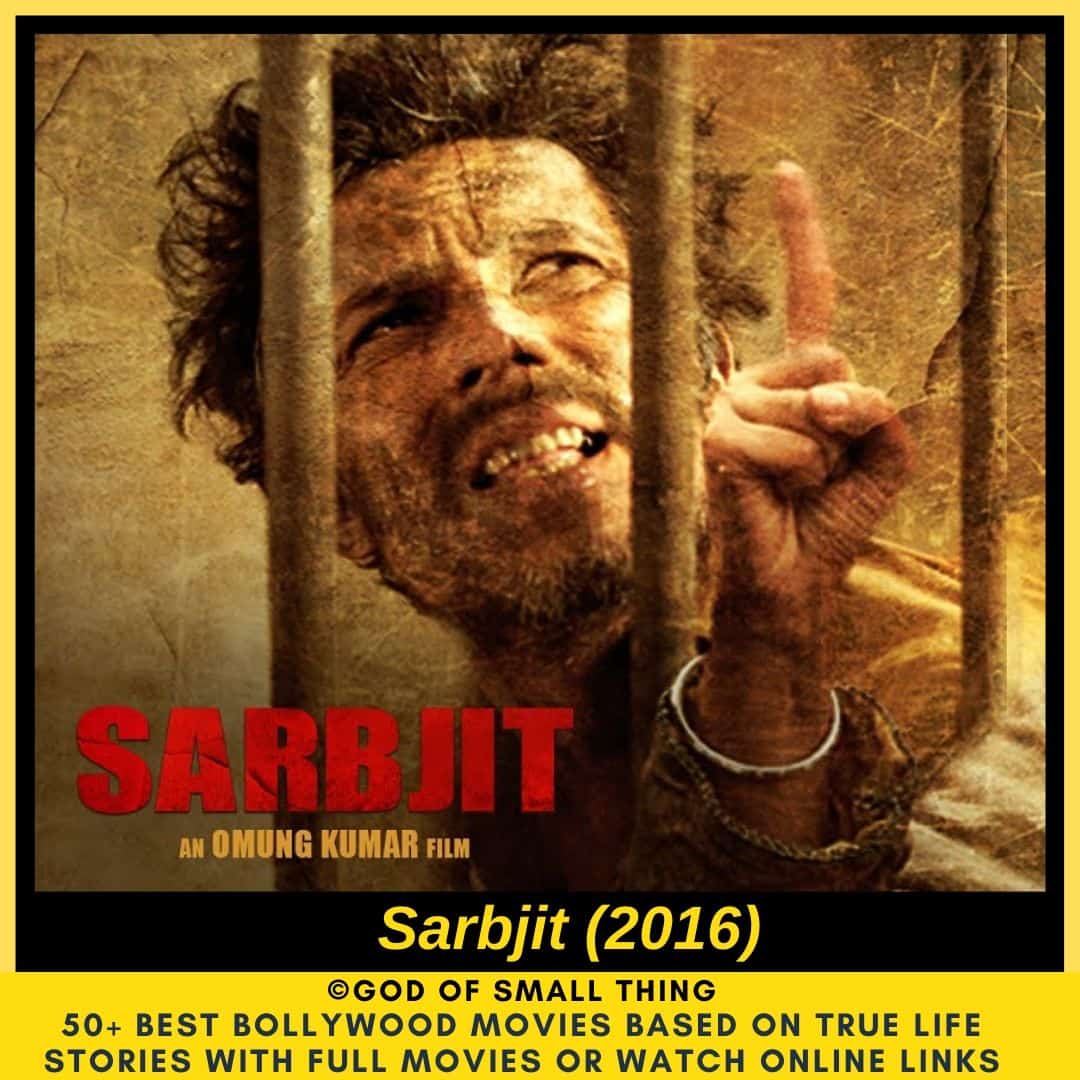 This movie is based on the life of a farmer, Sarbjit Singh who was incarcerated in a Pakistani prison for 23 years. The movie follows Dalbir Kaur, his sister, desperately tries to bring his brother back home. Dalbir Kaur gave birth to a stillborn and after 2 years of torture, she leaves her abusive husband and comes to stay with Sarbjit's family. The family lives happily in Punjab, India. One day, a drunk Sarbjit accidentally crosses the border and ends up in Pakistan, he gets convicted as an Indian spy.
He is accused of bombing in Lahore, he pleads innocence. He was tortured for months before he could even tell his family about his whereabouts through a letter. To stop the torture, he falsely confesses to the crime and is given a death sentence. Dalbir puts up a plea for justice, the whole story is covered in India and Pakistan. His death sentences kept delaying but he already spent two times the sentence of an average life sentence. He spends more than 2 decades in a prison, tortured for a crime he did not commit. Will Sarbjit get justice and return home?
Where to watch Sarbjit Movie online: Watch Sarbjit Movie online on Amazon Prime Video
34. Uri: The Surgical Strike (2019)
IMDb Ratings: 8.2/10
Cast: Vicky Kaushal, Paresh Rawal, Yami Gautam, Mohit Raina, and Kriti Kulhari.
Director: Aditya Dhar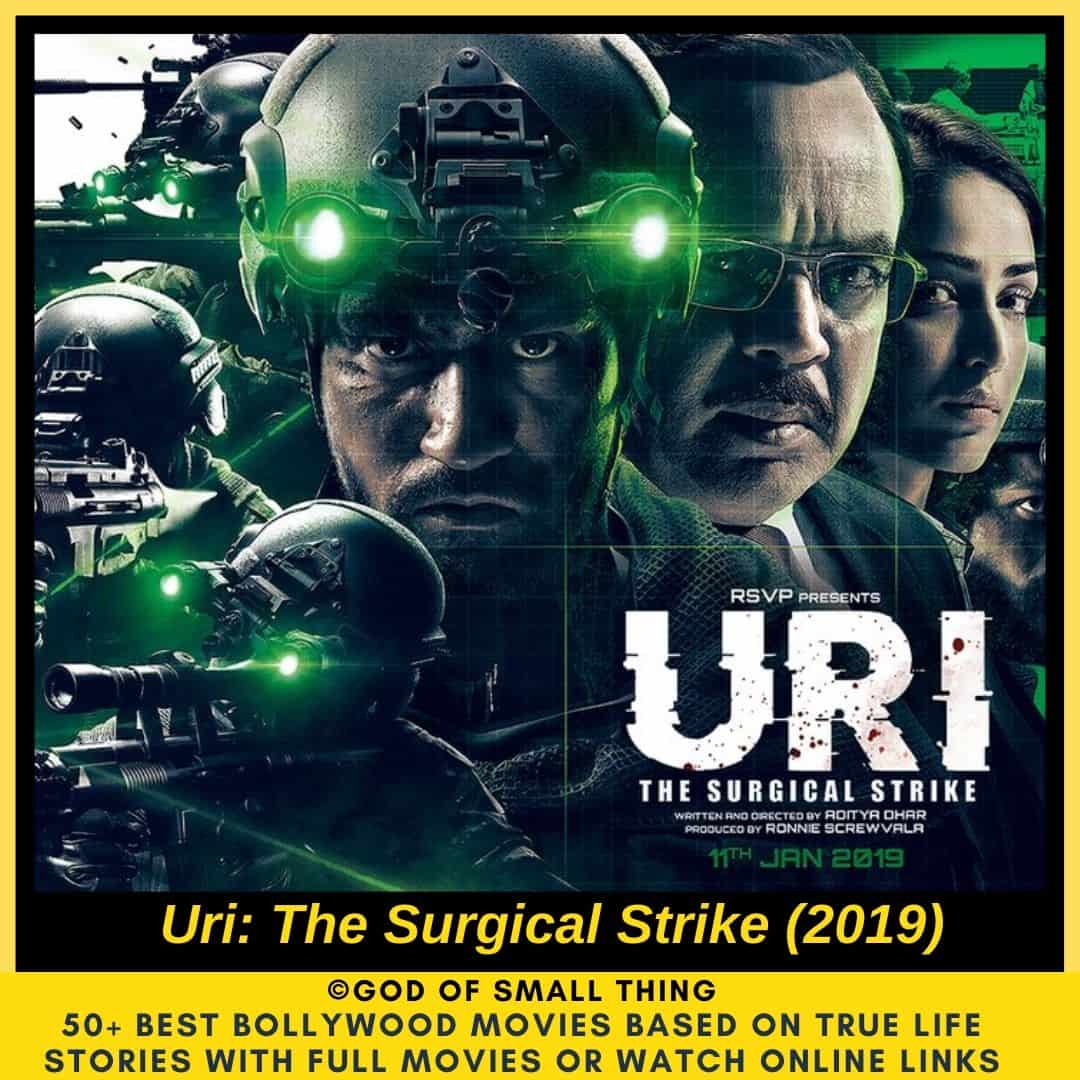 The plot follows the true story of the retaliation to the 2016 Uri Attack. Leading the events was Major Vihaan Singh Shergill of the Indian Army. It had a positive reception and is among the highest-grossing movies in Indian Cinema. The movie is cut out in parts.
The first part shows the ambush on the convoy of the Indian Army troops. In retaliation, Major Vihaan infiltrate the northeastern militants. The movie shows a series of surgical strikes conducted by the Indian Military. The 11 strikes over which the operation went on were tumultuous. You will feel the actual horror and fear of war. The intense emotions this movie will make you feel is worth it.
Where to watch Uri The Surgical Strike online: Watch on Uri The Surgical Strike on Youtube
Personal Recommendations: Are you a movie buff kind of person? Well if you are you will surely need this! Here are Best Hindi Comedy Movies |Sorted by Year with Full Movies or Watch Online Links
35. Mission Mangal (2019)
IMDb Ratings: 6.5/10
Cast: Akshay Kumar, Vidya Balan, Sonakshi Sinha, Tapsee Pannu, Nithya Menen, Kriti Kulhari, Sharman Joshi, H. G. Dattatreya, and Vikram Gokhale.
Director: Jagan Shakti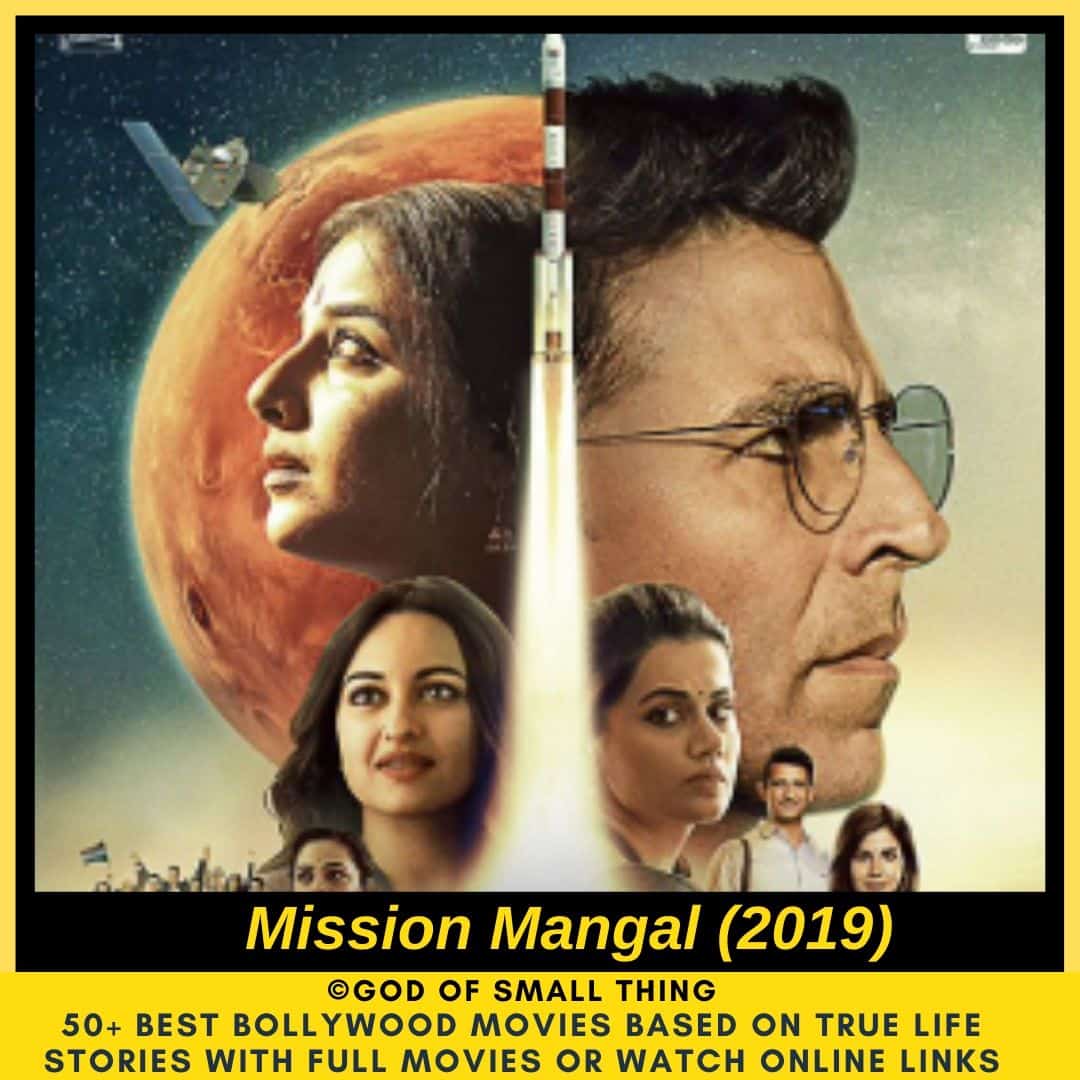 The film is loosely based on the life of the scientists at the (ISRO) Indian Space Research Organisation who contributed to India's first interplanetary expedition to the Mars Orbiter Mission. After the fail of the launch of GSLV-F05 in 2010. Tara Shinde is relocated to the work of the "Mangalyaan" as a punishment.
This program was deemed impossible and had an extremely tight budget. They didn't have the equipment required, but after the recent project failure, they have an even harder time with their program. Tara gets an innovative idea. Instead of supporting this "impossible" mission, which would be great for India, they gave them junior engineers with almost no experience. After a couple of failures, they spot the flaws. Look into this journey of a group of scientists who fight against the odds to prove their worth.
Where to watch Mission Mangal movie online: Watch Mission Mangal movie on Disney + Hotstar
36. Toilet: Ek Prem Katha (2017)
IMDb Ratings: 7.2/10
Cast: Akshay Kumar, Bhumi Pednekar, Anupam Kher, Sudhir Pandey, and Divyendu Sharma.
Director: Shree Narayan Singh.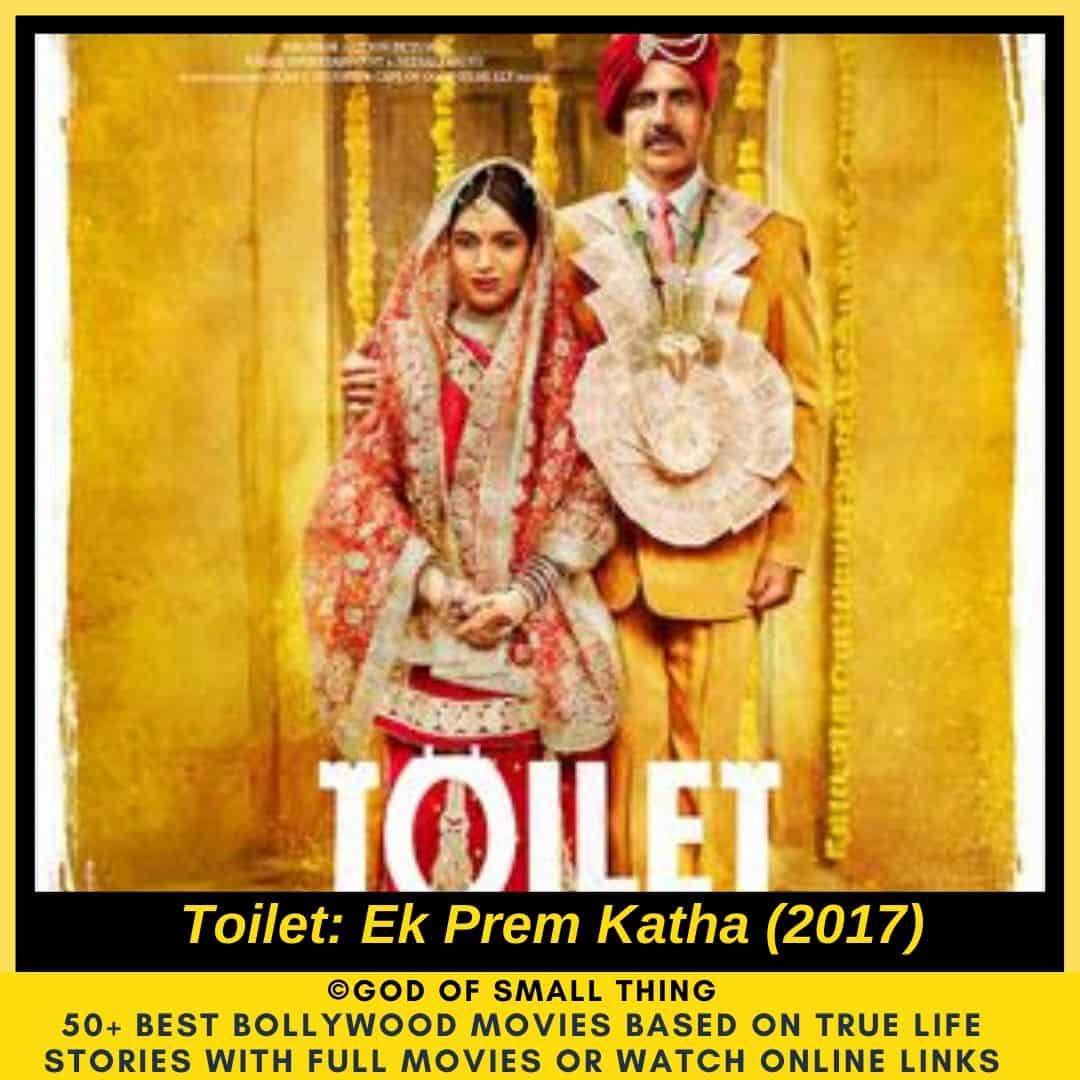 Based on Anita Narre who was married into a family who does not have a toilet at home and defecates in the open. In the movie, Keshav meets Jaya and convinces her to get married. Jaya was so agitated she said that she wouldn't have married Keshav if she had known.
Keshav tries hard to convince his village and sarpanch to make toilets for the villagers. Things get serious when Jaya files for a divorce because she felt humiliated. Keshav fights with his villagers, dirty politics, corruption. This story tells us the story of not only Anita but also numerous women, villages, and towns in India.
Where to watch Toilet: Ek Prem Katha online: Watch Toilet Ek Prem Katha on Netflix
37. Rahasya (2015)
IMDb Ratings: 7.6/10
Cast:  Kay Kay Menon, Tisca Chopra, Ashish Vidyarthi, Mita Vashisht and Ashwini Kalsekar.
Director: Manish Gupta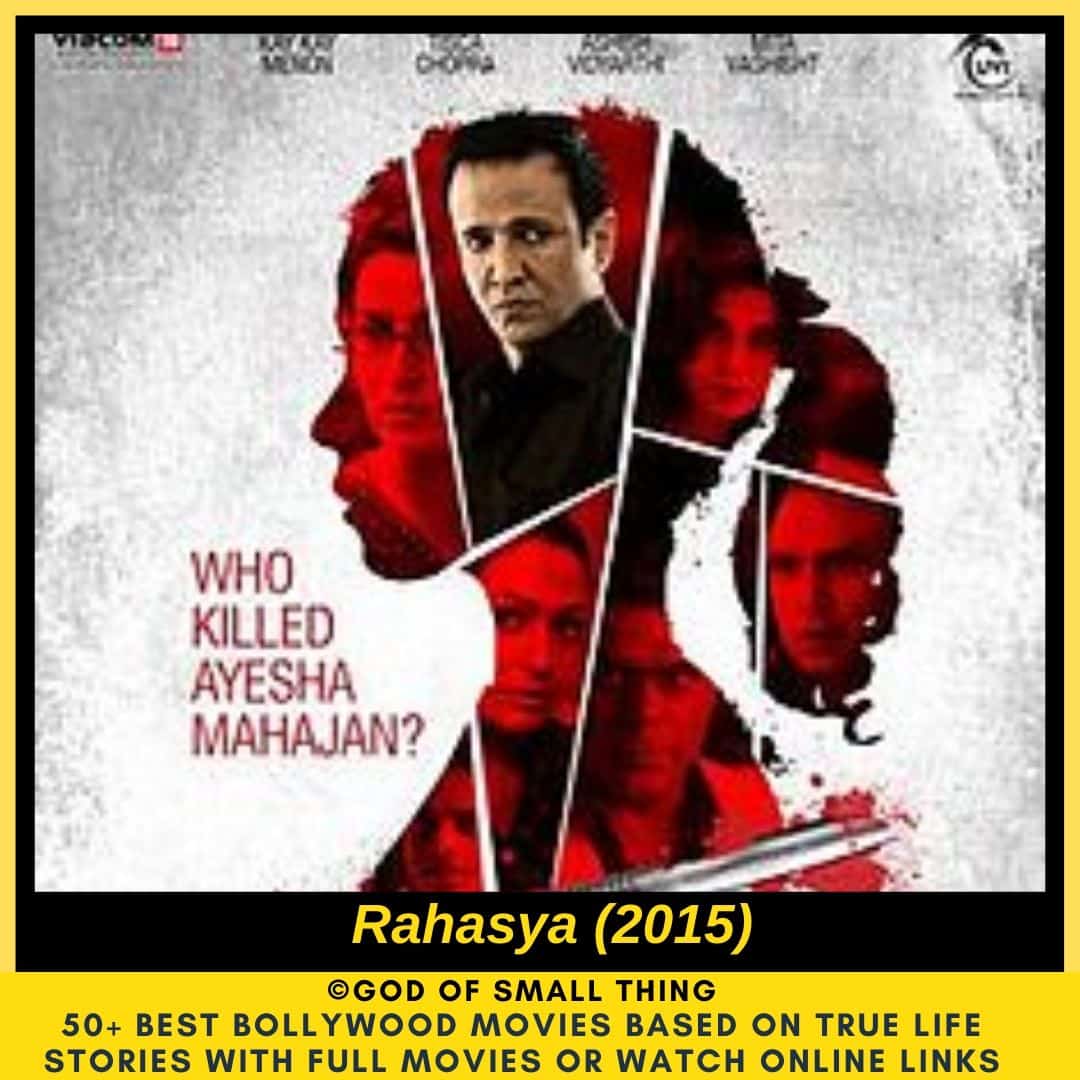 Based on the 2008 Noida double murder case, this met criticism from Rajesh and Nupur Talwar. The movie follows Remy Fernandes who knocks on the owner's daughter's door. She finds Ayesha's dead body on the bed. Her father, Sachin didn't remember a thing from the previous night, he was drunk. It was discovered that Ayesha was pregnant and had a boyfriend, Riyaz. Sachin becomes the prime suspect. CBI Officer Sunil wasn't convinced with the investigation and restarted. Who murdered Ayesha? Was Sachin the actual culprit?
Where to watch Rahasya Movie online: Watch Rahasya Movie on Zee5
38. Sardar (1993)
IMDb Ratings: 8/10
Cast: Paresh Rawal, Annu Kapoor, Benjamin Gilani, and Tom Alter.
Director: Ketan Mehta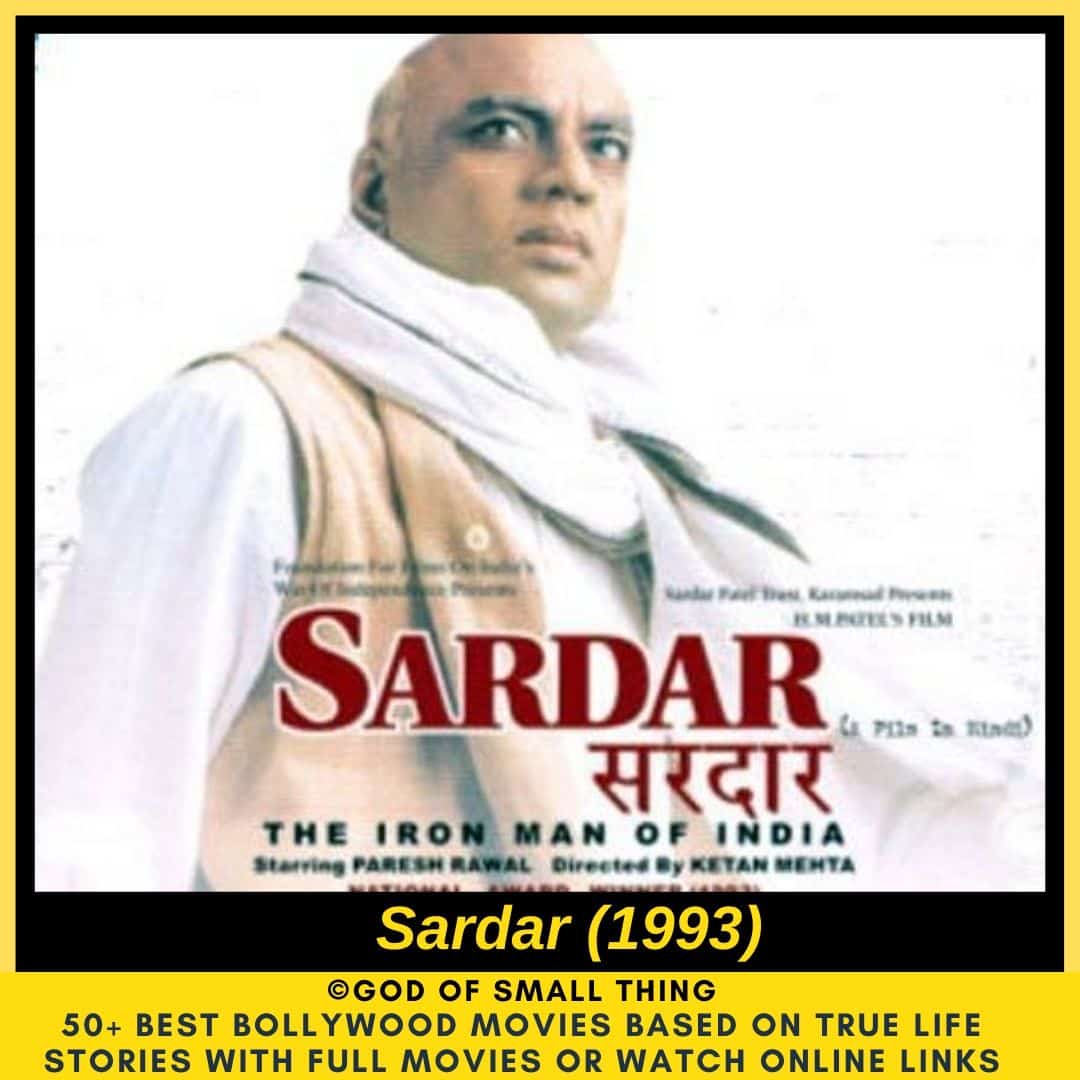 This movie is a biographical drama based on India's greatest freedom fighter, Sardar Vallabhbhai Patel. The film follows with a young Sardar Patel who disagrees with Mahatma Gandhi's policies and ideas to get independence.
His views change after a speech from Gandhi, he joins him in the Independence struggle. The film covers the various freedom movements from the Quit India Movement era. The film depicts the difficulties of the princely states of Kashmir, Junagadh, and Hyderabad. It shows the differences in values of Nehru and him, and how they worked together towards independence after the death of Gandhi.
Where to watch Sardar movie online: Watch Sardar movie on Youtube
39. Shootout at Lokhandwala (2007)
IMDb Ratings: 7.1/10
Cast: Sanjay Dutt, Sunil Shetty, Abhishek Bachchan, Vivek Oberoi, Arbaaz Khan, Tusshar Kapoor, Rohit Roy, Aditya Lakhia, Shabbir Ahluwalia, Amitabh Bachchan, Dia Mirza, and Amrita Singh.
Director: Apoorva Lakhia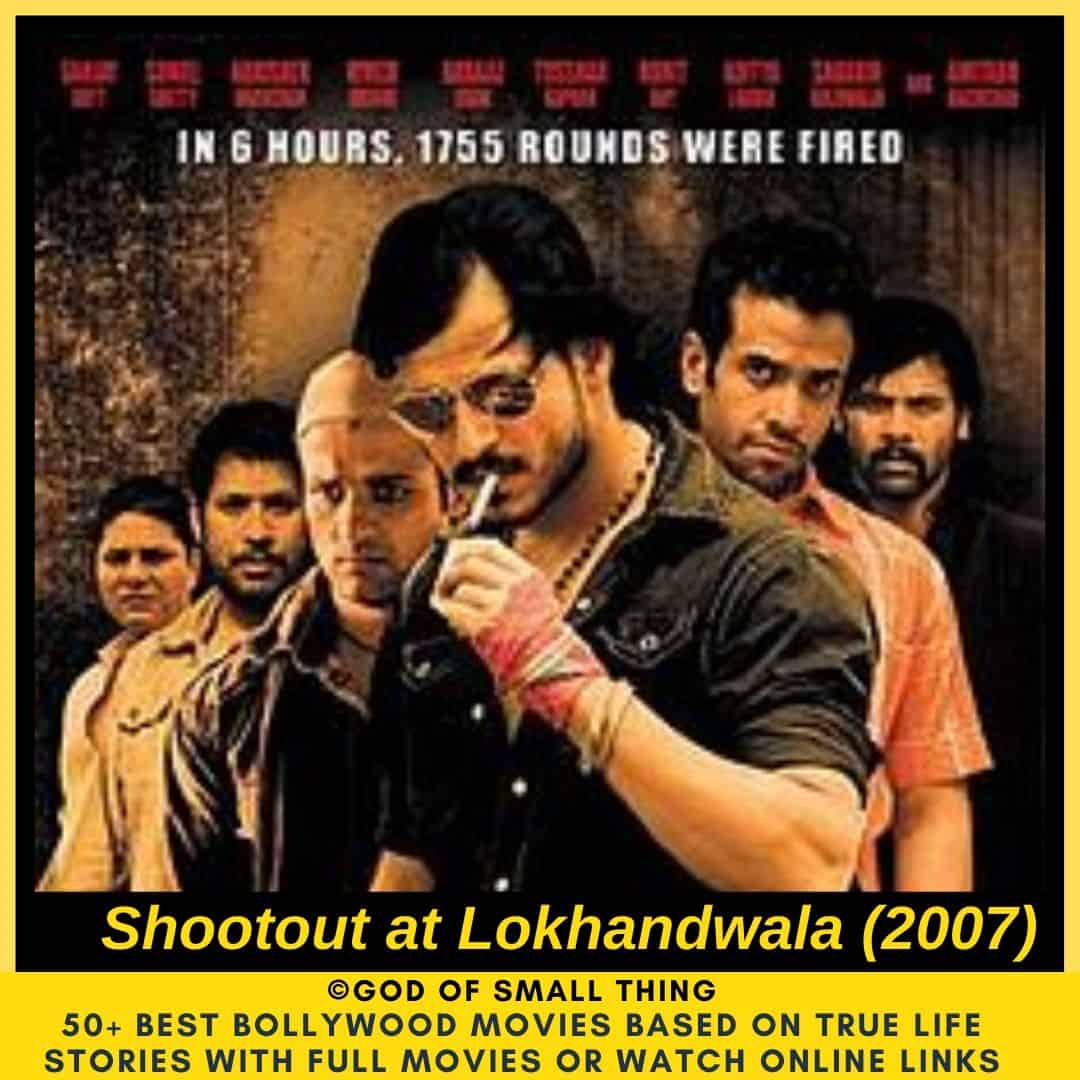 The movie is based on the true events of the 1991 Lokhandwala Complex shootout, the shootout was a fierce gun shootout between the Mumbai Police and gangsters. It begins with the scene at the Lokhandwala Complex, reporter Meeta Matu and states around 3000 rounds of ammunition at a very peaceful residential area.
The film goes through the timeline by interviewing three encounter specialists. They pick out Mumbai police's best 26 men and put them through intense training, mental and physical. Maya and "big boss" control Mumbai's criminal activities. The tension between the police and the gangsters rise as the plot develops. This cat and mouse game between the two parties begin with mental games. When those don't things eventually come down to violence. Things get very intense and very violent.
Where to watch Shootout at Lokhandwala movie online: Watch Shootout at Lokhandwala movie on YouTube
40. Border (1997)
IMDb Ratings: 7.9/10
Cast: Sunny Deol, Sunil Shetty, Akshaye Khanna, Raakhee, Jackie Shroff, Tabu, Sudesh Berry, Pooja Bhatt, Kulbhushan Kharbanda, and Puneet Issar.
Director: J. P. Dutta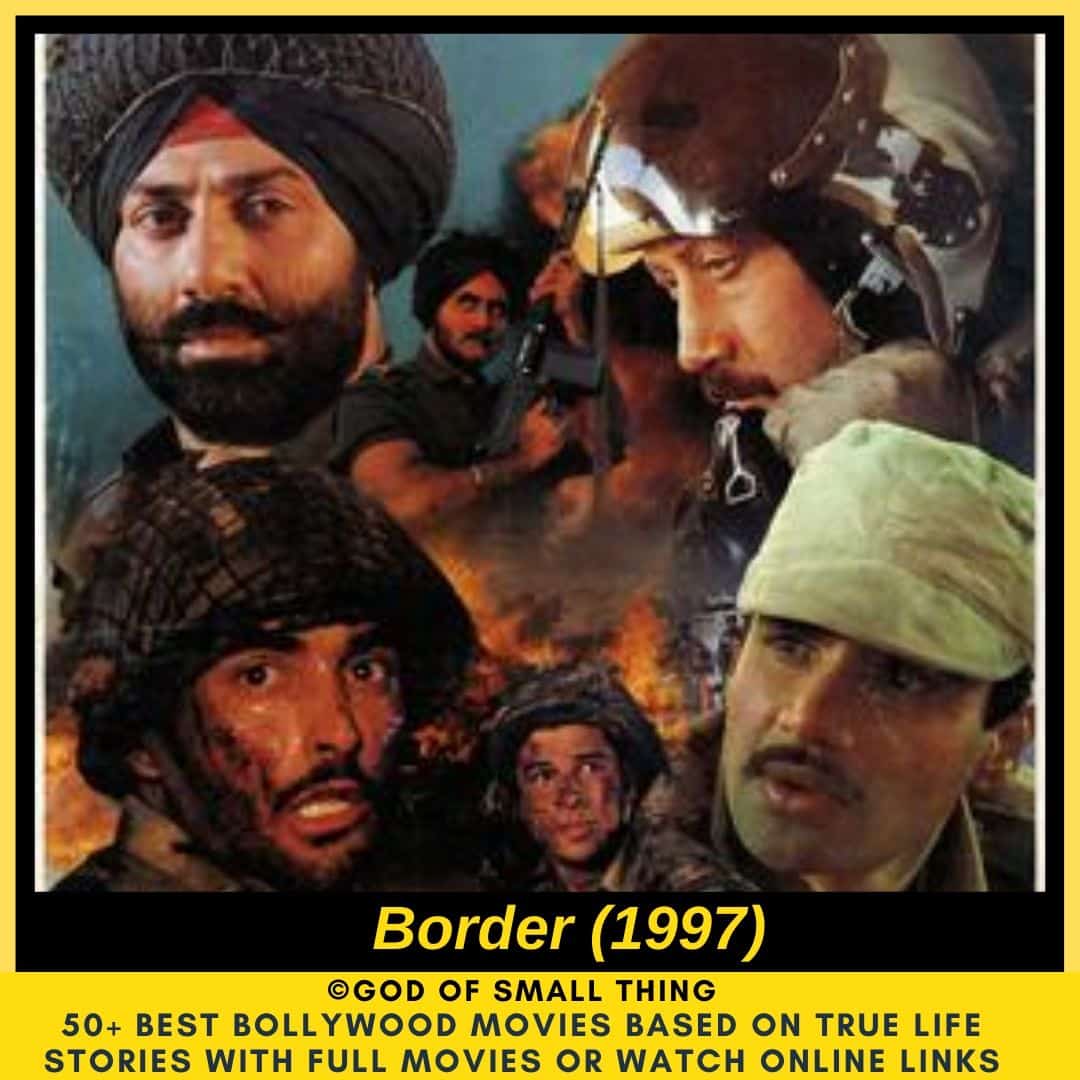 This movie is set during the Indo-Pakistani War of 1972. It is an adaptation of the true events of the Battle of Longewala. In the movie, in 1971 the Pakistani Army is at war with the Indian Army. The Pakistani's have a battalion consisting of 2000 armed tanks, the Indian battalion on the other side has merely 150 soldiers. The drama progresses as several soldiers bond after a series of near-death experiences and swapped stories of life and love. It is a truly touching movie that shows these soldiers going through a lot for their country.
Where to watch Border Movie online: Watch Border movie onYouTube
41. Hawaizadaa (2015)
IMDb Ratings: 5.5/10
Cast: Ayushmann Khurrana, Mithun Chakraborty, and Pallavi Sharda.
Director: Vibhu Puri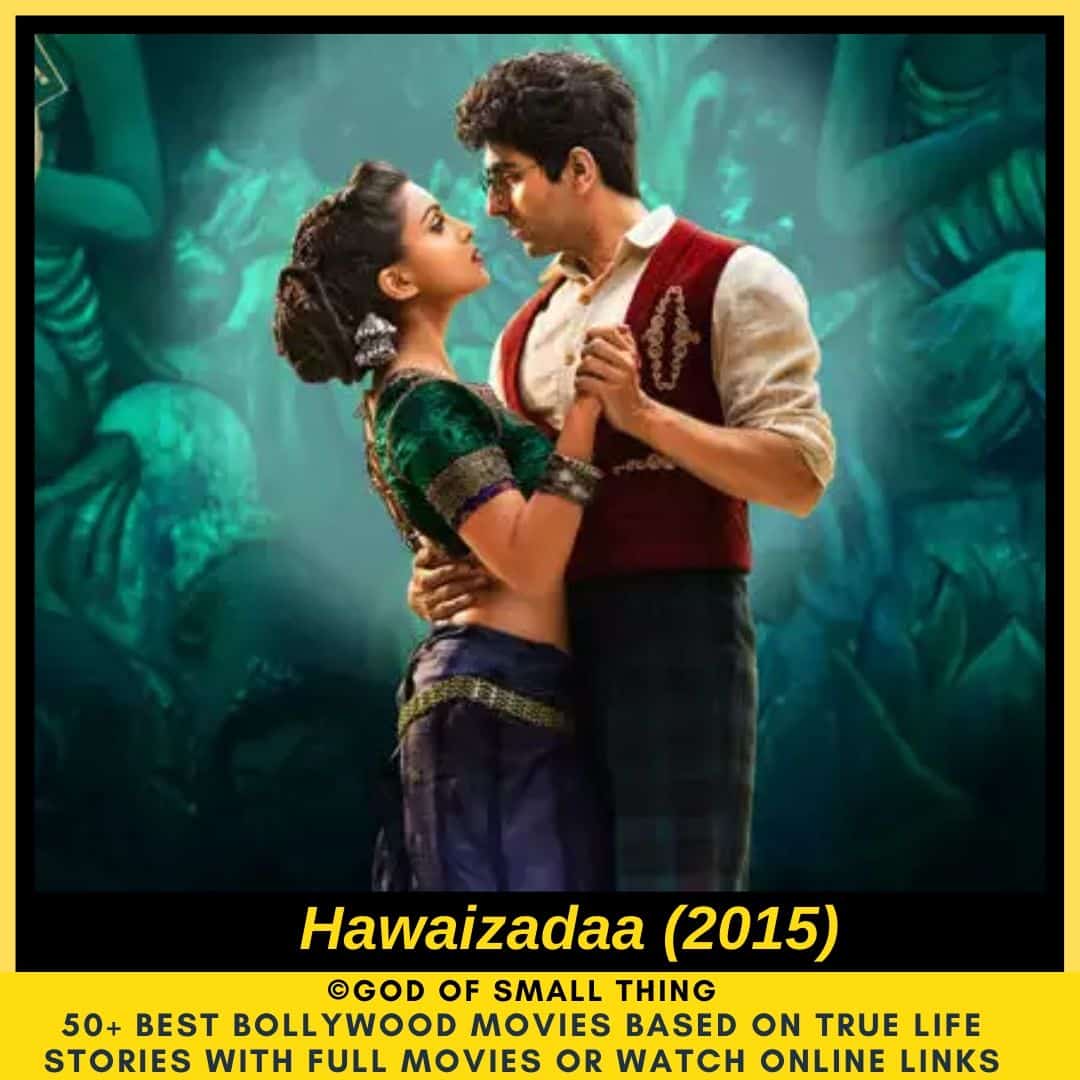 The story follows a true story of Talpade who gets credited with building India's first unmanned plane. Shivi meets a crazy scientist, Shastri. It's the time under the rule of British Raj. Shastri is on the run from the British soldiers for his eccentric experiments.
Shastri asks Shivi to be his assistant for his projects. Together, Shivi and Shastri try and make an airplane. After many futile attempts, they run low on the funds. They try to get sponsors and try to continue their efforts on something that felt impossible at the time. Due to some circumstances including betrayal, Shastri dies and Shivi decides to fulfill his dream to build an airplane. With British officers on his tail, how will Shivi and his group be able to pull off this amazing feat?
Where to watch Hawaizadaa movie online: Watch Hawaizadaa movie on Disney+ Hotstar
42. Panipat- The Great Betrayal (2019)
IMDb Ratings: 5.2/10
Cast: Arjun Kapoor, Sanjay Dutt, and Kriti Sanon.
Director: Ashutosh Gowariker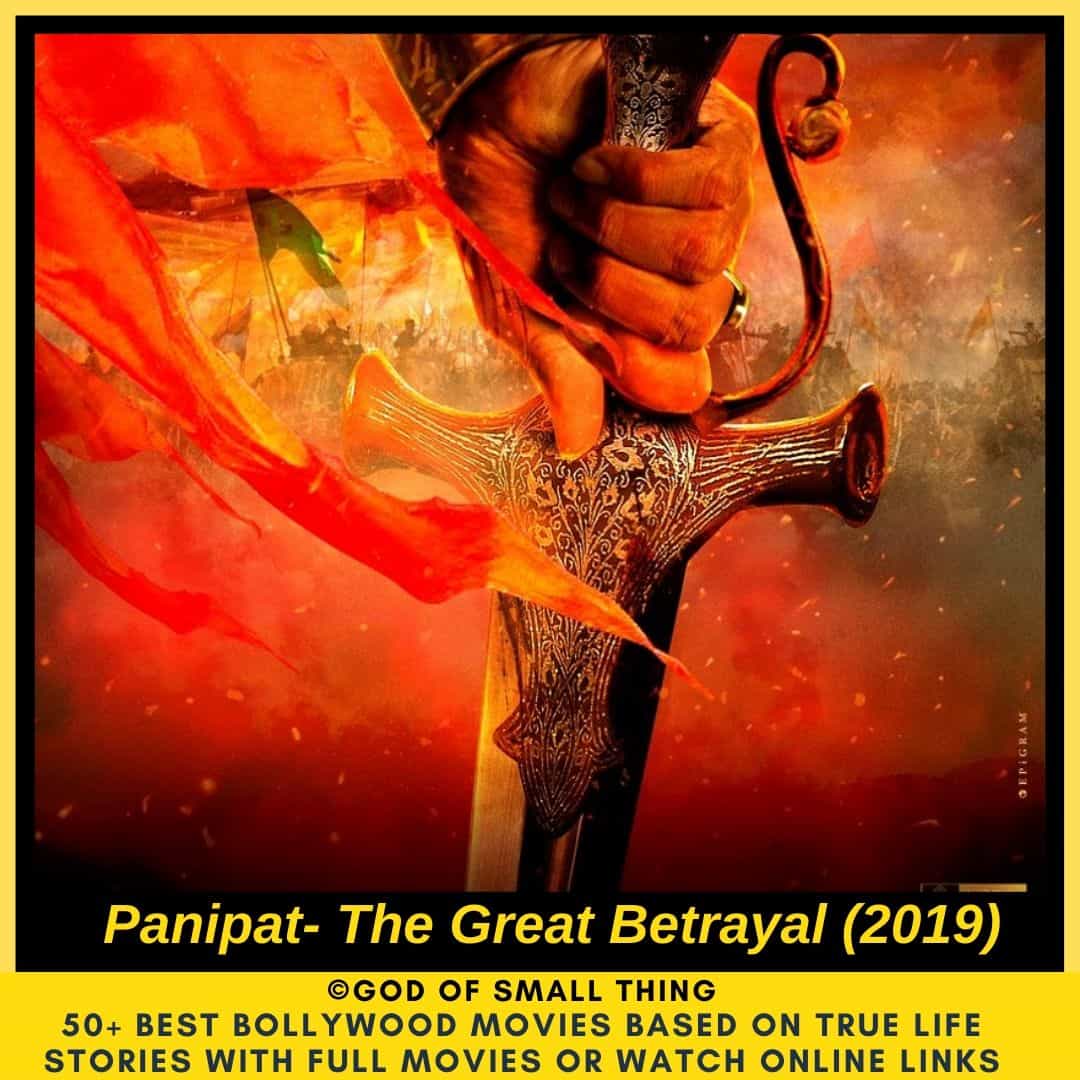 The film depicts the real events of the Third Battle of Panipat. By 1758, the Maratha Empire was at its peak under the Peshwa Balaji Baji Rao. He successfully captures Hyderabad and returns to the capital. The biggest tax defaulter Najib joins hands with Ahmad Shah Abdali and invites him to Delhi. After many deaths, Peshwa goes to war with Abdali. Allegiance with different sates he was able to acquire an army of 50,000 men. The war progresses and many lives are lost. Numerous soldiers on both sides were deceased. This is the tale of the strongest forces of old India, the Maratha will give you chills.
Where to watch Panipat- The Great Betrayal movie online: Watch Panipat- The Great Betrayal on Netflix
43. Madras Cafe (2013)
IMDb Ratings: 7.6/10
Cast: John Abraham, Nargis Fakhri, Raashi Khanna, Siddhart Basu, and Prakash Belawadi.
Director: Shoojit Sircar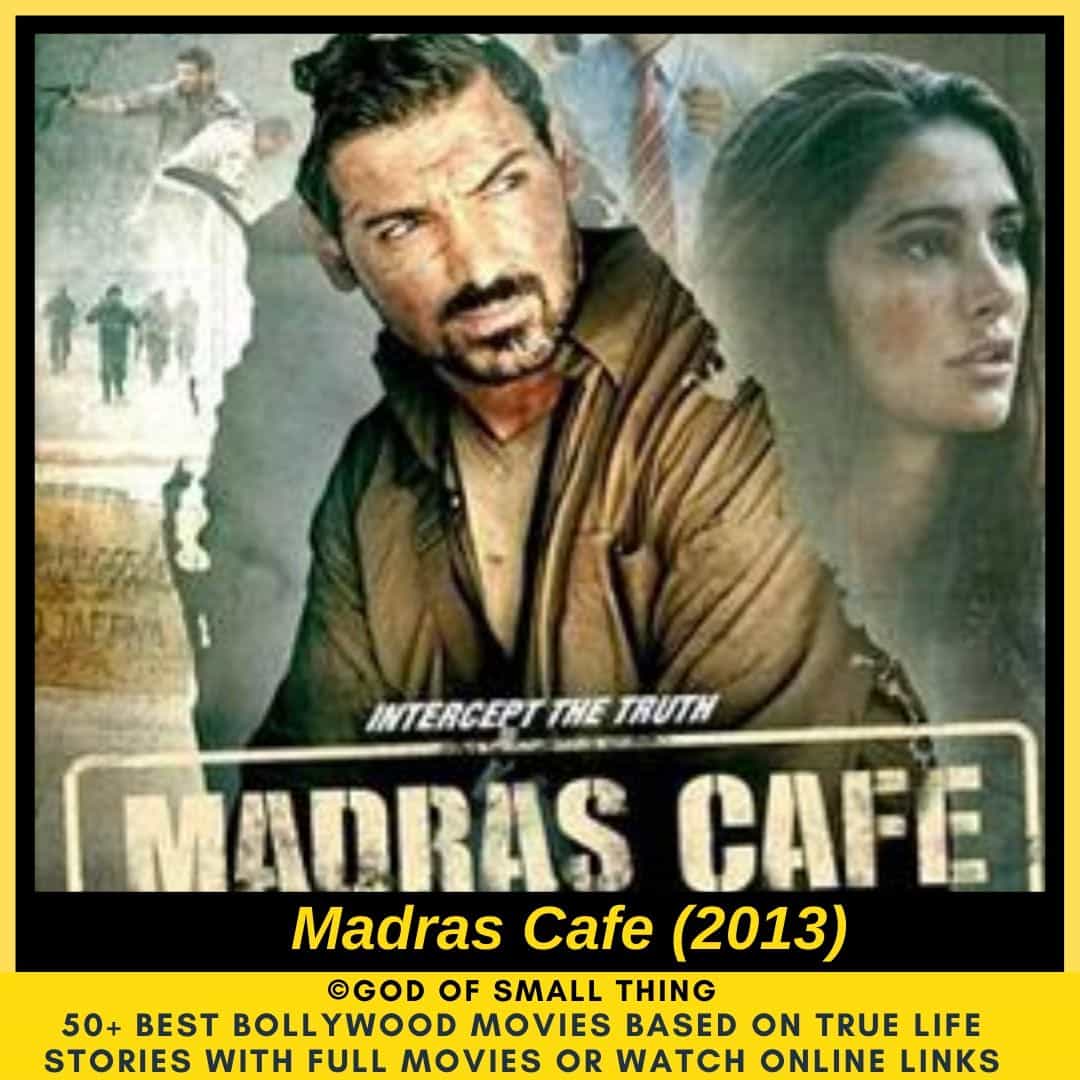 The film is set in the time of the Indian Intervention in the Sri Lankan Civil War and the assassination of former prime minister Rajiv Gandhi. The film revolves around an Indian Special Officer, Vikram Singh who was appointed by R&AW to lead the covert operations after the Indian peace-keeping force was forced to withdraw.
As he ventures to Sri Lanka to disrupt the LTTE militants, he deals with the military and politics. He meets Jaya, a journalist, who wants to expose the truth and uncover the secret behind the conspiracy to assassinate the Prime Minister. But, all fail when a suicide bomber kills himself and Rajiv Gandhi while putting a garland on his neck. This movie is a political spy thriller that changed the political history of India.
Where to watch Madras Cafe movie online: Watch Madras Cafe on Netflix
44. Gangs of Wasseypur (2012)
IMDb Ratings: 8.2/10
Cast:  Manoj Bajpayee, Nawazuddin Siddiqui, Richa Chadda, Huma Qureshi, Vineet Kumar Singh, Tigmanshu Dhulia, and Pankaj Tripathi.
Director: Anurag Kashyap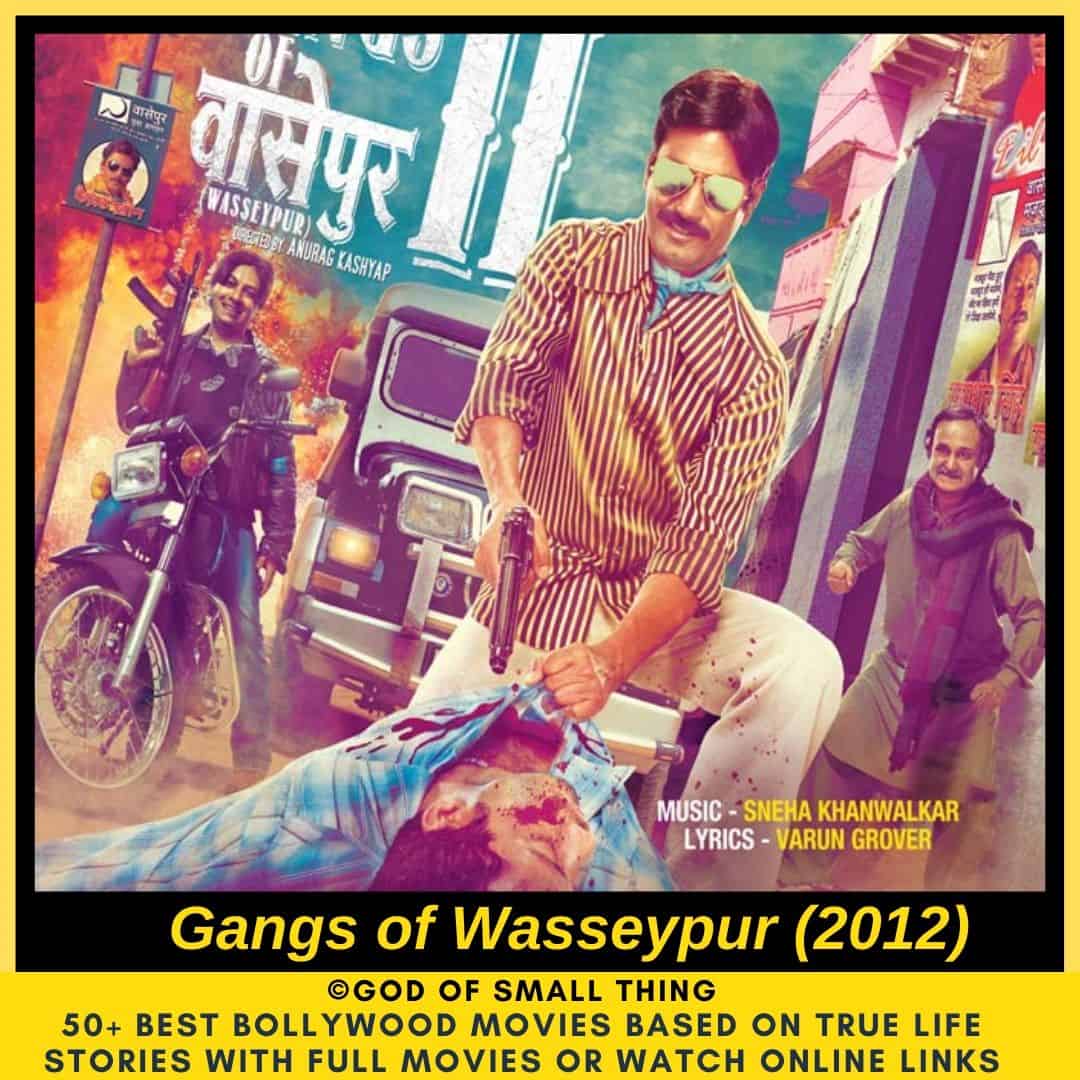 This critically acclaimed movie centres the real-life coal mafia of Jharkhand and the underlying politics and vengeance between three criminal families generations. The film was originally 5 hours long, but no theatres would screen that long of a movie it was split into 2 parts.
The movie revolves around a clash between Sultan the ruthless offspring of Shahid Khan. Shahid was exiled and his son seeks revenge, a plot of revenge that spans 3 generations worth revenge. Sardar becomes the most feared man of Wasseypur, but his perpetually stoned son, Faizal, rises on top of the criminal ranks. Faizal vows revenge on the family's long-time enemy, Ramadhir Singh, a powerful politician. Make sure to watch both parts to fully experience the movie.
Where to watch Gangs of Wasseypur online: Watch Gangs of Wasseypur on Voot
45. Chhapaak (2020)
IMDb Ratings: 5.3/10
Cast: Deepika Padukone and Vikrant Massey.
Director: Meghna Gulzar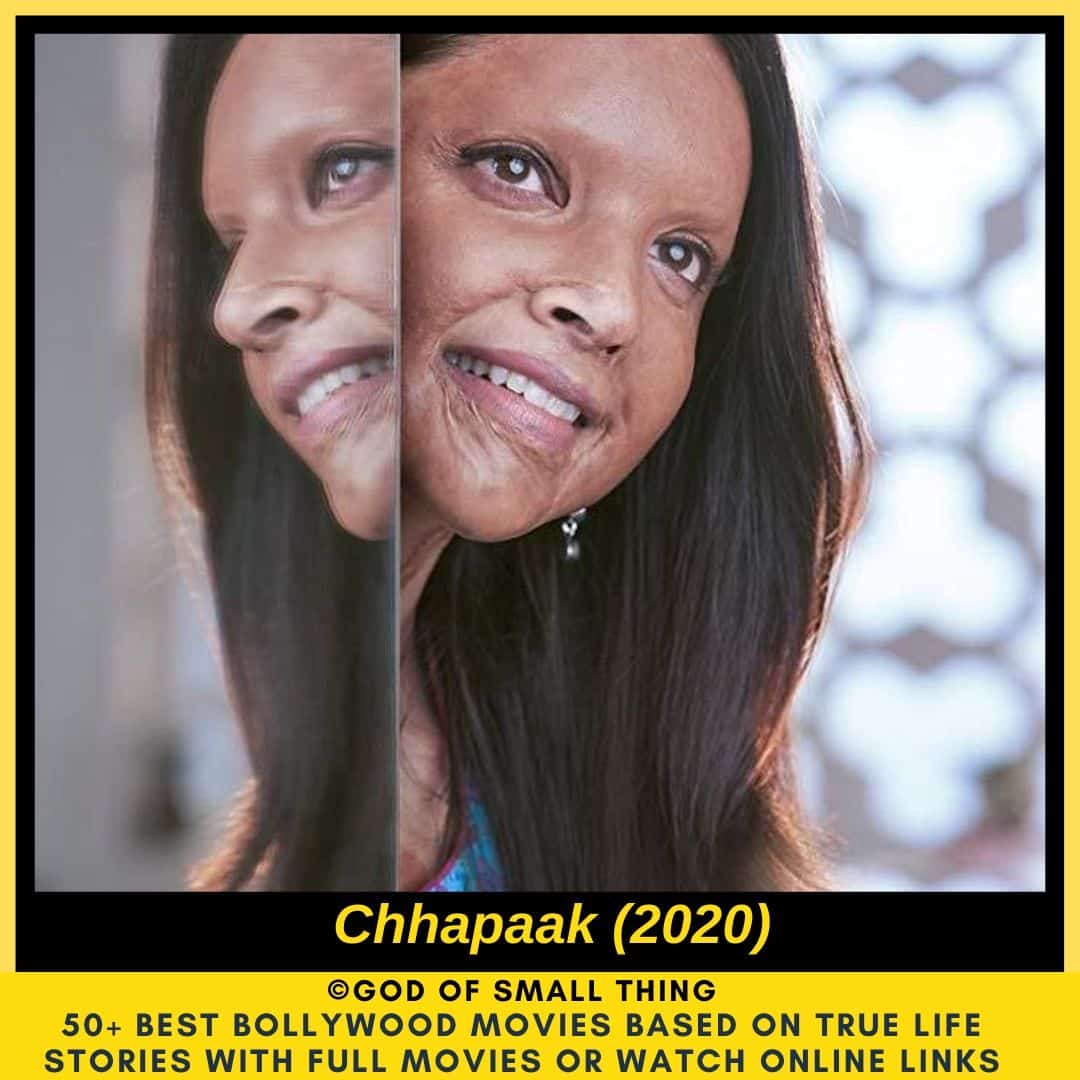 This movie is based on a real-life figure Laxmi Agarwal as an acid-attack survivor. Malti (Laxmi renamed for the film) was a fun-loving girl who was in an all-girls school. While on her way home, Malti gets attacked with acid splashed on her face.
Major parts of her eye and ear were burnt off. She is destroyed mentally, but stands up and fights back. Malti decided to fight for women like her who are survivors of this heinous deed. She works for an NGO to help rebuild the lives of survivors. In amidst of this, she goes through her case against her attacker, while still healing mentally. This movie is chilling while eye-opening.
Where to watch Chhapaak Movie online: Watch Chhapaak Movie on Disney + Hotstar
46. Batla House (2019)
IMDb Ratings: 7.2/10
Cast: John Abraham and Mrunal Thakur
Director: Nikhil Advani
The movie was inspired by the Batla House encounter case that happened in 2008. The plot follows Sanjeev Kumar Yadav, a police officer who plays an important role in the encounter. Sanjeev is informed that his teams have cornered 5 students who might have been involved in the 2008 Delhi bombings.
Even after a command to not engage, a restless police officer goes in. There are gunshots and dead people at the end of the encounter. 2 students die, 2 escape and is arrested. But, the nation is furious about an encounter of students, and called them "fake encounters". Sanjay is diagnosed with PTSD and hallucinated. He runs into one of the escapees and pledges to hunt him down. Will Sanjay be able to remove the accusations from the police? How will he catch the run-away when the public and media are strongly against it?
Where to watch Batla House movie online: Watch Batla House movie on Amazon Prime Video
Personal Recommendations: In case you are looking for some light humour along with some romance Here is a complete list of Best Bollywood romantic comedy movies of all time Ordered by Year
47. Parmanu: The Story of Pokhran (2018)
IMDb Ratings: 7.6/10
Cast: John Abraham, Diana Penty, and Boman Irani.
Director: Abhishek Sharma.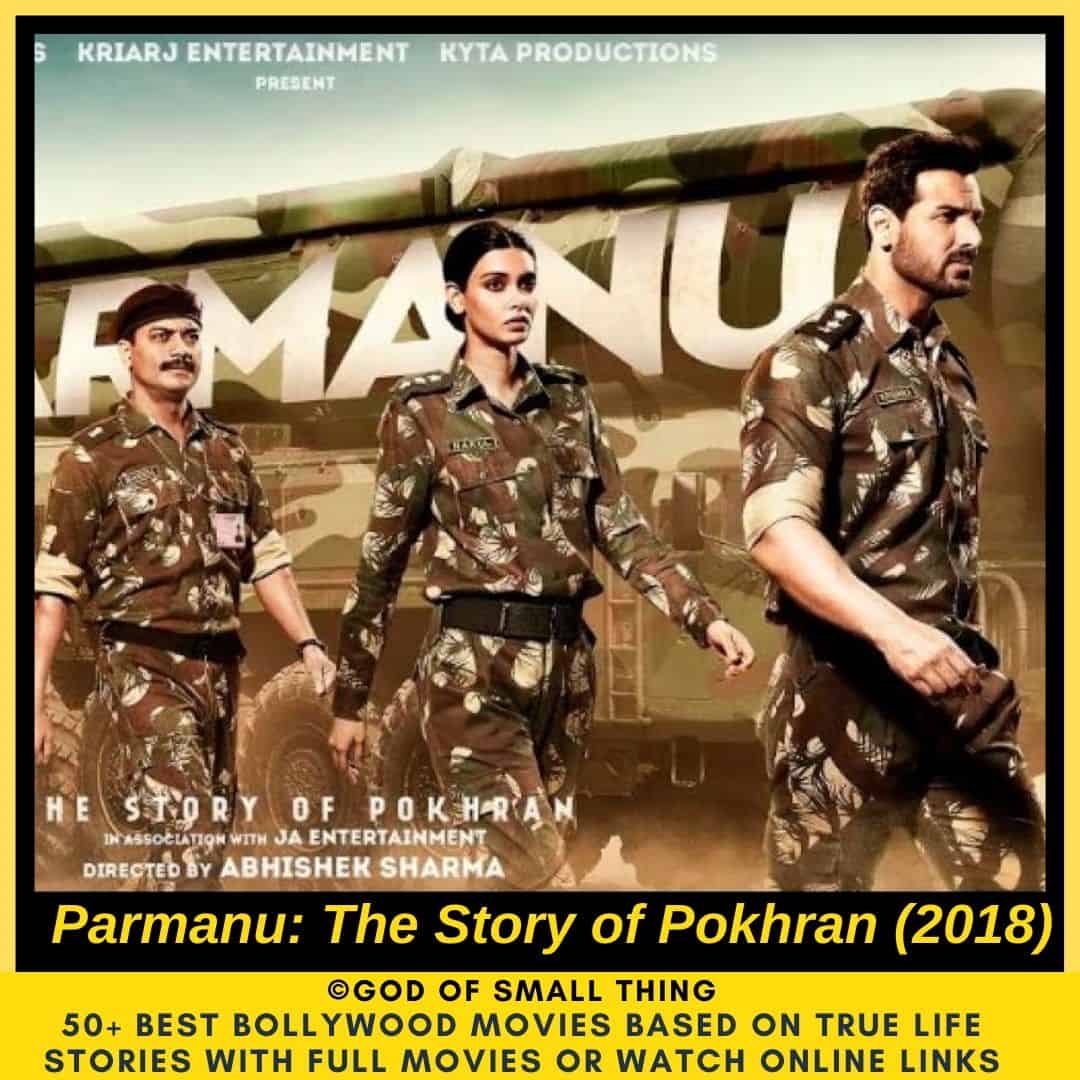 Based on the nuclear bomb test explosions by the Indian Army in Pokhran in 1998. Ashwat Raina is an IAS officer of the Research & Analysis Wing. He suggests the minister retaliate a nuclear attack in response to China's nuclear missile test.
Ashwat is ridiculed by the minister's secretary, Suresh. However, Suresh shows the minster a half- baked plan. The tests are conducted in the absence of Ashwat. But, he becomes the scapegoat when the USA warns India to stop the tests. Ashwat is fully balmed and he gets fired. But he gets a second chance at life when a new PM is elected and permits him to test the bombs. With the US alerted, Ashwat steps into dangerous territory.
Where to watch Parmanu movie online: Watch watch Parmanu movie online on Netflix
48. Gold (2018)
IMDb Ratings: 7.3/10
Cast: Akshay Kuamr, Mouni Roy, Amit Sadh, Vineet Kumar Singh, Kunal Kapoor, Sunny Kaushal, and Nikita Dutta.
Director: Reema Kagti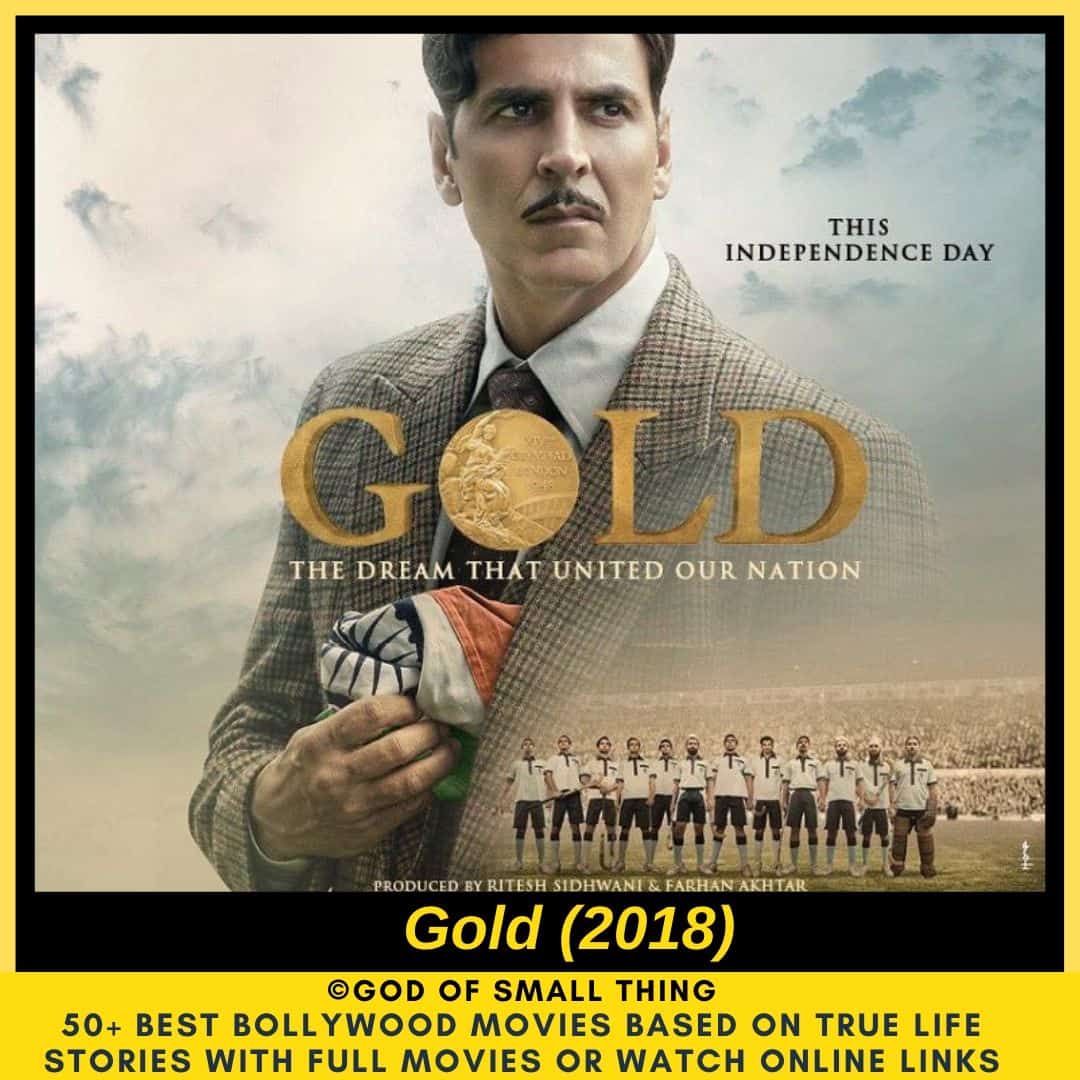 It is based on the Journey of India's first hockey team going to the 1948 Summer Olympics. The movie revolves around Tapan Das, who becomes the first man who earned India its first gold medal. It's just after the independence of India in 1947 that this hockey team wants to wing against Britain and get a victory for their motherland.
Tapan has his goal decided, he wants to defeat the Britishers at the game on their soil, for all that they've done to his country. A talented man is driven by revenge. He assembles a team of players who quit before and convinced them of his goal They train hard for the big dream. After Independence fro the Britishers, it had its war. The partition between India and Pakistan deeply affected the team. How will they manage to win a hole medal when their own was so divided?
Where to watch Gold Movie online: Watch Gold Movie online on Amazon Prime Video
49. Haseena Parkar (2017)
IMDb Ratings: 4.3/10
Cast: Shraddha Kapoor, Siddhant Kapoor, Ankur Bhatia, and Rajesh Tailang.
Director: Apoorva Lakhia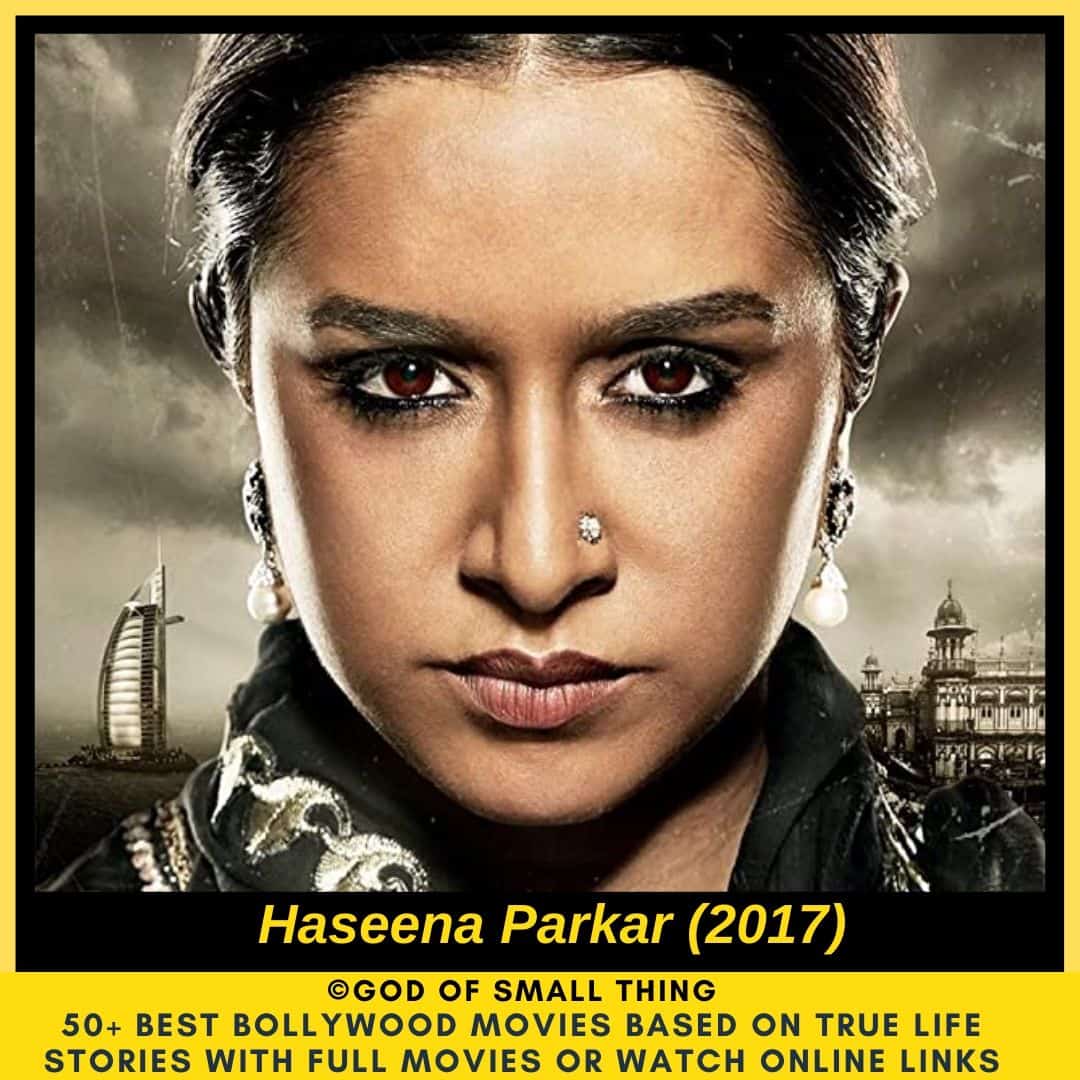 The film is based on Haseena Parkar, sister of a terrorist Dawood Ibrahim. She lived with her siblings and was close to Dawood. She later gets married to Ibrahim Parkar. Dawood has a lot of enemies. Ibrahim is killed as a result of revenge against him. Meanwhile, Dawood is pinned as the key conspirator for the 1993 serial bombings in Mumbai.
He runs away and Haseena gets into trouble. Haseena goes on to become a dominant figure in the male-centric underworld. She pleads guilty and puts up the acts of a new bride who was forced to turn to criminal activities. She turns to the life of a criminal following her brother's footsteps. But, how did she manage to escape from a very crucial case?
Where to watch Haseena Parkar Bollywood movie online: Watch on Haseena Parkar movie on YouTube
50. Gangubai Kathiwadi (2022)
IMDb Ratings: 7/10
Cast: Alia bhatt, Shantanu Maheshwari, Vijay Raaz, Indira Tiwari, Seema Pahwa.
Director: Sanjay Leela Bhansali
Gangubai kathiawadi is based on real story of ganga harjivandas who was regained name of herself as Mumbai's well-known mafia Queen and brother owner in the year of 50s and 60s. According to Hussain Zaidi's book "Mafia Queens of Mumbai", Gangubai became famous as one of the prominent names as red-light areas known as "Kamathipura" in Mumbai.
In the movie ganga is a young girl who wants to act in films and became an actress. Her boyfriend Ramnik lal promised her to make her an actress but betrayed by her boyfriend and was sold to a brothel in Mumbai. After that she begins a new journey of her life. And fight for the legal rights of all prostitute and to allow their children to go to school. Will she succeed ? Watch and find out on Netflix.
Where to watch Gangubai Kathiwadi movie online: Watch Gangubai Kathiwadi movie online on Netflix
This is our list for the Best Bollywood Movies Based on A True Story. These inspiring or horrific stories give us goosebumps. Whether it's a patriotic movie like Chak De India or Gold or crime and mystery films like Haseena Parker or Gangs of Wasseypur. Here's a large collection for you, varying through multiple genres. Did we include your favorites? Tell us below!
Personal Recommendations: Do you have subscription for Netflix? Well if you have why dont you try some Sci-Fi Movies? Here is a List of 30+ Best Sci-fi Movies & Series on Netflix of all time | GodofSmallThing
Looking forward to saving these images? Images available on Pinterest. Follow the link: Pinterest