Superfood Quinoa for weight loss and Health Benefits of Quinoa Explained
Quinoa pronounced as 'KEEN-WAH' is a type of seed that is often misunderstood for whole grain. But it can be cooked as whole grain and cooks faster and quicker than the whole grain.  Quinoa thrives in harsh, unpredictable climates such as that of the Andean region of Peru, Bolivia, Ecuador, Colombia, and Chile. It is a type of superfood that is high in fiber and high-quality protein. People often want to know the health benefits of quinoa. Is quinoa a superfood? How to cook quinoa? Is weight loss with quinoa possible? Looking for delicious quinoa recipes? So, here we are! All your queries related to quinoa will be answered as you read the article further. Quinoa health benefits are amazing and you will love us for sharing this. Here you go!
Nutrition value of Quinoa (1 cup of quinoa)
Protein: 8 gm.
Fiber: 5 gm.
Manganese: 58% of the RDA.
Magnesium: 30% of the RDA.
Phosphorus: 28% of the RDA
Folate: 19% of the RDA
Copper: 18% of the RDA
Iron: 15% of the RDA
Zinc: 13% of the RDA
Potassium: 9% of the RDA
Over 10% of the RDA for vitamins B1, B2, and B6
Small amounts of calcium, B3 (niacin) and vitamin E
What are superfoods?
Superfoods are just some food items that offer maximum nutritional benefits with much fewer calories. They consist of vitamins, minerals, and antioxidants. Berry, grapes, tea, and quinoa, etc. are some examples of superfoods.
Benefits of superfoods
Superfoods keep your body away from diseases. You will definitely be healthier once you start munching on superfoods every day.
You must know that Superfoods contain antioxidants that help in preventing cancer while the fiber in them can help in preventing diabetes and digestive problems.
Superfoods are also beneficial in protecting your body from toxins.
In case you are looking for a balanced and quick way without adverse effects to lose weight faster. Check this article out How to lose weight fast? – Expert's Guide
Is quinoa a superfood?
Yes, quinoa is a superfood. Going by the above definition of superfoods, it is pretty much clear that quinoa falls under the category of superfoods. The health benefits of quinoa are many and calories are too less. Quinoa is like a tiny grain that cooks like rice and is available in the nearby supermarkets and health stores.
What are the health benefits of quinoa?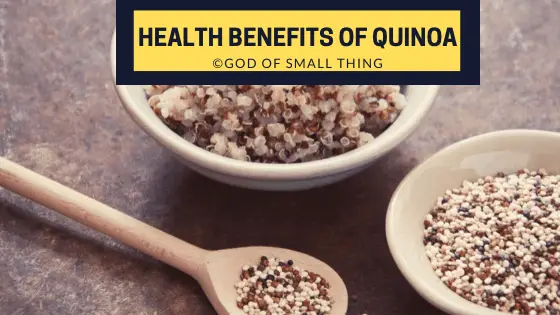 Quinoa is a healthy diet food as well and has a lot of benefits. It provides 9 essential amino acids, making it a complete protein.
 Quinoa is gluten-free, cholesterol-free & non-GMO and is usually grown organically. It is perfect for people who are gluten intolerant. A gluten-free diet is healthy only if it is based on natural gluten-free food items.
Another health benefit of quinoa is that it is rich in fiber. According to a health study that targeted four types of quinoa, for every 100 grams of quinoa, 10-20 grams of fiber were found.
Quinoa is a superfood that has a less glycemic index. Glycemic index measures how quickly blood sugar gets raised by different types of food items. Consuming food with a high glycemic index can lead to obesity.
It is rich in iron which helps in keeping our red blood cells healthy and is the basis of hemoglobin formation.
Quinoa contains magnesium which helps in reducing Type 2 diabetes. It also helps in the regulation of body temperature.
It is rich in nutritional content and hence has beneficial effects on metabolic health.
Quinoa helps you in reducing weight. It is very less in calories and high in nutritional value and hence it is a perfect food choice for those looking for losing weight.
According to whfoods.org, quinoa contains anti-inflammatory nutrients which can lower the risk of heart diseases and cancer.
Looking for more ways to lose weight? why don't you try out Detox drinks as well along with foods for weight loss. Here are some Best detox drinks for weight loss including Homemade Detox Drinks to detoxify yourselves
Quinoa Vs rice carbs
White rice or Quinoa: Which one is healthier?
Quinoa has a less glycemic index while white rice has a high glycemic index. This is how the consumption of white rice can make your blood sugar level shoot up suddenly.
White rice is also a refined starch, making its nutritional level less. Quinoa has much fewer calories and carbohydrates than white rice. If you are looking to lose weight then choose quinoa over white rice.
It is also proven that a cup of quinoa is richer in protein and fiber than a cup of white rice. Quinoa makes you full early and hence you can stay fit and healthy. Both quinoa and white rice are gluten-free. You just have to choose the right quality of the grain.
Brown rice or Quinoa: Which one is healthier? (Quinoa health benefits)
While brown rice is known to be healthier than white rice, when compared to quinoa, it has somewhat similar health benefits. Brown rice also has a low glycemic index like quinoa. Both of the grains have far greater health benefits than white rice. Quinoa has a slightly higher protein level and fewer carbohydrates than brown rice. Also, quinoa is a complete protein, unlike brown rice, which has fewer amino acids.
Is weight loss with quinoa possible? (Quinoa weight loss)
As quinoa is a superfood, losing weight with quinoa is possible. But you can't rely on quinoa for weight loss. Make a routine of exercising and consuming healthy food.
This is how the process becomes easier for weight loss. Since quinoa is high in protein content, it helps in muscle building. Quinoa provides a perfect balance of nutrients but it alone is insufficient for weight loss. Diet and exercise should be included in your routine as well.
Quinoa is also rich in fiber which takes longer to digest and hence quinoa keeps you full for a long time. Fiber also facilitates healthier digestion. It is also gluten-free making it even perfect for your weight loss and overall health.
Can quinoa help you lose weight? Is quinoa good for losing weight?
Replace rice with quinoa and it will lead to weight loss. For quinoa weight loss, try salads with quinoa. There are a lot of quinoa weight loss recipes available online. Check them out and give a push to your weight loss journey.
 Quinoa Risotto With Mushroom
 Quinoa and Sesame Crackers with Orange Hummus
Sweet Potato and Quinoa Bowls
Quinoa, Couscous And Beetroot Tikki
Coconut Lime Quinoa Salad
Weight loss can be a lot easier if you work out along with some good food. Here are some Best Ramdev Baba Yoga Asanas For Weight Loss
OR
If you are a beginner and hasn't been into working out Here are some Fitness Tips for beginners on How to Start Exercising and stick to it
Best ways to use quinoa
Make your salads interesting and tasty. Add quinoa to it
What if we say you can replace the base of your porridge with quinoa? Well, that's a great idea! Try it for yourself.
Want to eat something tasty as well as healthy? Make burgers for breakfast with quinoa patties.
While cooking your soup, stir quinoa into it. This will add protein to your dish.
You can have stuffed capsicum with quinoa for lunch or supper.
These are just a few ideas to add quinoa to your meal. You can add quinoa to your diet in infinite ways. The only thing is to keep experimenting. Quinoa is a superfood that will not disappoint you and live up to the hype we promise.
You can also go for Rujuta Diwekar tips on How To Stay Fit and Healthy Naturally? – God of Small Thing