Best Exercise Cycles for Home Use in India with Features and Buy Links
Being healthy should be everyone's top priority. Without the proper functioning of our bodies, we possibly cannot enjoy anything. Besides, we all want a good physique to look attractive. But for many of us, the busy lifestyle and jumbled-up work schedule make it impossible to visit the gym frequently. The simple answer to this problem is to buy fitness equipment and install them at home. Machines like" an exercise bike" can provide the perfect solution. These bikes do not take up a lot of space and are very suitable for exercising at home.
With a fitness bike, you can do cardio exercises, can train your lower body and lose weight. These also keep the joints flexible. Some models even come with moving handles, which enables a user to do a full-body workout on the exercise bike itself.
But how to choose the right fitness bike?
Well, if you are in a search for the perfect fitness bike, then here are the top three most important factors that you should check before buying:
Multiple resistance levels– Without increasing the resistance, there will be no progression in your fitness training.
Multiple Adjusters– Adjusters in seat level, handles, and pedal strap lengths are important features that decide the level of comfort while working out.
Weight Capacity– It is best to choose an exercise bike that has at least a capacity of carrying 100 kgs.
However, if you are still not sure about it, do check out the "Buying Guide" before having a look at our top picks for the best exercise bikes in India.
Here is a list of Best 5 Exercise cycle for Home use in India with Reviews and specifications:
Fitkit FK500 Exercise Cycle
Powermax BU-205 Exercise Bike
Reach Exercise Cycle
Healthex Exercise Cycle
1. Fitkit FK500 Exercise Cycle for home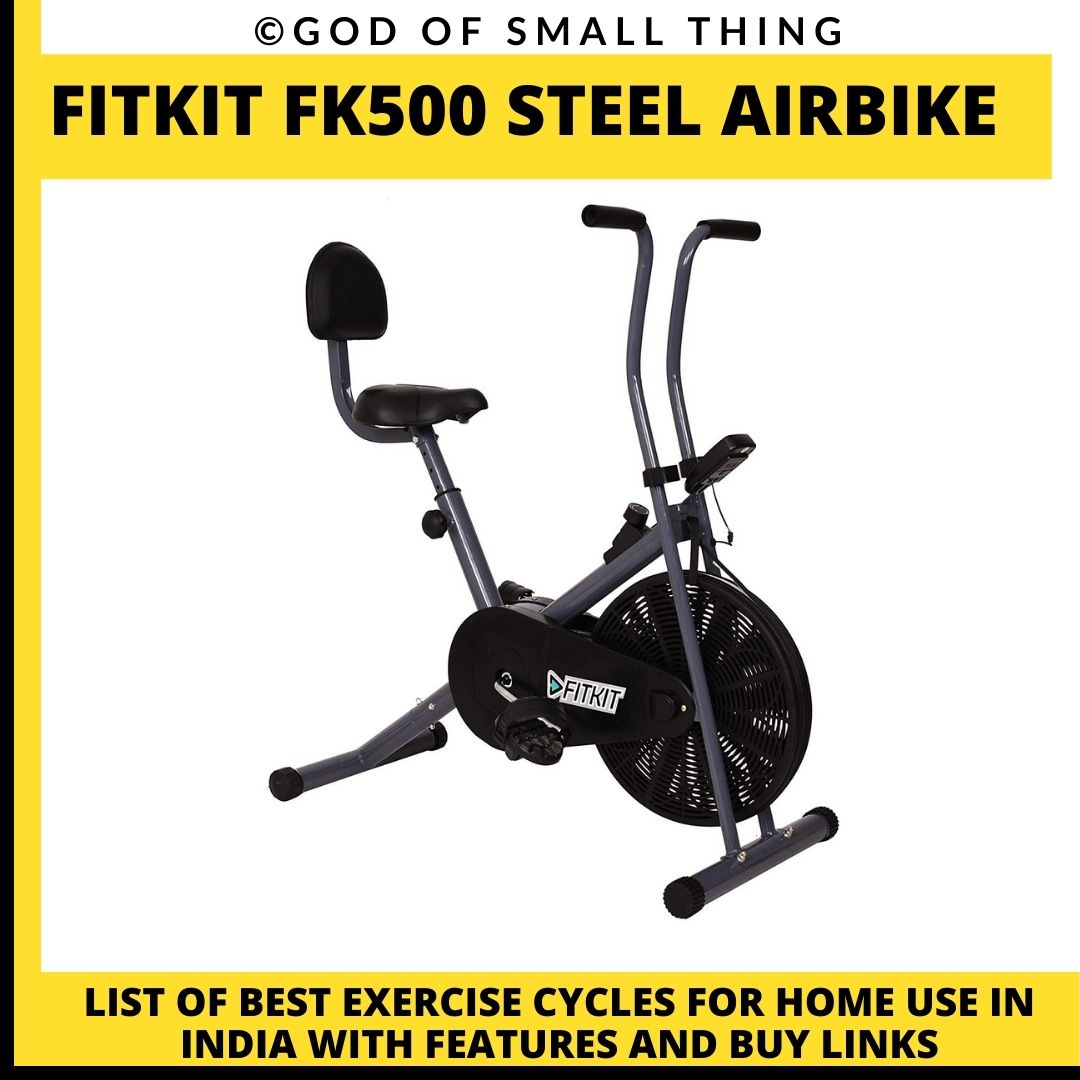 The Fitkit FK500 is the perfect domestic equipment that has all the features of a superb exercise bike. The manufacturer has thought of all the requirements and incorporated it into this model.
It is primarily an airbike with a 3kg flywheel in the front that provides resistance with the friction of air against the fan. Apart from that, it comes with several levels of resistance for better and more intense training of the body.
We have given it the first position because of its superior build quality, load taking capacity, an in-built computer that scans, tracks time, speed, burnt calories, and distance covered. It is one of the best exercise cycles for home use in India.
You can as well adjust the height to your liking, and there are zero chances of foot slippage as it has well designed peddles with footlockers.
Maximum capacity: 100 kgs
Best Features:
Type- Airbike
Build material- stainless steel
Tracks- Scan, time, distance, calories burned, and speed
Footlockers, comfortable saddles
Backrest
Height adjustment
Free Installation
Warranty and Service Quality: The warranty on the Fitkit FK500 is 6 months from the date of purchase.
However, if you buy online from Amazon, you would get a 10 days replacement guarantee if the product comes with a manufacturing defect.
FitKit provides free installation on this exercise bike. For which you will have to call on 1800-102-3773/ 1800-102-3110 or WhatsApp on +91-6260741910/ 11 between Monday to Saturday 10 Am to 7 Pm.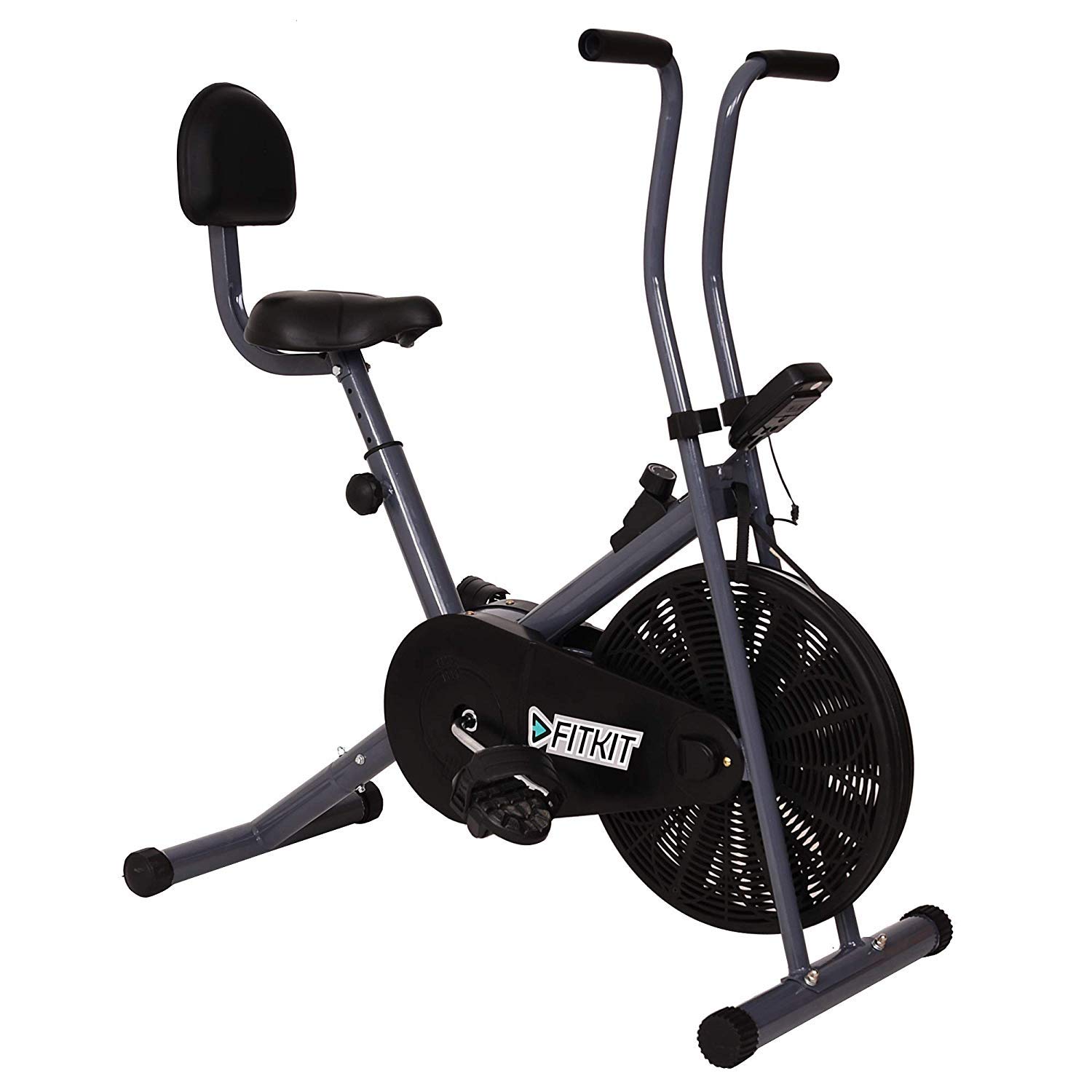 Pros:
Comfortable seating with back support
Stainless steel body gives durability
3 Kg flywheel
Sleek design that takes minimal space
Several resistance levels for intense workouts
Meter tracking
Cons:
No moving handlebars
No major cons
Verdict:
Overall the FitKit FK500 is a complete package that will level up your fitness game by several notches. It is the perfect indoor exercise bike for fitness enthusiasts. This stationary bike has a comfortable backrest, and so, older persons can exercise on it as well.
2. Powermax BU-205 | best exercise cycle for Home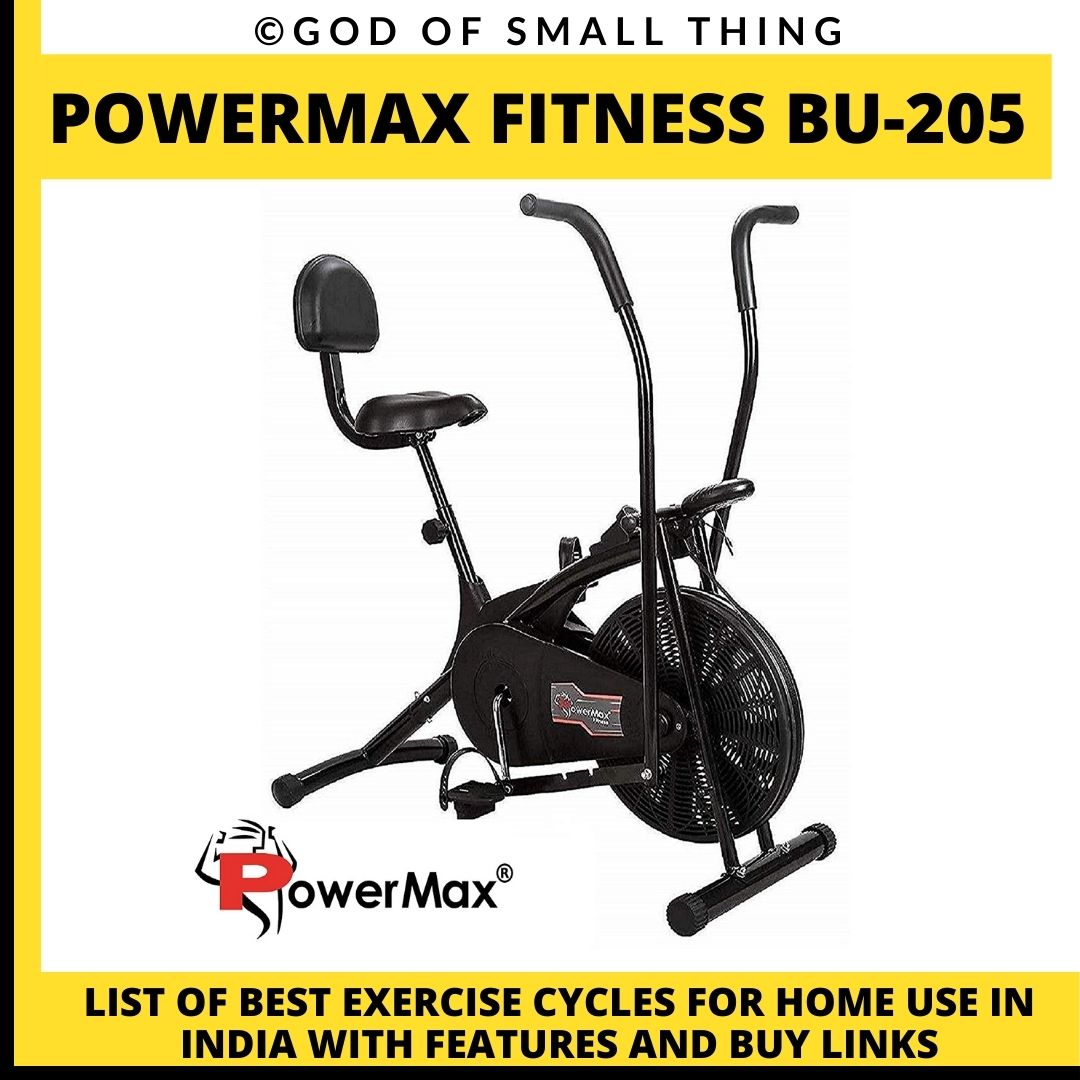 The Powermax is yet another exercise bike that is superb. This exercise bike has moving handlebars that will help keep your upper body toned as well, apart from giving you a fit lower body with ample leg exercise.
The only reason we have placed it in the second position is that it is a little more pricey than the FitKit FK500 bike. Otherwise, it is, for sure, one of the best exercise cycles for home use in India.
It is a hybrid bike with backrest, adjustable seat, moving handlebars and a flywheel. There is also a provision to adjust and fix the handlebars. This fitness bike is designed such that it can fit the need of everyone irrespective of age or height, which makes it one of the best exercise bikes in India.
Maximum Capacity:100 Kgs
Best Features:
Hybrid bike
Comfortable seating
Moving handlebars (with fixers)
Foot-straps
In-built computer (for tracking time, distance, speed and calories spent)
1-year warranty
Resistance knobs
Height adjustment feature
Warranty and Service Quality: The warranty on this exercise bike is 1 year.
In case of any issues, you can call the Powermax Fitness customer care at +91-8080-269-269.
As far as its performance is concerned, it is a superb bike with loads of feature and solid built quality. And so, this hybrid fitness bike has been praised for its performance by many users online.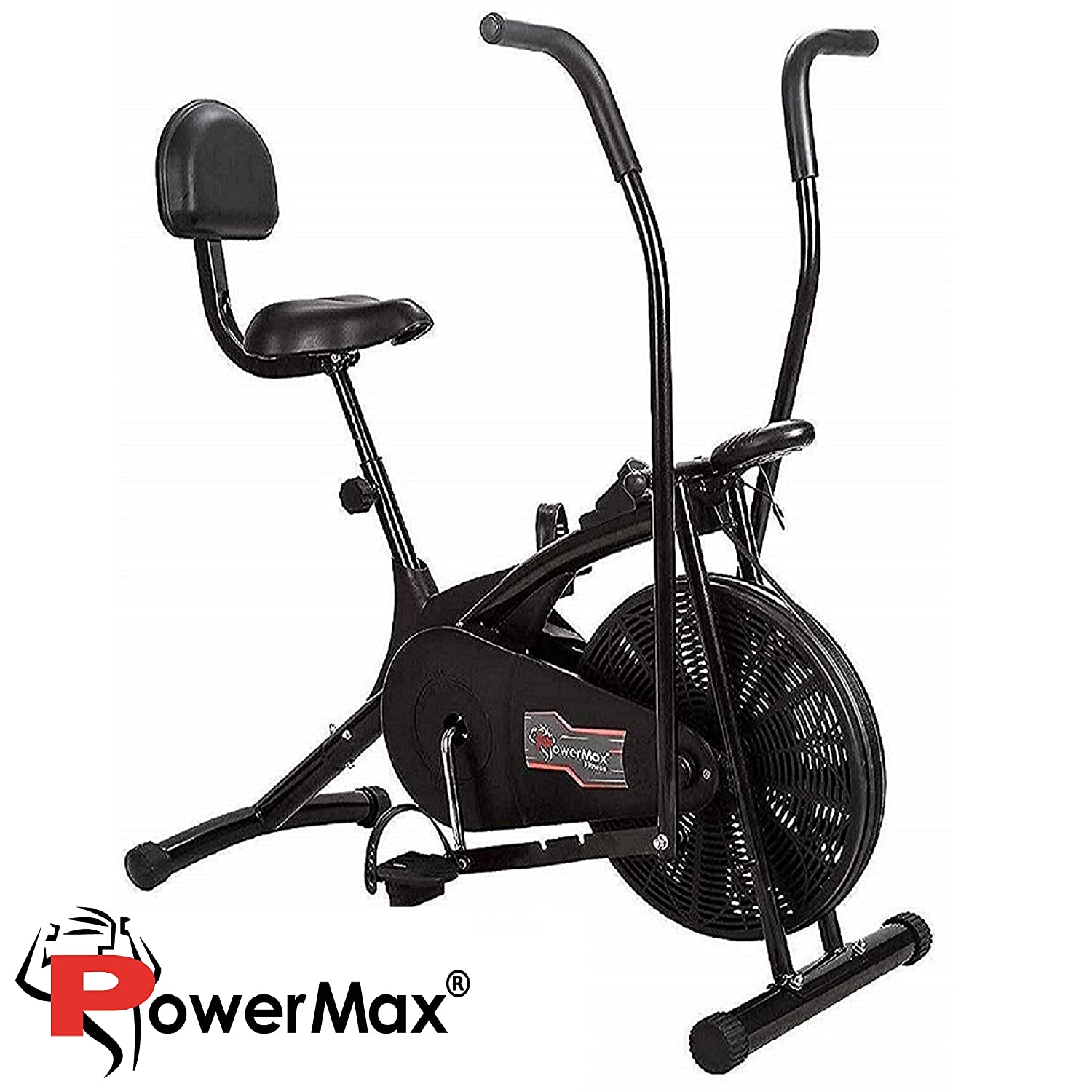 Pros:
Movable handlebars (with stoppers)
3kgs flywheel
Resistance knob
1-year warranty
Built-in monitor to display workout result
Scientifically designed body
Anti-slippage pedals
Cons:
Does not come with free installation
After-sales service can be better
Verdict:
Although it is a little pricier than our top pick, if we consider the overall scenario, this bike is offering superb features at its price range. Overall, it is another excellent exercise cycle that can fit the needs of all.
3. Reach | cycling machine for home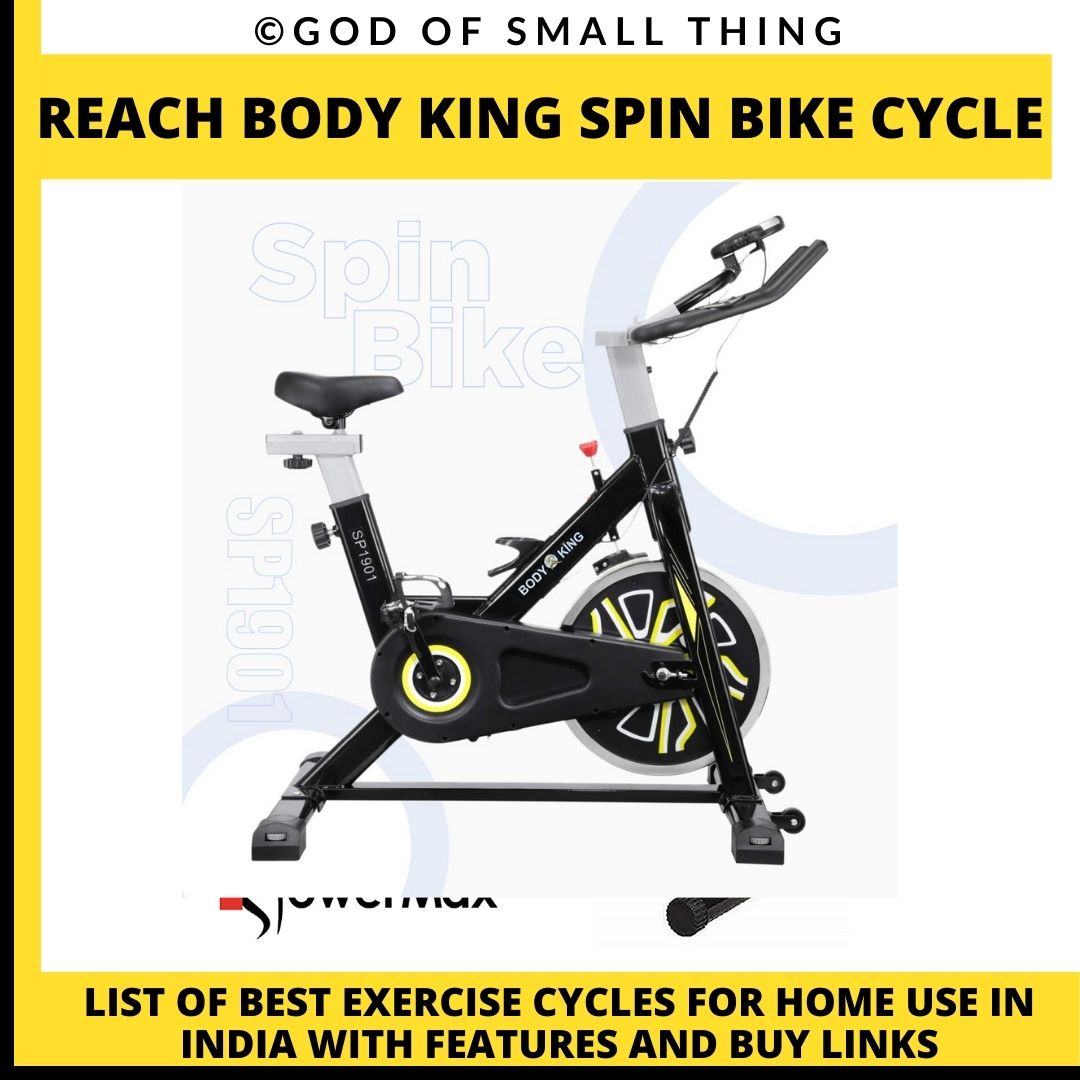 If you want a fitness bike with belt resistance, then you can go for this one. It operates quietly and enables the rider to work on the full body.
With its dual function (movable handlebars along with pedals), you exercise the muscles on the lower part of the body and increase the endurance of the top half of your physique.
This bike is superb and is indeed one of the best exercise cycles for home use in India. We are placing it in the third position as it lacks a backrest that the previous two exercisers did.
As this exercise machine has a belt-drive, it makes lesser noise. But do keep in mind, the belt will loosen up with extended use and will require a replacement.
This bike is ergonomically designed with adjustable seat, moving handlebars and pedal straps to avoid slippage. You can also monitor your progress and the number of calories burned owing to the presence of a display monitor that shows these parameters.
Maximum Capacity: 100 Kgs
Best Features:
Moving and stationary handlebar options
Vertical seat adjustment feature
LCD monitor shows- speed, time, distance, calories, and pulse
pedal straps
Belt drive resistance
Warranty and Service Quality: The warranty period for the Reach Air exercise bike is 1 year.
After this time period, the company will charge an amount of 750 for every visit. Amazon offers a 10 days replacement guarantee if you receive a product with a defect.
For installation or any other support related to this airbike, you can call on 08956212345. This bike is particularly a favourite with the online buyers as it has a comfortable design, is economical and easy to use. It is listed as Amazon's Choice for fitness bikes.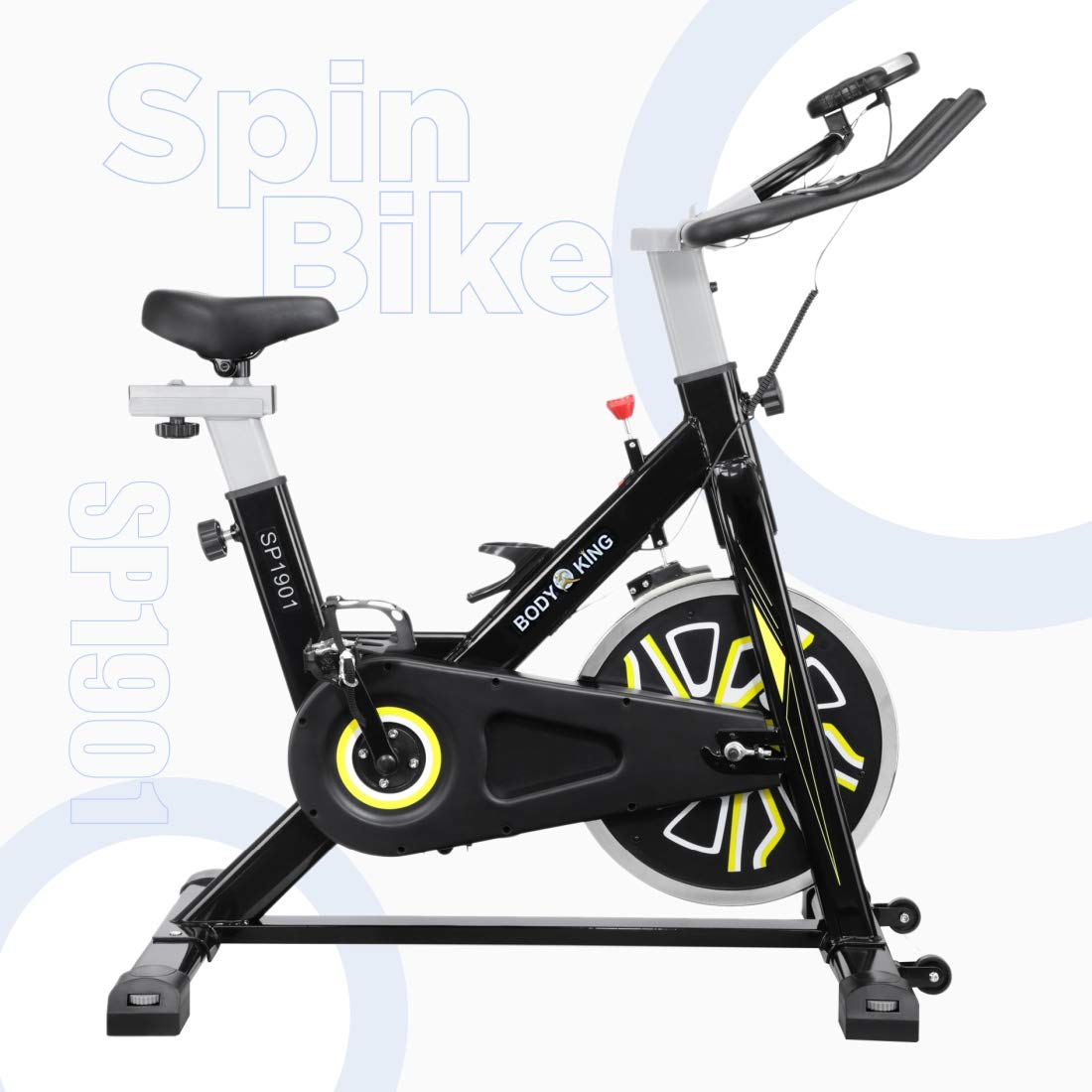 Pros:
Movable handles
Adjustable seat
durable
Easy to install and use
Scientific and uncomplicated design
Economical
LCD monitor for tracking progress
Cons:
The seat can be more comfortable
Some nuts and bolts require frequent tightening
Verdict:
If you do not mind the lack of a backrest, then this machine is one of the best if you want to train your body at home. It has a belt resistance and moving handlebars that can keep your entire physique looking toned and your joints flexible.
4. Healthex Exercise Cycle | | best gym cycle for home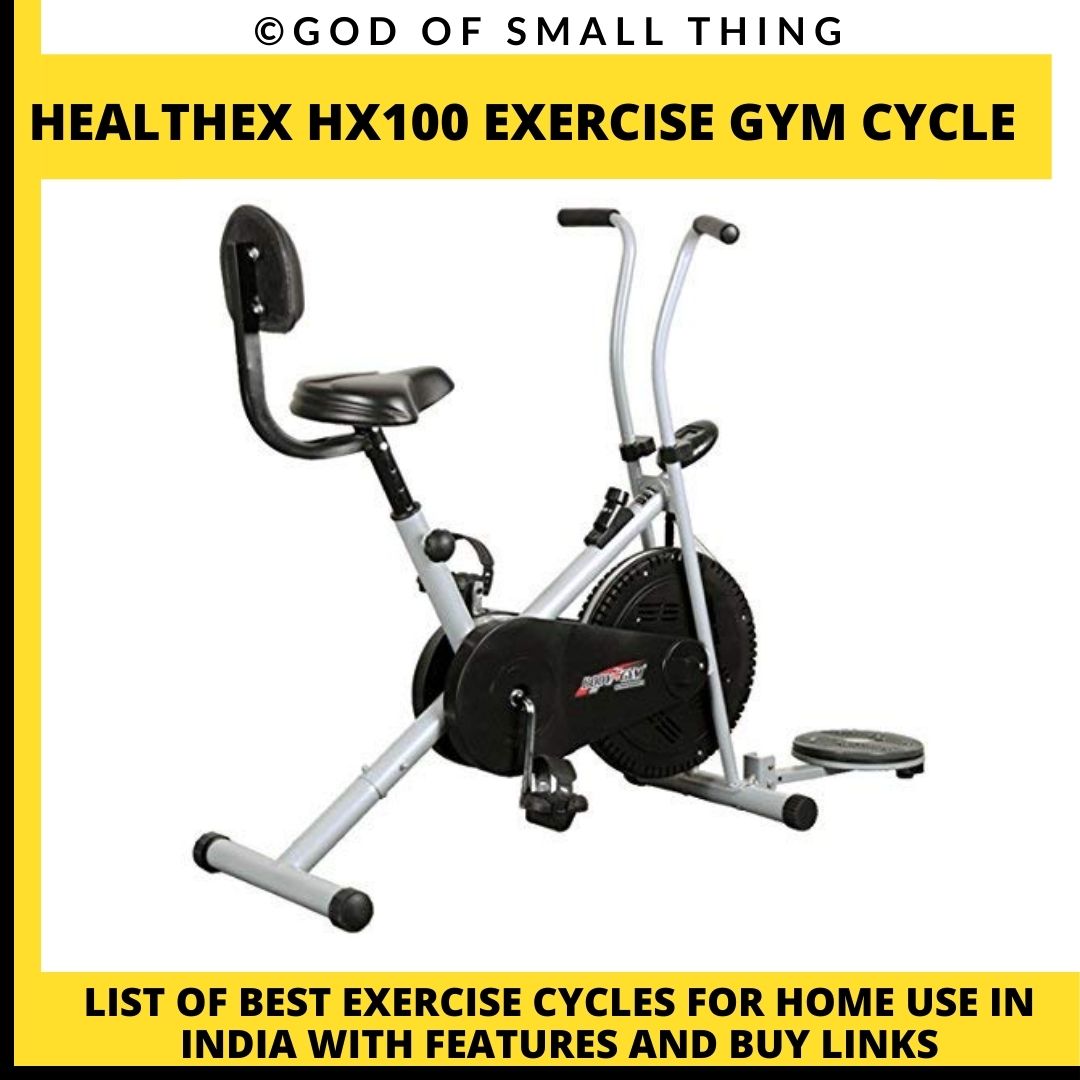 The Healthex exercise bike is a good option if you want to add workout equipment at home without spending too much. This exerciser has all it takes to get the heartbeat up, exercise the joints, and lose some body fat in the process.
If you buy it online, you get complimentary tummy-slimming equipment along with this bike. So, in case you are searching for the best deal on bikes, here it is for you to grab.
It is a good bike and comes with a backrest, adjustable seat, ergonomically designed pedals, and a monitor that displays the speed, calories, distance, time. The joints this bike works on are knees, hip joints, and ankles.
However, we have placed it in the fourth position as it does not feature moving handles, and so, cannot work on your back muscles.
Maximum Capacity: 120 Kgs
Best Features:
Adjustable seat height
Monitor
straps on pedals
Resistance knob
Backrest
Warranty and Service Quality: There is no warranty on this exercise bike. Although Amazon gives a 10 days replacement in case of defective product
You will have to complete the installation by yourself with a video guide. In some cities, the company arranges for third party technicians for installation, but it is chargeable.
Quality-wise, it is a superb bike that can help you fulfil your fitness goals. Users who have purchased it and are currently using it don't have any significant issues with this machine making it rank in our list of the best exercise cycles for home use in India.
Before you go forward if you are somebody who is just starting to workout. Please be advised to take some Fitness Tips before you get started. Here are a few Fitness Tips for beginners on How to Start Exercising and stick to it-Explained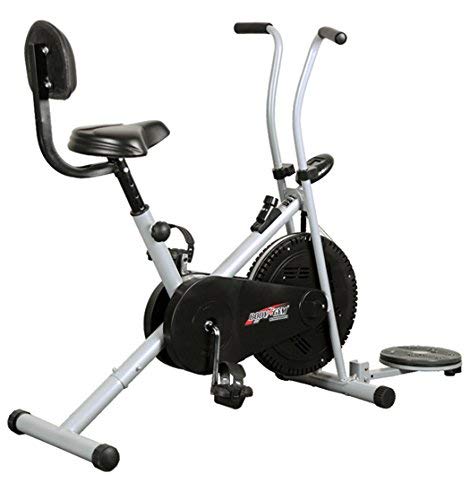 Pros:
pocket-friendly pricing
Complimentary tummy slimmer
backrest for relaxed sitting
120 kgs carrying capacity
strapped pedals for a better experience
Screen for showing several exercise parameters
Good stability
Cons:
lacks warranty
Does not have movable handlebars
Verdict:
It is a value for money deal that you simply should not miss. This fitness equipment does its job decently and has a good capacity for carrying weight. If the lack of warranty does not bother you much, then we advise you to settle for it.
Looking out for more Fitness Equipements? Explore more in this section and shop your favorite now! Explore the wide selection of fitness Exercise Cycles.
About the Author
The article is contributed by Sarthak Mangal and I am the author of this blog. I run a health and fitness website (https://gymfreek.com) and also I am a serial blogger. Well, apart from blogging I am also a WordPress website developer and have developed 100s of websites for different clients in India and abroad. Connect with Author at Facebook – https://www.facebook.com/sarthak.mangal.1 or On Instagram – https://instagram.com/iam__sarthak/
Also Read: 15 Best Yoga Asanas For Weight Loss