60+ Inspirational Cricket Quotes by cricketers with Images
For decades, cricket has been considered the gentleman's game. Fine pitch, critical bouncers, twist and turns, sweeps and lofts and running shoes all around. A game of elite class as well as exciting spirit with a billion strong fan-base worldwide. Today, we have a chance to take you across a terrain of cricket quotes. Through these inspirational quotes by cricketers, we shall wander in the dimension of cricketing memories. Such inspirational cricket thoughts will not only leave you mesmerized but propel you to make life-changing decisions. Many authors and poets have given their quotes on cricket. The revolutionary transformation that has led the sport to this day shall be recounted in the following quotes by cricketers, who have lived a life of excellence. You can use these Cricket quotes for Instagram stories and captions as well.
Here are 100+ cricket quotes on cricket and by cricketers themselves:
"You don't play for the crowd. You play for the country."- Mahendra Singh Dhoni
Former captain of the Indian cricket team, MS Dhoni is regarded as one of the greatest cricketers on Earth. His quotation is a reflection of his idealistic mindset of a nation's captain. Dhoni's performance as a wicketkeeper-batsman is a specimen of this quotation. The best batsmen need the best tools and the top cricket bats in India are Grey Nicholls, Spartan Sports, GM and SG.
"The bat is not a toy, it's a weapon." – Virat Kohli
The right-handed Indian batsman is still the fastest to score 8000 runs, 9000 runs, 10000 runs, 11000 runs, and 12000 runs in one-day international cricket. He was the number one ODI batsman for 3.4 years. Kohli broke Sachin Tendulkar's record for the fastest 20 ODI centuries in history.
"A captain sees you differently from the way you see yourself. You need a captain who can push you." – Sourav Ganguly
Sourav Ganguly scored centuries in ODIs against ten opponents, including all of the cricketing nations with permanent One Day Worldwide status except the West Indies. At the R., he scored his first ODI century against Sri Lanka.
"Every morning I woke up, I believed that I could score runs for india."– Sourav Ganguly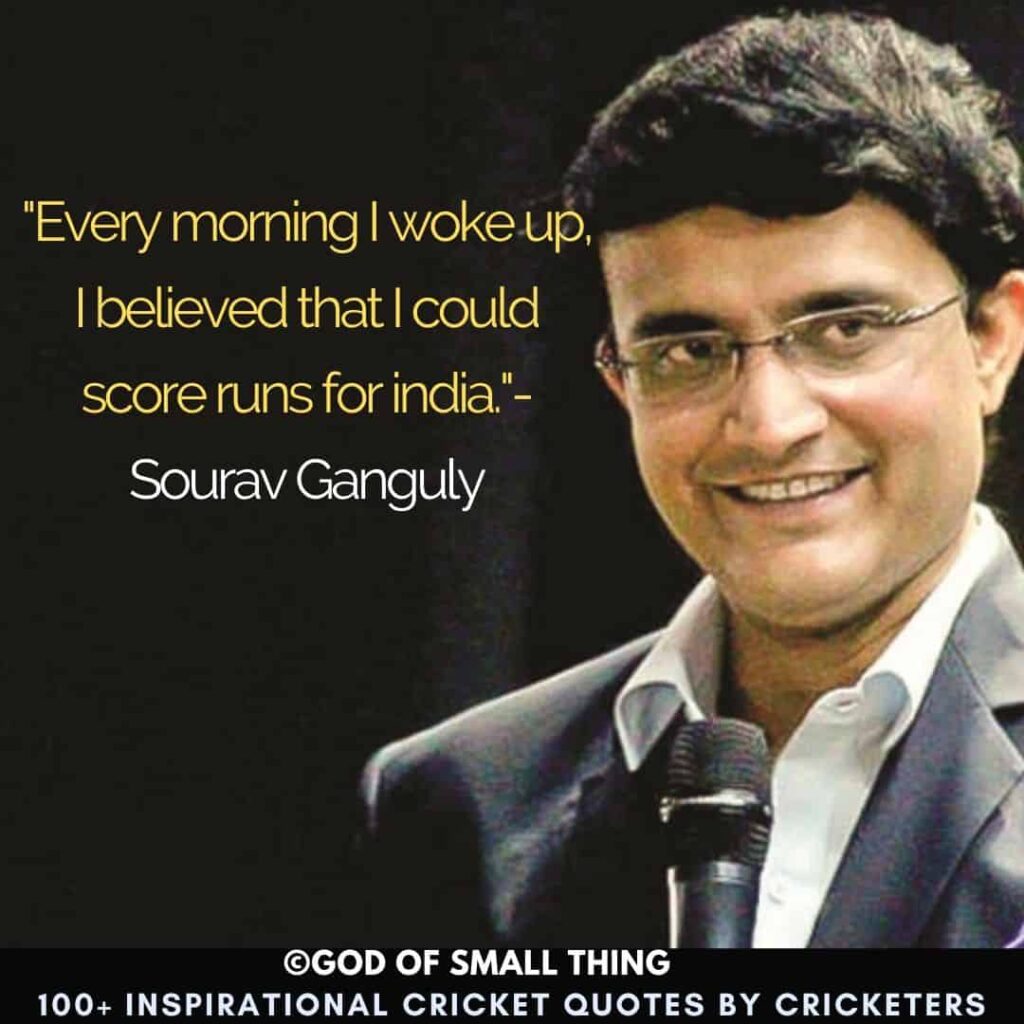 Renowned as Dada in the world of cricket, Ganguly's run-scoring competency earned him the nickname of God of the off-side. This cricket quote comes as no surprise because this must have hit him naturally every morning. [Article Recommendation] Life is not a bed of roses. We all are unique, not just on the basis of our identity but by the way we live our lifes. Here are 101+ Positive Attitude Quotes with Images to dwell a positive attitude.
"When you have to work, work with a smile."– Kapil Dev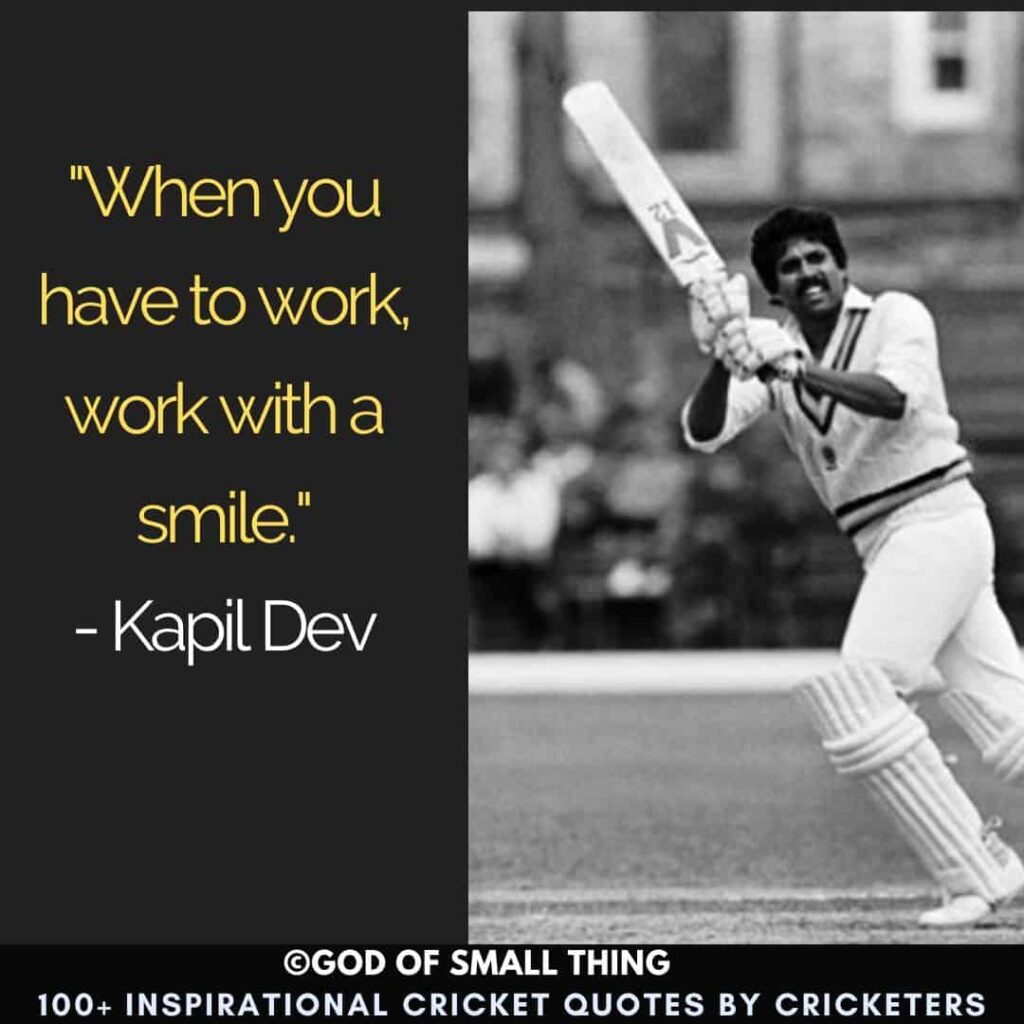 The captain who led India to win its first World Cup Trophy. Kapil Dev has inspired three generations and is known to have explicitly launched himself in multiple careers. If he says that a smile can empower our work, then we should smile as we read his quote.
"I love playing under pressure. In fact, if there's no pressure, then I'm not in the perfect zone." – Virat Kohli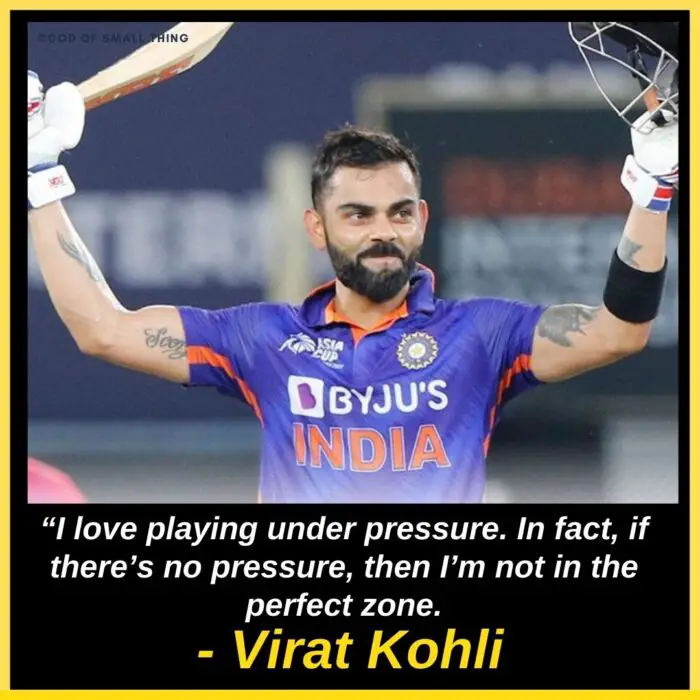 Giving exceptional performances from the beginning of his career, Virat Kohli is a cricket sensation and rules the hearts of millions of fans all around the globe. A devoted personality, Virat Kohli's batting is pure bliss to watch and his aggressive attitude toward cricket makes him the fieriest cricketer. He is one of the world's most famous athletes and is among India's top most-followed personalities on Instagram. This quote by the legend himself is empowering and suggests that pressure is not always a disadvantage. 

"I have failed at times, but I never stop trying." – Rahul Dravid
He is the only player to score test centuries in all the ten cricket playing nations. Rahul's sheer determination and exemplary reliable status won him the title- the Great Wall. A list of inspirational cricket thoughts can never be complete without his golden words.
"When people throw stones at you, you turn them into milestones."– Sachin Tendulkar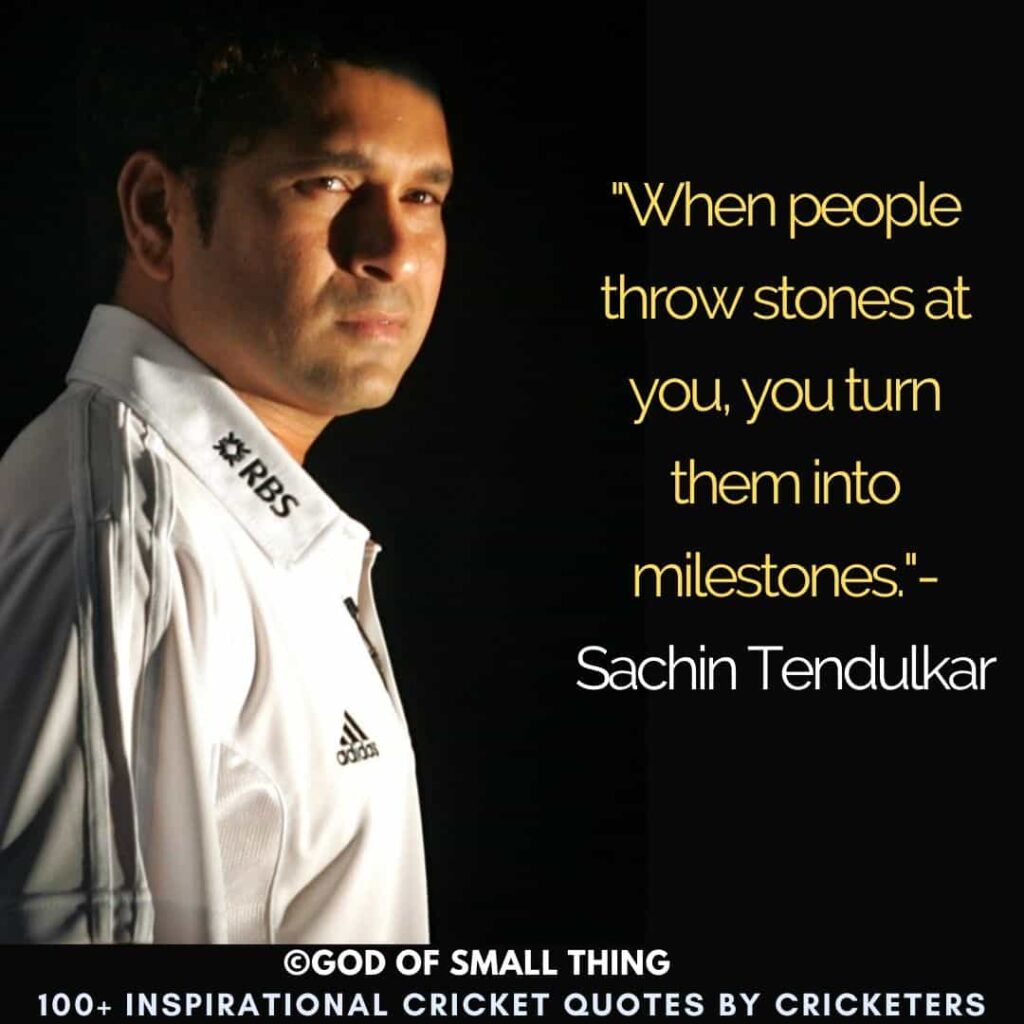 The God of cricket speaks to you. He asks you to turn the negative vibes directed at you, into the incense of calm and spirit of achievement. Sachin's struggle is widely acknowledged. He is a legend and nobody can deny.
"I am jealous of my parents. I will never have a kid as cool as theirs."– Chris Gayle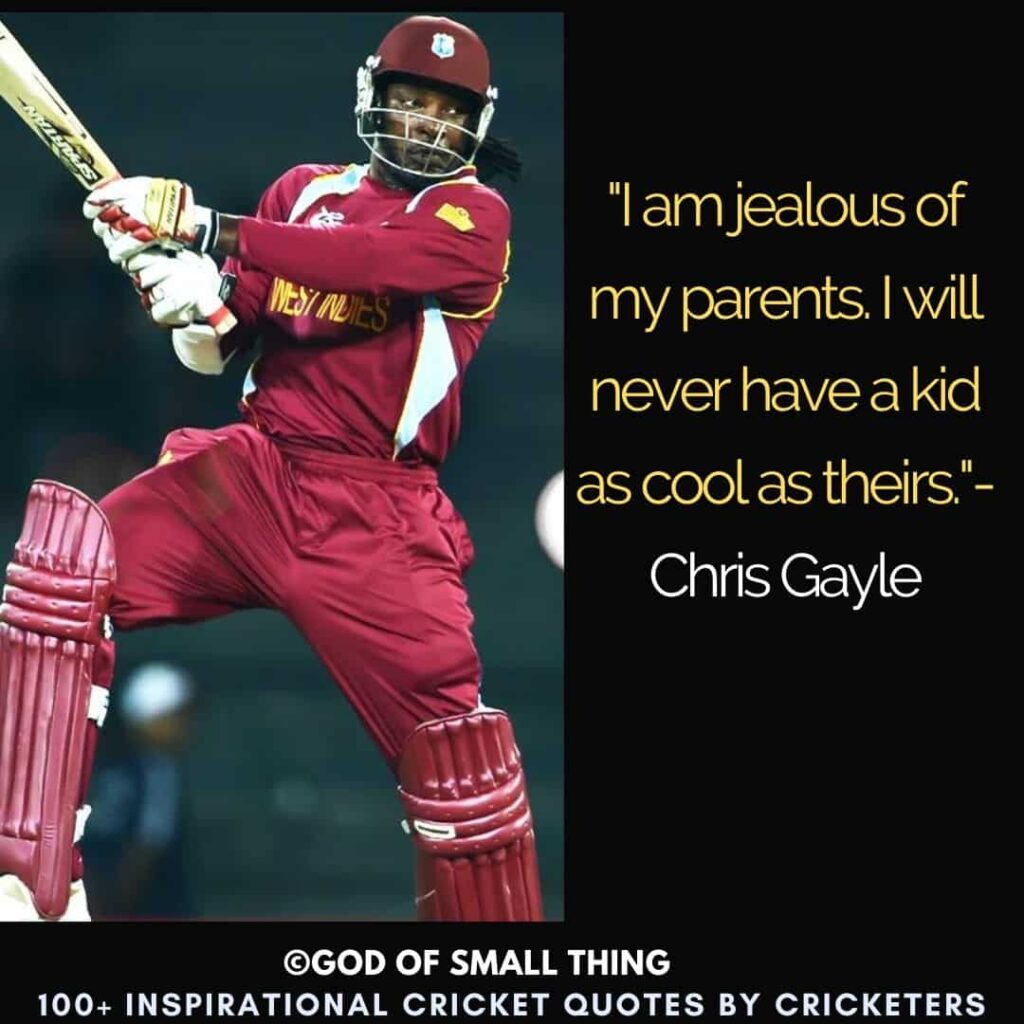 The Gayle-storm takes place when you stand awestruck under a rain of sixes. Chris Gayle in a West Indian cricket player and his humorous gesture is unparalleled. His cricket quote is as jolly as the man himself.
"My first bat was shaped of a coconut branch. And from that day, all I wanted to do was be a cricketer."– Brian Lara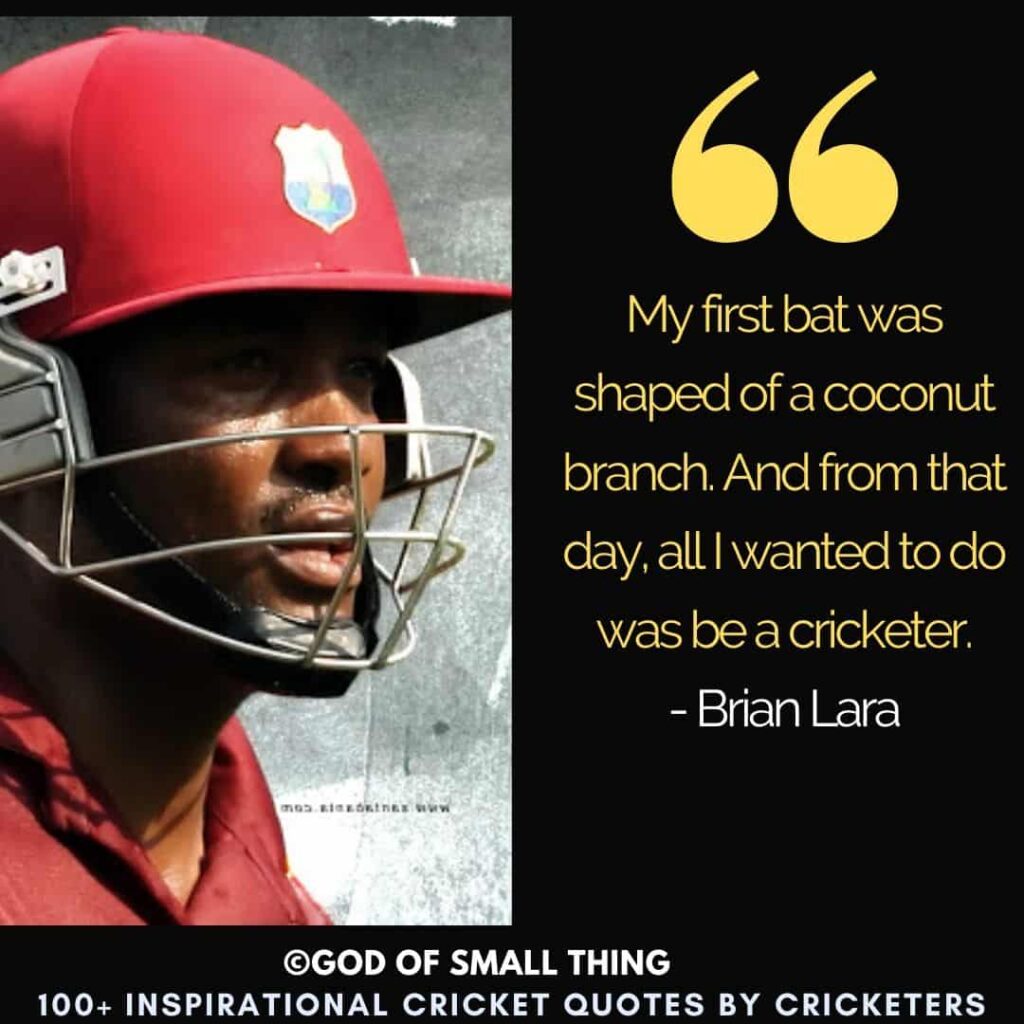 A kid who held that branch as a bat became a cricket legend on 10 April 2004. On that day, history was made as Lara hit 400* in a single test inning against England. Nobody to date has been able to break that record, which is why his cricket quote inspires us beyond imagination.
"There was a legacy before I came in, and it was my job to take the baton and make sure I held it tight and ran like hell."– Sir Vivian Richards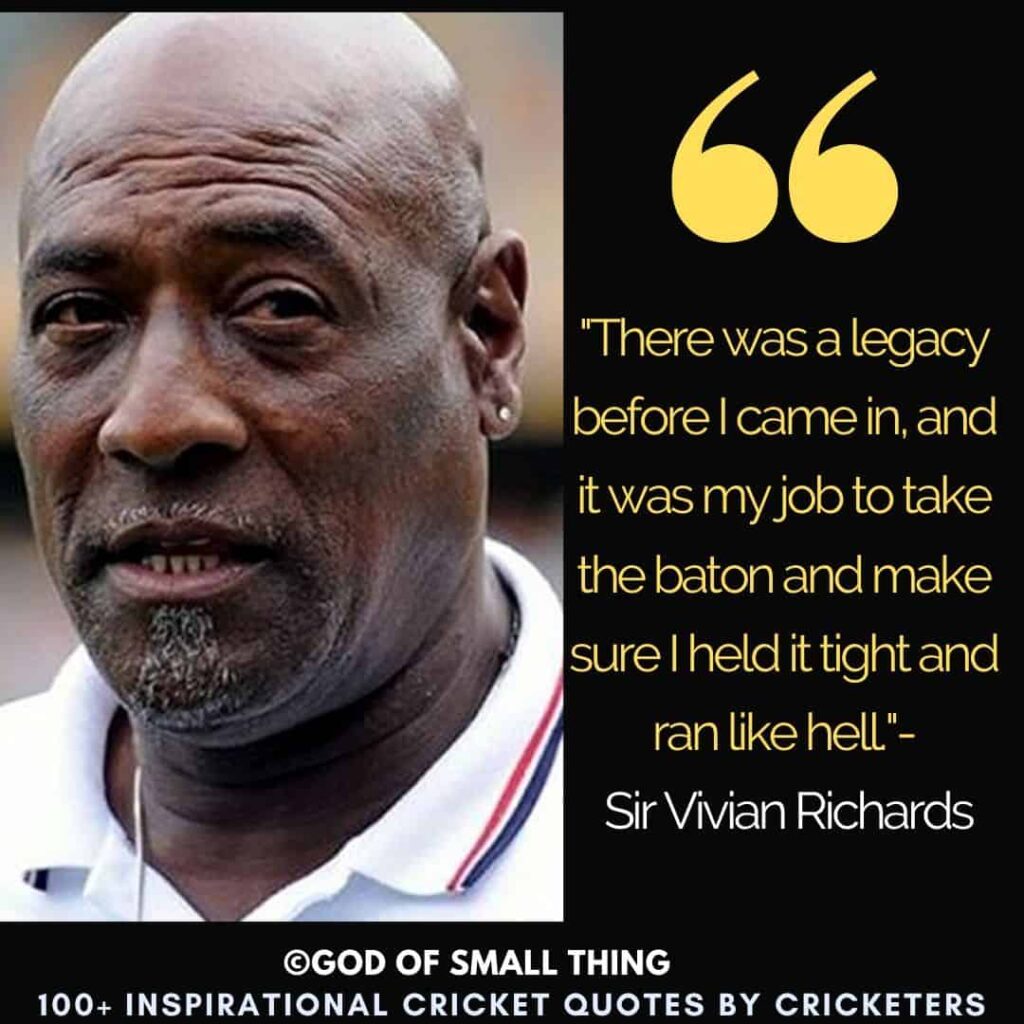 When we talk of the greatest ODI batsman of all time, the name Viv Richards pops in our minds. In this cricket quote, we realize the amount of respect he has always carried for the game of cricket and for the other cricketers. Such a man deserves the same respect and admiration.
"To me, cricket is a simple game. Keep it simple and just go out and play. "– Shane Warne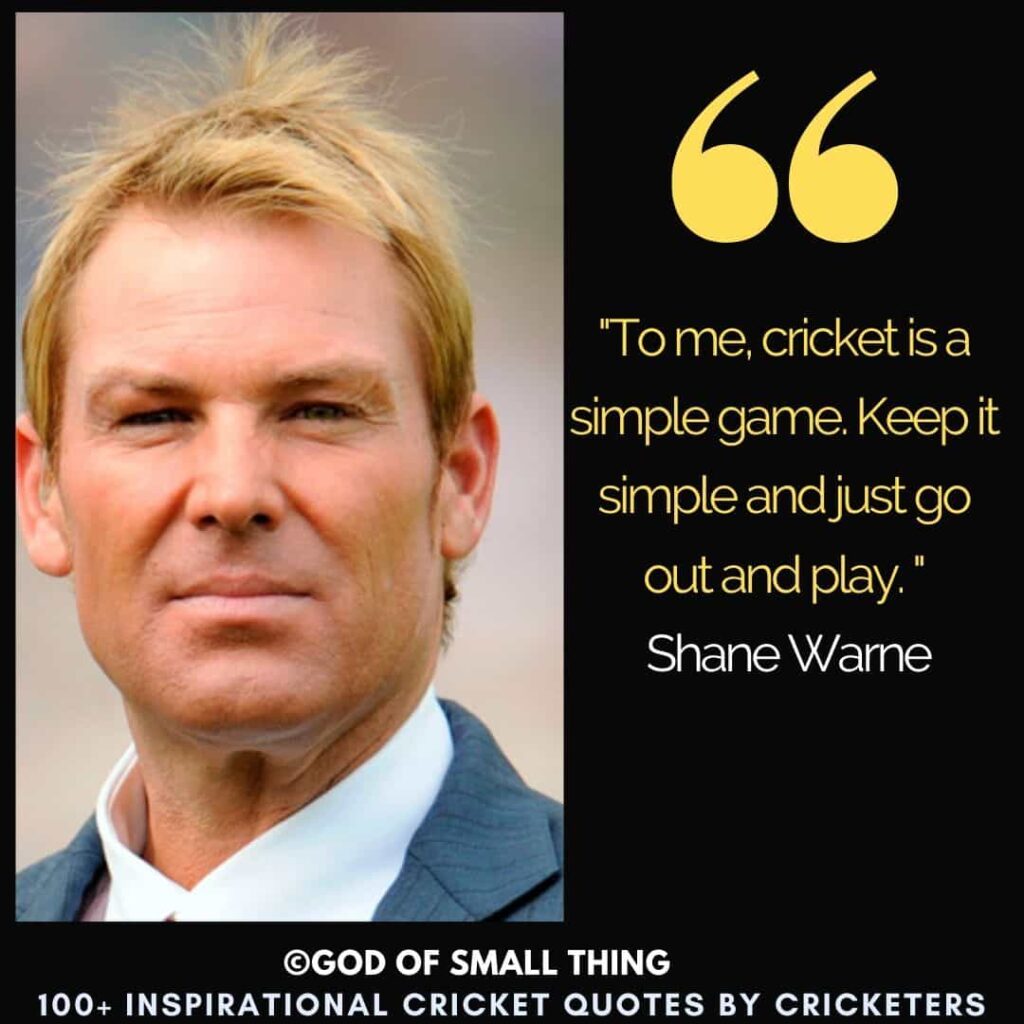 Named one of the Wisden Cricketers of the 20th Century, Warne is considered a revolutionary in spin bowling. 'That Ball' is the moment in cricket history where Warne delivered a miraculous spin and bowled out Mike Gatting of England. Anyhow, this cricket quote suggests that the game is simple for a tricky spinner. Looking forward to some more inspirational and motivational quotes? Here are Best Funny and inspirational quotes about life to inspire you to keep going with Images
"I was always fiercely determined and driven to succeed." – Ricky Ponting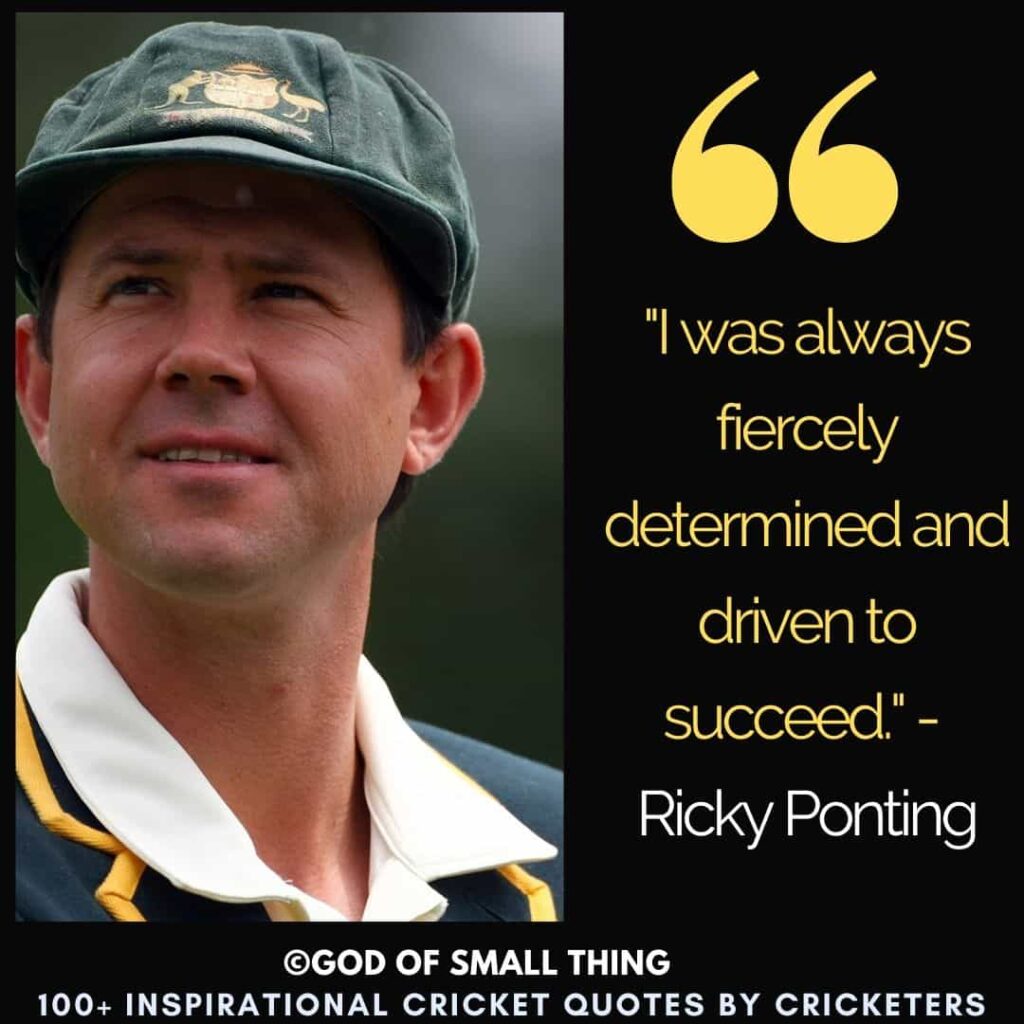 Ricky is by far one of the gigantic names in world cricket. Captain Ricky's match-winning strategies were unlike any other. His passion for success and determination to dominate the sport led the Australian cricket team in its golden era of the 2000s.
"A wise man learns by the mistakes of others, a fool by own."– Adam Gilchrist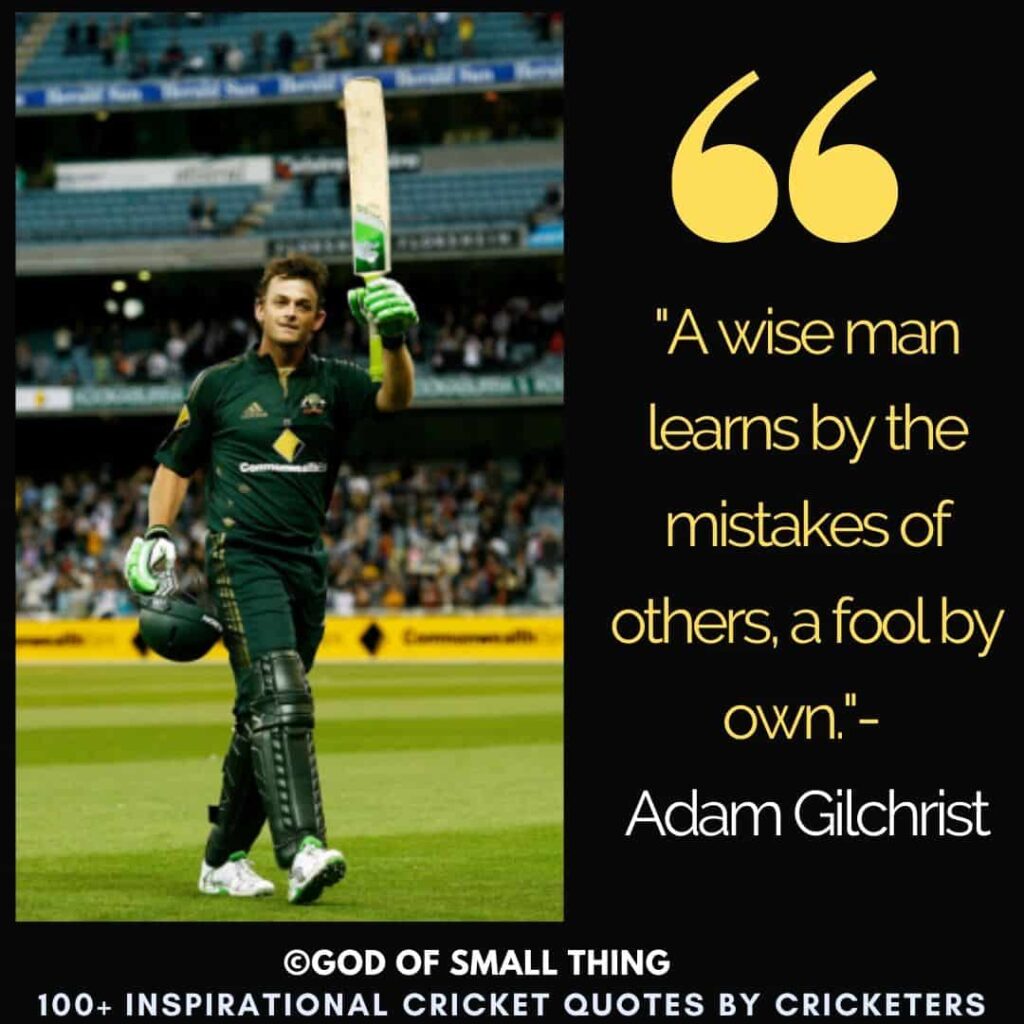 Gilchrist serves as an inspiration to every wicketkeeper trying to make a fortune. He hailed as the superlative man behind the stumps and his swift dismissals sparked terror in the minds of batsmen. This quote by a cricketer might sound very philosophical, but that is the wisdom Gilly has carried.
"No matter how hot the fire burns, a protea always survives." – AB Devilliers
The superman of cricket, Devilliers is an all-time favorite. World-renowned as Mr. 360, ABD is every bowler's nightmare. His shot selections and batting performance earned him the title, ODI Player of the Year thrice in his fifteen years of an international career. For those who don't know, 'Protea' is an evergreen shrub native to South Africa. [Article Recommendation ] Looking for inspiration from your favorite movies? We are here to help xD Here are 60+ Best Inspirational movie quotes about life with Images to get you back to Life
"I used to lie awake at night, willing myself to put in the hard work, the determination, the passion." – Kevin Pietersen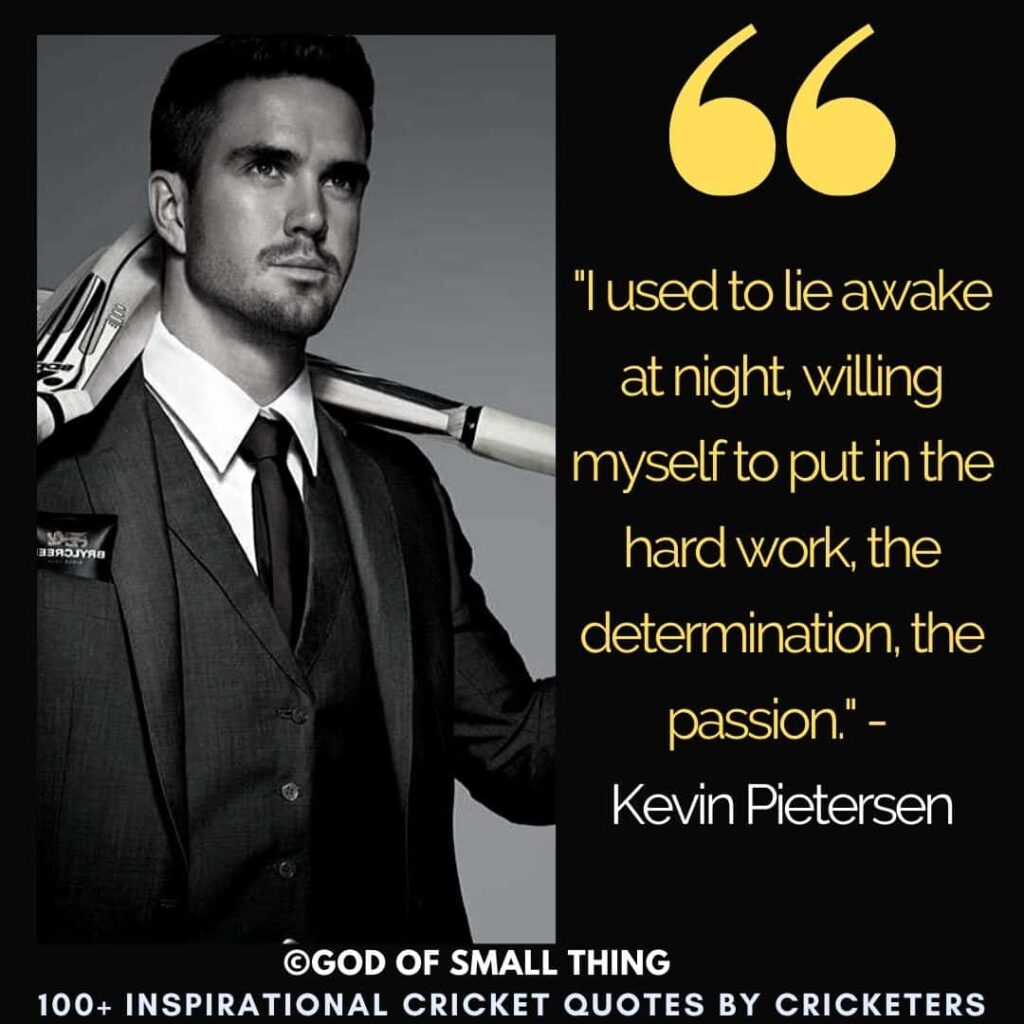 Great souls are often awake at nights, planning for the next undisputed feat. A test cricketer by blood, KP's extraordinary patience, and class strokes propelled him to score the fastest 5,000 runs. An inspirational cricket quote on determination is apparent to come from his side.
"Actually nobody can be perfect in cricket. Everybody makes mistakes. It is important to learn from your mistakes and correct them."– Kumar Sangakkara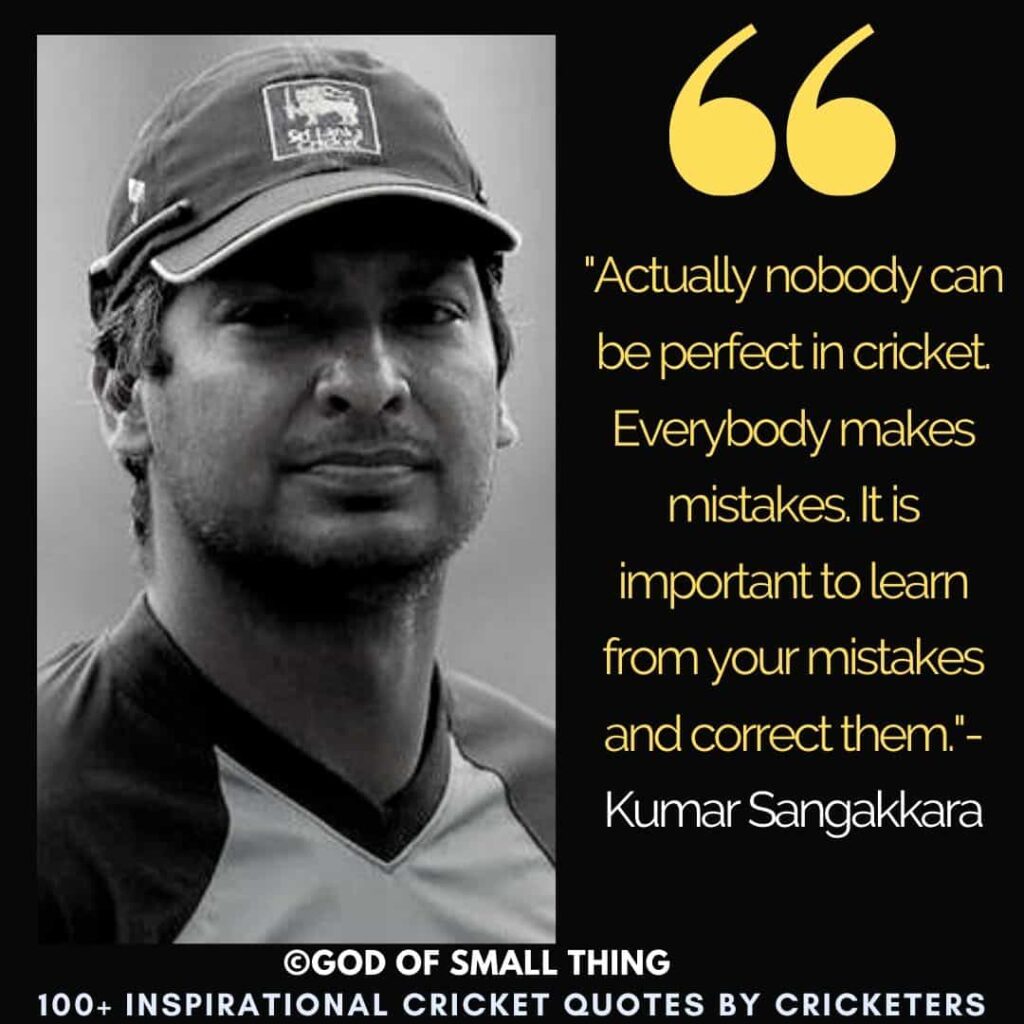 Second highest run-scorer at the time of his retirement, Former Sri Lankan Captain Sangakkara has the perfect cricket quote on perfection. His statements have always been inspiring since the 2011 MCC Spirit of Cricket Cowdrey Lecture at Lords. The youngest to deliver such a lecture, his insight on cricket has swayed millions of cricketers to instill self-confidence.
"First of all, convince yourself that you are the best because the rest of your life is going to go proving this to others."– Wasim Akram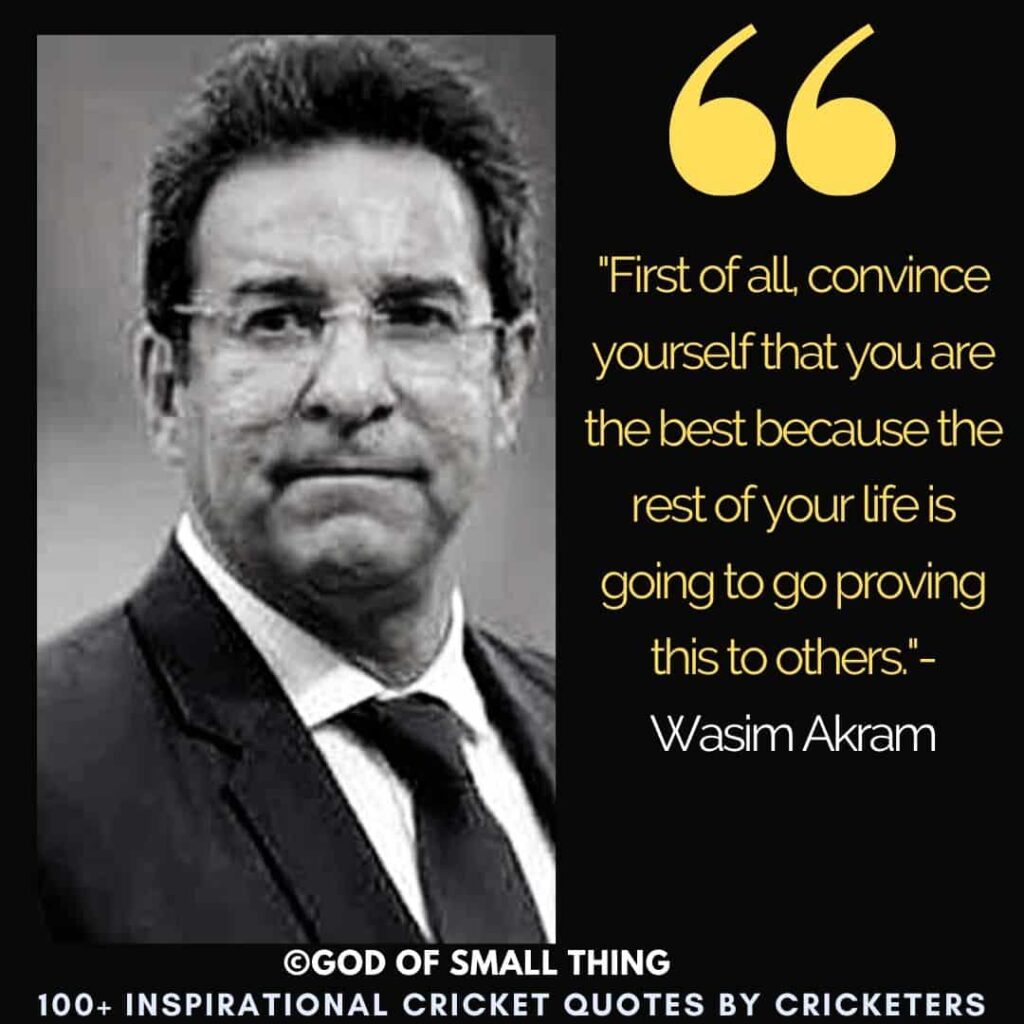 The Sultan of Swing had convinced himself that he was always meant for glory. Wasim led the Pakistan cricket team into several victories, especially with his frequent hat-trick spells. This inspirational quote by a cricketer is no less than the truth for life.
We all know how cricket runs in the blood of every Indian but don't you think we have forgotten our national sport and their historical players? How many of them do you remember? Here are 25+ Best & Famous Hockey Players of India
"I have failed more times than I have succeeded, but I never gave up, and will never give up, till my last breath, and that's what cricket has taught me."– Yuvraj Singh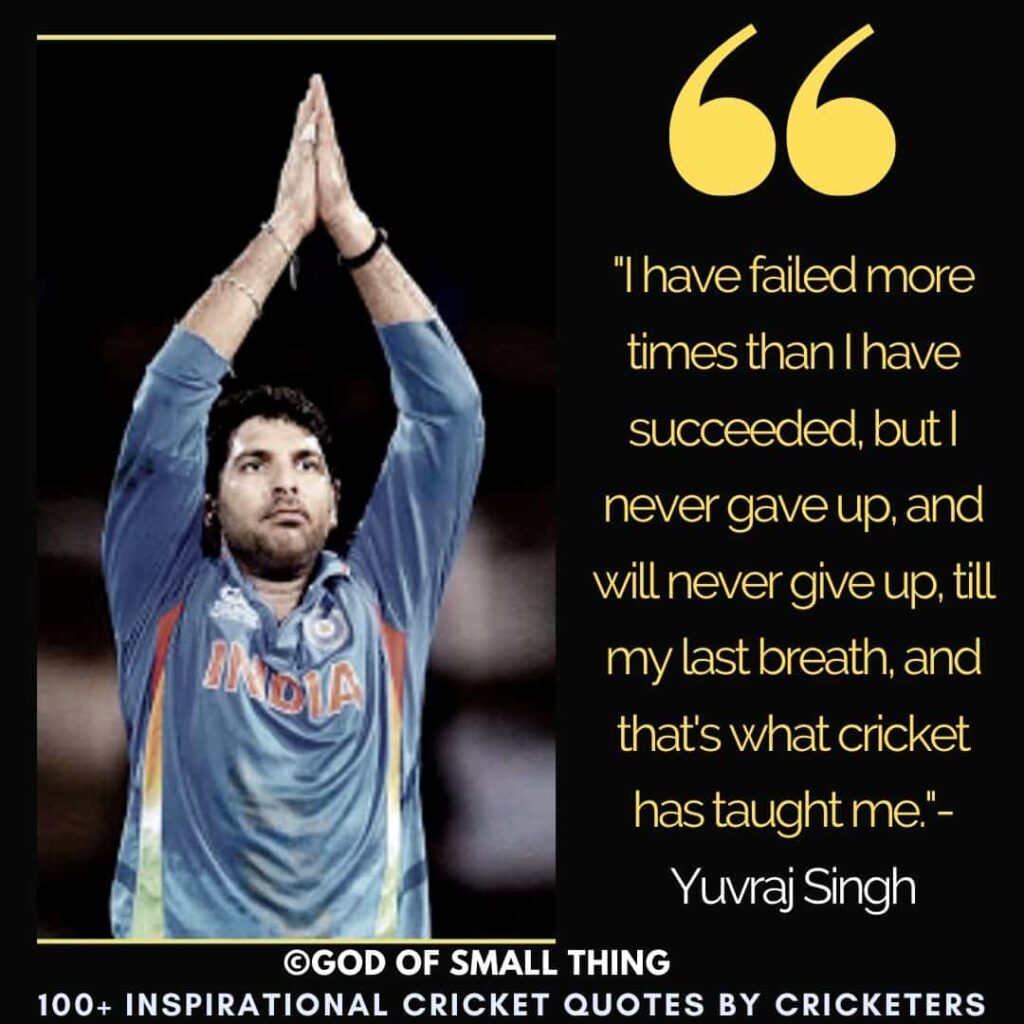 The man who hit six consecutive balls over the ropes and inscribed his name in the golden book of cricket. He is a fighter against cancer and an epitome of perseverance. His struggle to build a success story is reflected in this quote.
"Compromise for your dream but never compromise on your dream."– Imran khan
The power of dreams is fueled by sacrifices. Imran was the one who led the Pakistan cricket team to victory in the 1992 World Cup. Today, he leads his country as the Prime Minister, which proves that dreams can come true if you stick to them.
"My job is to perform, enjoy cricket and thank God for whatever he has given me."– Suresh Raina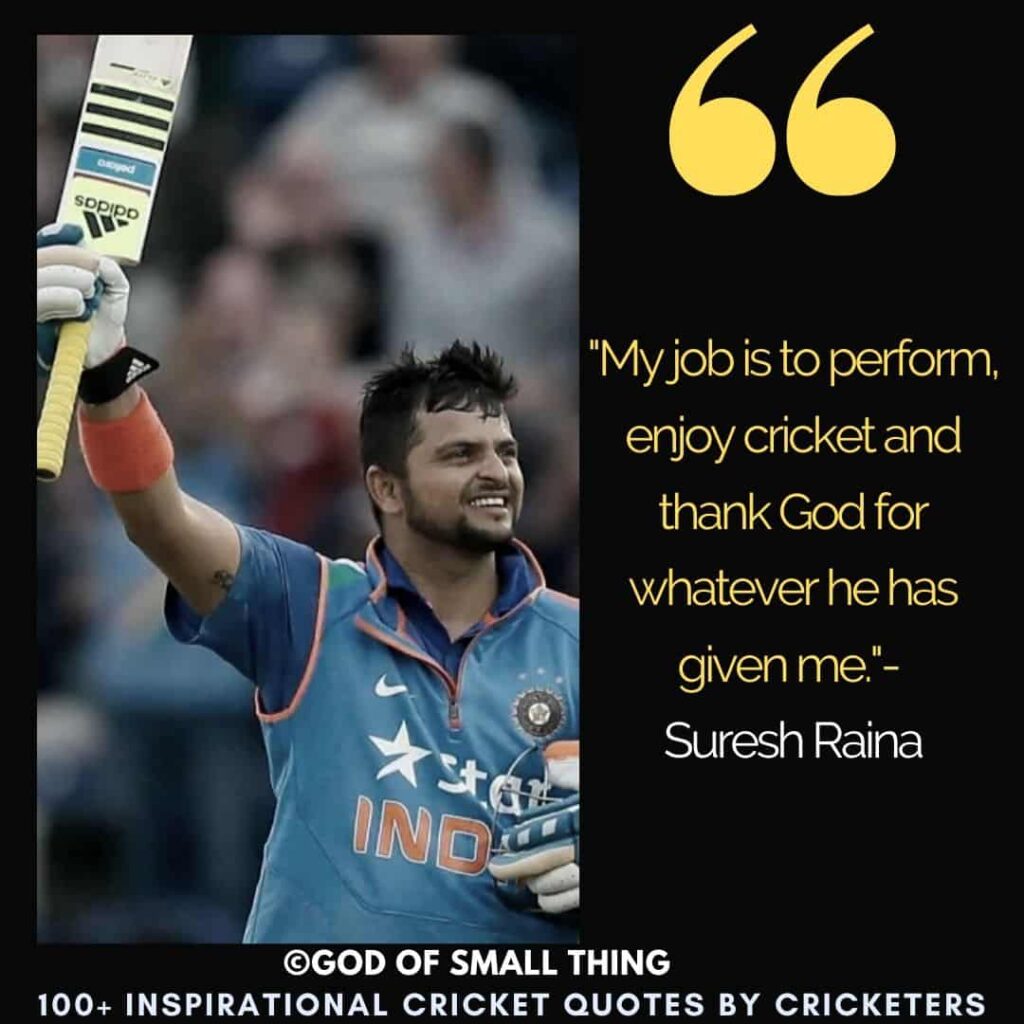 The first Indian batsman to post '100' on the scoreboard in all the formats. Raina is lovingly called Chinna Thala for his records as the IPL superstar from CSK. He remains the second-youngest captain to ever lead the national team. This inspirational cricket quote by a cricketer is so fantastic that it motivates us to keep faith in God as well.
"I'm convinced things will go much better if the players smile and have some fun on the field, rather than acting like wound-up spring."– Jonty Rhodes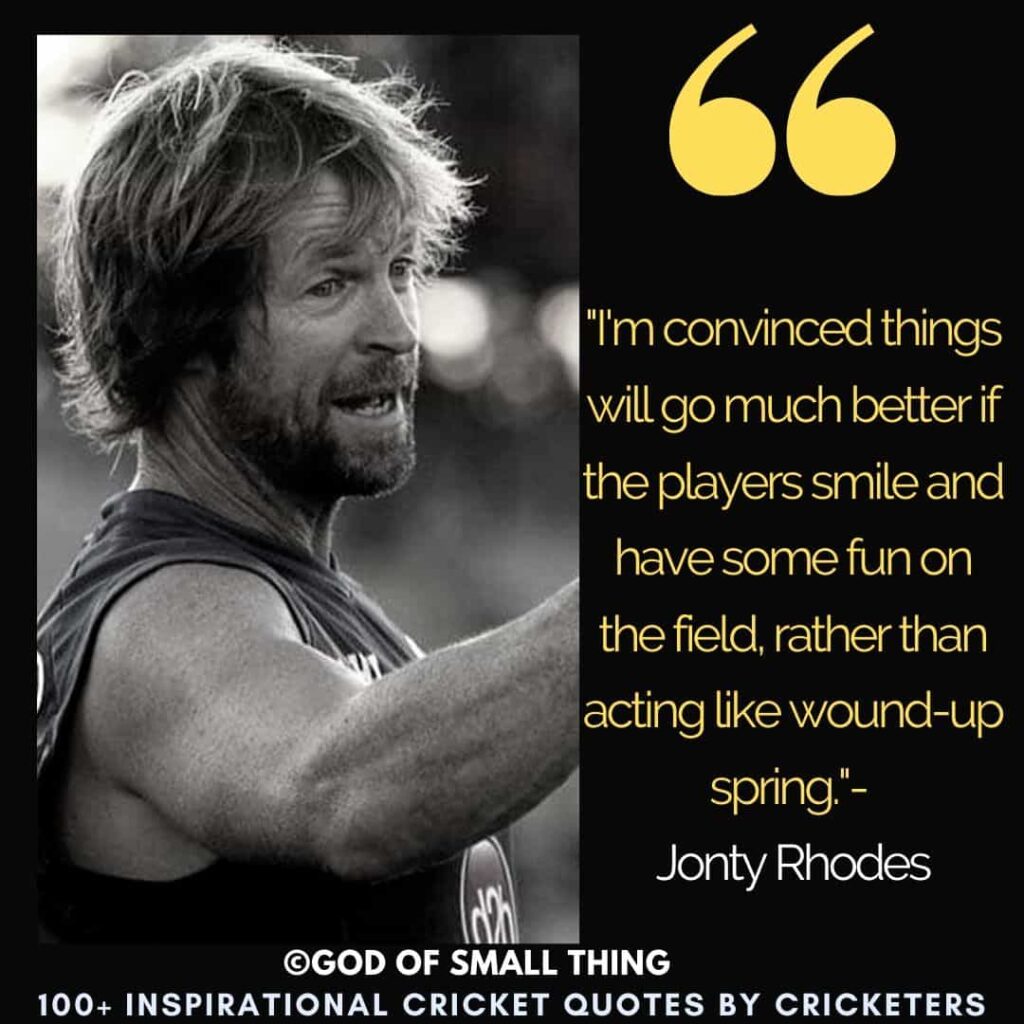 A man of all talents, Jonty is a revolutionary in cricket fielding. His catches and run-outs were gazed upon with mouths open! His belief in his inspirational cricket quote that a smile can boost up play is evident looking at his ever-happy face.
If you're good enough, you don't need to say anything to win. – Curtly Ambrose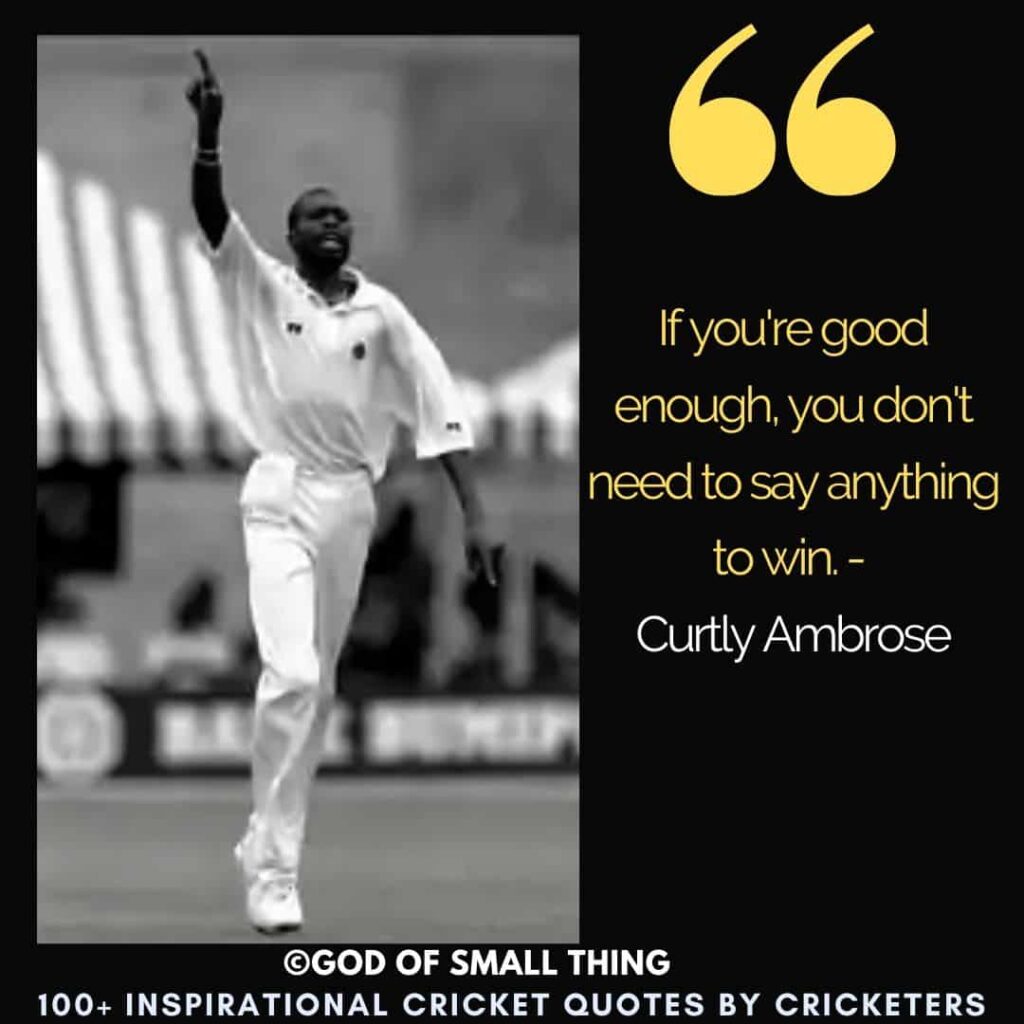 One of the most enlightening quotes by a cricketer ever. Curtly is a West Indian fast bowling legend. He knows what it means to be good, for he serves as an example to every aspiring fast bowler even today.
"Cricket to us was more than play, It was a worship in the summer sun." – Edmund Blunden (Poet)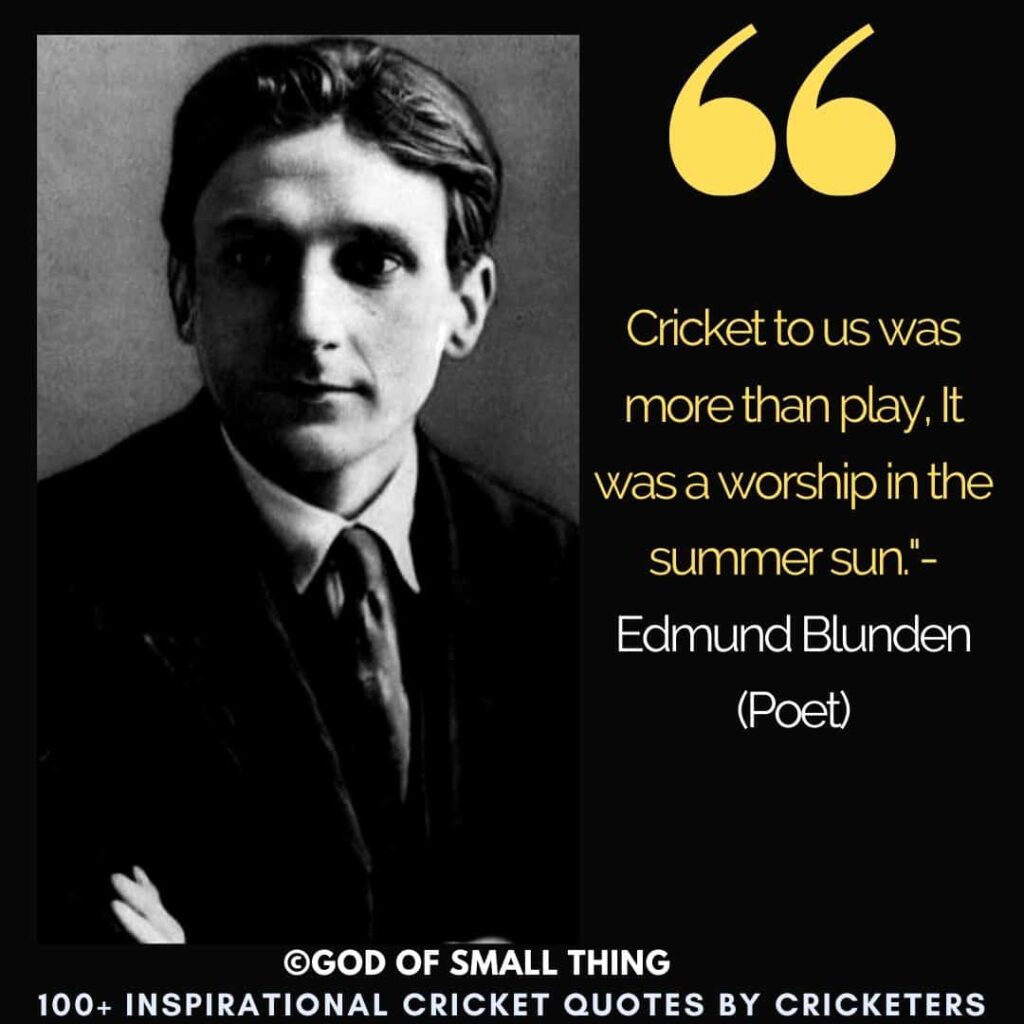 This is a special cricket quote. Edmund Blunden was not a cricketer but a WWI veteran poet who expressed his fondness for cricket. He deems the sport of cricket parallel to religion.
Cricket is battle and service and sport and art.– Douglas Jardine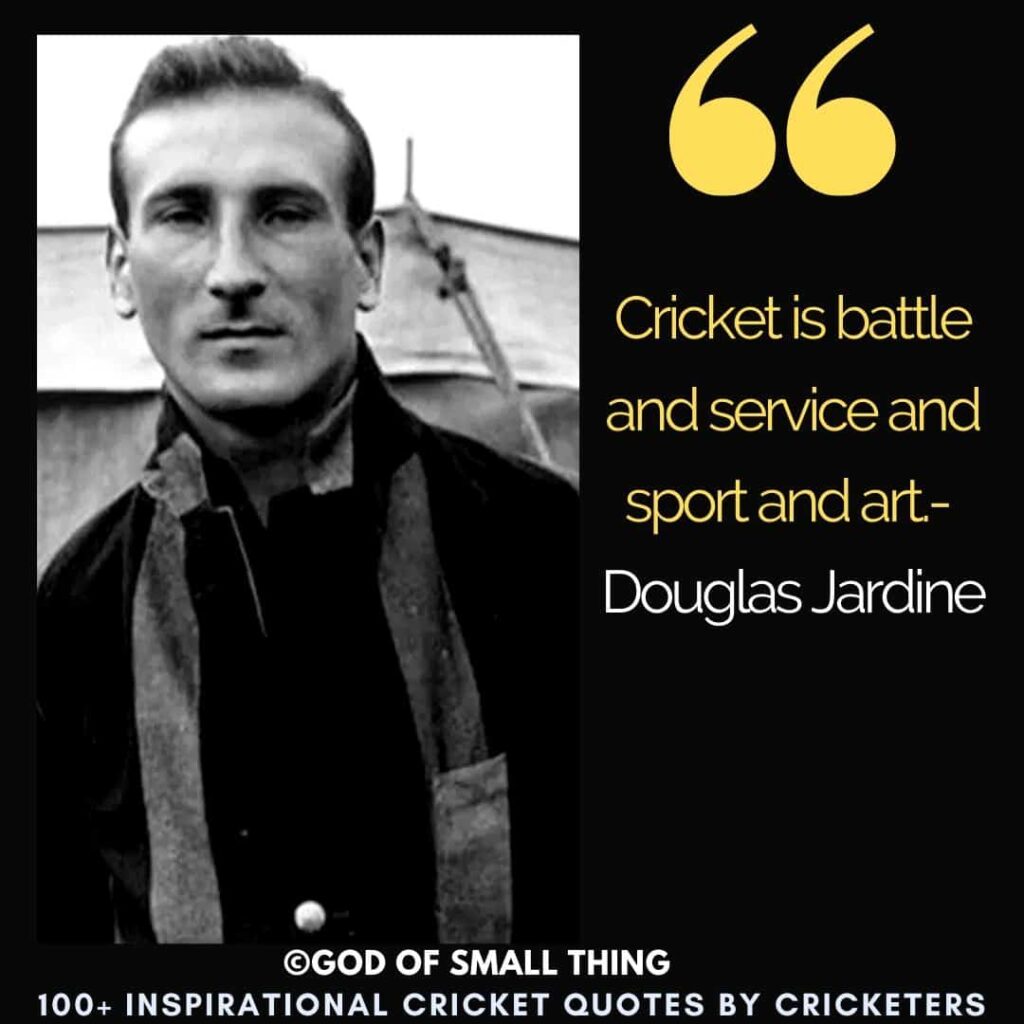 The Iron Duke, Douglas was one of the premier English batsmen who set the standards for test cricket. When he had given his inspirational cricket quote, the game was still an emerging sport. We can say that he predicted correctly.
"You're always going to be criticized to a degree. Some people didn't like Mother Teresa as well."- Brendon McCullum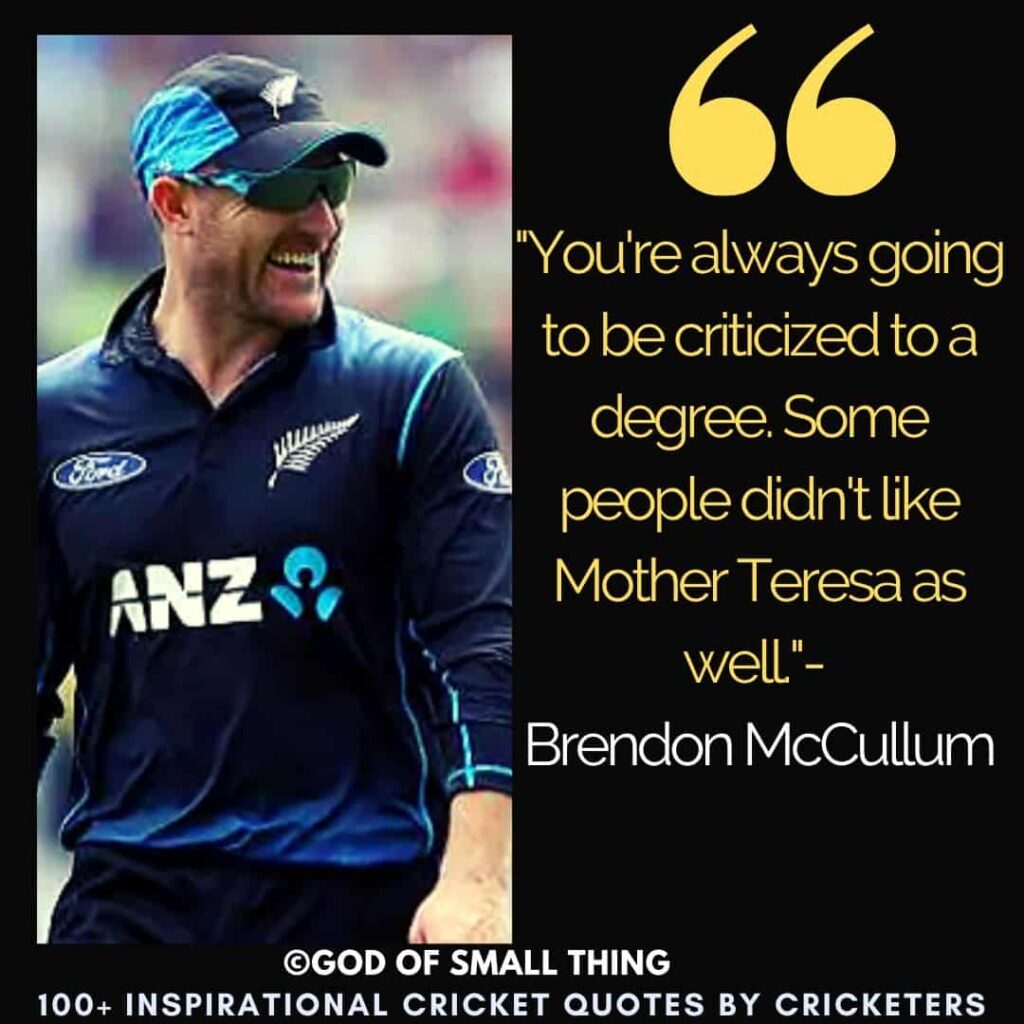 Former captain of the Kiwis, McCullum is the name of a popular explosion. His fours and sixes are recounted as the most memorable to date. He recorded the fastest test century of all time. McCullum's inspirational cricket quote focuses on criticisms and how we must deal with them.
"The true test of any cricketer's character is how he reacts when the going gets tough, when it's time to dig in."– Michael Holding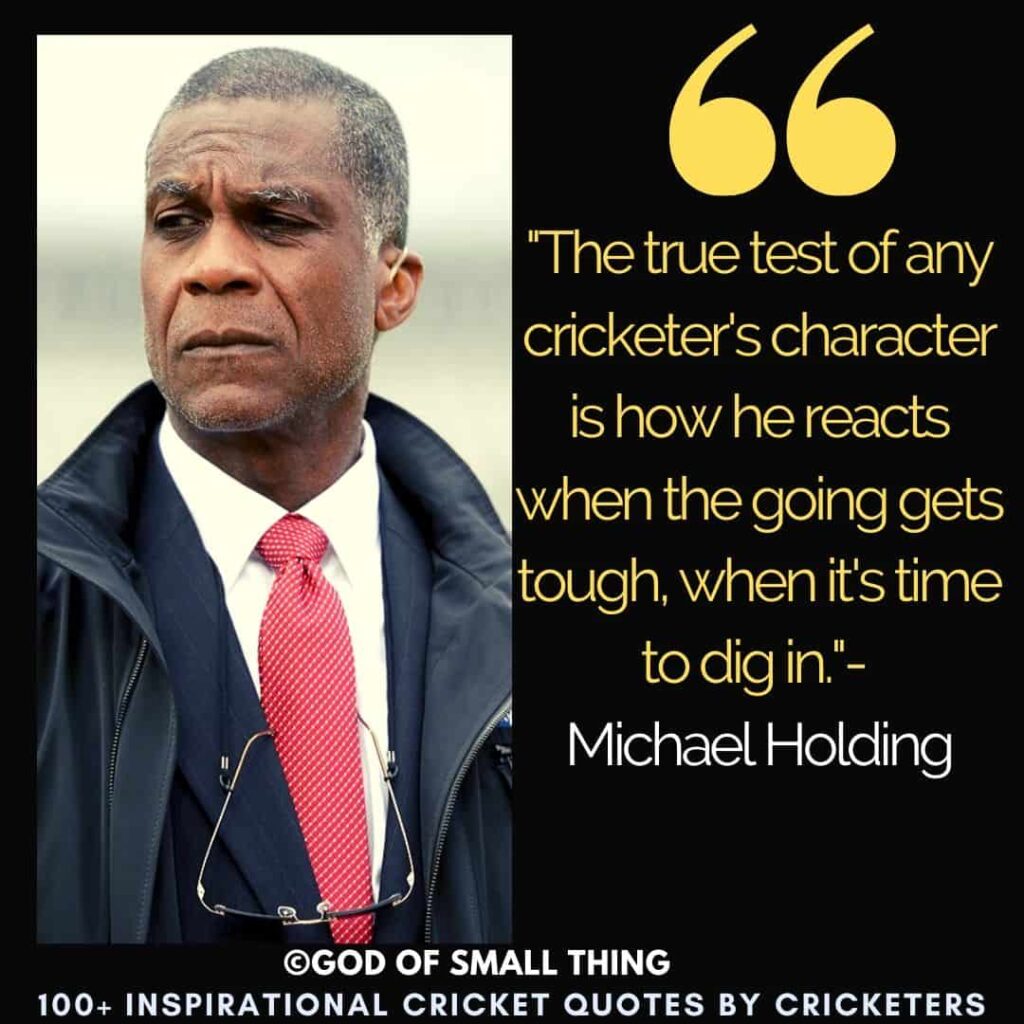 The Whispering Death examines a cricketer's spirit of character when confronted with the toughest challenges. Holding was once the most dreaded fast bowler and his bouncers flew right by even the best of batsmen. This quote by a cricketer inspires us to face hardships with our heads held high!
"If it's difficult, I will do it now. If it's impossible, I will do it presently."– Don Bradman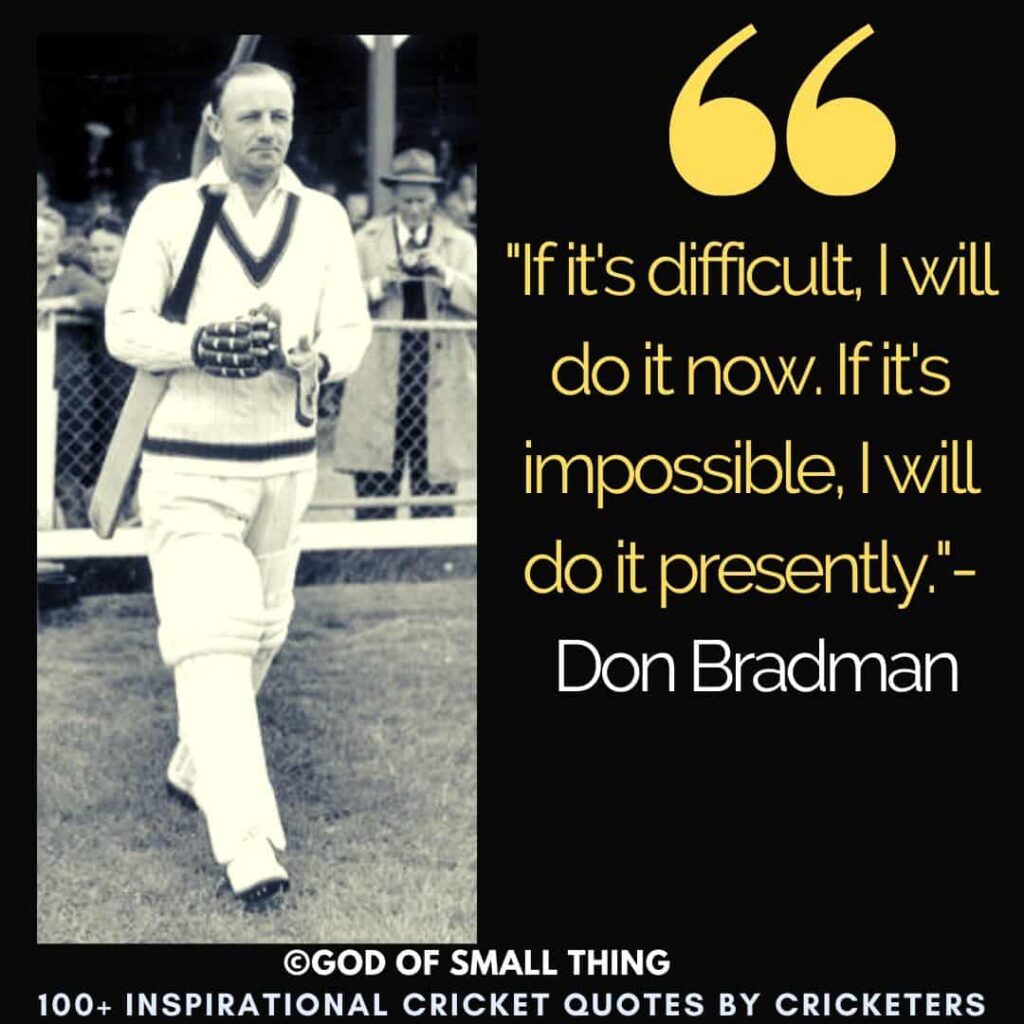 Don remains the greatest batsman of all time. His test batting average of 99.94 stands as the greatest achievement by any sportsman in any major sport. Don's promise to beat the impossible is where every legendary story begins. His cricket quote is one of the most famous in the sport's history.
"Concentration's like a shower, you don't turn it on until you want to bathe. That was cricket for me."– Sir Garfield Sobers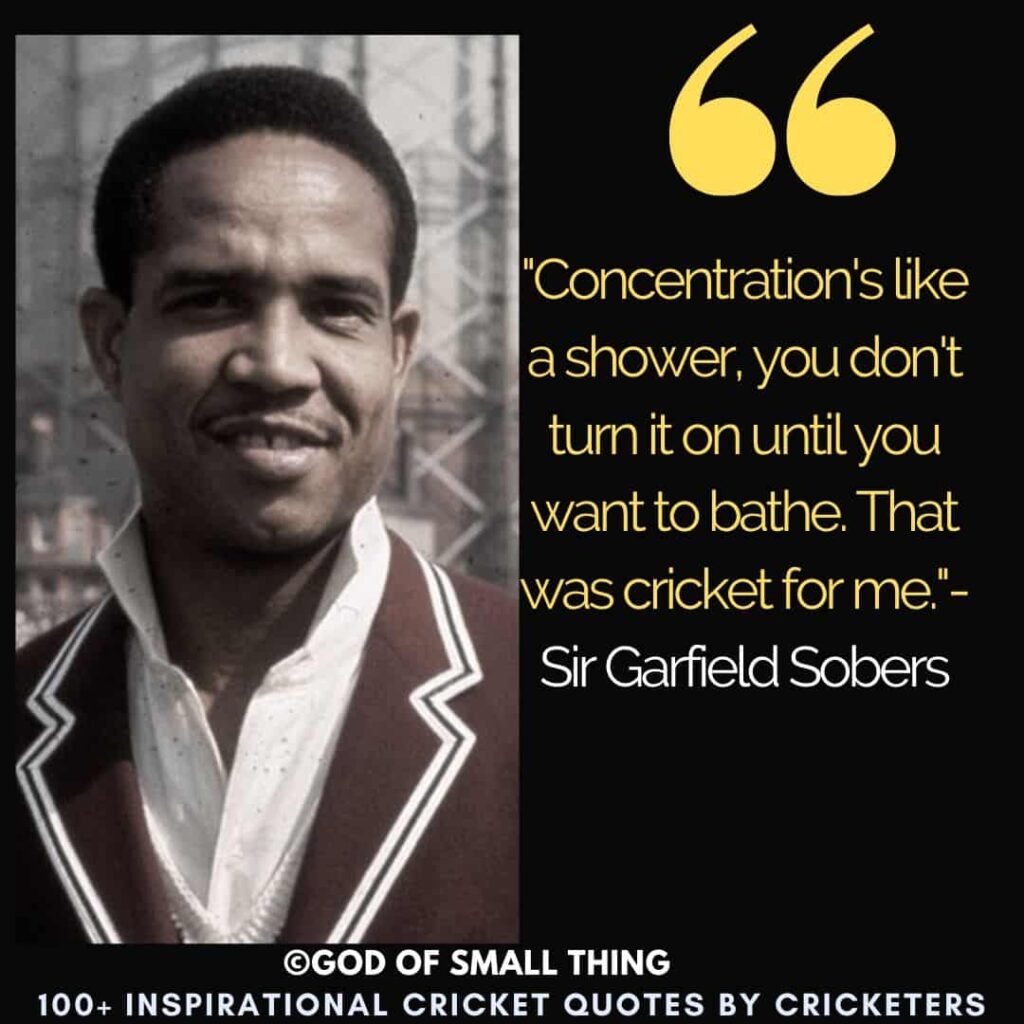 The most incredible all-rounder in cricket history spreads a message on concentration by his inspirational cricket quote. Sobers's aggression on the field gave cricket its meaning as a dynamic sport.
"Cricket is the most important thing to me, so rest pales in comparison."– Virat Kohli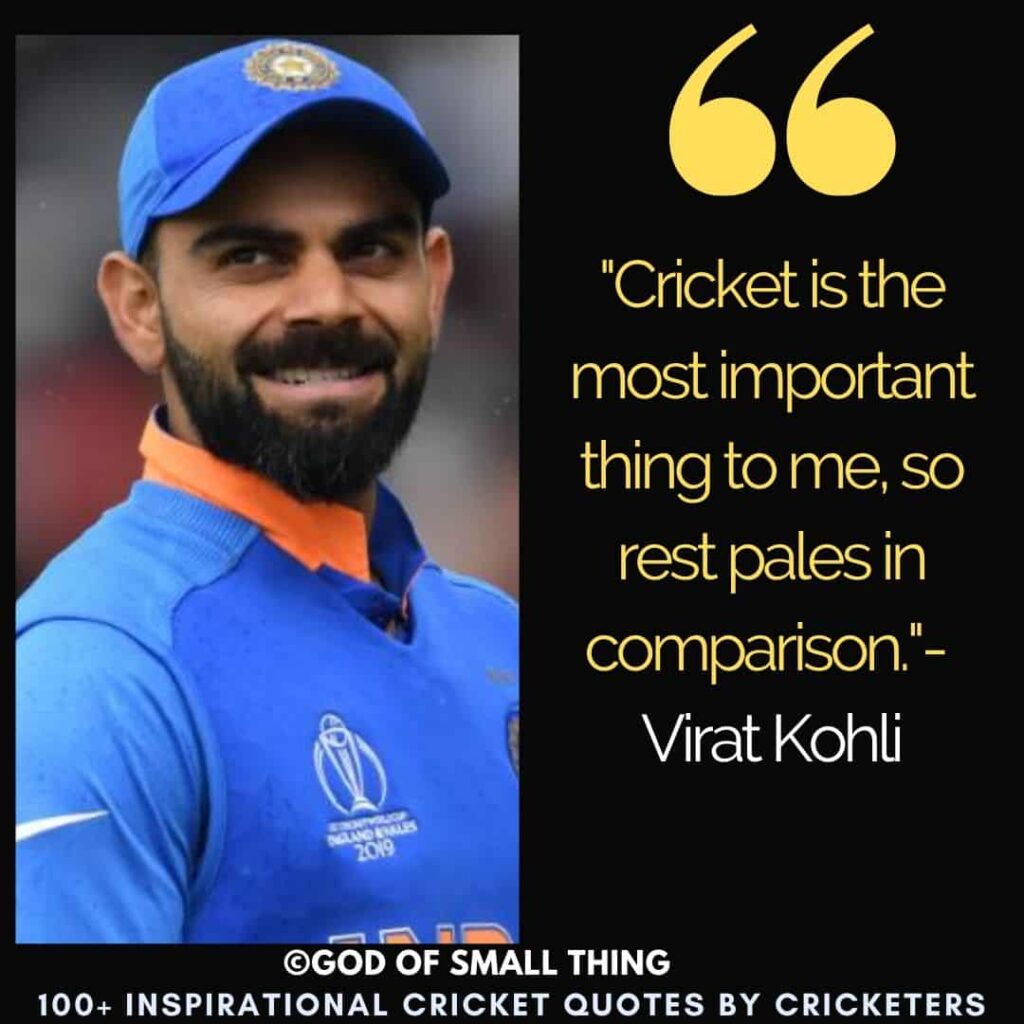 King Kohli is the current captain of the Indian cricket team. He hails as Wisden's Leading Cricketer of the world and we can understand why. The amount of importance he has given the sport is outstanding. This quote by cricketer so zestful stimulates us to give the best in our lives.
"When things are going well, the toothbrush bristles stay straight and soft. when it isn't, it seems the toothbrush has the-out-of-the-bed look."– Gautam Gambhir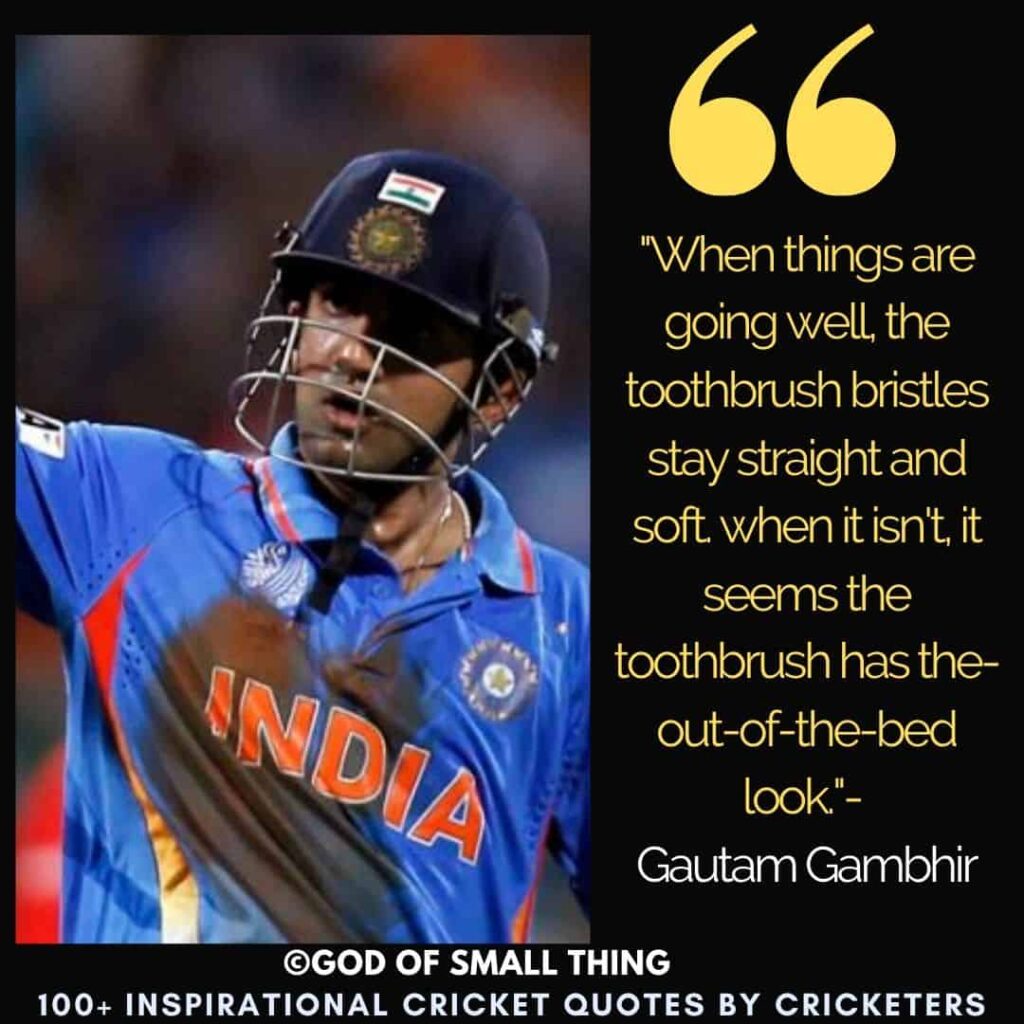 Gambhir leads as a Lok Sabha MP, similar to how he jostled the Indian cricket team to victory at the 2011 World Cup. His inspirational cricket quote is very deep to interpret. In this quote, he makes complete use of symbolism to forward an analogy of good and bad times.
For most of us, It's football that we are crazy for right? Here are some Famous Football Players in India of all Time with Career Stats & Achievements – God of Small Thing
"A loss makes you humble. It tests the other batsmen and bowlers. Also, if you keep winning you don't know what area you need to work on." – MS Dhoni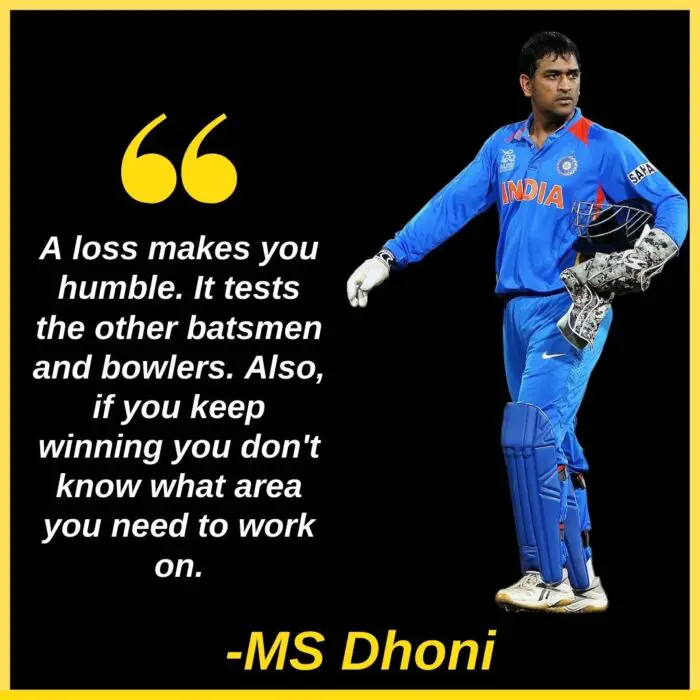 He holds the honorary rank of Lieutenant Colonel in the Indian Army. He is the only captain to have won the World Cup, One-Day International World Cup, and Champions Trophy. With 444 dismissals in 350 games, including 321 catches and 123 stumpings, he is the third most successful gloves man in ODIs.
Now, let us take an opportunity to dig further. We wish to list the top 5 anonymous inspirational cricket thoughts that describe the sport completely.
Inspirational Cricket quotes for Instagram
"Serious cricket is war minus the shooting."
"You can cut the tension with a cricket stump."
"Sure, luck means a lot in cricket. Not having a good fielders is bad luck."
"It is far more than a game, this cricket."
"Cricket is a most precarious profession; it is called a team game but, in fact, no one is so lonely as a batsman facing a bowler supported by ten fieldsmen and observed by two umpires to ensure that his error does not go unpunished."
Since you are here till the very end, we would recommend you some other amazing quote related articles for you to check out and get inspired.
Meet the top 10 most beautiful Indian women cricketers: Top 10 Beautiful Indian women cricketers