9 Month Pregnant Women Cleared UPSC Exam. An Inspiration for All UPSC aspirants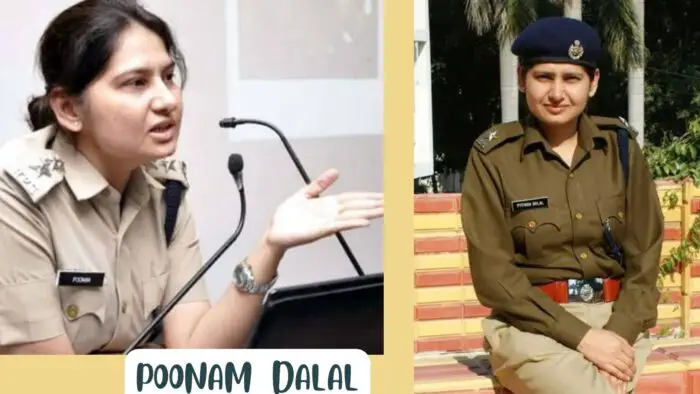 If you need to achieve something you got to strive for it through hard days. One such inspiration for all those people struggling to achieve their goals is of Poonam Dalal.  Poonam Dalal was born in Haryana and soon shifted to Delhi during her early childhood days.
She was a primary teacher in a government school in Delhi. She was keen to learn and thus did her graduation from Delhi University as an external student. Poonam was a bright student and laborious as well. She appeared in entrances for Bank PO Exams and SSC exams and to everybody's surprise cleared all of them in 2003. Her Inspiring story started after working for 3 years in SBI, as she secured a remarkable rank of just 7 at all India Level in SSC graduate level examination in 2006. She was under-confident of her capabilities and never felt that she had what it takes to be an IAS. But securing rank 7 gave her the confidence of going for UPSC.
By the time Poonam made her mind for going for UPSC exam, she realized the fact that the age limit for general category students for UPSC is 30. Poonam was 28 by then and she thought that her attempt will be wasted anyhow because of her age.
In 2009, She gave her first attempt at UPSC CSE. She was 28 and she got recommended for Railways (RPF). But, there was something else going on in her mind as she decided not to join the service and give one more shot in 2010.
Aren't we all a fan of the movie Interstellar ? Well here is a list of science fiction movies like Interstellar
This time she again got railways for IRPS services
Poonam, on the other hand, cleared PSC and joined as Dy. Sp in Haryana police back in 2011.
Worrying about the age factor, Poonam thought that her tryst with UPSC is over (She was already 31). You may call it as destiny or luck but the fortune favoured the Brave. In 2015, due to a large protest and petitions from candidates helped her achieve her dream ( There was a pattern change in the exam held in the year 2011 ).
The chance made Poonam excited but she soon realized that she was out of preparations. She has to work really hard in order to live up to her dream. Poonam was married and she was 9 months pregnant when she went for the prelims.
Poonam worked hard and Cleared UPSC Exam by self-study ( which is itself an achievement ). The circumstances and situations in which Poonam was, it was next to impossible to make it through. But Poonam Got her best rank during the most challenging times. Poonam had an all India Rank of just 308 !!
This story of Poonam and her struggle is itself an inspirational story for all those aspirants of UPSC exams. It's the will and hard work that determines the fate of a person and not mere luck. Stay focused and work hard to achieve and live your dreams. This is the only key to success.
Want to know the story of the Waterman of India? Here is the story of Rajendra Singh, the man who cleaned 5 rivers.